Mindful Tips to Help Navigate Holiday Stress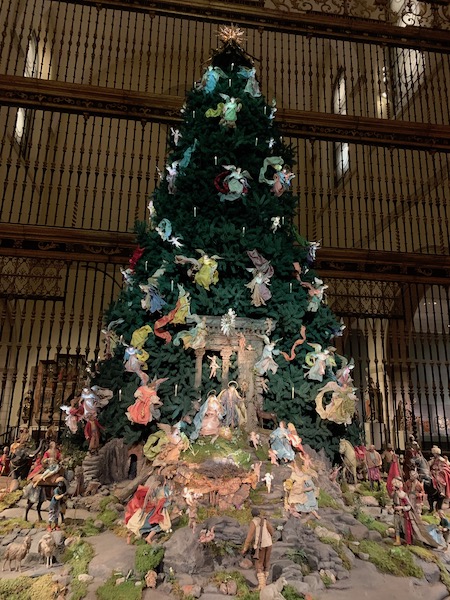 There is not a single parking spot left at Trader Joes, the line at CVS seems to take hours, you can barely walk on 5th Avenue, and there is a different work-related party every other night...it must be the holidays! Add to the hustle and bustle of this season an ice-storm and a two hour school delay, and you have yourself a recipe for a melt-down. Sure there are some who seem to sail through the holidays with a perfectly decorated house, beautifully wrapped gifts, and tasty treats always at the ready, but what about those of us who get a little more bogged down by trying to keep up with all the "magic" of the season? Why not try a little mindfulness to help get you through? While there are a plethora of everyday mindful activities (such as mindful breathing and mindful eating) that are helpful tools any time of year, below are mindful tips to help you navigate holiday stress.
Set expectations: Whether related to crowded stores, long nights, or nosy relatives, before entering a given situation, try to set realistic expectations. For instance, if you have to make your way to the big-box grocery store because it is the only place that carries the ingredients for your grandmother's famous Apple Pandowdy, try setting the stage before you enter the crowded parking lot. Go into the set of circumstances knowing that you'll likely have to park far from the store entrance, the aisles will be crowded with carts and shoppers, and the lines are likely to be a mile long. Sometimes just reminding yourself of what to expect, helps to ease the stress of actually traversing through it. In the same breath, it is probably a good idea to have a plan for when you feel yourself starting to get irritated with grumpy shoppers or tiring co-workers. Plan ahead of time to use a mindful tool to recenter your thoughts and mood if you should start to feel overwhelmed or annoyed. My go-to tool is mindful breathing where I concentrate on three deep breaths: in through your nose and out through your mouth.
Let go of expectations: On the flip side, while it might be helpful to set expectations to help navigate the busyness of this time, it is also important to let go of putting too much pressure on yourself to create a perfect holiday for all. Maybe you burnt the specially made cookies, or your sister is late for the family celebration once again. Holding onto judgement and remorse will only work to taint your holiday experience. Instead, try to be present, live in the moment and take notice of all the things there are to be grateful for. If something doesn't go according to plan, try to roll with the changes. After all, the holidays aren't about how clean your house looks or how well you prepared a roast, but about sharing these moments with family and loved ones.
Focus on the positive: Are you up to your neck with gifts to wrap and food to prepare? Instead of seeing it as a monumental chore to be done, try focusing your attention on the people you are wrapping and cooking for. While you wrap each gift, try to think of all the wonderful things the receiver of the gift brings to your life. Think about how they have impacted your life and how much they mean to you. Likewise, while cooking holiday meals, try to remind yourself why you are preparing the meal...to demonstrate your love for your family and friends during this festive time.
However you celebrate the holidays, practicing mindfulness not only works to help reduce stress, but to also keep you living in the moment, enjoying the merriment of the season. After all, your presence really is a present...not only to others but to yourself as well.
Wendy MacMillan is a former teacher and a proud mom of two children. While her background is in psychology and education, Wendy was recently trained in mindfulness at Mindfulschools.org. She has long been passionate about wellness, and as an active member of the Scarsdale PTA, Wendy helped to bring mindfulness to her children's elementary school. In addition, Wendy helped establish and is an acting member of the school's Wellness Committee. For more information about mindfulness check out this site: mindfulschools.org or Watch the video of Jon Kabat-Zinn explaining what mindfulness is ... or contact Wendy MacMillan at wendymacmillan@gmail.com.