Catching Up with Clean Design: Reimagining Your Home for the New Year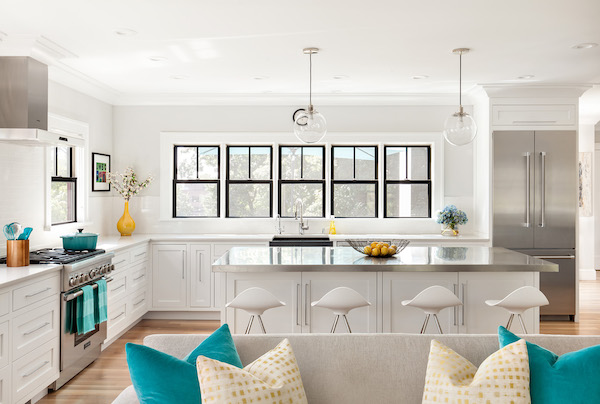 I don't know about you, but though I love flipping through design sites and ooh'ing and ahh'ing at gorgeously designed rooms, I couldn't put a living room together for a million bucks. But for a lot less than that, I've come to learn, one can hire an interior designer to make a room or even an entire house look as good as a magazine spread.

I had a chance to sit down and talk with Claire Paquin, Founder, Managing Partner, and Lead Designer at Clean Design who has had more than a few of her interior home designs published in magazines. Claire combines the ability to define her clients' style with her training in design as well as her sourcing of furniture, rugs, window treatments and accessories to turn her clients' homes into desirable living spaces.
Here is what she shared about herself and home design:
What is your background and how did you come up with the idea of Clean Design Partners?
I started my career on Wall Street trading and selling convertible bonds for 11 years. I was with Bear Stearns when they collapsed in 2008 and I decided it was time to try something new. There are a lot of entrepreneurs in my family, so the idea of starting my own business was not foreign to me. I tried to think of things I enjoyed doing and didn't think I would tire of and ultimately realized that I would be happiest exploring my more creative side through interior design.
What are some current design trends?
I am seeing what people might call trends, but I think are classics that are back and here to stay. Some examples are wallpaper and brass (Images 2B and 3B). I am using wallpaper more than ever before – it's a unique way to add texture, pattern, and color to spaces that might otherwise be bland. It could be added to almost any room whether it be to cover a magnet board or the door fronts of custom furniture, to add a bold print in a powder room or on a walk-in closet's ceiling. It can create a cozy texture on all the walls of a dining room or master suite.
Office Before 2B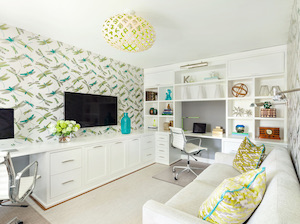 Office After 2ABrass finishes are also back in style and now that they are, I think they're staying. Clients are understanding more and more that mixing metals and finishes gives a home a rich and custom look. As a result, vendors are offering additional finishes like rose gold and matte black. Many of these can be used together to create a layered look. Another example is the color gray. Some of my clients voice their concern that that the "gray trend" will be over soon; the reality is that it's not a trend, it's just a popular neutral color like beige and these neutrals, whether warm are cool, are always in style. It's simply about what you prefer, striking the right balance and loving the colors that envelop your home.
What is your process for helping someone design/redesign a room in their house?

I pride myself on my design process. I created it myself and in eleven years it hasn't changed. I am organized, deliberate and creative and these characteristics allow me to create spaces that feel beautiful and unique. I start by measuring every space and drawing it up in AutoCAD. It's essential to understand the scale of a room – what will fit, what won't, and how the client will live in the space. Next we select the furniture and lighting. After that comes the color scheme, including all the fabrics, finishes, and often designing the rug. Sometimes clients want to rush this process or go out of order, but I have found that if you stick to this process, you will end up with a well-designed home.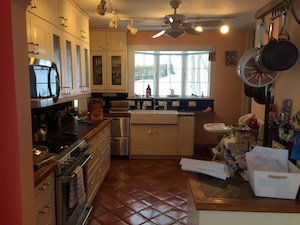 Kitchen Before 1B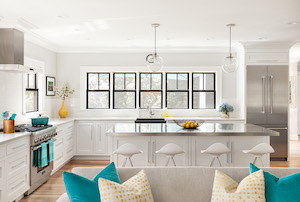 Kitchen After 1A
The home design pics on your website make me feel like I'm walking through life size pieces of art. Each home is so beautiful but has such a unique, warm and personalized feel. How do maximize your clients' design experience through Clean Design?
Determining a client's taste is always the fun part. Unless the client gives me lots of inspiration images (which most don't!), understanding their design style is a process that can take some time. Usually after meeting once or twice and reviewing some design ideas, I get a good sense of what they're trying to achieve. The key is understanding a client's taste but also pushing them a bit out of their comfort zone in order for each space to feel unique. My clients are usually thrilled with the end result when they take some risks and trust me. Everyone has their own style and I like to see those preferences shine through in the final design, but what's the sense in hiring a professional if you just stick to everything you might have done without them?
What do you do to stay within a clients' budget if they have one?
The client has the ultimate decision power when it comes how to spend their money. As a designer, I am aware of products and vendors that the client is not. I tend to suggest projects that enhance the look and function of a room. This is why people hire me – to guide them to vendors and ideas to which they would not otherwise have access. Some ideas may cost more. For example, I often advise adding built-ins to rooms to maximize function; I tend to suggest larger rugs and lighting because they are often more aesthetically pleasing; I may recommend additional touches like wallpapering a bathroom (Image 3B), adding sconces to a dining room, or replacing a traditional fireplace mantel with a modern stone surround. The reality is that all of these things cost more money than either not doing them at all or, importantly, not doing them right. Making the wrong design decisions can be more costly than hiring a professional. Scale, lighting, and color are very difficult to get right for the untrained eye. Interior design professionals have been educated on all of these aspects of design.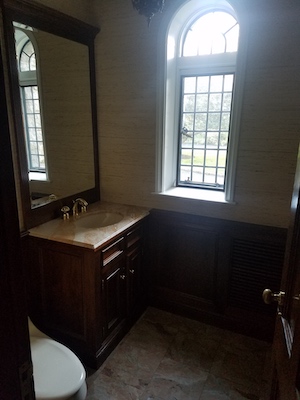 Powder Room Before 3B
Powder Room After 3A
What do you do to design a room to be current but lasting?
It's usually about making a room feeling clean and simple, airy and fresh (Image 1B). Too much stuff can make a room feel dated and stale. I try to minimize without being a minimalist. It's still important to make spaces feel finished and cozy, but not cluttered. I usually recommend window treatments and pillows – they finish a space and make it feel complete (Image 2B). Another way I create lasting spaces is that I don't fall for fads. I tend to keep the large scale pieces of furniture relatively neutral and add pops of color in things like the pillows or art. A neutral base will always stand the test of time.
What is the most common phrase you hear from your clients after you've finished a project?
"It was worth it," meaning that all the time, effort, inconvenience, and money was worth making their home more livable, beautiful, functional and happy. The other day a client of mine shared a picture of her teenage daughter cooking with her dad in their new kitchen. It was such a simple and touching thank you and reminded me why I love what I do. For me, it's not just about how beautiful the spaces are, it's about the memories that will be created in that space.

I also hear, "I couldn't have done it without you." But this is also true for me! I view my role as collaborator. Clients often come in with great ideas but are unsure about how to execute them. I try to make sure they don't make any mistakes and I am vocal if I feel they are heading in the wrong direction. It's a team effort. A lot of my clients become friends. And a lot of my friends become clients. It couldn't get better than that.
Here's how to get in touch with Claire and Clean Design:
Clean Design
https://www.cleandesignpartners.com
914-725-0995