Lori Gottlieb Talks in Scarsdale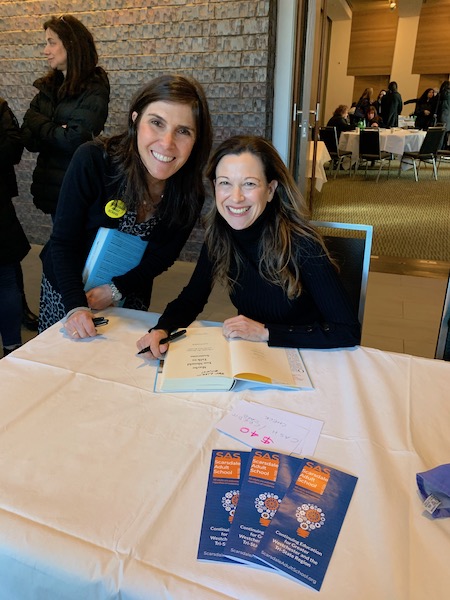 Jill Serling with Author Lori GottliebShe's the someone everyone wants to talk to, and many fortunate fans got to do just that at Westchester Reform Temple on January 21, 2019 when author, journalist, television producer and psychotherapist Lori Gottlieb visited Scarsdale, courtesy of the Scarsdale Adult School.
Gottlieb is the author of the best-selling book, "Maybe You Should Talk to Someone," and came to town as part of a national book tour. For the few who have not read the book, it tells the stories of four patients' journeys through psychotherapy while at the same time chronicling the therapy sessions of Gottlieb herself, as she struggles to come to terms with the loss of a relationship. She said, "I was getting ready to get married and my fiancé announced that he did not want to live with a kid (Gottlieb's son) under his roof for the next ten years. I didn't see this coming…" In her version of the story she told herself, "He's a psychopath – how could he do this to me?" But her therapy reveals how her actions impacted the break-up.
Why is the book so popular with both the lay and professional communities? Gottlieb thinks she has figured it out, explaining, "I think so many people are reading it because I didn't clean myself up. It resonates with people …. I was really open about what was going on because I assumed no one would read it."
She is right about so much but was totally wrong about the potential of her book. It is an international bestseller, and now being translated and sold in countries where one would not think that psychotherapy was popular including Mongolia, Serbia and Japan. The book will also be the basis of a new television series, produced by Eva Longoria's company, with the pilot in production by the same people who produced "The Americans." The series will follow patients and therapists, inside and outside of the therapy room.
Gottlieb hopes the book will clear up many misconceptions about therapy. She said, "Though 30 million Americans are in therapy, there is a stigma about it ….. people don't talk about their pain or their struggles because they think it's not interesting. If they are having emotional pain, people don't see someone until they are having the equivalent of an emotional heart attack."
She said, "There is an epidemic of loneliness in our culture. People are connected online but disconnected. They spend evenings co-computing. People can't be in the place that they are – they are always somewhere else via their devices." How to combat this alienation? Gottlieb took a first step by barring cell phones from her son's bar mitzvah. She said, "The kids had the best time." Other parents followed suit and made the same rule for their kid's celebrations.
About psychotherapy, she explained, "There is something about the energy in the room when you are sitting with someone. You see facial expressions. It takes to time to develop relationships."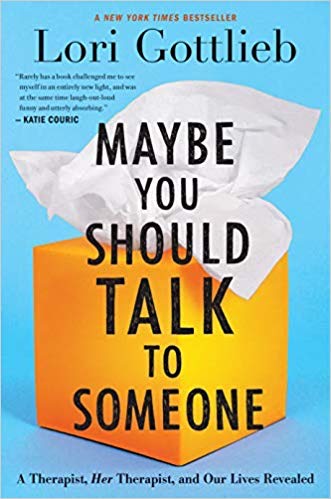 Are the characters featured in the book Gottlieb's real patients? Yes, the patients are real people though one is a composite of a few people. Otherwise everything that happened in the book really happened to these people with details altered to protect their confidentiality.
Has she encountered people she cannot work with? Gottlieb said she did have a patient that she called a "help rejecting complainer." That's a patient who just wants to complain and does not want help. She ended up terminating work with that patient.
What were some of the AHA moments? Moderator Lori Rotskoff observed, "Many think that therapists are going to provide concrete suggestions on how to act and what to do." Gottlieb explained, "Patients have to be vulnerable and accountable." Rather than provide specific solutions to problems, Gottlieb helps patients to find insights into their own behavior and to use what they learn in life. She said, "I am not giving advice. I am helping people see their situation the way a therapist might and "provide a revision to their own story." She continued, "Therapists offer wise compassion. We hold up a mirror to show you what you're not able to see."
Though people often do anything they can to avoid thinking about death, Gottlieb thinks we can all benefit from confronting it. She said, "We are all going to die – but we don't know how and when. Every morning we get up and have a choice on how we are going to handle the day. We can be more intentional about the time we have here. We don't want to look back and say, "I wish I did this or that." If we live with intentionality we won't look back with regrets."
Following the talk, books were available for sale from Bronx River Books in Scarsdale. Gottlieb signed copies and chatted with the many buyers who were clearly enamored with her and her work.
Thanks to Jill Serling, Director of the Scarsdale Adult School, moderator Lori Rotskoff and Westchester Reform Temple for another fascinating community event.