Phase 2 Businesses Expected to Open on Tuesday June 9; Some Stores Closing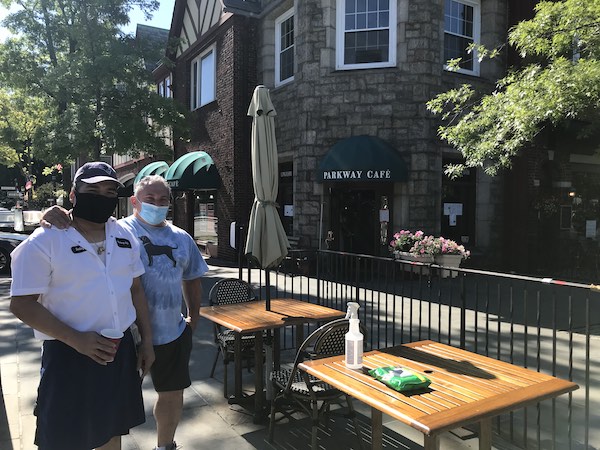 Parkway is now serving outside, six feet apart. Photo credit B.K. MunguiaIt's one step forward two steps back for the local retail and restaurant scene. Scarsdale Village retailers, who were already struggling before the COVID crisis, have been particularly hard hit but there are some bright spots.
On the positive side, Westchester County has entered Phase 2 of the re-opening process and outdoor dining will be permitted as long as the tables are six feet apart, servers wear face masks and guests wear masks when they are not seated at tables. Today, we were pleased to find Parkway Diner serving outside. In addition to dining, many residents are looking forward to seeing their hairdressers and barbers.
Other businesses that will open in Phase 2 are:


-Offices 
Real Estate
Essential and Phase II In-Store Retail
-Vehicle Sales, Leases, and Rentals
-Retail Rental, Repair, and Cleaning
-Commercial Building Management
-Hair Salons and Barbershops
-Outdoor Dining at Restaurants
On Tuesday June 9 the Village Board of Trustees will hold a public hearing on a law to permit "temporary outdoor retail and food sales in the Village." According to a memo from Scarsdale's new Village Planner Gregory Cutler, "The proposed local law is intended to give local businesses the option to conduct commerce outdoors, where greater social distancing is possible, and uninhibited air circulation may reduce viral transmission rates." In other words, Village food purveyors could expand service out to the sidewalk.
There still appear to be plans afoot to open a branch of The Shade Store on Spencer Place as well as a new Asian restaurant in the site formerly occupied by Lange's. Akai Asian Fusion Sushi Lounge announced plans to open in December and hopefully they intend to move forward with the restaurant. Mister Chen, serving handmade dumplings in Mamaroneck, also has a sign announcing their intent to open on Garth Road.
As many businesses are in the process of re-opening, it appears that some will not be returning. A walk around the Village revealed that jeweler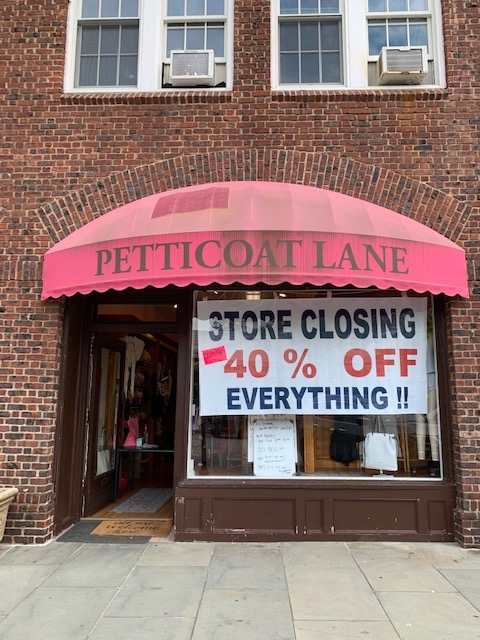 Petticoat Lane is closing their Scarsdale store. Photo credit: Emily GilmanSam Lehr has closed its doors along with Daniele Trissi. Petticoat Lane, a favorite for handbags, wallets, accessories and lingerie's also announced that they will close their Scarsdale location, though they will remain open in Chappaqua and continue to sell online. A sign in the window says everything is 40% off.
These vacancies compound the loss in Scarsdale where many storefronts have been vacant for years. Large spaces once occupied by LF, Space NK, and Vaccaro's remain empty along with smaller sites like those previously occupied by Wyatt Lily and Taiim Cellar.
All of these losses make it more difficult for the retailers who hang in, as street traffic is reduced as residents have fewer reasons to visit the village.
In Hartsdale, commuters were surprised to find that Starbucks has closed at the Hartsdale Train Station. A sign on the door says that they are permanently closed, though the MTA spokesperson we contacted said they had not received notice that Starbucks would not renew their lease.