Girls Varsity A Soccer is Back on Top: Winning the League, Triumphing Over North Rockland and Preparing for Playoffs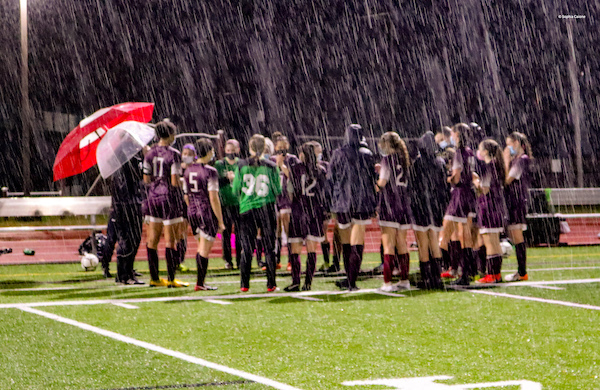 The Girls Varsity A Soccer team celebrates a 4-2 victory against North Rockland in the pouring rain. Girls Varsity Soccer has risen back to the top after last season ended abruptly with a loss against Suffern in the first playoff game. The 2020 team is made up of returning players and rising stars, all of whom have the mentality that losing is not an option.

COVID-19 may have delayed the path to victory, but it was just another obstacle this team has overcome. As Coach Mindy Genovese said, "Playing during a pandemic makes us all appreciate the sport and being able to come together to be a part of a team to focus on something positive. We play like it's our last game or practice because it very well could and this has elevated our level of intensity during every training session and game." For safety precautions, cohorts were created and the team was separated into specific groups during practices. However, Coach Genovese said that once the "cohorts were able to join forces, we were able to incorporate more drills that involved closer physical play, but continued to distance during any breaks or while waiting in lines to participate in drills."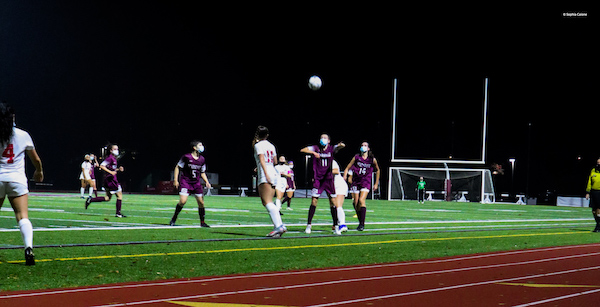 Senior Sasha Fischer, #11, goes for a header.

Being a captain of a team is not always easy, but it certainly can be rewarding. During this time, the captains have had to adapt to the circumstances while still being effective leaders. Captain Victoria Von Redden comments "When I was first elected captain, I talked to my previous captain on what I could do to make this year memorable and this team amazing. Unfortunately, a lot of their advice is not usable for me since the pandemic ruined so many of the teams off field traditions. But I must say, even though it's been challenging, being able to have this season during this time feels like a gift."
This team has certainly proved that- in these unprecedented times- a united group can face a world of adversity. Coach Mindy Genovese recognizes that despite the minimal time given to prepare for the season, "the dynamic between our upperclassmen and rookies has been amazing." She notes that the seniors on the team "have stepped up to help lead and guide [the] newest members from the start, especially the captains (Anastasia Stefanou, Victoria Von Redden, and Emily Yacob)."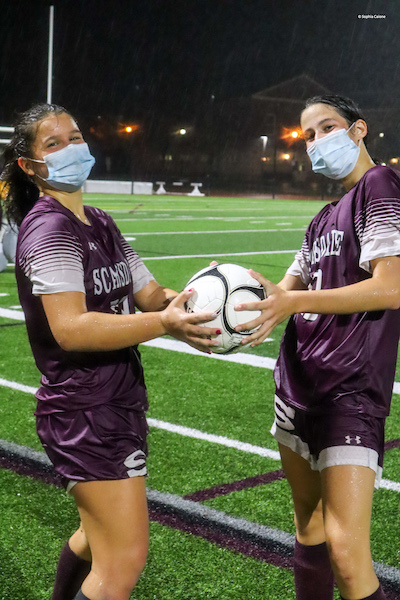 The tag team Alessia Schettino, #20, and Lola Tirabassi, #13.

The team has welcomed 10 newbies, adding to the 14 returning players. This group puts the "team" in "teamwork." Captain Victoria Von Redden explains that "our team tries to incorporate all players of the team into our plays [because] relying too much on one player and not really connecting with your teammates isn't an efficient strategy."
Girls Varsity A Soccer has outperformed any other team in the league. They are the "League Champions" with numbers to prove it. They had six wins, no losses and two ties. Out of these 6 victories are 2 highly significant wins- one against long time rival Mamaroneck and the other against New Rochelle. Scarsdale defeated Mamaroneck in a 3-2 victory that featured 2 goals from second year varsity athlete Alessia Schettino, #20, and one goal by newbie freshman Lola Tirabassi, #13, with assists from Lola Tirabassi and junior Justine Karp, #10.

On November 13th, Scarsdale Raiders proved to be deserving of the title "League Champions" with an intense home game, resulting in a 2-1 victory against New Rochelle. Lola Tirabassi, scoring the first goal and veteran player Jojo Denion, #16, putting the second goal in the back of the net, leading the team to a major win. In addition to winning the league, the team has claimed victory against North Rockland for the first time in 4 years with goals by Alessia Schnettino, Kate Braverman, #6, Lola Tirabassi, and Abigail Talish, #14 and assists by: Alessia Scnettino and Sasha Fischer, #11. Senior Sasha Fischer believes that the team "truly deserved [winning the league because] every girl put her heart out on the field and was determined to represent Scarsdale." The final score against North Rockland was 4-2, two goals were scored in the last ten minutes of the second half. Thus far the 2020 Girls Varsity A Soccer team showed up and showed out with combined league and non-league games resulting in an 8-0-2 record.


The Girls Varsity A Soccer team is now preparing for playoffs. Their first playoff game is Thursday, November 18th. The team had a BYE the first round of playoffs which has allowed them additional time to train hard. Coach Mindy Genovese advised that they are currently "working on drills that focus on possessing the ball through passing patterns, pressing, dropping, changing the point of attack, playing under pressure quickly, and staying organized defensively." With the title of "League Champions" on their shoulders, according to Victoria Von Redden, the team has made "sure not [to be] overconfident because [they] never want to underestimate [their] opponents'', while still being "happy with how [they've] done so far and confident that [they will] continue [their] amazing record." The team is looking forward to the playoffs; Coach Mindy Genovese "hope[s] to have a deep run in [the] regional playoffs", and captain Victoria Von Redden is "looking towards the playoffs with an optimistic view." With the mentality, teamwork, and effort put into this season, the first playoff game will be quite a show.

Text and Photos by Sophia Caione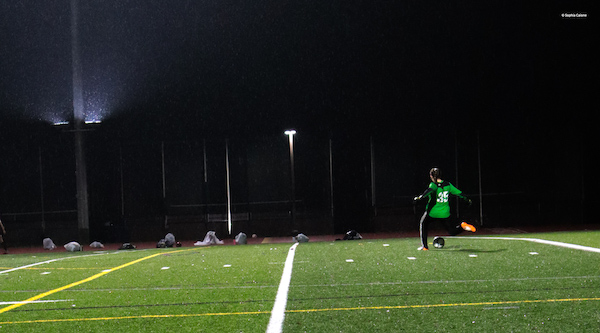 Senior goalkeeper Dylan Gross, #35.