One Down, Two To Go: Girls Varsity A Soccer Moves On To The Next Round Of Playoffs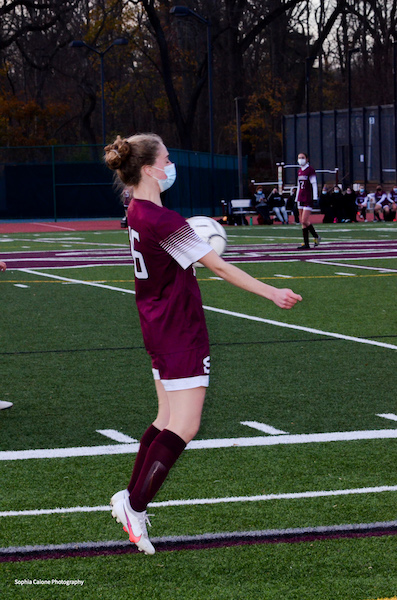 Jojo Denion, #16, chest trapping a ball in the air. On Thursday, November 19th, the Girls Varsity A Soccer team was triumphant- once again- claiming victory against Ardsley in round one of the playoffs. The victory was captured through stylistic goals and a strong team presence on the field. Intense pressure was put on Ardsley from the start, as the Raiders presented an urge to win, but beyond winning, to conquer the field a by an overwhelming margin.
The final score was 6-2; The first 4 goals were scored in the first half of the game, leaving Ardsley with a large gap to fill. Ardsley had a difficult time catching up as their play was mostly "kick and chase". The Raiders defensive line, lead by Captains Victoria Von Redden, #17, and Emily Yacob, #19, proved to be fierce as they stopped breakaways, captured long balls, and maneuvered through Ardsley's attacking players. Additionally, senior goalkeeper Dylan Gross, #35, was a powerful and leading communicator on the field, commanding the defense and encouraging her teammates.
Season leading scorers, Alessia Schettino, #20, and Riena Parente Ribeiro, #7, were two leading performers during the first playoff game. Both players scored two goals each, in addition to one goal scored by Jojo Denion, #16, and one goal scored by Lizzie Wachs, #23. Lola Tirabassi, #13, showed her skills by providing 4 assists, and Victoria Von Redden demonstrated that a defensive player could do it all by assisting a goal.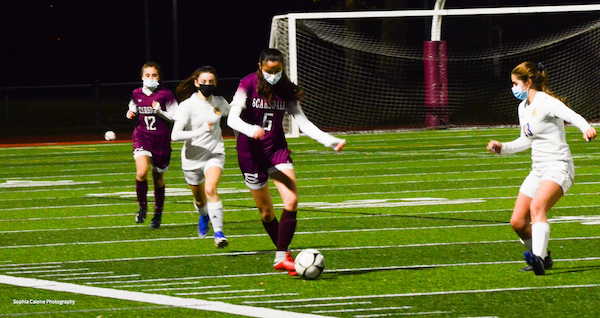 Kate Braverman, #6, maneuvers around an Ardsley player.
Schettino put constant pressure on Ardsely's defense and was highly aggressive in the final third of the field, especially when it came time to shoot and score. Riena Parente Ribeiro, nicknamed "RPR" by her coaches and teammates has been an essential part of the midfield. Parente Riberio acknowledges that "after a strong start, our team started to struggle to connect simple passes and there were a few miscommunications. [However,] we were able to overcome these difficulties and dominated the end of the second half. We ended the game with a confident mindset to lead us to the semifinals."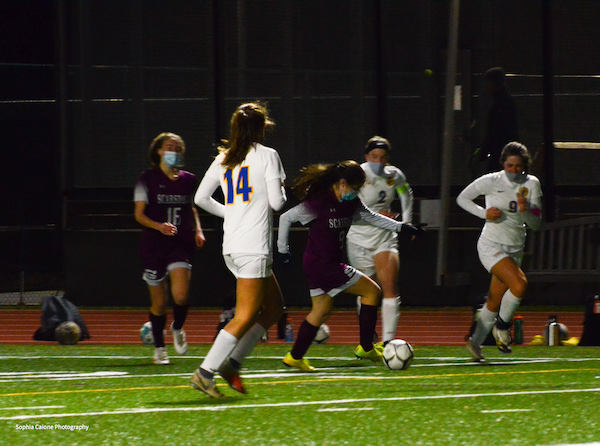 Audrey Gendel, #9, dribbles around Ardsley.
The second playoff game against rivals New Rochelle-on Saturday, November 21st-will be packed with action, competition, and heart. Schettino says, in the next playoff game "We need to capitalize on our opportunities... If we see the net, we have to score." Parente Riberio comments that "New Rochelle is a tough opponent and we always look forward to playing them because they are our rivals and a competitive team. The stakes are going to be higher than during our previous games and both teams will bring 100%. I'm excited for the energy and the competition." Girls Varsity A Soccer will put their all into every second of the game, until the desired outcome.

Photos and text by Sophia Caione.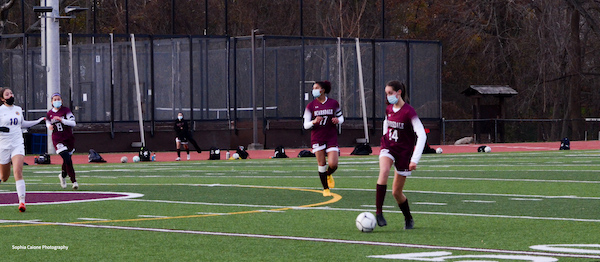 Abigail Talish, #14.