Cuomo and Latimer Ask Residents to be Vigilant: COVID Cases Jump 55% in Scarsdale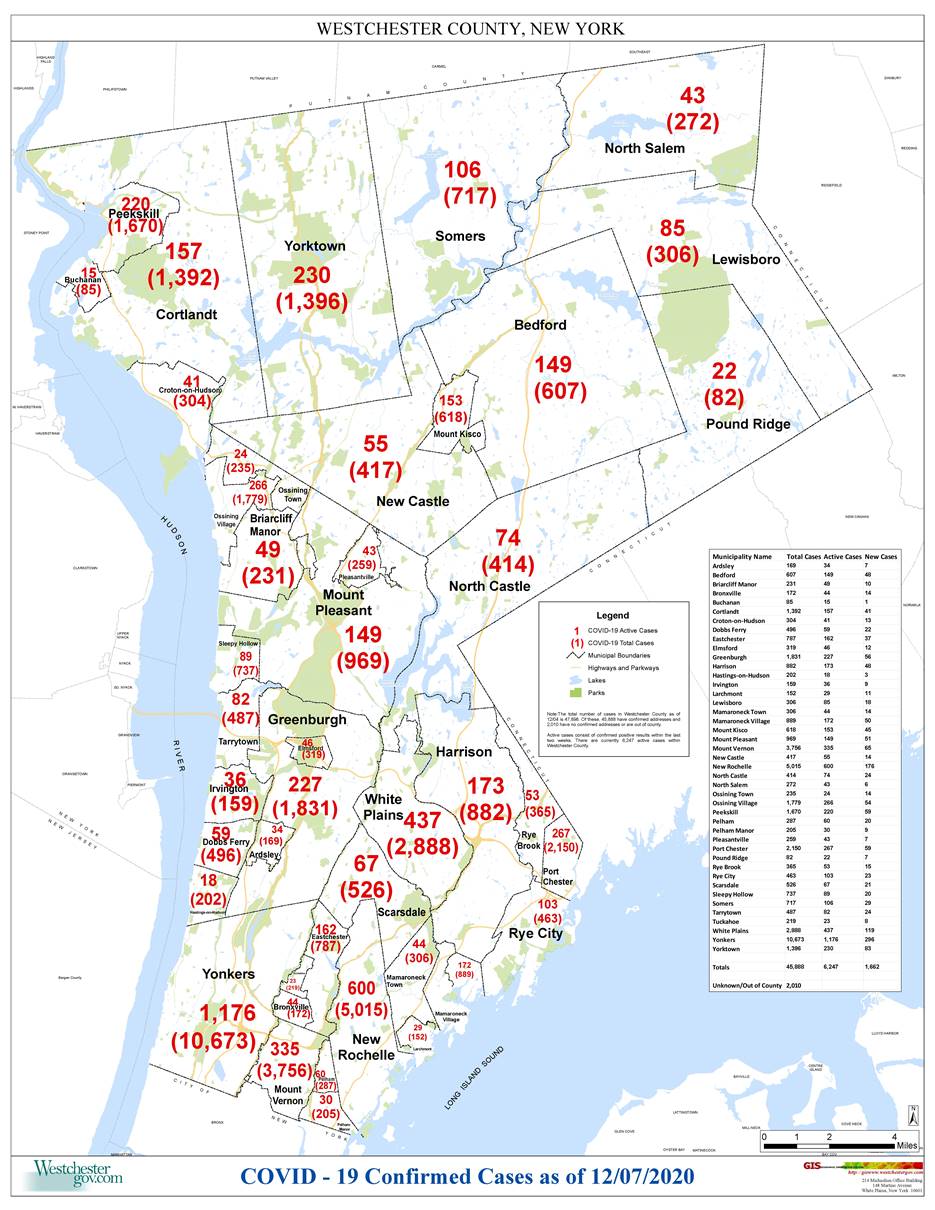 It was another big week for the spread of COVID in Westchester and statewide, according to briefings from both Governor Andrew Cuomo and Westchester County Executive George Latimer.
As of December 7, Latimer reported 7,830 active cases in the county, up from 5,764 a week ago and more than double the count of 3,480 three weeks ago. He said the active case count had not been this high since April 28 when there were 8,000 active cases.
The Governor is keeping his eye on hospitalizations and Latimer estimated that about 300 are in the hospital with COVID at this time. With 3,000 hospital beds in the county, there is currently available capacity. He reported that hospitalizations are growing at 15-20 per day and we are losing about two people per night.
Latimer noted that since all civic activities have stopped but the virus is still spreading it is an indication that it is spreading in private settings. Governor Cuomo said, "We're closely monitoring hospital capacity and have implemented triggers to ensure hospitals have what they need. The light at the end of the tunnel is the vaccine, and one is coming, but until then we must be disciplined. Public health experts agree households and private gatherings are a major driver of transmission right now, demonstrating once again that it is our actions that determine the infection rate. We know what works: wear a mask, avoid indoor gatherings, and socially distance, and the local governments must do enforcement. We will win this war but it will take vigilance and everyone working together."
The Governor has directed all hospitals to increase their bed capacity by 25% and called on retired doctors and nurses to return to service.
As of now, Cuomo has not declared any new yellow or orange zones in Westchester. They remain as they were last week with the following areas zoned due to their positivity rates:
Peekskill – yellow – 10.59% rolling average
Ossining – yellow – 8.68%
Tarrytown/Sleepy Hollow – yellow – 5.7%
Yonkers – yellow – 5.76%
New Rochelle – yellow – 5.94%
Port Chester – orange – 11.42%
Also note as of December 7, the number of active cases in Scarsdale has climbed to 67, up 24 cases from December 1, 2020.