With Vaccines in Short Supply, the Scramble for Appointments is On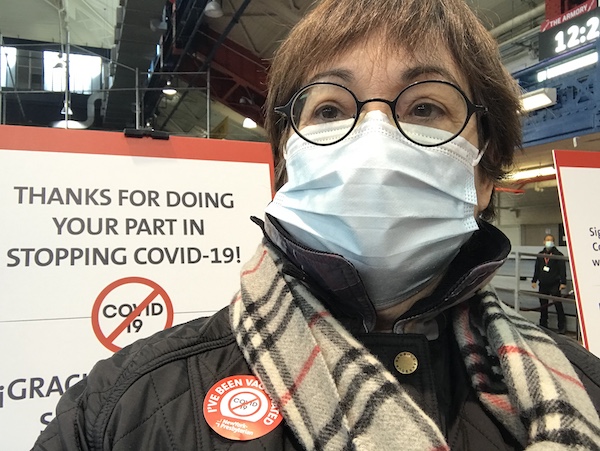 BK Munguia got her shot at the NY Presbyterian Armory on Sunday January 18.With the government's decision to make everyone 65 and up eligible for the COVID-19 vaccine, the scramble is on to secure an appointment. Though it's only been 10 days since the vaccine became available, for the most part, those who are determined have been successful at receiving their first dose and getting an appointment for their second.
We've heard myriad tales of how and where people are getting appointments.
Closest to home is the Westchester County Center where 6,400 vaccines have already been administered but there are currently no more appointments. The Javits Center in New York City was also giving vaccines, but there are no more appointments there either.
Andrew Sereysky, President of the Greenacres Association and his wife Joan felt lucky to secure appointments at the Westchester County Department of Health facility at 134 Court Street in White Plains. He reports that they were in and out within 45 minutes and the process was smooth and professional. They were given the Moderna vaccine and so far they feel fine.
Scarsdale Bowl winner BK Munguia was thrilled to receive her first dose at the NY Presbyterian Fort Washington Armory in Washington Heights. The 65,000 square foot indoor track and field complex at 216 Fort Washington Avenue and 169th street has 70 vaccine stations. After an initial appointment in Huntington was cancelled, former Scarsdale Village Trustee Stacey Brodsky and her husband David also got appointments at the Armory on Inauguration Day, which gave them much to celebrate. Those who are eligible can sign up here.
One friend was able to get an appointment for a vaccine at the Rite Aid in Peekskill. However, when he arrived, he learned that the staff had neglected to take the supply out of the freezer and he was instructed to return later in the day.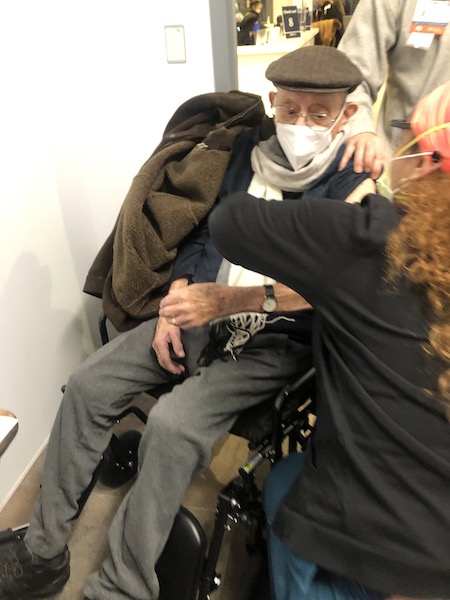 Augustine F. Trapasso, age 96, and his aide Donah got their vaccines at the Westchester County Center.Geralyn Della Cava was able to get appointments for her 96 year-old father Augustine F. Trapasso and his aid Donah to get the vaccine at the Westchester County Center on Sunday January 18. She says, "The process went very smoothly ... very pleasant people working there and very kind. We only waited 15 minutes. We set up the next appt immediately after he received the shot for three weeks later."
Scarsdale's Frank Lichtenberg got an appointment at Metropolitan Hospital on the Upper East Side. His wife Michelle, another Scarsdale Bowl winner, went along and they gave her one too! Here is the site to sign up for vaccines through New York City Health and Hospitals.

In the first few days some received appointments from Mt. Sinai and received their vaccines. But those with later appointments found that they were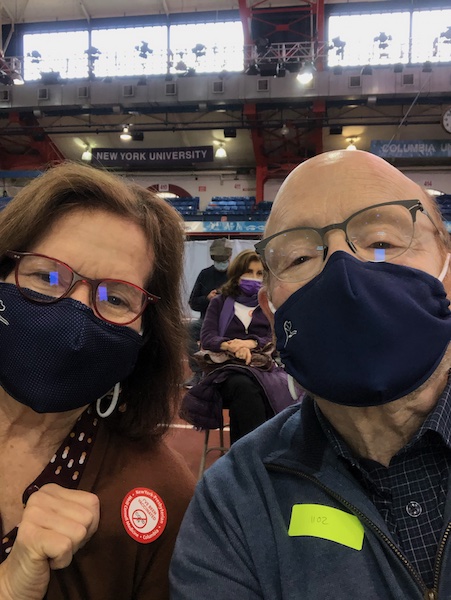 Former Village Trustee Stacey Brodsky and her husband David, got their first dose on Inauguration Day.cancelled due to a shortage in the supply. Their website says, "Because of sudden changes in the allocations of COVID-19 vaccine that we are receiving, we unfortunately had to temporarily pause scheduling of non-employees and cancel patient appointments scheduled from Friday, January 15, through Tuesday, January 19. Vaccine appointments for Wednesday, January 20, and beyond remain on the calendar. We will confirm those appointments 24 to 48 hours in advance, and we will contact those whose appointments were canceled as soon as vaccine supplies are available to reschedule." Here is the link to their website.

Frustrated with the slow flow of the vaccines, NYS Governor Andrew Cuomo sent a letter to Pfizer asking to buy the vaccines directly from the company but that request was denied. The state received just 250,000 vaccines this week, down from 300,000 last week, so it could take months to vaccinate all the eligible people in the first two groups.
Where else might you find a vaccine? Here are some sites to check:
Another resident reports success on Essen Health Care however they have now paused on scheduling appointments as they have no more vaccines. They suggest you check their site daily to see if more appointments become available.
Please share any information you have about getting a vaccine in the comments section below or email it to scarsdalecomments@gmail.com.