Better Together Program Fosters Intergenerational Connections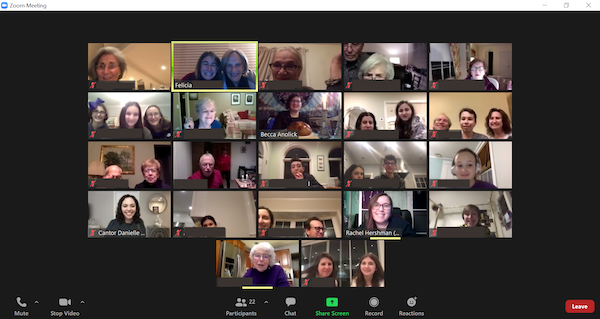 The Jewish Learning Lab (JLL) at Westchester Reform Temple is pleased to announce it was selected to participate in the Better Together in a Box program. Better Together in a Box, which is modeled after the four-year Better Together program, is designed to encourage meaningful interaction between young and old. JLL teenagers in 7th-12th grade, under the direction of our JLL Full Time Educators, Rebecca Anolick and Rachel Hershman, with the assistance of JLL Assistant Director, Felicia Block, have been participating in the program with seniors from the congregation.
"We are honored to be part of this initiative," said Rabbi David E. Levy, JLL Director. "During this unprecedented time, everyone feels isolated. Through letters, phone calls, and Zoom gatherings, our young people will have the opportunity to learn from the elders of our community, and our long-time congregants will be connected to a generation of families they may not have had the pleasure of meeting, if it wasn't for this program."
JLL teenagers and seniors have already started to develop these intergenerational connections. Following a Better Together in a Box delivery in early December, one participant wrote, "Thank you so much for the Buddy Box...I got very teary when I saw the photos of [our JLL learner] and his family and dog! I guess I felt an immediate connection to this adorable young man - even to his family and dog! ...the Chanukah candles [we] received will be in our menorah tonight." Buddy Boxes have included Challah, Shabbat candles, grape juice, and good quality BetterTogether reusable masks as well as stationary for letter writing, photos of the teen buddies, fuzzy socks, and reusable water bottles.
Westchester Reform Temple and the Jewish Learning Lab are grateful for being chosen to participate in the Better Together in a Box program. They are proud of their seniors and teens who have made a significant commitment, from October 2020 - May 2021, to this project and to getting to know each other.
Contacts: Rachel Hershman, Rachel.Hershman@wrtemple.org
Felicia Block, Felicia.Block@wrtemple.org