Ready, Set, Go for Prom 2021: Promposals
Brendan Schildkraut set up a tent in Kayla Singer's backyard and made a sign that said, "Will you join me under the tent?" Friends were invited to celebrate.After much discussion, the Scarsdale High School prom is on. The original plan was to hold it in a tent on the grounds of Scarsdale High School. But to everyone's delight, the event was moved to Glen Island Harbour Club on Thursday night June 3, 2021 from 6 pm to 9 pm. Edgemont High School will also hold their prom at Glen Island, a few weeks later.
New this year, the prom is for seniors only. No underclassmen, no students from other schools or college students will be allowed to attend. This will limit the number of attendees to comply with COVID rules. As a result, many students paired up with friends from the class rather than dates who were younger, older or lived outside Scarsdale. Also this year there will be no red carpet event at the high school. This is usually held before prom goers board the buses for the big night. However, some will attend pre-prom events at Scarsdale homes where photos will be taken.
This year, instead of a bus, parents or guardians have been asked to drive students to and from New Rochelle and only one students is permitted per car.

And what about masks and vaccinations? All prom goers will need to be masked and provide either proof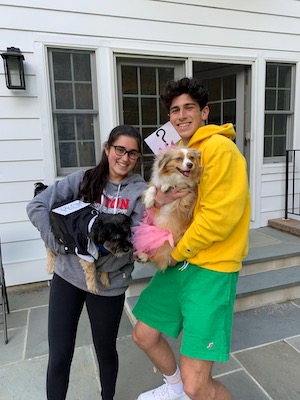 Ethan Abraham asked Jordana Wiener to prom by dressing up his two dogs. A visit from the dogs is a common occurrence, but she was very surprised when they arrived wearing a suit and tutu. of a vaccination or a recent COVID-19 PCR test. Fashionable attendees will have masks that match their outfits, some crafted from their tailored dresses. Some even plan to wear masks that match their dates.
What's in this year? Shoppers found that stores were low on inventory and many purchased their prom wear online. This year the fashion for girls is solid color dresses with lots of sequins in teal, royal blue, white, silver, gold and black, so attendees will sparkle as they dance the night away. For hair, the style is loose and wavy. Wrist corsages for girls and boutonnieres for boys remain the tradition.

All of these twists and turns did not stop students from making their promposals.
See a few creative asks here: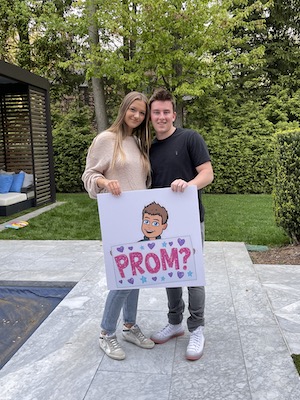 Signs have remained popular this year as displayed by Max Kushnick's promposal to Sabrina Siegel.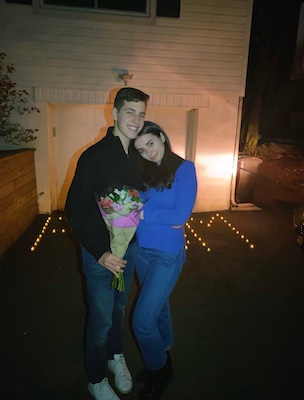 Ella Blank promposed to Zac Schneider by spelling out prom in his driveway with candles. Zac loved the surprise and felt that his promposal was perfect.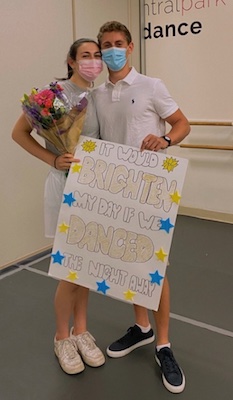 Emmett Goldstein's promposal to girlfriend Molly Bochner used a cute sign and a quick drive to her dance studio, Central Park Dance. He surprised her in the middle of her class and the other dancers watched in awe.