Scarsdale Says Goodbye to Village Manager Steve Pappalardo After 33 Years of Service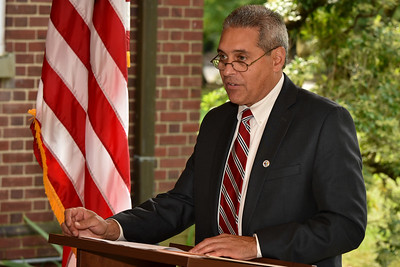 The Scarsdale Board of Trustees bid a bittersweet farewell to longtime Village Manager Steve Pappalardo, who has tirelessly served our local government for 33 years at their June 22, 2021 meeting which marked Pappalardo's last meeting.
During Mayor's Comments, Mayor Veron had many wonderful things to say about Pappalardo's dedication, work ethic, and love for the village. Below is an excerpt of her words:
"Steve, over the past 33 years, you have given every bit of your heart and soul to Scarsdale. There is no part of Scarsdale Village operations you haven't touched, and with your care, made that much better. You have risen through Scarsdale Village government to the pinnacle, serving as our Village Manager for these past six years. Throughout you have never missed a beat, working day and night to ensure that our residents and your staff are well cared for. Your work ethic is beyond compare, and you dive into the details to make everything right. From the very beginning of your tenure, no issue is too big nor too small for you to address. With sincerity and concern, you listen, support, and work to make things better. You are the true embodiment of public service."
Trustee Crandall followed and said she was "at a loss for words. [Steve has] been in Village Hall for the entirety of my volunteer career, close to 20 years… his work ethic is beyond compare. He works weekends, if there is any type of emergency, he is on it. He instructed our police chief to call him in the middle of the night if there is ever anything unusual… I thank you for all your hard work, your dedication, your service." Trustee Arest praised Pappalardo as a "dedicated and loyal public servant… a steadfast leader in times of crisis, a friend and mentor to many, and an invaluable source of knowledge."
Next up was Trustee Whitestone who commented that his deep appreciation for Pappalardo's work was "never more evident than during the last 15 months of unforeseen and unimaginable stress on the village… Steve maintained his firm stewardship of operations, the facts, and the finances which had to change on the fly, displaying throughout his signature calm and reasonable professionalism." He added that, "for Steve, this was not a five day a week job… he was always on the job. Ready to be present in the best sense of those words… I thank his family for letting us have so much of Steve's time." s
Trustee Lewis concluded the Board farewells and thanked Pappalardo "for the high standards you set for hard work, your dedication to our community, your humor, and most importantly for making our community a better place." Several residents, including Deb Pekareck, Max Grudin, Bob Harrison, and Michael Levine, also joined the meeting to recognize and thank Pappalardo for his work over the years.
Pappalardo thanked the Board for their kind words. Below is an excerpt from his parting words:

"Scarsdale has been a big part of my life… I only know one way to do this job, and you have to be all in. The job is not easy but it's so rewarding… by my calculations, after 33 years and 4 months… this will be my 800th regularly scheduled village board meeting, and I'm fixing to make it the best… Scarsdale is a special community… the residents, the heartbeat of this place, the caring about their village. It's an incredible place, people give so much of themselves and their time, and they are engaged and thoughtful on all important government matters. You couldn't help as a public official but to meet that, and to work as hard as they were working… I've always expected the best from our professional staff because of the standard you've set as volunteers… Thank you again for the opportunity to enjoy a fulfilling career in local government and public service."