Are Hosts Responsible for Teenage Drinking Parties? You Bet They Are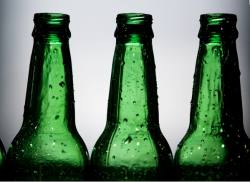 We received multiple reports of a large party of high school aged students in Quaker Ridge on Friday night September 10. Parents said there was a big gathering and saw drunk high schoolers leaving the party looking very inebriated.
A neighbor says that the police passed by the house several times during the evening but failed to break up the party until a third drive by at about eleven o'clock when they did go to the front door.
The question arises, what is the police's policy regarding private parties and underage drinkers? And are host parents responsible if kids get sick at the party or get into an accident on the way home? We asked Scarsdale Captain Edward Murphy for clarification and here is what he shared.
"The Scarsdale Police Department's focus involving these types of incidents is the safety of the children. If we are called to a report of an underage party, responding police officers first work to ensure that everyone is safe and that no one is sick. Officers then attempt to locate an adult and interview same. If no adult is present, officers will then attempt to locate a person on-scene who lives in the home. Officers will then contact each party goer's parents to ensure that all leaving will leave with an adult."

"If evidence is present that adults knowingly allowed underaged parties to drink in their homes, those adults could be held accountable through civil lawsuits. In addition, there may be other violations of the Alcoholic Beverage Control Law (ABC Law) and/or the Westchester County Social Hosts Law that the adult could be charged with."

Here are links to Westchester County District Attorney Mimi Rocah's website and an article from Scarsdale10583 dated December 12, 2019 entitled Panelist Warn Parents of the Danger of Hosting Teen Parties at Home regarding this issue.
Westchester DA Mimi Rocah(The text on the DA's site says, "Parents and other adults have a special responsibility with respect to hosting house parties. Party hosts are required to ensure alcohol is not being served to underage guests. If you host a party and plan to serve alcohol, you should understand your responsibilities and take precautions ahead of time.
Under the Westchester County 'Social Host Law,' it is unlawful for any person over the age of 21 to "knowingly allow" or "to fail to take reasonable corrective action upon becoming aware of" the consumption of alcohol by minors in his or her residence. The social host law "[serves] to deter the consumption of alcoholic beverages by minors by holding those persons who are 21 years old or more responsible." First and second offenses of this law result in fines, and a third offense is a misdemeanor, which could result in a criminal conviction and jail time.
Under the New York State Penal Law, any person who gives, sells or causes to be given or sold any alcoholic beverage to someone under the age of 21 faces potential prosecution for Unlawfully Dealing with a Child, a class "A" misdemeanor, which could result in up to one year in jail and/or a fine.)

Captain Murphy continued, "As for the other questions in your email, if an officer is dispatched to a location on a reported underage party, the officer would observe activities taking place and take appropriate action. Officers would investigate further if violations were observed and follow actions described above."

"The Police Department received one noise complaint (Party with loud music) on Harvest Drive at approximately 10:52 PM. An officer was dispatched to the location and upon arrival, did not hear any loud music. The officer met with the homeowner who stated that there was a party and that it was ending with guests leaving. The officer reported that there was no excessive noise. (See call 21-25413 on this week's Media Log). This was the only call we received regarding a noise complaint/party on Harvest."

"The Scarsdale Police Department encourages parents to speak with their children about the risks of underage drinking. For information, please see the Scarsdale Drug and Alcohol Task Force. In addition, the Scarsdale Police urges all residents that if they see an incident of this nature to immediately call Police Headquarters so officers can be dispatched and investigate the situation."