Simone Kestelman's Warriors On Display at RoCA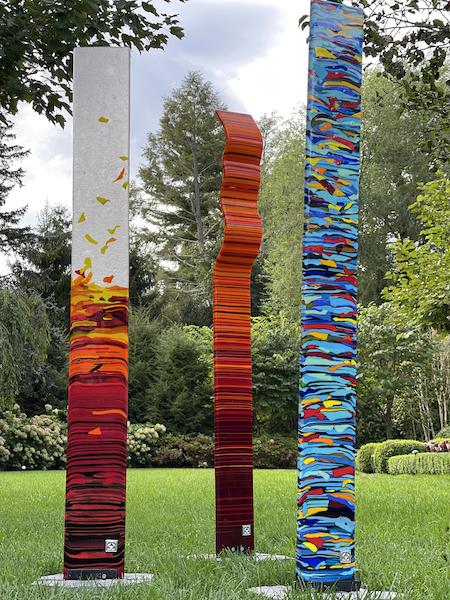 The work of Scarsdale artist Simone Kestelman will be featured in an exhibit of sculpture by women at RoCA, the Rockland Center for the Arts in Nyack, starting on October 15, 2021.
The Women in Sculpture exhibit is a part of a tribute to the 20th Century artist and feminist, Dorothy Gillespie. The exhibit will open October 15th in The Catherine Konner Sculpture Park at RoCA. Artists include works by Dorothy M. Gillespie, Leigh Taylor Mickelson, Aurora Robson, Simone Kestelman and Cathrin Hoskinson.
Dorothy Gillespie (1920-2012) pioneered joyful, new directions of metal sculpture and is best known for large-scale, colorfully painted arrangements of cut aluminum strips curling, radiating, or undulating in giant arrangements of ribbons, enchanted towers, or bursting fireworks. She was well known as a painter, sculptor and installation artist whose work incorporated many significant 20th-century trends in art.
An influential force in the women's movement, Gillespie encouraged more women's art in museums and art in public spaces through demonstrations of large museums, such as the Whitney, as Founder of Women Artists Historical Archives of the Women's Interart Center in NY, as co-founder of the NY Professional Women Artists group, taping interviews of the most important women artists of the 20th century, and teaching at colleges and universities.

She was more fortunate than women sculptors in the 19th Century who were mostly hired as studio assistants by established male sculptors with few exhibitions. They did not pursue monumental work as frequently as men did. Today many more women are now entering traditional male dominated sculpture roles in metal, wood and stone, thanks to the pioneering activism of women like Dorothy Gillespie in the 20th century.
Dorothy Gillespie's career spanned seven decades, always at the forefront of the American Art movement. Her works grace many institutions, museums, colleges, universities and public spaces, including the permanent collection of the Solomon R. Guggenheim Museum and the United States Mission to the United Nations.
More women than ever are entering mediums of sculpture that were traditionally occupied by men. They are also securing monumental public sculpture commissions. The accomplished female sculptors of the 21st Century being featured along with Gillespie each have made a contribution to the art world through their mediums.
Among the artists is Scarsdale's Simone Kestelman's glass Warriors sculptures representing different types of inner strength. Together they show that individuals are strongest when they accept their vulnerability and stand strong in spite of it. Glass sculptures may appear fragile but are resistant to heat, cold, pressure and chemicals. They can endure heavy rains, snowstorms and heat waves. In stressful times, if we stand still, we realize how strong we are to overcome adversity. The stripes in her pieces represent the DNA that makes us each unique. These sculptures express the diversity of both individuality and
personality.
Kestelman's work reflects on important social issues and comments on them through her work, focusing on injustice, inequality and abuse by stepping beyond traditional imagery and sculpture. Her intention is to drive more people to think and act to promote the protection of women and children in vulnerable situations. She was the Director of SK Gallery in White Plains, NY and has exhibited at the Museum of Art, Morago, CA, the Tucson Contemporary Womens Art Collective, the United Nations, MOCA in Calgary, Canada and A Hebraica Gallery, Novotel Sao Paulo, Brazil.
See more about the upcoming exhibit here.