Edgemont Mourns the Passing of Local Resident Walter P. Stern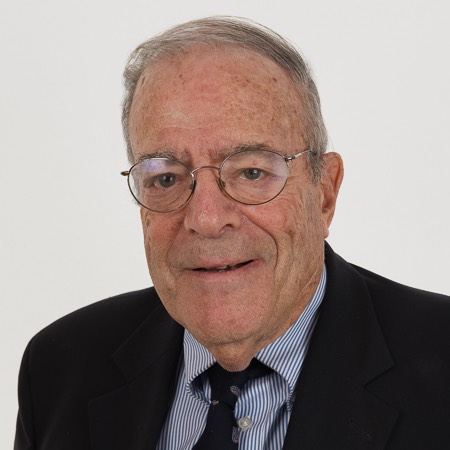 A memorial service for Walter P. Stern is scheduled at Westchester Reform Temple on March 4 at 10:45 am.Longtime Edgemont resident Wally Stern passed away peacefully at home on Sunday, Feb. 27. He was 93 years old and had lived in Edgemont since 1962. A titan in the international investment community, Stern also had a profound effect on events at home and abroad through his leadership in many organizations, most notably those dedicated to the survival of the State of Israel and policies that favored American exceptionalism, in the U.S. and overseas. Still, he frequently said that his greatest achievement was raising a quality family. Stern gave credit for his family to his surviving wife of 64 years, Betsy May Stern, an active community resident and former president of the Edgemont School Board. Two of Wally's children live in Edgemont and also served as School Board presidents.

Public tributes to Wally have arrived from near and far. In a letter to Trustees earlier this week, Westchester Community College described Wally as an "advisor to presidents, international heads of state, ambassadors, and a model of integrity in the investment business," adding that "Wally cared deeply about making education accessible and equitable." John Walters, President of Washington D.C.-based think tank Hudson Institute, expounded in a press release, "Through his leadership, Wally served as Hudson Institute's 'North Star,' guiding the organization through the administrations of 10 U.S. presidents. As a result of his guidance and support, Hudson has become one of the world's most respected policy organizations, dedicated to promoting American leadership for a secure, free, and prosperous future." Robert Satloff, Executive Director of the Washington Institute for Near East Policy, explained in a press release, "In his quiet, unassuming way, Wally — as he was affectionally known by all — was a pathbreaking pioneer in the world of finance and then again in the world of ideas," adding that he was "a consistently wise source of counsel, a remarkably generous patron who never sought credit for his philanthropy, and a true gentleman, unfailingly warm and kind. Wally was a great and good man."
Stern was born on Sept. 26, 1928, in Manhattan. He graduated from New Rochelle High School in 1946. In 1950, he received a bachelor's degree (Phi Beta Kappa) from Williams College. In 1952, Stern received an MBA, with distinction, from Harvard University. He then served his country as an Air Force officer. For the next two decades, Stern worked at Burnham & Company in New York, where he was responsible for research, institutional sales, and investment management. In 1973, Stern joined the Capital Group Companies. He served as chairman and a director of Capital International, Inc. and chairman of the New Perspective Fund and the Emerging Markets Growth Fund. Stern had responsibilities for following financial and political developments worldwide.

Stern was Chairman of the Institute for Chartered Financial Analysts and the Financial Analysts Federation, where he pioneered the CFA examinations. He taught investments at several universities and was a longtime board member at Temple-Inland, Inc. Stern also became a mentor to countless investment professionals and others.

Outside the investment community, Stern was most passionate about Hudson Institute, which he helped bring to prominence in the 1970s with his close friend Herman Kahn. Stern served for decades as Hudson's Chairman. Among the many other organizations that he served as board member and investment advisor were The Washington Institute for Near East Policy and the Republican Jewish Coalition.

Known for displaying fairness and deflecting credit for his good deeds, Stern lived by the motto: You'd be surprised how much you can accomplish in life if you don't care who gets the credit.
Stern's local public service included stints as president of the Longview Civic Association, member of the Edgemont School Board Nominating Committee, and coach of many youth sports.
Stern's grandchildren recall his often chronicling on his birthday that, "When I graduated from college, I set four goals: (1) Earn the respect of my professional peers; (2) Gain financial stability; (3) Make the world a better place; and, (4) Raise a good family." He hit for the cycle!

In addition to his wife Betsy, Stern is survived by his children Sarah May Stern (Mark Rosenblatt) of Edgemont; William May Stern (Ann Shapiro) of Nashville; and David May Calhoon Stern (Mary Elizabeth Calhoon) of Edgemont; by his grandchildren Judd Rosenblatt (Melanie Plaza), Rebecca Rosenblatt (Ben Manson), Tom Rosenblatt, Zachariah Stern, Phoebe Stern, Kasey Stern, Gavin Stern and Fiona Stern; by two great-grandchildren Trent Rosenblatt and Leo Manson; and by his younger brother Richard Stern (Phyllis Edelstein). He was preceded in death by his parents Leo and Marjorie Stern and his brother Robert Stern.

A memorial service is scheduled at Westchester Reform Temple on March 4 at 10:45 am. Proof of vaccination and booster is required. The service can be live-streamed at wrtemple.org. In lieu of flowers, please consider gifts to Hudson Institute or Washington Institute for Near East Policy.