Village to Continue Leaf Vacuuming, Despite Environmental Concerns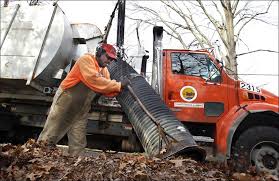 For the third consecutive year, the Village Board has examined the impact of changing their leaf pick-up program to end leaf vacuuming from the curb in place of the collection of bagged leaf and grass clipping collection and the promotion of mulch mowing.
An April 2021 report from the Scarsdale Forum recommended that the vacuuming of leaves be halted and replaced with the pick-up of bagged leaves as well as mulch mowing and grass cycling. Why? They found that a 2011 effort by the village to educate the public about the benefits of mulch mowing did not result in changes in behavior of residents or landscapers. Furthermore they say that local landscapers have failed to transition to safe best practices and often misinform their customers about the process and the costs. They concluded that "education alone has proven to be insufficient."
The Forum report found that leaf piles in the streets are hazardous to navigate and that wet leaves are slippery and dangerous. The leaf piles provide optimal conditions for the growth of fungi and mold. The leaf piles clog storm drains and catch basins, resulting in flooding. The emissions from the leaf vacuuming trucks disperse pollutants and it's wasteful to truck 5,000 tons of leaves to Goshen for recycling when this organic matter could be used to nourish village lawns.
Neighboring towns of New Rochelle and Greenburgh ended leaf vacuuming as a result and Greenburgh Town Supervisor Paul Feiner says the program is a success.
Countering the Forum report are some residents who see the end of the program as a cut in services that will result in property owners assuming the additional cost burden of disposing of their leaves.
In order to analyze the program, the Scarsdale Department of Public Works provided a cost/benefit analysis of trading leaf vacuuming for pick up of bagged leaves and mulching. If the vacuum program were suspended, the Village estimates that 10% - 20% of leaves would be mulch mowed and that the cost burden of disposing of the leaves would be transferred from the Village to the residents.
The Village received estimates from a local landscaper who claimed that the average homeowner would pay $220 more per year to have their leaves bagged and transferred to the Recycling Center. Overall residents would pay $1,188,000 to dispose of the leaves that are now vacuumed by the Village.
To facilitate the transition to the pick up of bagged leaves, the Village estimated that they would need to purchase two garbage packers at a cost of $260,000 each to pick up the bagged leaves. As it would take two years to get the equipment, the Village would initially need to rent the equipment at a cost of $48,900 per year.
Overall, they conclude that the existing program costs the Village $1,011 mm and the bagged leaf program would cost $1,647 mm with $1mm in costs shifted to residents.

So the question boiled down to whether or not Village Trustees could end the leaf vacuuming and force residents to either mulch mow or pay increased costs for disposal of their leaves. Would residents be willing to change their behavior to make the Village more environmentally sustainable, reduce our carbon footprint and take a small step toward addressing climate change?
At a work session on July 19, 2022, trustees voiced their views on the report from the Department of Public Works and asked for public comments.
Overall the trustees understood the environmental impact of the leaf vacuuming program but believed that residents desired the vacuuming service and did not want to assume the costs of leaf disposal. They were not ready to take the unpopular step of ending the program and burdening some with increased work to maintain their lawns.
Explaining the Village analysis, Jeff Coleman who heads the Department of Public Works said, "We concluded we are doing the job as efficiently as possible with the Village and the landscaping community….Though we do not by law have to provide this service, we provide excellent service….I do recognize that there are a number of ways to analyze this, but the conclusion will be the same each time."
Each Trustee weighed in and reached the same conclusion.
Trustee Ahuja said, "There has been deep debate about this topic since I have been on the Board. I have heard from a lot of residents on this topic. From the people I have spoken to, no one wants to change the current set up. People feel like additional cost burdens have already been placed on them -and no one I spoke to is excited about this change…. People are concerned about the aesthetics of their lawns and they should not be demonized. If it is our policy to shift more cost onto the residents, we should be clear about that. It's a struggle.
Trustee Mazer said, "In this case I will defer to the experts to make this decision."
Trustee Gans said, "I echo what Trustee Ahuja said. I was a member of the Scarsdale Forum when this report was written so I know people feel strongly about this. But the vast majority of people I spoke to do not want a change. It would be more costly and the environmental impact is not clear. Everyone will not mulch mow. So then there will be multiple trucks driving to multiple locations. It's in the Village's interest as a whole to preserve the status quo."
Trustee Whitestone said, "We have been through this analysis for several budget seasons. I would encourage residents to do what they want to do – but this is a service people are used to. Based on my sense of the DPW need for planning, I am comfortable continuing this. There are always going to be new ideas down the road and I am confident the Superintendent will continue to look at them."
Trustee Lewis said, "I support the staff's work. One observation: we often tackle things on an issue by issue basis. The intersection of all these things is climate change. Maybe we can focus on climate change more strategically at a session in the fall. How can we have a more sustainable Scarsdale, decrease our carbon footprint and address climate change? I think we should move the climate discussion higher on the agenda. If we conduct a more strategic analysis we can come up with a more comprehensive plan. These initiatives would probably support our bond rating. I would like us to think about this more strategically."
Mayor Veron read comments from Trustee Brew who was not present. She said, "We live in a community with a large and lovely tree cover but that means we have a lot of leaves on the ground. I believe we are not ready to not collect leaves. We can make a decision that would have unintended consequences. The role of the government is to provide service in a cost-efficient manner. I do not believe we cannot stop collecting leaves as it is far more efficient to vacuum them to bag them."
Mayor Jane Veron agreed saying, "It is the government's role to provide services in a cost-efficient manner. From the current analysis, I am not persuaded that the bagging the leaves has environmental benefits over vacuuming them. I am convinced that we would just be transferring an additional financial burden to our residents. It doesn't seem feasible to mulch mow all of the leaves that come down in the fall and it is our duty to perform services for our residents. We will always look for ways to do things better. I have read the Forum Report, I have listened to those who will be disappointed. I have attended neighborhood association meetings where people expressed disappointment about the discontinuation of the leaf program. I think people expect this program to continue."
Several residents who spoke were devastated by the decision.
Dr. Darlene Le Francois Haber said, "I am here tonight to make a plea in line with our climate crisis which is very much here. It is our obligation to set policy to do the right thing to be part of the solution. We are paying for this in terms of our health, safety and our climate. We need to mitigate this curbside collection, transition and if not, outright end to it. 5,000 tons of leaves carted off each year and stolen from our lawns and carted to Goshen New York. What a waste. What a disgrace. The analysis assumes only 10% would be mulched if we stopped the carting. It almost ripped my heart out to read that. I understand this burden shift of $1 mm to residents. Which of course would cancel the $636,000 benefit to the village. Where is your faith in our community? Do you read your own memos to residents that encourages residents to mulch their leaves on their properties? I believe I have more trees on my small property per acreage than any other person in Scarsdale, and I don't leave you a single leaf at the curb, not a single one. I don't have to buy any fertilizer or water my lawn. It's the circle of life. As a physician I think about what kind of report card I would get if I got 10%. If I got 10% of my patients to take their blood pressure medicine? 10% to take their COVID vaccine? I would have to fire myself. Behavior change is tough. I get it. But there is so much at stake. The environmental price tag is too high. Scarsdale is full of highly educated folks who want to do the right thing. I believe that. Maybe I am an optimist. Maybe I am deluded. Mulching would nourish our top soil and eliminate the need for fertilizer which contribute to the nitrogen phosphorous run off that our Save our Sound friends are worried about. Lets cut our carbon footprint by not carting these leaves thousands of miles. Look around at Larchmont and New Rochelle that eliminated this years ago. New Rochelle put in an all electric policy for equipment. While we can't mandate it, who should pay for hauling leaves from private properties? Should I be asked to finance the aesthetics of my neighbor's lawn?"
Susan Douglass 59 Crane Road heartily endorse Darlene's comments. I would say this is a disservice. It is harming our future, causing slippery roads, and things piling up on our roads. Friends in Greenburgh are not paying more. Our lawn service mulch mows in the fall and grass cycling in the summer and we don't pay more. They heartily endorse this method of lawn maintenance. Our lawn is healthy with worms. I personally don't want to pay for others to maintain their lawns the way they think it should look. Scarsdale has always been a leader especially with the food scrap recycling. This service is a disservice to all of us in the community.
Madelaine Eppenstein said "There are times when I feel like I am living on another planet. A Cornell Coop study did not find a problem with ticks. After Hurricane Sandy there were a lot of leaves in the streets. Landscapers blow the leaves into the streets and then to the curb. Those leaves can collect dangerous fungus. There are many towering oaks on my street. During the Hurricane they blew an enormous amount of leaves onto my property. I hired David Duarte to collect leaves from my property and my neighbors and they mulched all of the leaves and created mulch for my tree beds and it was a great benefit to the property. I am in support of what Trustee Lewis said – in putting our climate issues and sustainability issues in perspective.
A chorus of landscapers called in to discourage the Village from discontinuing the leaf vacuuming program.
Mike Ciganolfi Landscaper – mulching in place is not the answer either. Did anyone consider the dust from mulching in place and the respiratory issues? You would be taking a service away from the residents. For landscapers we would actually make more money. If you leave the leaves in place, it clogs the waterways that need to be cleaned out. The little things all add up. You could make your own compost pile and resell it to residents."
Michael Iorio, President of the NYS Turf and Landscape Association called in and said, "Scarsdale could collect those leaves, mulch them and sell them back to the residents. There are studies showing that the mulch creates ticks. Yes some mulching is good. But some times of the year you can't mulch all that is out there. Residents pay steep taxes and would not want this service taken away."
Wayne Stuetz, a landscaper from White Plains said. "I am all for mulch mowing. But it is impossible to do it all doing it during the heavy time in the fall. Mulching all the leaves and branches and making it aesthetically pleasing is impossible. People with larger properties can push it off to the side and mulch it there. Smaller homes with few trees can possibly do it. Is it worth it? "
The Mayor thanked everyone for their input and said the Village valued their feedback. For now, the Village will plan to continue vacuuming leaves this fall.