Village Launches First Paint Recycling Program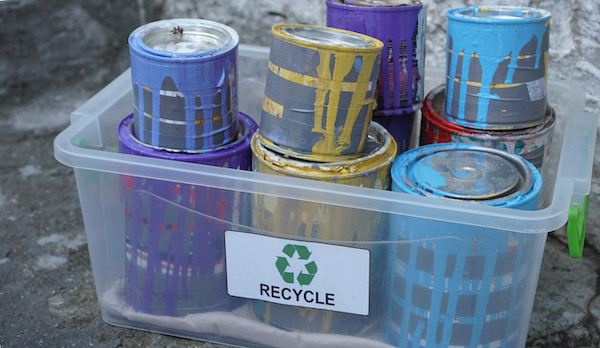 The Village of Scarsdale now has a paint recycling program!
Starting Saturday, October 29th, Scarsdale residents can bring their leftover cans of latex and oil-based paint, stain and varnish to the Recycling Center at 110 Secor Road during business hours which are Monday to Saturday, 8am to 3pm. The paint recycling area is located next to the Food Scrap Recycling Drop-off Site.
On Opening Day (October 29th), resident volunteers will be on hand to help people place their cans into the transport receptacles, and there will be many extra receptacles available to be filled.
The Village is very excited to add paint to its recycling program. Scarsdale is the first town in Westchester County to have a municipal paint recycling program. The collected paint will be recycled into new paint, and the cans will be recycled into new metal!
Accepted paint products include:
House paint and primers (latex and oil-based)
Deck coatings, floor paint (including elastomeric) and concrete sealers
Clear finish (e.g., varnish, shellac)
Interior and exterior architectural paint (latex and oil-based)
Field and lawn paints
Metal coatings, rust preventatives
Waterproofing concrete/masonry/wood sealers and repellents (No tar or bitumen-based allowed)
Help make this new program a success by recycling all of your paint. Questions? Email Scarsdale Conservation Advisory Council Chair Michelle Sterling at michellesterling1@gmail.com.
Other items that can be recycled at the Recycling Center include:

• Food Scraps
• Plastic Bags and Plastic Film
• Electronics
• Textiles
• Scrap Metal
• Tennis Balls
• Furniture
• Take it or Leave it Shed
• Cooking Oil
• Books
• Eyeglasses
• Cork
• Commingled Recycling (glass, plastic, metal, cartons)
• Paper and Cardboard
Visit the Sanitation page on the Scarsdale website for more details about recycling each item or review the Recycling Guide.
Commenting on the implementation of the program, Michelle Sterling said, "Ron Schulhof and I worked hard to get the NYS Paint Recycling Bill passed and Scarsdale is the first town in Westchester to have a paint recycling drop off site. Hopefully the first of many! It was a long road but we're so glad and excited for it finally to be happening. The more convenient it is for people to recycle the more they will recycle!