Democrats Take Westchester with 60% of the Vote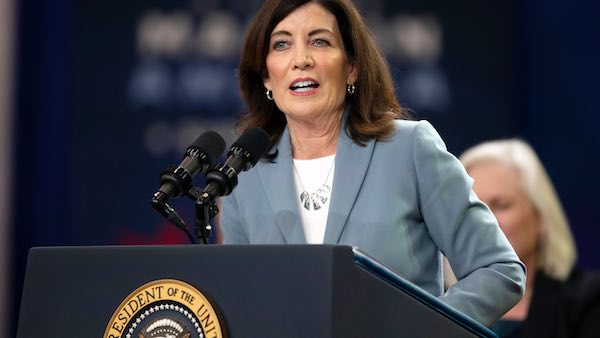 Kathy Hochul is the first female governor of NYS.After a tumultuous election season and wide uncertainty about the outcome of the vote, Democrats took Westchester County and voted in New York's first female Governor Kathy Hochul with 60% of the vote to 40% for Republican challenger Lee Zeldin. Zeldin, a former Congressman from eastern Long Island. Zeldin's platform centered on fighting crime and was effective at narrowing the gap in the vote in a state where Democrats outnumber Republicans 2:1. On the streets of Scarsdale, election signs for Zeldin were plentiful causing many to speculate about the sentiments of local voters but in the end, the Democrats prevailed.
All the other races on the ballot in Westchester followed suit, with Democrats taking approximately 60% of the vote to 39% for their Republican challengers.
According to the Westchester County Board of Elections website on Wednesday morning November 9, here are the winners in Tuesday's election:
Governor/Lieutenant Hochul/Delgado – 60%
Comptroller Thomas DiNapoli – 63%
Attorney General Letitia James – 61%
U.S. Senator - Charles Schumer -63%
Congressman Jamaal Bowman – 60%
State Senator Shelley B. Mayer 61%
State Assemblywoman Amy Paulin – 63%
Two candidates from Scarsdale were on the ballot. Former Scarsdale Mayor Miriam Flisser ran as the Republican candidates for Congress vs. incumbent Congressman Jamaal Bowman and got 37% of the vote.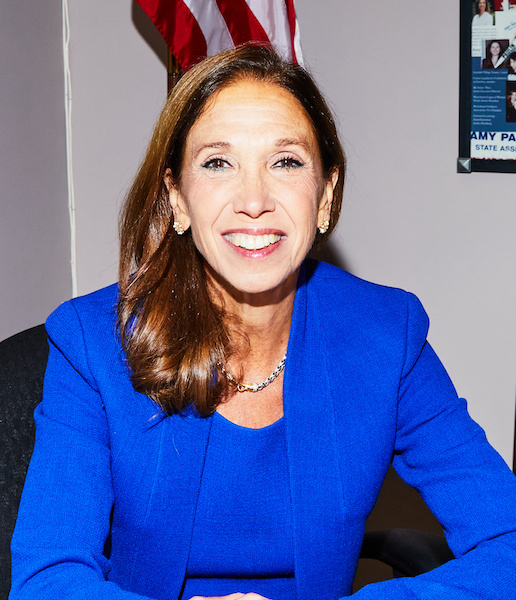 Amy Paulin retained her seat in the NYS Assembly
Frank Murtha challenged incumbent State Senator Shelley B. Mayer and received 39% of the vote.
Statewide, the gap between Hochul and Zeldin was far narrower, with Hochul receiving 52.7% of the vote to Zeldin's 47.3%.
The Clean Water, Clean Air and Green Job Environmental Bond Act, which provides $4.2 billion to fight climate change, mitigate flooding, conserve land and water quality improvements passed in Westchester with 73% voting YES. The Proposition was on the back of the ballot and there was concern that voters would not remember to turn over the ballot to vote for the proposition. In Westchester, 275,090 votes were cast on the proposition which is 37,000 fewer votes than were cast in the Governor's race, so perhaps some did not see it.

Assemblymember Amy Paulin thanked her supporters, saying:

"I am honored to have been re-elected to the New York State Assembly and look forward to continuing to serve as your representative. Thank you for your support and faith in me.
Campaigns are always the best way to meet with constituents and hear what is on people's minds. This one was no different, whether it was knocking on doors or taking part in debates and candidate meetings. I heard so many good ideas and important perspectives.
Now I am energized to go back to Albany and meet our State's issues head on. That means improving public safety, improving our economy, addressing climate change, and so much more.
I look forward to working with Governor Hochul as she enters her first full term, along with my colleagues in the Legislature. While I'm pleased that New Yorkers showed confidence in our Democratic team, the campaign is a reminder that people have a wide range of opinions and that my obligation is to pay attention to all constituents, whether they supported me or not.
Thank you to all those who came out to vote. Elections, and your vote, matter more than ever.
Thank you again to my friends, family and constituents who have stood with me in the communities of Eastchester, Bronxville, Tuckahoe, Pelham, Pelham Manor, Scarsdale, Edgemont, New Rochelle, and White Plains. We live in incredible communities with amazing people, and by standing together during the next two years, we can make our communities even better."
Commenting on the results, State Senator Shelley Mayer said, "Thank you to the voters of the 37th Senate District for their support and faith in me. I'm deeply honored to have been re-elected to serve as your Senator. I owe thanks to all my friends and supporters who stood up for me in so many ways, to my team which was incredibly disciplined and driven, to new voters who took a chance on me, and to my family, which is a constant source of support and love. Whether you voted for me or not, I'm humbled to serve all those in this district, from Yonkers to Pound Ridge, Eastchester to Port Chester, Harrison to White Plains, Scarsdale to Rye, and all the places in between. On to the work at hand!"
Congressman Jamaal Bowman said, "Two years ago, we celebrated an improbable victory. Many people doubted that we could stand against a 31-year incumbent with all the money and power. We proved them wrong then, and tonight we showed them how truly powerful the people are.... The voters decided resoundingly that I was the best person to represent them. To everyone who believed in me once again, know this: I will never stop fighting for every person and every community in every part of this district. We will continue to fight for health care as a right, not a privilege. We will continue to fight for reproductive freedom. We will continue to fight for meaningful gun reform to stop the killing and keep our kids safe. We will continue to fight for a liveable planet to pass to the ones coming behind us. We will continue to fight for a high quality public education for every child. And we will continue to fight for our democracy—now more than ever. I want to thank the voters of NY-16 for placing their confidence in me again. I am a Black man, raised by a single mother in a housing project. That story does not always end in Congress. I am so excited to get back to Washington to make good trouble and be your champion."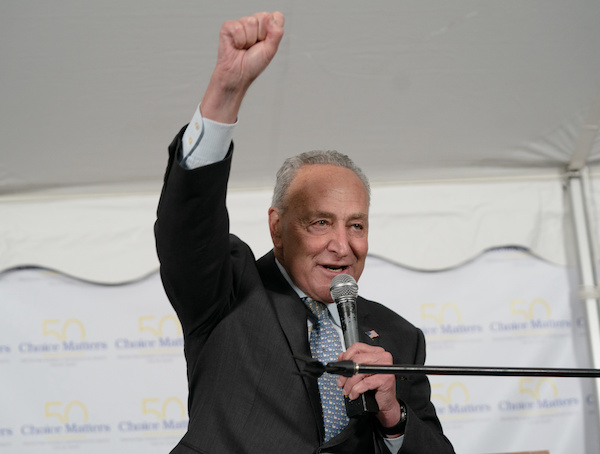 Chuck Schumer at a Pro Choice Rally in Scarsdale