Raiders Pride Events Rescheduled
Details

Category: The Goods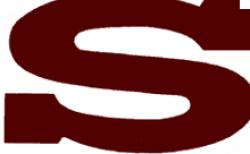 Due to some of the worst weather in recent memory, most of the Scarsdale High School games scheduled for Raider's Pride Week on September 30 and October 1st were washed out. The good news is that many of the games have been rescheduled and there will be much to watch on the fields on Monday October 4 and Tuesday October 5th. There is also a rescheduled girls Varsity Soccer game scheduled for Mnday, October 25th.
Here are the details of the rescheduled Raider Pride Week events :
Monday, October 4
Girls' Varsity B Tennis vs. Pelham H.S. 4:15 p.m. SHS
Girls' Varsity B Soccer vs. Eastchester H.S. 4:30 p.m. Upper Boulder
Girls' JV Soccer vs. New Rochelle H.S. 4:30 p.m. Crossways
Boys' Varsity Soccer vs. New Rochelle H.S. 4:15 p.m. Turf
Tuesday, October 5
Girls' Varsity Tennis vs. Solomon Schector H.S. 4:15 p.m. SHS
Boys' Varsity B Soccer vs. Tuckahoe H.S. 4:30 p.m. Quaker Ridge Back
Boys' JV Soccer vs. Mount Vernon H.S. 4:30 p.m. Upper Boulder
Monday, October 25
Girls' Varsity Soccer vs. Mount Vernon H.S. 4:15 p.m. Turf
Go Raiders!
Offensive behavior: Scarsdale Field Hockey continues to dominate the competition
Details

Category: The Goods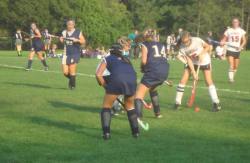 Since the beginning of last season the Scarsdale Varsity Field Hockey team has a grand total of one loss. That remarkable feat has coincided with the Raiders combined record of 14-1-6 under the direction of Head Coach Sharon Rosenthal over the past year. That strong play carried into 2010 where the Raiders began the year beating a Suffern team, that went undefeated a season ago, on their home turf. That win preceded victories against Hastings, Irvington and Pelham by a combined score of 15-0 demonstrating the growth of a squad that features nine seniors.
"We have a lot of great leadership," said Rosenthal after her team's victory Wednesday over Pelham 6-0. "I think they're really playing as a team instead of as one individual player…from the first day of preseason they have taken the sense of belief into practice and that carries over into the games."
Rosenthal, the captain of the varsity team back in 1992, has a squad devoid of selfishness. She also has a roster much larger than in years past. Anticipating the upcoming loss of nine seniors, Rosenthal has eight underclassmen and five juniors for a total of 22 varsity athletes. The early results suggest that the decision paid off as the girls are constantly cheering each other on, clapping their sticks together to celebrate each goal they score. And they do score quite often.
"I think we're putting pressure on teams early (and) were coming out strong in the first half," said Rosenthal. "My goal is to score in the first 5 minutes and we've done that in the last few games."
Two players in the Raiders starting lineup share something more than their placement on the field. Senior goalkeeper Emily Knapp and freshman forward Caroline Knapp are sisters. They may also be two of the team's most important players. "They're both very hard workers and its very hard to teach that," said Rosenthal. "When you have that naturally you're a step up."
The two play on opposite ends of the field, as Caroline and fellow teammate senior Margot Ehrlich provide the offensive firepower. It was the freshman that scored the team's first goal of the season against Suffern setting the tone for what has been a tremendous rookie campaign. On the back end, the senior captain has allowed just two goals through 20 quarters aptly earning the captaincy along with seniors Kathryn Peruski and Carly Levine.
With a roster full of talent and intangibles, there's a reason their coach is brimming with confidence heading into tough matchups with Class C favorite Bronxville and Class A favorite Mamaroneck in the next eight days.
"I think we're really setting precedence from the second we step on the field," said Rosenthal. "No matter who you are playing you have to play hard and we always have to be the best team on the field."
Photo Caption: Captain Carly Levine is pictured at the top
Cautious Optimism for Raiders Boys Soccer Team
Details

Category: The Goods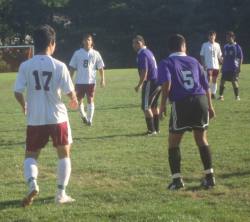 Through the first three games of the season, the Scarsdale boys varsity soccer team had outscored its opponents 13-0 en route to an undefeated beginning this year. Dominating lesser teams like Edgemont, Dobbs Ferry and Lincoln, the Raiders' success illustrated their fluid style of attack while dominating all facets of the game. Yet with the Class-AA portion of the schedule looming, coach Joe Cipriano recognizes that a tougher test lies ahead.
"We got a ways to go," said Cip (as he is lovingly referred to by his players). "We are still a work in progress for our league which will be much tougher."
Facing White Plains, New Rochelle and Mamaroneck will prove to be stiffer competition for the Raiders this season. Yet after a competitive defeat to a one-loss Arlington team in the sectional semi-finals last year, the expectations are greater for a team returning marquee seniors Andres Penfold and Hiroki Kobayashi.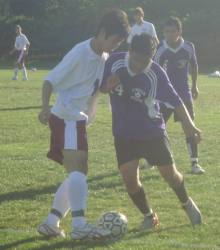 Penfold was named to the ESPN Rise's Starting-11 roster last month while securing a commitment to play at college soccer powerhouse Monmouth University currently ranked 5th in the country. Penfold cited the chance to play for the local club team as the reason he was recruited before his senior season even began. "Playing for FC Westchester, it put me in front of a lot of college coaches who saw what I can do," said Penfold. "I was flattered, 3 years ago I would have never thought I'd be in this position, and I hope that work comes together for the team." Kobayashi was also selected to the prestigious FC Westchester U18 club this past season, and while he has not decided on where he will be attending school next year, Penfold is certain that "a lot of guys on this team want to go play college ball. "Both players, along with co-captains Jonathan Geremia and Michael Abraham serve as the backbone for this senior-laden team that could be the cream of the Class-AA soccer crop this season.

But to reach the top, the Raiders will have to go through an impressive White Plains team that returns 19 players to their program from a year ago.Winning the section is the ultimate goal for this talented bunch, but Penfold recognizes the necessity of taking things one-step at a time to ultimately reach the team's desired end result. "We've all come in wanting to win it all, but we have to take things one game at a time."That next game comes Tuesday September 21st against Mamaroneck at 4:30 PM here on the Raiders home turf field.
Varsity Roundup:
Varsity Football: The Raiders began their season 1-0 after impressively defeating Class-AA foe R.C. Ketcham 29-22 last Saturday afternoon. Senior Quarterback Brian Bauersfield threw for 3 Touchdowns, two of them to senior wide receiver Matt Wheeler, while Anthony Cugini rushed 79 yards for the game winning score in the final quarter. Scarsdale will square off at Ossining Thursday afternoon before traveling to Lincoln a week from Saturday.
Girls Varsity Soccer: It was an impressive beginning for the defending league champion Raiders who walloped Yonkers 8-0 this past Tuesday. Erika Smith netted a hat-trick while Charlotte Miller added two tallies. The Raiders host Eastchester this Thursday at 4:30 PM.
Girls Field Hockey: After opening the season with a victory over Suffern, the Raiders finished in a 1-1 tie with Pleasantville on Monday afternoon. They now are 1-0-1 with a game Thursday at Irvington.
Girls Volleyball – The Raiders began the year defeating Clarkstown South 3-1 last Tuesday. Talia Plummer had 10 kills for the Raiders while Emma Fox had 8 kills and 10 assists. The squad hosted Yonkers earlier today and will travel to Eastchester next Tuesday afternoon.
Three Sisters Dominate Raiders Tennis
Details

Written by

Joanne Wallenstein

Category: The Goods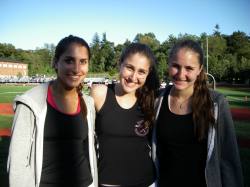 It's a year of firsts for the Scarsdale Girls Varsity A Tennis Team. This is the first time that Coach Jennifer Roane has had three sisters on the team at once and the first time in recent memory that eight of the thirteen girls on the squad were new to the team.
With so many graduating seniors playing in the top spots last year and the loss of junior Chloe Kaufman this year, Coach Roane was left with many openings on the team. Kaufman, a junior who has played first singles for the past two years opted not to play on the team this season in order to play more USTA tournaments and work on her ranking. Fortunately, junior Michelle Furnari, who is ranked 56 in the Eastern
16-and-under category is still playing for Scarsdale and is a strong first singles player. Furnari, who has played on the team since she was a freshman won her first match against Horace Mann in three sets, defeated her Pelham opponent 6-0, 6-4 and scored an easy win against Hastings on Tuesday September 21. She feels confident this year and is comfortable in the number one spot due to all of her tournament experience.
The three Rokito sisters are all playing key roles on the team. Senior Ariel Rokito is one of the team captains and is playing second singles. At the Hastings match, she
breezed by her opponent, winning 6-0, 6-1. Her twin sister Shelby Rokito and co-captain Cali Kurlan are in the first doubles position and won their match against Hastings when their opponents forfeited for medical reasons early in the match. The youngest and tallest Rokito, Lindsay, is the only freshman on the team and is playing second doubles with sophomore Stephanie Henkoff who has moved up to the team from Varsity B.
Parents Andy and Susan Rokito were on hand to watch the three girls play and Andy said, "As a parent it's a great feeling to have the three girls all play on the same varsity team. I have watched them play tennis since they were four years old and fed them balls until they got too good for me and moved onto professional coaches. It is good to see that all of their hard work paid off."
In third singles the team welcomes Junior Ciara (pronounced Sierra) Williams who did not play tennis for Scarsdale last year but played junior varsity as a freshman. So far she is ahead this season, winning her matches against Pelham and Hastings but falling to Horace Mann.
Moving up from Varsity B are sophomores Jessie Somekh and Shelby Zucker. At 5'6" and 5'9" the athletic duo bring some height to the team where they play doubles together. Though they feel more pressure playing on Varsity A, both enjoy the challenge and are finding it fun to be part of the team. The won both of their matches against Pelham and Hastings.
Seniors Alex Travis and Meagan Hom are returning members of the team and play doubles, alternating positions with juniors Jenna Karp and Julia Morris who have moved up from Varsity B. Karp and Morris played in the fourth position against Hastings on Tuesday, while Travis and Hom playing an extra doubles match. Both teams won and the overall score for the match against Hastings was 7-0.
The team did score two early losses in matches against Horace Mann and Edgemont, losing 2-5 against Horace Mann, who is not in the league and falling 2-5 to Edgemont who is in the league. Edgemont's team includes eighth graders and the team is young and tough.
This Thursday, September 23, the team crosses the bridge to play Suffern, and next week they will play Solomon Schechter at home on Monday, away at New Rochelle on Wednesday and home against Mamaroneck on Thursday September 30. Both Mamaroneck and Bronxville are said to have strong teams this year so it may be difficult to maintain the number one position in the league that Scarsdale has held for years. We'll be watching.
Scarsdale Rockets Defeat Greenburgh
Details

Written by

Joanne Wallenstein

Category: The Goods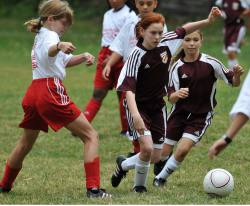 The fall soccer season has begun. On Sunday September 12, the fifth grade girls Scarsdale Youth Soccer League team met Greenburgh. Here are photos of the game, in which the Scarsdale Rockets defeated the Greenburgh United team by a score of 4-0.
If you have photos of games you wish to share, forward them to scarsdalecomments@gmail.com with the details of the game and we will post them.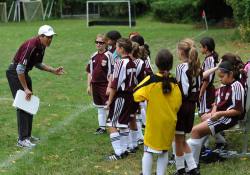 Photos courtesy of Jon Thaler. For more photos and to purchase prints go to: http://www.jonthaler.com