Library Loft Now Open to the Community
Published: Monday, 09 July 2018 13:49
Sarah Kazan
The Scarsdale Library Loft is now open for business! July 5th marked the opening of the new library space located at the Supply Field, 244 Heathcote Road. The Loft will be utilized for the next 18 months to two years while the Scarsdale Public Library on Olmstead undergoes renovations. The Loft is located on the second floor of the Supply Field building and is easily accessible by elevator or stairs. Parking is conveniently located in front of the building.
While the Library Loft is smaller in size and has limited resources, the space is a welcoming substitute while residents await the new, more modern library that will result from these renovations. In the meantime, the Loft is equipped with fiction and nonfiction (both new and old), reference materials, a cozy children's room, a few computers, a photocopier, scanner, audio books, DVDs, magazines, newspapers, and seating. In addition, the space is equipped with free WiFi and cell service.
For residents who have difficulty getting to the library, The Friends of the Library is working on expanding their homebound delivery service in order to make library materials more accessible. They are also redesigning their website to become a virtual library, with many online resources readily available for children and adults. For even more convenience, books may be reserved online, over the phone or in person from other libraries and picked up at the Library Loft.
The Loft holds roughly 10% of the library's entire collection while the some of the collection is housed in storage, was sent to other Westchester libraries, or will be donated or sold in an upcoming tag sale.
"People are just happy to have a place to go," said Library Director Elizabeth Bermel on the Loft's opening day. While the library staff is still figuring out some logistics and the flow of the building, Bermel added, "the first day went really smoothly; people were here right when we opened. It was great."
Library card holders can also use neighboring public libraries of the Westchester Library System as an alternative place to borrow and return books. A list of participating libraries is available on the Scarsdale Public Library website. The Scarsdale Inquirer Microfilm and Indexes are still available at the Greenburgh Library.
An updated list of the Loft's hours is available on the library's website. The Library Loft will continue to offer programs for children such as book groups, crafts, and Traditional Tuesday Storytime along with exam nights for high school students and adult programs such as book groups, art programs, and writing classes. A full list of programs available at the Library Loft is available on the library's website. To learn more visit www.scarsdalelibrary.org or read our previous article regarding the renovations.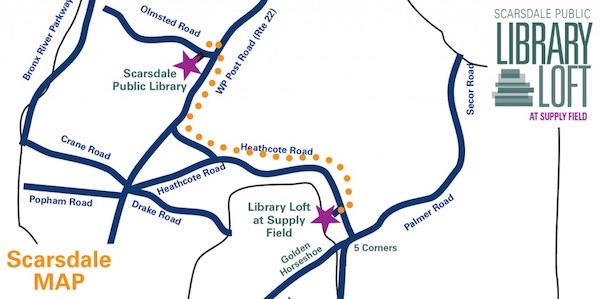 Library Loft
244 Heathcote Road, Scarsdale
(914) 722-1300

July & August Hours
Monday-Friday: 8am - 3pm
Saturday: 9am - 1pm
Closed Sunday