Scarsdale Schools Registrar Enforces Strict New Residency Requirements
Details

Category: Schools
Published on

24 April 2017

Written by

Joanne Wallenstein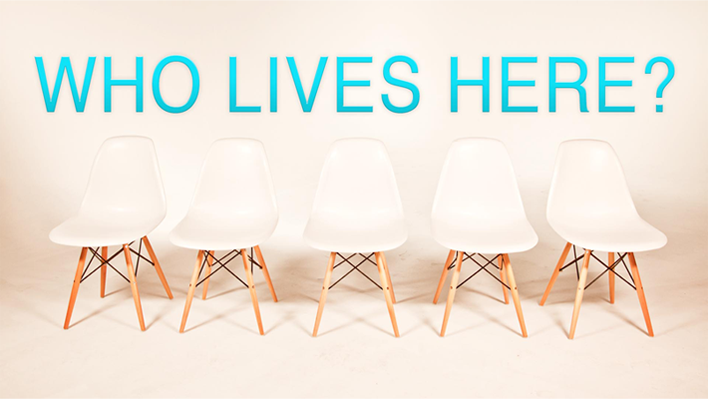 At the end of the 2016 school year the Board of Education adopted new rules concerning registration of students in the district. Policy 5152, title "Admission of Non-Resident Students," was debated at length by the Board of Education and the Superintendent because it stipulated the conditions under which residents, who were moving into and out of the district or renovating their homes, would be required to pay tuition to have their children remain in school.
This enforcement of this new set of rules came as a surprise to new and existing residents as well as some realtors who found that if their clients were not in their homes by the start of the school year, they would be required to pay a full year of tuition.
At the same time, parents who were separated or divorced received inquiries from the District Registrar about their domestic and custodial arrangements.
Why this change? In the March 16th issue of the 'Dale Dispatch' Scarsdale Schools Superintendent Thomas Hagerman provided the following explanation for the new policy. He said, "Another aspect of this centralization of registration that has gotten some attention from the community is the verification of residency that is required when families move, have outdated leases or other paperwork, or have disruptions in family life such as divorce or separation. Although many people believe that owning or renting a property in Scarsdale is sufficient for school attendance, New York law dictates that physical residency is actually the standard, so this does need to be confirmed, sometimes along with custodial arrangements. While we understand this can seem intrusive, particularly to families in transition, we do have an obligation both legally and to our taxpayers, to ensure that students in our schools live in Scarsdale .... Unfortunately, there are more nonconforming residency situations than most people realize, representing thousands of dollars of cost to the families and taxpayers of Scarsdale."
Separated and Divorced Parents
Helen Morey, a Heathcote resident and mother of two school-age boys, grew alarmed, when shorty before the Christmas holiday in December, she received a letter from the district demanding verification of her custody arrangements within four days. In her own words, here are her thoughts on the actions of the district.
"After receiving a demand letter from the Scarsdale Superintendent to provide my entire divorce decree within the 5 business days before Christmas, 2016, else be subject to 'a full investigation', I contacted the office. After much argument back and forth, Dr. Hagerman finally and formally accepted a signed affidavit of custody sufficient to preserve my children's Scarsdale residency and attendance in the Scarsdale School District.
Subsequently, I contacted several individuals across the NY State Board of Education and related Albany offices and found that Scarsdale schools are not following several legal protocols designed to protect students and families, including:
1. Posting the complete list of documents and criteria publicly (on the web site, etc.) to prove residency in the case of new residents, relocating within the village residents, or divorcing residents.
2. School districts are explicitly NOT permitted to require submission of a judicial custody order or order of guardianship - the exact document that Dr. Hagerman's office initially demands and prefers. Only an affidavit is legally allowed.
3. While school districts have the individual right to charge tuition and a requirement to make a determination within 4 business days, school districts do NOT have the right to demand the tuition be paid in full within those same 4 days else threaten to remove a child from school such as happens here in Scarsdale. In fact, the findings have a 4 day window and following that school districts must publish and adhere to the state laws regarding a contested finding, only at the conclusion of which could tuition be demanded should the district succeed in it's decision and motion.
Lastly, it seems odd that the role of a district superintendent should be so consumed with the pursuit of residency proof, including the hiring and management of a private detective force. I would like to understand from the Scarsdale Board of Education what the specific remit is for the office that would make such work the focus at the expense of further improving and streamlining our school system."
Newcomers to Scarsdale
While it used to be enough to have a contract of sale to enroll children in school in the summer, for those moving in after the first day of school, the district is now requiring proof of the house closing and of residency.
Here is the new rule:
A child whose parents have contracted to buy or leased an apartment, house or condominium in the District, but have not moved into the District, may attend the school of the District for up to three months, upon the payment of tuition.
A mother of three children who moved here from California in the late summer had a contract of sale but was not able to actually move in to her house until September 30th. In order to enroll, the district required the family to pay an entire year of tuition for each of the children up front, with the promise of a pro-rata refund upon closing. This was a considerable hardship for the family who had just used up their resources to purchase a house. But that was not all. Even when they had closed the district sought to verify that they were in the house. The woman was outraged when District Registrar Maria Miraglia appeared at her door to inspect the house to confirm that they had actually moved in. When there did not appear to be sufficient furniture on the first floor, she demanded that she be allowed upstairs to check the beds. The resident found this level of intrusion objectionable and refused the request.
Moving Out While Renovating
Another new provision, specific to Scarsdale, that residents should keep in mind pertains to temporarily moving out of your home while it is under renovation.
Here is what the regulation says:
A students whose parents own a house in the District which is unoccupied, may be permitted to attend the schools of the District, without the payment of tuition, for up to one academic year from the date that the house became unoccupied, under the following conditions:
a. The house had been occupied, and resided in, but the student and parents for the three years directly prior to the house become unoccupied and the house is required to be unoccupied for a major home construction or remodeling, and

b. The student's parents continue to own the house throughout the period that the house is unoccupied and do not purchase another residential property.
Therefore, this means that if you decide to renovate a home, and have not already lived there for three years prior to the renovation, you will need to pay tuition while you are out of the house. Both residents and realtors find this new regulation puzzling, as the homeowners are presumably paying real estate taxes on the home that is under renovation, have a valid Scarsdale address and ought to be permitted to send their children to school.
Commenting on the new policies, Anne Moretti, Associate Real Estate Broker with Julia B. Fee Sotheby's said, "The District's new residency requirements need to be more clearly defined and enforcement more carefully handled. Incoming homebuyers with signed purchase contracts should also have some grace period within which they can move in without paying tuition. The District should answer the questions Joanne has outlined in this article, and the community should be better informed on our policies."
We sent Dr. Hagerman a series of questions about this new policy a few weeks ago but have not received a response.
Specifically, here is what we asked the Superintendent:
-In your note in the Dale Dispatch you said, "There are more nonconforming residency situations than most people realize, representing thousands of dollars of cost to the families and taxpayers of Scarsdale."
-Can you tell us how many non-conforming students you found in the schools last year before you instituted the new policy? At what cost to the district?
-The policy for current residents who move out of their home while it is being renovated says that in order not to pay tuition they had to own the home for three years directly prior to the house becoming unoccupied. Why the three year requirement?
-Some divorced parents with joint custody have said that the district requires their children to live at the Scarsdale address for a certain percentage of time in order to attend the schools. Can you elaborate? Is this district or state policy?
-Does the district require divorced parents to provide the district with their divorce agreements and custodial arrangements?
-A few parents have reported that the district has retained private investigators to verify residency in the district. Is that true? If so, what was the cost of that so far this school year?
-In reviewing residency requirements for districts in our area, is the new policy in Scarsdale similar to what you see? Does the district have some discretion on how the law is interpreted?
When we receive responses to the questions we will share them with you. In the interim, we thought it would be helpful to make you aware of these new regulations so that you will not be caught by surprise if your own situation changes.
What do you think of these new policies?
Please comment below and include your first and last names.
Gloomy Weather Fails to Dampen Carnival Spirit
While April showers normally bring May flowers, this past weekend the rain brought Scarsdale residents of all ages to Scarsdale High School for the annual Carnival. Although gloomy weather remained, throughout both Friday and Saturday's events, the rain did not prevent students, teachers and families from showing up, donating to local charities, and having a great time.
Along with rides and games, the carnival, which is run by Scarsdale High School's student government, hosted a variety of booths and clubs, many of which are student run. While some of the clubs sold baked goods for a cause, donating the proceeds to their respective charities, other students got creative, selling art and activities to bring in donations. These clubs include the National Art Honor Society, which sold henna tattoos, the SHS Maroon who sponsored Karaoke, and one of the most popular, the Edward Williams Club which continued their annual tradition of throwing pies in the faces of three teachers, in exchange for charitable donations.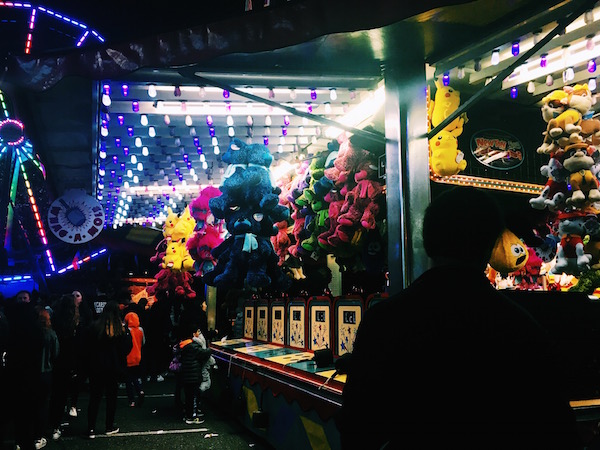 In addition to many other clubs, all proceeds made from the weekend were divided amongst three local charities selected by the student government. This year's charities included the Paulie Strong Foundation, Blythedale Children's Hospital and the Breast Cancer Research Foundation.

The carnival is one of Scarsdale's longest standing traditions, and this year, as high school seniors anticipate their graduation ceremony, nostalgia and community spirits are high. Chelsea Norman, a senior at Scarsdale High School, reflected on her last carnival experience recalling, "each time that I have attended (the carnival), I have appreciated the level of community. It is really nice to see the whole town come together in support of great causes and to have a great time year after year." The carnival serves as the beginning of an exciting sequence of closing events for the graduating class, including, the senior class play, prom, and graduation.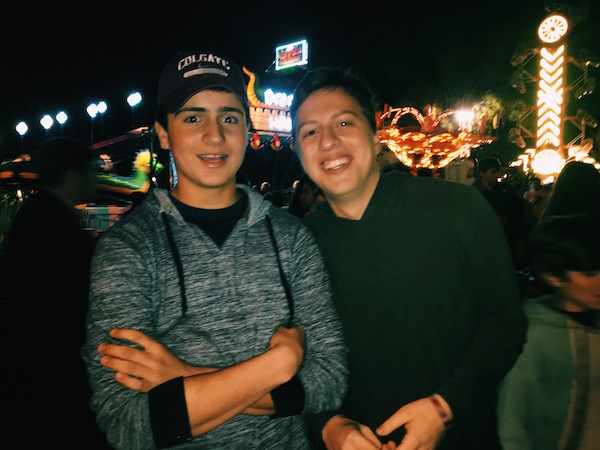 Boys Lacrosse Team Practices Yoga to Improve Flexibility and Reduce Injuries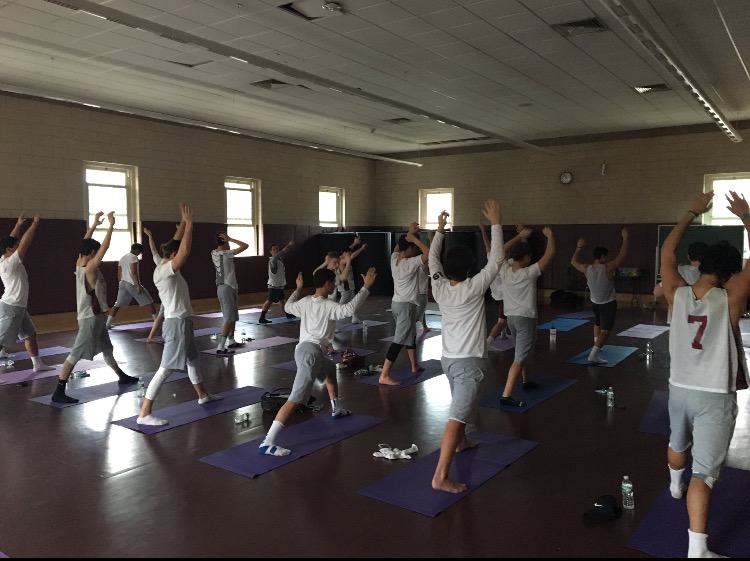 The Scarsdale Raiders Varsity Lacrosse team has won their last three games. What's behind their winning stretch? Yoga.
The new head coach of the Lacrosse Team, James Synowiez and his assistant coach John Felix introduced the team to yoga as a team bonding activity and a way to improve muscle recovery and overall flexibility. Recently many Division 1 Lacrosse programs have added yoga to their exercise regimen in order to help increase strength, flexibility and body awareness, reduce injury, and improve mental toughness and focus. During Spring break, Coach Synowiez brought in a yoga instructor from Yoga Haven for a post practice yoga session with the team.
According to Coach Synowiez, "The experience was very helpful and beneficial to our guys. Some players were sore and our yoga session helped bring awareness to how important stretching is and how it can help muscles recover faster. Furthermore, I believe that it was a fun experience for our team and these get togethers outside of practice continue to strengthen bonds within our team."
For many of the players it was their first time trying yoga. Freshman Oliver Krohn said, "It was a great bonding experience and relaxing to have after a difficult practice". Some of the players have decided to continue yoga to help them through the rest of the season. Yoga Haven will be offering a class to the Scarsdale High School male athletes on Sundays which will include dynamic flexibility training, core stabilization, strengthening and balance work. By focusing on these vital elements, yoga can help athletes recover faster after workouts, open up the tight areas that hinder performance and improve range of motion.
Betsy Kase, the owner of Yoga Haven and a Scarsdale High School parent believes, "the biggest and most important reason to practice yoga is to improve your mind body connection. The brain is also a muscle and also needs balancing. Yoga, a mindfulness practice develops concentration, emotional stability, impulse control and resilience." The practice of yoga by these student athletes supports the district wide Wellness Initiative which aims at reducing the stress levels of Scarsdale's teens.
Wear Denim on Wednesday April 26
Details

Category: The Goods
Published on

24 April 2017

Written by

Joanne Wallenstein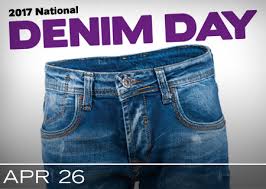 Denim Day began in response to a ruling by the Italian Supreme Court in which a rape conviction was overturned because the justices felt that since the victim was wearing tight jeans she must have helped her rapist remove her jeans, thereby implying consent. The victim was an 18-year old girl who had been picked up by her married 45-year old driving instructor for her very first lesson. He took her to an isolated road, pulled her out of the car, wrestled her out of one leg of her jeans and forcefully raped her.
Outraged by the ruling, the women in the Italian Parliament came to work the next day wearing jeans in solidarity with the victim. Peace Over Violence developed the Denim Day campaign 18 years ago because of this case and the activism surrounding it and Denim Day has been held every year since then on a Wednesday in April.
Wearing jeans on Denim Day has become a symbol of protest against erroneous and destructive attitudes about sexual assault.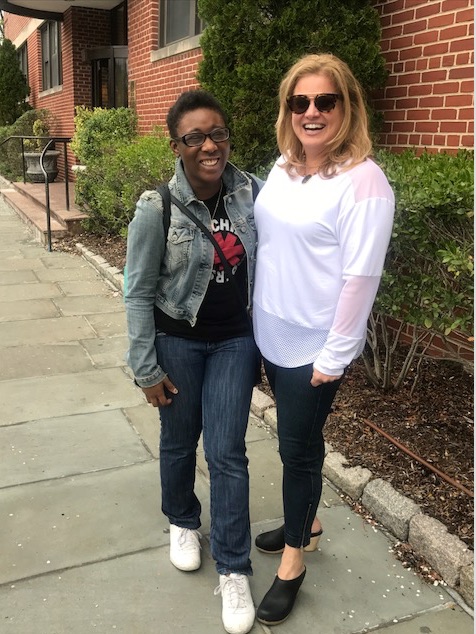 The Scarsdale Coalition on Family Violence is asking community members, elected officials, businesses and students to make a social statement by wearing jeans on Wednesday, the 26th, as a visible means of protest against the misconceptions that surround sexual assault. PLEASE WEAR DENIM AND TAKE A PHOTO and send it to Lauren Pomerantz at lpomerantz@sfcsinc.org or to Penny Bauersfeld at pennybauersfeld@gmail.com so that your photo can be posted on the Coalition's Facebook page.
Or, post it on your own Facebook page, and use the hashtags:
#DenimDay
#NoExcuse
#ScarsdaleHeatlhyRelationships
#Scarsdalepride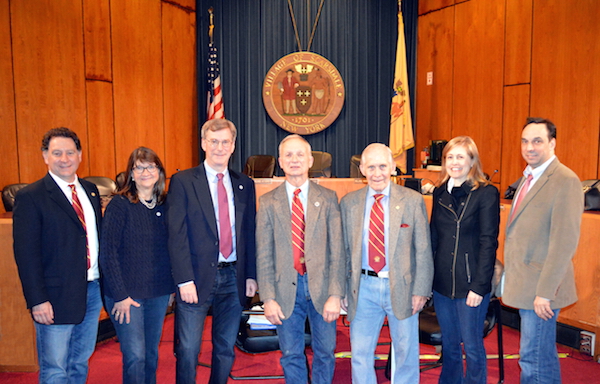 The Scarsdale Village Board wore denim and signed a proclamation declaring Denim Day in the Village of Scarsdale for April 26th. The board and staff wore denim for the Board of Trustees meeting on Tuesday April 25th.
Diane Greenwald to Head Scarsdale Library Board
Details

Category: People
Published on

24 April 2017

Written by

Joanne Wallenstein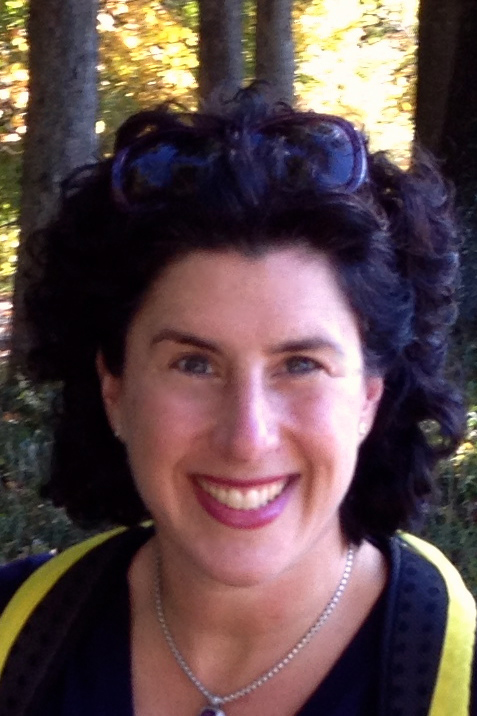 Diane Greenwald has been elected president of the Scarsdale Public Library Board. Other officers are John Harris, vice president; Elyse Klayman, secretary; and Steve Kessler, treasurer. Terry Singer will continue on as Chair of the Building Committee. In addition, Felicia Block and Margot Milberg have been appointed trustees replacing Terri Simon and Florie Wachtenheim whose terms ended.

"Terri Simon and Florie Wachtenheim are model community volunteers who have been committed to forwarding our library's mission on behalf of all Scarsdale residents and we are grateful for their service," said Greenwald. "In her role, Terri has been involved in all aspects of the library's plans for a major renovation, and leaves her stamp of excellence on the efforts." On the year to come, Greenwald adds, "I am confident that, having gained so much support from Scarsdale residents and the Village Board of Trustees, we can roll up our sleeves to continue our transformation with the same passion, transparency and care our community demands and deserves. There is something for everyone at the Scarsdale Public Library!"

Greenwald, who is active in many community organizations, has served in several positions on the Library Board and has been a key participant in the renovation campaign.