Fatality at Scarsdale Train Station and More from the Scarsdale Police
Details

Category: Today's News
Published:

12 June 2019

Written by

Traci Dutton Ludwig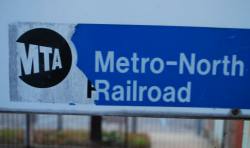 (Updated at 1:52 pm on June 13, 2019) The MTA reported that the 8:26 am southbound train from Southeast struck and killed a trespasser on the tracks at Scarsdale Station at 9:20 am on Wednesday June 12. The accident caused the suspension of train service between Crestwood and White Plains stations for hours. Service was resumed around 12:30 pm.
According to the MTA, "The decedent is a 64 year old male; identification pending notification of next kin. The MTA Police Department is investigating the incident, which appears to be non-criminal and non-accidental in nature."
Burning wire
Officials were notified about a "hole burned in the roadway" on Stratton Road due to a fallen live wire June 3. The wire also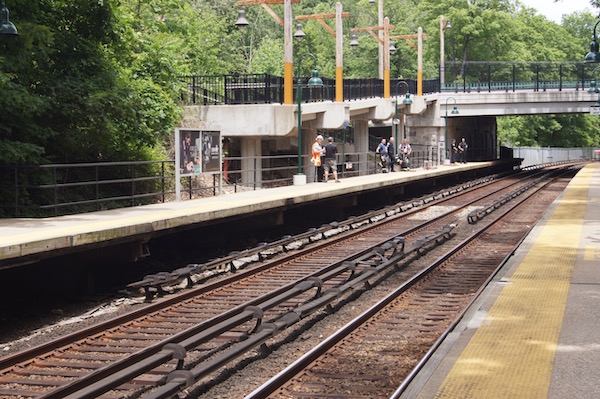 damaged a parked car by cracking its windshield shield. Police stood by to assist firefighters until Con Edison arrived to de-energize the wire. Once the power was cut, firefighters worked to extinguish the burning car and roadway. Highway workers began roadway repair. No injuries were reported.
Stolen
On June 4, a Secor Road man reported a platinum engagement ring, appraised in 1993 for $11,500, and a platinum wedding band, appraised in 1994 for $4,800, were missing from his house. He said he last saw the rings at the end of February or the beginning of March. His wife noticed the rings were missing at the end of April or the beginning of May.
Identity theft
On June 4, a Nelson Road woman reported fraudulent activity on her Macy's card, in the amount of approximately $400, occurred on May 31 at the Herald Square store in New York City. She closed the account and notified Macy's fraud department.
On June 7, a Brewster Road resident reported he received a notice from the U.S. Postal Service stating his address was being changed to a Texas address. He did not authorize the change, and it was determined to be fraudulent due to an online account being set up using his personal information.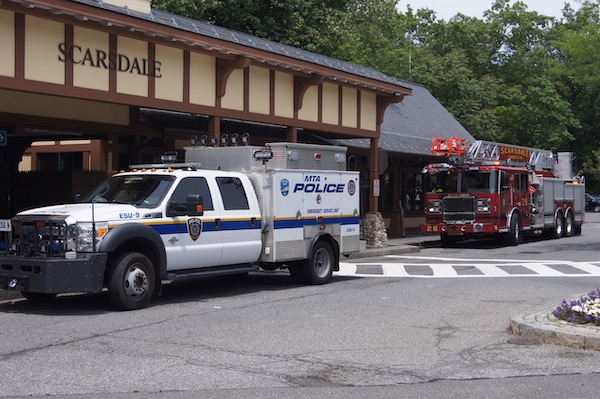 Scams
On June 3, Fenimore Road woman received an email demanding her to send $1,400 in Bitcoin to an unknown person in order to prevent that person from releasing pornographic videos from her Facebook and Messenger accounts. The person displayed a password as "proof" that her account had been hacked. The woman was advised this was an Internet scam and she should change her passwords.
A Post Road woman reported she might have entered her Social Security number into a bogus website June 7. Police advised her to monitor her accounts and inform the credit reporting bureaus.
A Madison Road woman reported a fraudulent email was sent to members of her PTA group requesting using her name and requesting Amazon gift cards June 7. Police advised her this was a common scam. She was further advised to alert members of her group and to ask everyone to block the email sender's address.
Homeless man
A homeless man was observed sleeping on a bench on Boulevard June 4. Police woke him up, and the man refused to provide an ID. He said he was going for a walk and insisted he did not need any assistance. He was last observed waling east on Boulevard toward Post Road.
Power outage
On June 3, a Penn Blvd woman called police to say she was locked out of her house due to a power outage. Patrol suggested she go to a neighbor's house and wait there for about an hour until power could be restored.
Foul language
A caller reported a group of kids playing basketball at Greenacres School playground was using foul language June 6. Police advised the kids to refrain from using foul language.
Package
A Hampton Road woman reported feeling alarmed by a package she received June 7. It contained a Ziploc bag containing grass and animal feces. Police researched the return address for the package and it came back as an Internet gag gift company. The woman is following up with the company for further information.
Civil matter
A Stratton Road man reported Con Edison had entered his property, cut branches and "made a mess" June 7. Police informed the man it was a civil matter – not a police matter.
Scofflaw
Police discovered a 2013 Honda Civic with scofflaw status parked in the Christie Place garage June 3. The registered owner of the car, from the Bronx, owed $415 in parking tickets. Police had the car towed to the impound lot.
Police discovered a 2019 Mercedes-Benz with scofflaw status parked in the Christie Place garage June 4. The registered owner of the car, from Florida, owed $1,220 in parking tickets. Police had the car towed to the impound lot.
Police discovered a 2018 Audi Q7 with scofflaw status parked on Chase Road June 5. The registered owner of the car, from Scarsdale, owed $640 in parking tickets. Police had the car towed to the impound lot.
Cars and roadways
Police advised Verizon about fallen wires on Sprague Road June 3. Verizon advised police to mark them with caution tape, pending repair by Verizon.
Police went to Weaver Street and Hutchinson Avenue to investigate a report of a non-working traffic light during a power outage June 3. While there, the patrol car was involved in an accident when a passing truck sideswiped it. Police notified the department of transportation about the non-working traffic light and learned nothing could be done until power was restored to the area. Temporary stop signs were erected in the meantime.
Cablevision was notified about a dangling wire on Ogden Road June 3.
Police helped a woman cross Weaver Street June 4, 5, 6 and 7.
Police called AAA for a driver with a flat tire on Post Road and stood by until the tire was changed June 4.
A teacher was locked out of her car in a Mamaroneck Road parking lot June 5. Police contacted a tow company to assist and waited on scene until the matter was rectified.
Police marked a hanging branch with caution tape and informed the highway department for removal June 5.
Low-hanging wires on Walworth Avenue were causing a traffic hazard June 6. Police notified Cablevision and temporarily tied the wires to a tree.
A teacher was locked out of her car at the middle school June 6. She said she was already running late to a meeting at the high school. Police provided her with a courtesy ride to the high school. The teacher said she would contact her own roadside assistance provider to open her car door.
Sprinkler heads and a bucket apparently fell out of a passing work truck on Mamaroneck Road, causing debris to obstruct the roadway, June 9. Police cleaned up the debris.
Eleven car accidents were reported in the village this week.
Animals
A severely injured deer was observed on a lawn near the intersection of Graham and Lincoln roads June 4. Patrol got permission to shoot the deer to put it out of its misery. Highway workers were notified for removal.
Village code
Police issued a noise violation summons to a construction crew that was using power equipment on a Circle Road job site before designed hours June 6.
A dog was observed tied to a bench in a Boulevard park June 6. Police found the owner and notified the owner that no dogs were allowed in the park, as per a posted sign. A warning was issued.
In unrelated incidents, a Walworth Avenue resident and a Brambach Road resident complained of noise from neighbors talking in their backyards June 7. Police did not think the level of noise, min each incident, was disturbing but nevertheless informed the neighbors of the complaints. The neighbors each said they would keep the level of noise down.
A caller complained of loud rap music coming from a Fox Meadow Road party June 8. Police advised the party host to turn down the music, and the host turned it off.
A caller complained of loud music coming from a Heathcote Road party June 8. Police advised the party host to turn down the music.
A Barker Lane resident was streaming videos and the sound was accidentally being broadcast over outdoor speaker June 9. Neighbors complained of noise, and the resident turned off the speakers immediately after police informed him of the complaint.
Lost and found
On June 3, a Claremont Road man reported he lost the license plate to his moped.
A cell phone was found on Scarsdale Avenue June 4. Police received a call from the owner, and she said she would pick up the phone from headquarters.
A man walked into headquarters and reported the registration sticker for his motorcycle went missing, and he received a ticket for an unregistered motorcycle in the meantime, June 6.
Firefighters
According to Fire Chief James Seymour, firefighters responded to 28 incidents this week. Seymour shared details of the following incidents.
Firefighters assisted at a car accident at Fenimore Road and Brite Avenue June 3.
Firefighters assisted at a car accident on the Bronx River Parkway June 6
Firefighters found elevated levels of carbon monoxide in a Claremont Road house June 6. They shut the boiler system and ventilated the house. Con Edison determined the boiler was short-cycling and causing small burst of CO to enter the HVAC system. Service to the boiler and HVAC system was recommended.
Firefighters assisted at a rollover accident following a perpendicular collision of two cars at the intersection of Catherine and Mamaroneck roads June 7. The driver and passenger of the flipped car were able to self-extricate from the car.
This report covering police and fire department activity from June 3-7 has been compiled from official information.

This police report is sponsored by Scarsdale Security who does more than just security. Contact them about remote video for your home or business. Call 914-722-2200 or visit their website.
Dine Indoors or Out at the New Contemporary Upbeat Wood & Fire Pizza...Restaurant…Catering…Bar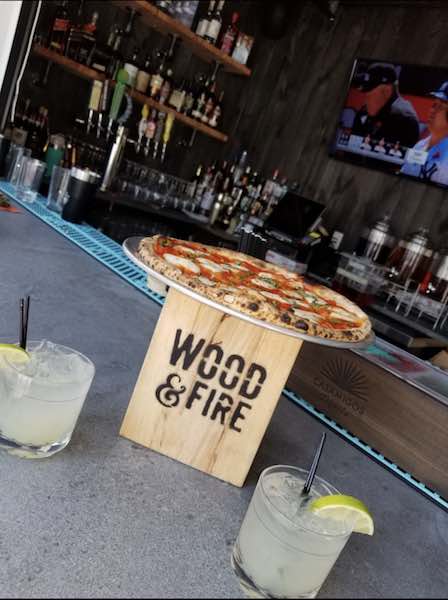 When long time restaurants close their doors here in Scarsdale, we are sad but are hopeful that the new ones that replace them will bring us much joy, as well. Such is the case when Mezza Luna closed their doors and Wood & Fire renovated the space on Brook Street and has provided us with an upbeat casual new Italian restaurant where the menu offers a large variety of classic and innovative pizza, pasta entrees and much more.

I had the pleasure of chatting with owner Michael Ferrara who started working in restaurants as a young high school student. He fell in love with this area of work, and worked his way up from bus boy to server and to manager in Westchester, Florida and New York City. He now owns several restaurants including Wood & Fire in Pleasantville and the newly opened Wood & Fire in Scarsdale. With partners Franco and Bobby Carenza and with Chef Pasquale Abbatiello, a culinary school graduate who studied in Italy, you can be assured of a finely tuned operation. "With so many Italian restaurants in the area, we are special because our food and service separate us from the rest. Our food is not typical because we add our modern twist to each dish. We are a hands on operation, and we stay on top of everything, with an owner on the premises at all times. Our wood burning oven uses only natural fuel and no gas. Top quality flour and San Marzano tomatoes assure outstanding pizzas. My favorite part of the business is enjoying the varied customer base that we serve both young and older. "

As summer approaches, and the warm weather is here, guests are delighted to enjoy the lovely outdoor patio as well as the indoor facility. Avail yourself of the private parking lot or street parking and walk up a few steps into the cheerful Wood & Fire. A friendly bar is in front and as you enter the dining area, take note of the outstanding Italian imported wood burning pizza oven. Informal and comfortable aptly describe the dining area with its wood topped tables and red metal chairs. On the dark wood walls is the logo Wood & Fire Restaurant, Catering, Bar, Neapolitan Style Pizza. Contemporary lighting on the wood slat ceiling and a stone floor complete the setting. This room leads to the lovely outdoor patio. The restaurant seats about 130 guests. During a recent weekday lunch, it was evident that this new dining option is gaining popularity quickly. Many tables were filled with very happy guests enjoying excellent service. At a table for 12, all dishes appeared to arrive promptly, quite a feat. Diners varied from business groups to families and all seemed to be having a good time.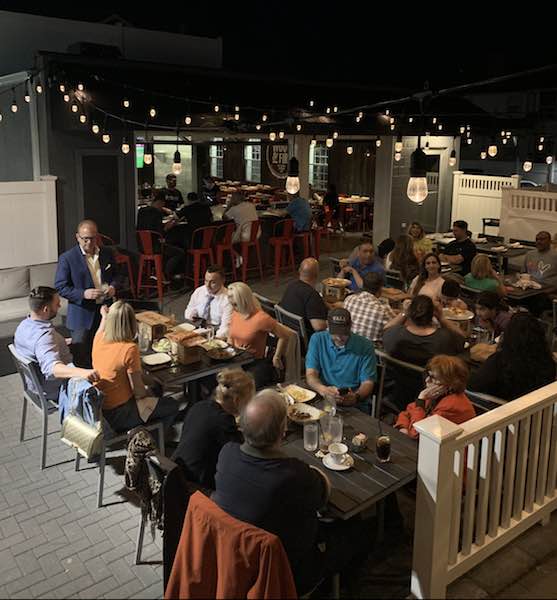 There are 15 varieties of pizza listed on the menu with an additional choice of many toppings such as olives, meatballs, sausage and spinach. The pies are 12 inches and the combinations of ingredients are unique. The wood burning oven helps to make these pies exceptional we loved the charred vegetable pie, a colorful choice. Here eggplant, zucchini, roasted peppers, San Marzano tomato sauce and fresh mozzarella gave a garden of flavor to the pie. Also worthy of a try is the prosciutto and arugula pie. Here, whole leaves of baby arugula and thinly sliced prosciutto rested on the wonderful crust. Fresh mozzarella, a touch of San Marzano tomato sauce, extra virgin olive oil and a sprinkling of finely shredded parmigiana reggiano completed this fine pie. Other appealing possibilities are Wood & Fire Pie with burrata, marinated tomatoes basil and fresh garlic and The Prince Street with a Sicilian crust, crispy pepperoni, San Marzano tomato sauce, mozzarella and shaved parmigiana. Even the presentation was unique. A contemporary variation of the metal pizza stand, arrived as a wood block with the restaurant logo with the tray of pizza on top.

For starters, many lovely salads are offered. Beet and Brussels, calamari and lobster, steak and avocado salad and a Scarsdale salad with greens, fruits and nuts all sounded and looked appealing . Judging from an adjoining table each salad was quite hearty in size and beautifully presented.

We chose to start our tasting with selections from the piattini section of the menu. Wood fired mussels were outstanding. The large PEI mussels were swimming in a white wine herb and cream infused sauce. A squeeze of lemon juice and the result was ideal. The delicate sauce was a perfect accompaniment for the very fresh mussels, which added flavor without overpowering the dish. Sicilian rice balls , a classic, were well prepared. The rice, beef ragu, mozzarella and pea filling surrounded by a crunchy crust and accompanied by a dish of San Marzano tomato sauce for dipping was so good. It was difficult eating just one. Future meals will definitely start with charred octopus, fritto misto, prosciutto bread or burrata and eggplant caprese.

The many pasta selections include popular favorites as well as innovative combinations. We decided upon a classic of pappardelle Bolognese. At Wood & Fire, a slow roasted Angus beef ragu enveloped the delicate ribbons of pappardelle. Fresh basil, parmigiana and mascarpone enriched this delicious classic. I look forward to sampling spaghetti, pesto and shrimp with pine nuts, string beans, shrimp and toasted breadcrumbs, gnocchi Toscana with Italian sausage ragu, and linguini nero with mussels, shrimp, calamari and salmon in a spicy sauce. Wood & Fire classic lasagna, meatballs and spaghetti and ravioli al forno with vodka sauce are calling my name, as well.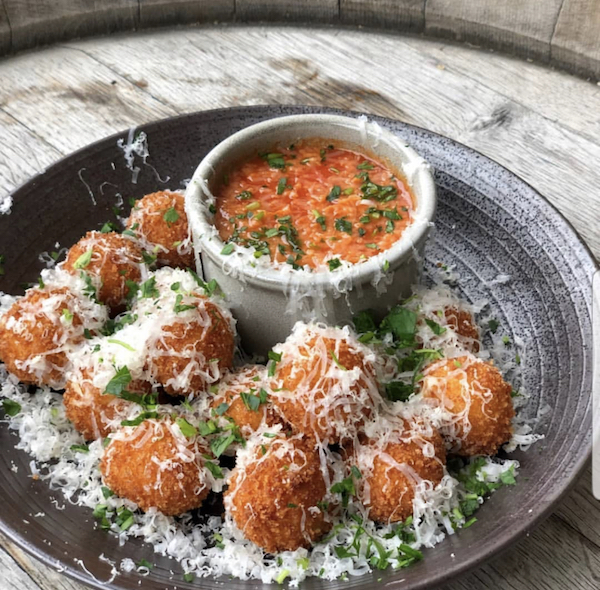 Large plates at dinner span choices of eggplant parm, chicken saltimbocca, chicken scarpariello, and chicken parm for 2. Veal in several forms, steak, short rib, branzino and salmon are offered, as well. We enjoyed jumbo lemon shrimp. This large platter contained truly jumbo shrimp, tail off, breaded and prepared francese style, surrounded by a lemon white wine sauce. Roasted baby carrots and slices of grilled zucchini enhanced this plate for a light and excellent entrée.

If you have saved room for dessert, choose from Italian cheesecake, tiramisu, zeppole, Nutella pizza or cannoli, to name just a few of the choices. Enjoyed Wood & Fire's rendition of crème brulee. Traditional crème brulee is always a nice way to end a meal. Infuse it with espresso and this smooth creamy pudding with its crackling crunchy topping is a perfect conclusion to your meal.

Original cocktails, sangria, wine and beer are plentiful at the front bar as well as the patio bar. There are also many cocktails with intriguing names.

Friendly, upbeat and happy describe Wood & Fire in Scarsdale. Tempt your taste buds there soon.

Wood & Fire
118 Brook Street
Scarsdale
914 722 4854
Retiring Teachers and Board Members Honored at Final BOE Meeting
Details

Category: School News
Published:

12 June 2019

Written by

Joanne Wallenstein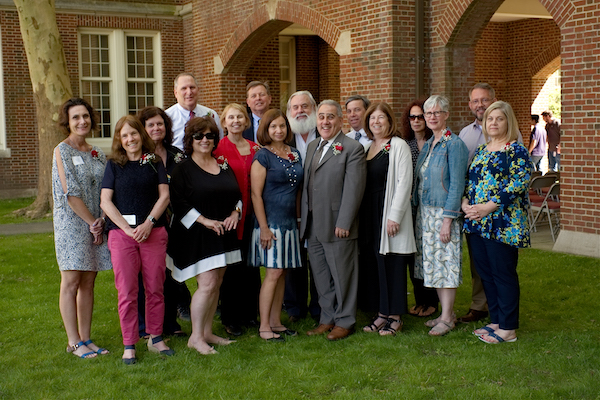 It was an evening of goodbyes and helloes at the Scarsdale School Board on June 11, when the Board recognized the retirement of some longtime staffers and formerly hired many new faculty members as well.
June 11, 2019 also marked the final meeting for the 2019-2020 Scarsdale Board of Education and three retiring Board members, Nina Cannon, Lee Maude and Bill Natbony were recognized for their service.
Recognizing the retiring faculty, Dr. Hagerman quoted Parker J. Palmer and said, "I am a teacher at heart, and there are moments in the classroom when I can hardly hold the joy. When my students and I discover uncharted territory to explore, when the pathway out of a thicket opens up before us, when our experience is illumined by the lightning-life of the mind—then teaching is the finest work I know. He thanked them for "informing a generation that will shape our future" and said, "You have been leaders, trusted companions and collaborators ... You have demonstrated what it means to be the gest of Scarsdale educators."
Among the retirees who attended the evening meeting were:

Larry Chatzinoff, Assistant Principal at Scarsdale Middle School

Cheryl Higgins, Second grade teacher at Heathcote Elementary School

Dr. Scott Houseknecht, Principal at Edgewood Elementary School

Lisa Onofri, Second grade teacher at Heathcote Elementary School

Marjorie Ross, Eigth Grade English Teacher, Scarsdale Middle School

Dr. Craig Sherman: District Coordinator of Music and Performing Arts and High School Department Chair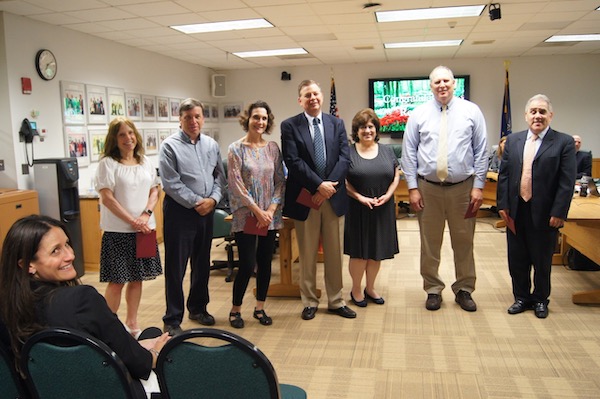 Several others also retired and all were recognized at an afternoon reception. Pictured at top from left to right are: Lisa Onofri, Marjorie Ross, Barbara Vogel, Larry Chatzinoff, Cheryl Higgins, Elizabeth Ungar, Dr. Scott Houseknecht, Linda Rich, Steve Bogardus, Dr. Craig Sherman, Steve Rambone, Beth Kaye, Faye Turitz, Katherine Krahl, Dr. Thomas Hagerman, Karen Lucente. (Photo credit Scarsdale Schools)

Assistant Superintendent Drew Patrick also announced many new hires and promotions. Trisha Iasiello who is currently a second grade teacher at Fox Meadow School was approved for an appointment as Assistant Principal at Fox Meadow School. She holds a M.A. in Special Education from Mount Saint Mary College, and a B.S. in Elementary Education from Clemson.
Speaking to the retiring Board members, Board President Scott Silberfein thanked them for their dedication and service and for exemplifying "non-sibi." He noted that the Board had done significant work on the 2018 bond project, safety and security and reviewing board policies.
Dr. Hagerman said, "What feels like an end is often a beginning. We are finishing one year while planning for another." He thanked Bill, Lee and Nina for "dedicating years of their lives to our schools and our students," and listed some highlights of the year including the hiring of new teachers and administrators, an 80% approval rate on the 2019-20 school budget, the implementation of Scarsdale's first food service plan for all elementary schools, consideration of safety and security, the proposal regarding lights at Butler Field and a comprehensive review of school policies.
Bill Natbony made lengthy comments are included below.
Nina Cannon said, "It has been my absolute pleasure to serve… I have learned and benefited and have tremendous respect for each of you." She said, I have had "meaningful engagement with so many teachers and community members," and thanked the SBNC for supporting her candidacy.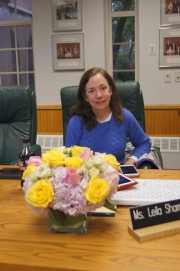 Lee Maude completed six years of service on the Board of Education.Lee Maude said, "It's been an incredible six years." Turning to Dr. Hagerman she said, "I went to Winnetka with Mr. Wixted and met you and got a sense of who you were. I watched you do your entry plan, transition, bond, budgets … I watched you take it in and see how Scarsdale was like Winnetka – but not. You hired and put together your cabinet. You set up a process. We were always moving forward. The learning commons and maker space is here and make our curriculum so much richer."
Later in the Personnel Report, Assistant Superintendent Drew Patrick announced the hiring of many new faculty members.
Below please find comments from Board Member Bill Natbony as well as the League of Women Voters of Scarsdale and the Scarsdale PT Council.
From Bill Natbony: We have a long agenda this evening but I could not let my last public meeting as a School Board member pass without a few brief remarks and thank yous.
Six years ago, and again 3 years ago, the SBNC and our Scarsdale community allowed me the incredible opportunity to serve as a member of this Board of Education. It has been an opportunity and experience I have greatly appreciated and am thankful to have had this chance to serve. This Board stands as a true example of the importance and vitality of volunteerism in Scarsdale and I urge those of you who have not yet caught the Scarsdale volunteerism fever to do so.
When I first joined the Board, I did so with two fervent hopes and desires -- first, to assist the Board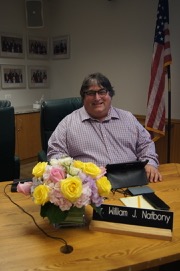 Bill Natbony served two terms on the Board.and Administration in preserving our school system -- a source of immense pride to both past and present residents, and an attraction for future residents. Second, the hope was to enhance our system through creativity and necessity.
The last six years have brought significant positive change to our schools in many ways and in many areas -- curriculum (including STEAM and other areas), facilities, special education, communication, wellness, sustainability, labor relations and budgeting just to name a few. I am proud of the various Board compositions over these years and of what we accomplished together with the Administration.
As a Scarsdale resident looking at public meetings, news reporting, communications and community buzz, one often still sees the Board and Administration through the lens of a single issue that might be of interest to you. It is difficult to see and understand the vast number of issues and, events, actions, policies and decisions that are considered and implemented. This is hard but gratifying work and the main recipients of all this work are our children.
These are tasks that no one person, or one group of people can accomplish with positive results. They require thought, debate, compromise, research and listening. I cannot imagine having a better group of partners these last six years.
First, I would like to thank my fellow Board members (past and present) for their insight and for their ears. It has been and honor and pleasure to work with you. I would like to particularly thank Lee and Scott who served with me at times when I was a Board officer. Thanks for both teaching me and learning with me.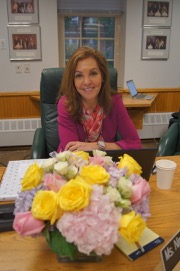 Nina Cannon at the final board meeting.Second, I would like to thank the School Administration, both past and present, and in particular our School Superintendent Thomas Hagerman. We essentially grew up together as you started your new term as Lee and I were joining the Board. Thank you for your passion, your vision and your ability and desire to care about doing what's right every day. You have led this District with great distinction and I look forward to seeing continued great leadership in the future, though perhaps from a little further afar. I must also note that you have assembled a truly "all star" leadership group around you with remarkable talent and insight and I thank your cabinet members for the honor to have worked with them over the years.
Third, I would like to thank the community and community groups not only for giving me the chance to sit at this table, but also for giving me comments to think about and a level of community involvement that is unmatched. This community is demanding and rightly so. Remember that this Board and the Administration share the same goals for our school system. Some decisions are harder than others, but from experience I can tell you that the Board and Administration always seek the right answers after appropriate debate and listen not only to you but to each other. We operate on the assumption that all are acting in good faith with appropriate motives. That is an important basis for a working partnership. I have enjoyed that partnership.
There are so many other groups to thank -- the teachers who keep our schools buzzing with intellectual curiously and creativity all hours of the day, and other staff that keep our schools safe and operating efficiently. Thank you for allowing me to join you in our common quest.
Finally, a thank you to my family who has suffered (or maybe cheered) my absence from home on many mornings, days and evenings. I know it was hard for you but the end result for our community is one that is vitally important and I thank you for allowing me to pursue my passion about education.
Speaking on behalf of the League of Women Voters of Scarsdale, President Leah Dembitzer said, "The League Board wishes to thank outgoing Board of Education members, Bill Natbony, Lee Maude and Nina Cannon for their years of dedicated service to our phenomenal school district. Bill and Lee, you have both served on the board for six years, and have both served as president of the board. Your leadership, determination, attention to detail and preparation for meetings has been extensive and tireless. Bill, your letters to the community, to further engage and connect with the community, were thoughtfully executed and beneficial. Lee, your commitment, year after year, to striking the right balance between the value of a Scarsdale education with a keen awareness of the tax burden, demonstrated your constant cognizance that your service required difficult and thoughtful decisions. Nina, during your three years on the Board, your attention to detail, astute and nuanced questions, connection and engagement with community groups, and thoughtful stewardship have brought much to the community at large.
Bill, Lee and Nina, the League Board deeply appreciates all of your dedicated work to protect and enhance a Scarsdale education for our community's children and we wish you all the best in your future endeavors.
PT Council Chair Amber Yusuf offered the following comments: On behalf of PT Council, I extend a heartfelt thank you to all the retirees who were recognized earlier this evening and wish them well in their next adventures. And to mark the final board meeting of the school year, I also wish to thank Board President Scott Silberfein, Vice President Pam Feuhrer, who also served her second year as board liaison to PTC, all members of the Board of Education, Dr. Thomas Hagerman, and the entire cabinet for your dedicated service and commitment to our children's education. The PTC looks forward to continued collaboration with you next year.
Last month, at our annual PTC luncheon, we paid tribute to retirees Scott Houseknecht and Larry Chatzinoff. Dr. Housknecht had the honor of serving as principal at the Edgewood School for 29 years and presiding over their centennial celebration. Scarsdale Middle School was fortunate to have Mr. Chatzinoff's thoughtful and hard-working presence for 19 years. In their honor, PT Council has made a generous donation to the SHS PTA Scholarship Fund to help students as they start their first year of post-secondary education.
I have the honor tonight of also recognizing the three outgoing members of the Board of Education as they complete their board service. Nina Canon joined the board of education three years ago, and from the start, your pleasant demeanor built a solid foundation for trust. You took your role seriously, respectfully challenging the administration and fully understanding management. You are an outstanding editor with a remarkable eye for detail. You often came to the board table open to ideas, with a willingness to listen to and learn from others, allowing you to be flexible in your decision-making. Your persistence and confidence was present when needed, but always with a smile. You looked for efficiency, efficacy and facility during your tenure, and these characteristics will be missed. Most importantly, you kept our children's needs first and foremost, and we appreciate your service Nina.
Bill Nabotny, as you complete your second term, I wish to thank you for your service over the years as a deeply thoughtful board member who was guided by a belief in doing what was fair and just. Your appreciation of the other Board members suggestions was noted, and you worked to adjust your opinion based on the input of your fellow board members and community perspectives. Your ability to play Devils' advocate ensured that both sides of every issue were fully considered. Your curious and communicative nature served you well during your term as Board President. And your through consideration of issues helped pace the Board so that the big picture and long term impact were always considered. Your commitment to fiscal responsibility served our community well during two bond efforts during your time on the Board. Bill, your mindfulness around the impact to students will always be appreciated.
And last but most certainly not least, thank you Lee Maude for your leadership over the past six years, serving two terms as Board President starting in the third year of your first term. We are lucky to have had your strength and tenacity during challenging times in our community, guiding the Board and the administration through a time of exceptional challenges with both contracts and bond proposals. Your commitment to community engagement and participation is exemplary, and you ensured the administration attended to all input and concerns. You were instrumental in building a better board, by establishing an atmosphere of respect and trust, fostering dialogue and effective questioning. You took the time to research best practices, attend workshops and consult with other Board Presidents, always putting in extra effort. Lee your commitment to all of our students, in addition to those with needs, will be missed.
A sincere thanks to all of you for efforts and time you spend for the well-being of our children and the betterment of our community.
Maroon and White Honors Senior Athletes at June Barbeque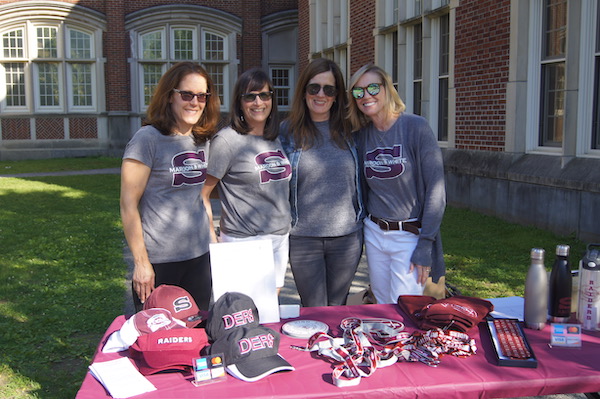 Every season, the Maroon and White parent's organization hosts a sports awards dinner to recognize athletes for accomplishments in their respective sports. The spring dinner, this year held on Tuesday June 4, honors seniors as the spring season is their last opportunity to compete as Raider athletes. A barbeque is followed by the general awards ceremony, which recognizes seniors for their dedication to Scarsdale athletics. Individual sports teams break into smaller rooms to present sport-specific awards after the ceremony.
The Iron Man award is the first of a series of senior awards. The Iron Man honors senior athletes who have completed 12 full seasons of athletic participation, meaning they have played a sport in every high school season. The 2019 Iron Mans were awarded to Alexander Eforo, Chessy Greenwald, Zachary Hoexter, Kazuki Katoh, Andrew Levy, Alexander Mayer, Aliza Mehlman, Nina Metviner, Michael Palermo and Bruno Tassari.
The first of three memorial awards, the Elizabeth Timberger Award, honors an outstanding member of the Scarsdale athletic community. Elizabeth was supportive and influential member of the board of Maroon and White prior to her untimely passing. The Timberger award is given to a senior who helps a team not as a player, but through some other form of participation. The 2019 award went to Mia Bezos, manager of the varsity football team.
The Nina Mooney award is presented to a senior female athlete who displays commitment, enthusiasm, spirit, concern for others and a positive work ethic. Nina Mooney, who passed away in 1991 at the age of 54 after a courageous fight against breast cancer, organized many Maroon and White events and was loved for her kindness and boisterous spirit. Emmeline Berridge, a captain and four-year varsity player for both girls basketball and lacrosse, was the 2019 recipient. Berridge will attend the University of North Carolina in the fall.
The Nonie Knopp Memorial Award honors Knopp, an outstanding member of the Scarsdale community and an avid sports fan who was devoted to Maroon and White as a vice-president and chairperson for the Holiday Basketball Tournament. The award recognizes a male senior varsity player who exemplifies dedication, commitment, spirit, enthusiasm, concern for others and positive work ethic. The 2019 winner of the award was Ben Schwartz, a captain of the varsity ice hockey team and boys golf team who will continue his golf career at Cornell.
The Peppers Award honors Sue Peppers, a former assistant principal of Scarsdale High School, as she remains closely tied to Scarsdale schools and athletics through her daughters, who were scholar athletes at Scarsdale High School. The award recognizes students who combine high standards for academics, sports, and team play. The female Peppers award was presented to Aliza Mehlman, who has distinguished herself in athletics and academics, emerging as a captain in lacrosse and field hockey, as well as maintaining a strong spirit and an impressive academic record. Mehlman will play lacrosse at Stanford. The male Peppers award was presented to Nick Bernard, who was a standout on the boys track and field team. He will continue his track and field career at McGill University.
The Scholar Athlete Honor Society Award is presented to a top male and female student who has excelled in dedication to and performance in his or her sport, and displayed leadership on and off the field of play and high performance in the classroom, with a GPA of 3.5 or higher and accomplished SAT or ACT scores. This year there were two female winners and one male winner. Andrew Bernstein, a 2019 high school All American who broke the school record for career goals won for lacrosse; Sam Felder won for field hockey and lacrosse; and Allison Stafford won for soccer. Bernstein will attend Northwestern in the fall, Felder will attend the University of Virginia and Stafford, who is believed to be the only two-time All New York State girls soccer player in Scarsdale High School history, will continue her soccer career at Amherst.
The Scarsdale Raider Award recognizes the intangible characteristics that represent the spirit of a Scarsdale Raider--- the attitude, work ethic, and leadership qualities that the sports community hopes to instill in all Raider athletes. The winners of the Scarsdale Raider Award were Jack Brosgol for lacrosse; Chessy Greenwald for lacrosse, track and field and field hockey; and Kaitlyn Lee for golf. Brosgol will continue his lacrosse career at Swarthmore; Greenwald will play lacrosse at Wesleyan; and Lee will play golf at Yale.
The ceremony also recognized the 26 SHS athletes who are expected to continue their athletic careers in college:
Brooke Bensche – Track & Field - MIT
Nicolas Bernard – Track & Field - McGill University
Elise Boucher - Cross Country/Track & Field - Smith College
Jack Brosgol – Lacrosse- Swarthmore College
Garrett Campbell - Football - Denison College
Jack Charland – Football - Dickinson College
Aidan Donovan – Cross Country - Fairfield University
Sierra Donovan – Track & Field– Amherst College
Kaitlyn Du – Diving – Massachusetts Institute of Technology (MIT)
Elizabeth Elcik – Cross country and Track & Field - Santa Clara University
Andy Fan - Golf - University of Pennsylvania
Mao Fukada – Swimming – Soka University
Chessy Greenwald – Lacrosse-- Wesleyan University
Samantha Ho – Diving- Yale University
Eric Jacobson - Track & Field - Fordham University
Cole Kattan – Basketball- SUNY Geneseo
Kaitlyn Lee - Golf - Yale University
Danielle Lemisch- Swimming – Lafayette College
Andrew Levy - Cross Country/Track & Field - Emory University
Brian Lilly - Crew - Univ of California at San Diego (UCSD)
John Lloyd - Ski Racing - Hobart and William Smith
Aliza Mehlman- Lacrosse – Stanford University
Josh Porter – Football - Colby College
Renata Pratt - Cheerleading - Elon University
Ben Schwartz - Golf - Cornell University
Allison Stafford – Soccer - Amherst College
Here are representatives from each team and a brief recap of the season's highlights: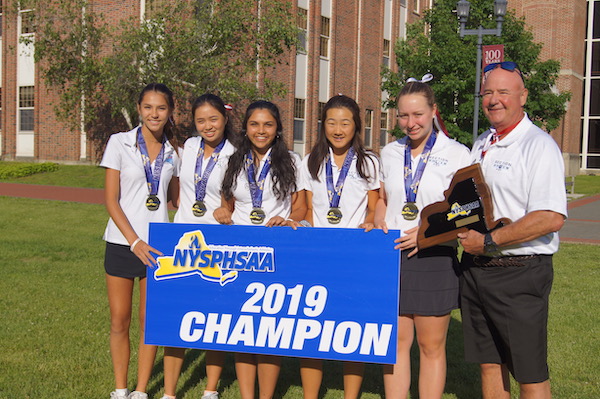 Girls Golf
States team pictured: Skye Braun, Jackie Lu, Madhavi Shashank, Kaitlyn Lee, Rebecca Maude, Coach Barney Foltman
Girls golf had an "amazing season" according to senior Sarah Abbe. Three girls on the team went to states, Kaitlyn Lee, Jacqueline Lu, and Rebecca Maude. Many girls on the team also went to sectionals. The team won both states and sectionals.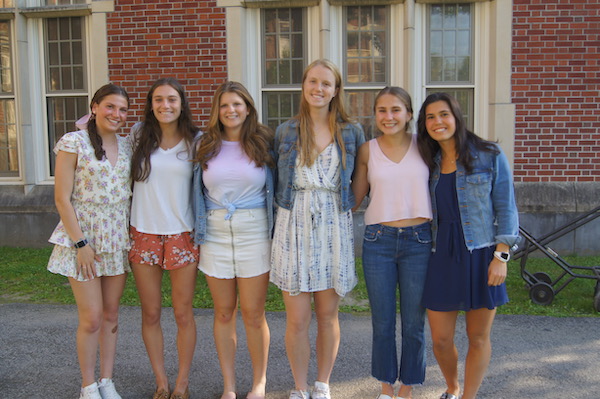 Girls Lacrosse
Seniors pictured: Aliza Mehlman, Mia Dell'Orto, Lena Glickman, Emmeline Berridge, Samantha Felder, Chessy Greenwald
This season, the girls lacrosse team made it to playoffs. Senior Chessy Greenwald got 100 goals. Chessy also named all-section.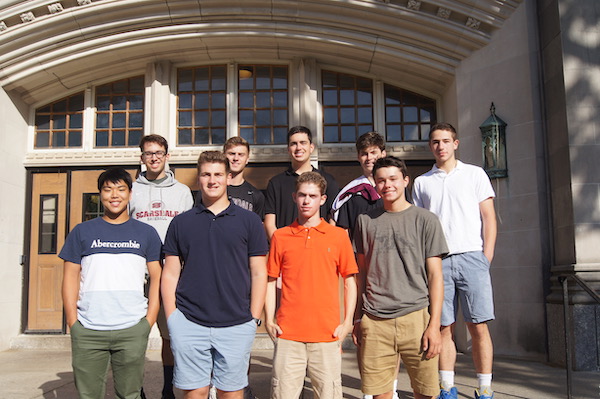 Baseball
Seniors pictured: Cole Thaler, Avery Tzamarot, Sam Bernstein, Trevor Lambert, Cole Kattan, Kody Morikuni, Michael DiSanto, Jonah Schneider, Matt Watiker
The boys baseball team did not have their best season this year. Their record at the end of the season was 4 and 12. However, they did score a win against the Suffern Varsity Boys Baseball team, which is the number two team in the entire state.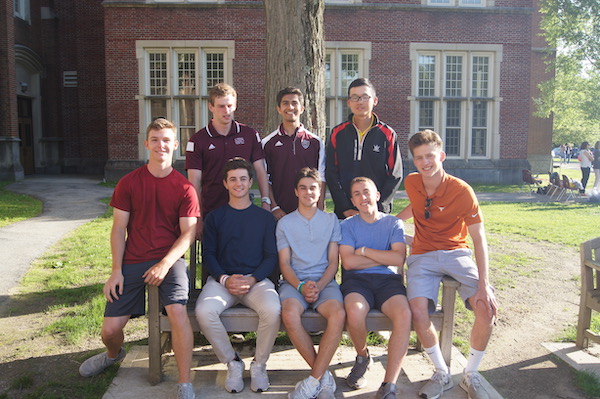 Boys Golf
Seniors pictured: Henry Kronenberg, Ishwar Mukherjee, Andy Fan, Ben Schwartz, Aidan Londa, Dan Silk, Andrew Kass
The boys golf team had a phenomenal season and was undefeated with a 19 and 0 record. 10 members of the team qualified for for sectionals, which is a record. The team also sent 4 boys to states, at Cornell, and they were the only team to qualify more than one person. 3 boys also went to all-states.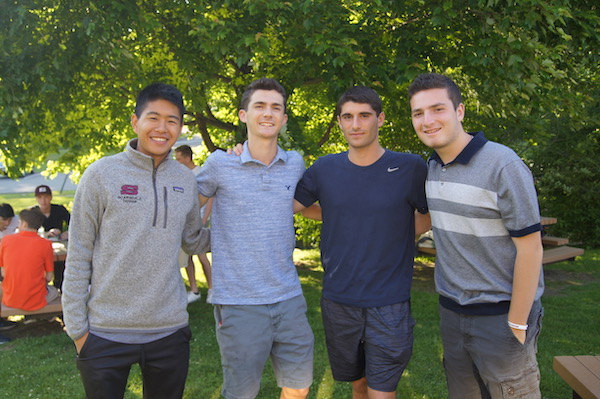 Boys Tennis
Seniors pictured: Jose Maronilla, Jordan Ziffer, Dylan Cohn, Jake Singer
The boys tennis team had a stellar 11 and 1 record during the regular season. The team made it to playoffs, but unfortunately lost to Horace Greeley. Two boys went to states, freshman Jason Shuler and junior Nikolai Sahakyan and won the state doubles title. 7 boys also qualified for the all-section tournament.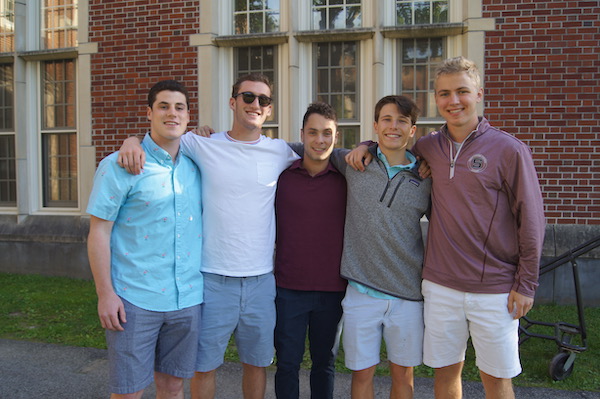 Boys Lacrosse
Seniors pictured: Will Maybaum, Ben Klein, Zach Reyman, Jackson Bornstein, Jackson Brosgol
Boys lacrosse had a great regular season, with their record being 13 and 3. Although they lost in the playoffs, the boys had a fun time and "rode with the dogs" according to senior Ben Klein. Also, senior Andrew Bernstein made all-American.


Softball
The girls softball team's record this season was 16 and 5, and the team made it to the sectionals. Some highlights of the season were that the team beat their rival, Mamaroneck, who we haven't beaten in years. They also beat White Plains, which has the number 1 team in the section and number 4 team in the state. The girls also won their first sectionals game in 11 years.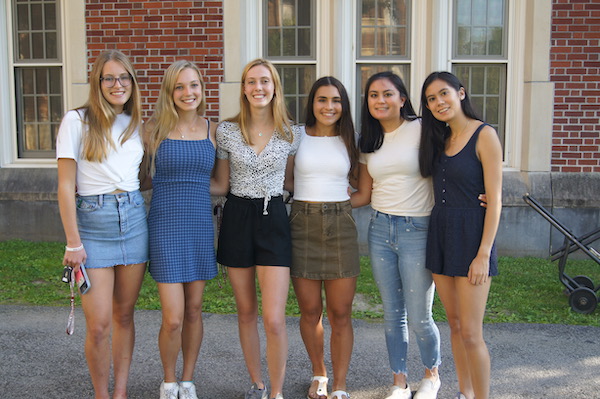 Girls Track & Field
Seniors pictured: Alexandra Wilson, Sierra Donovan, Brooke Bensche, Elizabeth Elcik, Isabelle Boucher, Elise Boucher
The girls SMR(sprint medley relay) qualified for nationals- the relay consists of Annabel Jacobs, Samantha Jahrmarkt, Yurami Van eer, and Sierra Donovan. Sierra Donovan ran a 2:18.71 in the 800m.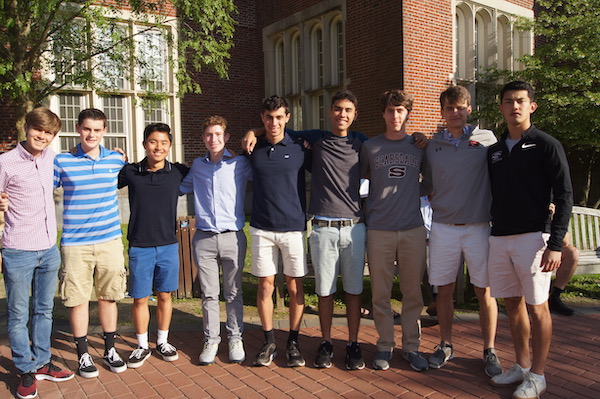 Boys Track & Field
Seniors pictured: Bruno Tassari, Alex Mayer, Kazuki Katoh, Zach Hoexter, Andrew Levy, Omar Van Eer, Michael Palermo, Eric Jacobson, Nicolas Bernard
Alex Friedman ran a 56 second PR(personal record) in the 3200. Daniel Asher ran 4:26.94 in the 1600m(mile). Jake Coleman ran 9:49.45 in the 3200m(2 mile)— just roughly a second and a half off of winning and event and going to states as a sophomore and after being injured at the beginning of the season. Boys 4x800m relay broke the school record set in 2008.