Supporters Dress in Pink to Remember Marla Mehlman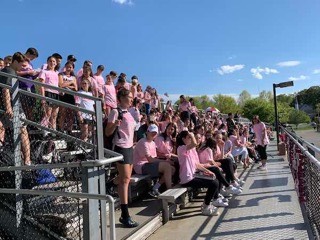 Fans dressed in pink on Wednesday May 8 to remember Scarsdale mom Marla Mehlman who lost a 10-year battle with cancer at the age 51 on December 19, 2018. She loved watching her daughter's games and this year, daughter Aliza is the senior captain of the SHS girls varsity lacrosse team,
On Wednesdaythe Scarsdale Varsity Girls Lacrosse team held their annual "pink game" in support of breast cancer research and awareness. This year the game had a special meaning, as it was played in honor of Marla. In the stands of the game, everyone on the Scarsdale side wore a pink t-shirt purchased to help support The Mehlman Family Research Fund at the Dana Farber Cancer Institute in Boston, Massachusetts. The girls played their hardest in a game that was neck and neck the whole way through.
In the end, White Plains beat Scarsdale 12-11. However, the pink game served its greater purpose to bring people together in memory of a courageous woman who will remain the hearts of so many in Scarsdale.
From Village Hall: Parking, Firehouse, Time Limits. the Memorial Day Parade and more
Details

Category: Shout it Out
Published:

16 May 2019

Written by

Joanne Wallenstein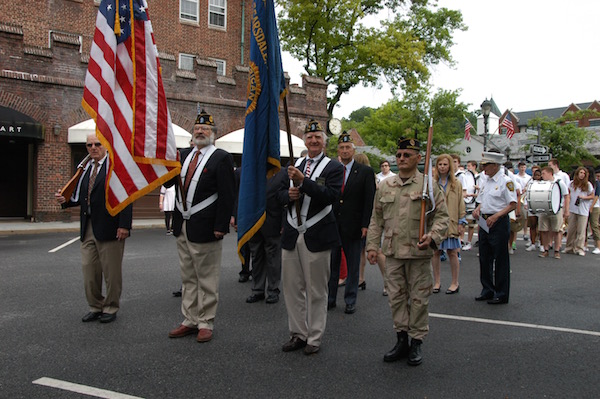 Village Parking, lights at Butler Field, time limits for public comments and the Memorial Day Parade were all discussed at the May 14 meeting of the Scarsdale Board of Trustees. See what happened and read the Mayor's comments below:

Firehouse

Fire Station #1 on Post Road will finally be back in service. After a multi-year $4.7 million renovation, the station, adjacent to Village Hall, can now accommodate large fire trucks. The Mayor explained that the project was over budget by $700,000, or 18%. Samwick blamed it on the Wicks Law that requires separate contracts for all the trades rather than a single "design build" contract which guarantees that the job gets done at a set price. Samwick said he met with state officials to voice concerns about the law.
PANGO Parking App
Good news on parking: Assistant Village Manager Ingrid Richards announced that parking app PANGO will soon be available for use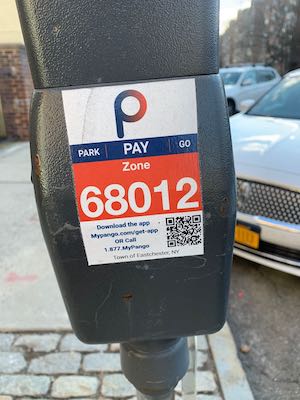 at Village parking meters. Drivers can download the PANGO app and use it to pay by phone at Village meters. Credit cards and Venmo will also be accepted. It is the hope that this new system will make parking easier and more convenient. Goodbye quarters!
Bronx River Parkway Bike Trail Extension
Exciting development for bikers and walkers: The county is finally beginning work on an extension of the path along the Bronx River to cover the gap between Crane Road and Greenacres Avenue in Scarsdale. To accommodate neighbor's concerns, this extension will be built on the west side of the parkway, rather than extending through Fox Meadow. Village Manager Steve Pappalardo explained that the work will involve the clearing of trees and shrubs, new drainage and retaining walls. If all goes well, the new path will be completed for the fall of 2020. If you have questions, Pappalardi said the contact at the County is David DeLucia at the Westchester County Parks Department.
Public Comments
During the public comments portion of the meeting, Bob Berg continued to press the Village Board to eliminate the five minute time limit on public comment. He said that the school board has removed their three minute limit and "no one has abused the privilege." He told the story of a man in Bradenton Florida who was arrested for not respecting the 3 minute rule at Village Hall though he was telling officials that his family was being targeted and watched. Bob said that "the only time a resident can address the full board, the audience and be on television" is during public comments.
Mayor Samwick responded, saying, "There should be a clear sense of fairness, equitability and non –partiality. We must balance the needs of the audience vs. the speaker. It would be bad if we were arbitrary or showed favoritism. You bring valuable comments to the board." He then invited Berg to speak with himself and the Village Manager at the Girl Scout House on Wednesday May 22 when they will hear resident's concerns.
Lights at Butler Field
Two Fox Meadow residents expressed concerns about the potential installation of lights at Butler Field.
Janet Korins of Ogden Road said, "Maroon and White is making a generous gift of $800,000. … I want a strict and enforceable usage policy for neighbors. How can we protect residents' rights? We already hear the noise. Regular evening and nighttime use during the week is burdensome… The Village is peaceful and quiet. This is the character of the neighborhood. These concerns are being trivialized. They want maximum usage – such as concerts. What are our shared community values? What are the village noise ordinances? This is an issue of concern to all residents. What will prevent them from expanding usage in the future? What noise laws apply to the schools?"
Julie Zhu said she agreed with Janet and spoke of "being good neighbors." She said, "Neighbors have tolerated noise and garbage on our lawns – we understood we are near the school and kids want to have fun. What is the school doing for the neighbors? It is a two way street."
Sustainable Landscaping
Three spoke to urge the Village to adopt a sustainable landscape policy using only organics on Village properties. In practice, the Village is already doing this, however a report from the Scarsdale Forum's Sustainability Committee recommends that the Village formally adopt this policy so that it won't be changed if different personnel supervise Village properties.
Darlene Le Francois Haber said, "We can't leave this to future whims ….We don't want to gamble with this …. We need an enduring solution … We want a committee of the whole meeting to talk about this. We can be leaders regarding the safety of our environment."
Madelaine Eppenstein concurred, saying, "Practices alone do not safeguard us. We need to ensure institutional continuity. The practice should become official."
Michelle Sterling also asked that all "village properties be treated organically." She said, "We are already doing this. We don't need to change – and it's going really well.
Specifically we have asked for this to be policy so that whenever there is a change in staff a new person can't decide to do things differently. This will set us out as leaders. We are a tiny town but we make a big mark when we do things right."
Memorial Day Parade

The Memorial Day Parade, sponsored by the Scarsdale Chapter of the American Legion, will be held on Monday May 27. It will begin with a flag raising at Boniface Circle at 9:30 am. The community is encouraged to attend and honor our heroes.
Donation of Arborvitae
The Greenwalds of Oak Way sought permission to donate $7,600 to plant six arborvitae on village property to screen their home from the Brite Avenue Tennis Courts. Due to construction of a new home the screening is gone. The resolution was approved.
Below please find comments from Mayor Marc Samwick made at the opening of the meeting.
There are four items I would like to discuss this evening.
I would like to start by thanking two important Village volunteer organizations for their long-standing valuable contributions to our community. The League of Women Voters of Scarsdale and the Scarsdale Forum have been serving our community for over 90 years and about 115 years, respectively. Thank you to all of your dedicated volunteers and the hard work you invest year-in and year-out for the betterment of our community.
First, the League recently commented, in its annual budget review, about Trustees' Conflicts of Interests. It first commended the Board for its "practice of discretionary recusal in the face of potential, real, or perceived conflicts of interest stemming from activities of Board members' spouses and immediate family members who engage in local advocacy and have volunteer roles in local organizations, boards, and councils." The League then encouraged, "Trustees to consider whether their own current activities present a potential, real, or perceived conflict that should trigger recusal from particular issues that come before the Board." We agree with the League's statement and this Board will continue to exercise diligence in the recusal of Trustees and the Mayor in the event of family or personal volunteer activities that present potential, real, or perceived conflicts with items that come before the Board. A relevant and timely example is the recusal of Trustee Crandall and me from the Scarsdale Historical Society's economic hardship appeal that is currently before this Board. As members of the Historical Society, the applicant in this case, Trustee Crandall and I recused ourselves from this matter. We expect that similar matters will be handled in the same manner in the future.
Second, I would like to discuss a specific item addressed by the Forum's annual budget report – an item that is on this evening's agenda – Salary Increases for Non-Union Employees. The Board is expected to vote this evening on a resolution that proposes a 2% increase in salaries for employees that are not represented by a union. The Board performed specific diligence that is consistent with the recommendation of the Forum, namely, "salary increases that are comparable to non-union salary increases approved in comparable communities and that are necessary to retain these employees." The Board met in executive session to review increases in salaries of non-union employees. We discussed, among other things, increases in non-union salaries in comparable communities and that data is attached to the resolution addressing this matter this evening. There are 16 comparable communities that are reflected in the survey and all but one community has approved salary increases for non-union employees within the range of 2-3%. One community has a slightly lower percentage adjustment, at 1.5%, but also includes other potential adjustments that make a direct comparison difficult. The other point I would like to highlight is that the Forum correctly notes that this salary increase is important for employee retention – a primary objective of the salary increase policy.
The Forum also noted the exclusion of the non-union salary increases "from the otherwise open and transparent" budget process. I have spoken with the Village Manager about enacting the Forum's recommendation that non-union salary increases be included in the standard budget process and am pleased to report that, going forward, non-union salary increases will be included in the budget process.
Third, the Popham Road Fire House, also known as Fire Station #1, is expected to reopen within the month after an extensive $4.7 million renovation that retrofitted the fire station to house today's larger fire apparatus, shored up structural deficiencies and generally brought the fire station to modern physical standards. The bad news is that the cost of the project was about $700,000, or 18%, over budget. Budget overruns are a difficult reality of completing needed municipal projects in New York State. Much of the blame for recurring budget overruns is an antiquated law, known as the Wicks Law.
The Wicks Law requires separate contracts be let for general construction, electrical, plumbing and mechanical work, for any construction project estimated to cost in excess of $1.5 million. The Wicks Law thereby requires four prime contractors for each job, all required to provide separate costly bonds and insurances and complicating the construction work by necessitating the Village coordinate the progression of the work among all contractors as opposed to the Village contracting with a separate General Contractor who would utilize electrical, plumbing and mechanical sub-contractors under its control and contractual fee.
The State law also prohibits villages and towns from utilizing design-build construction contracts, which encourage efficient design and construction. The law allows for the use of design-build for all NY State agencies, Counties and larger cities. Under the design-build format the Village would accept all-inclusive project proposals from construction teams, including architectural, engineering, construction and construction management services, for a total project fee. This project team works in tandem on the project from design to construction completion with a common goal of completing the work on-time and within budget. The inability of the Village to legally utilize this construction project methodology has cost the Village substantial funds, as evidenced by the Popham Road Fire Station project.
The Village Manager and I met with the Governor's regional representative last week and we highlighted the difficulty imposed on villages and towns by the Wicks Law and other State-imposed limitations. While we do not expect any meaningful changes in New York State construction requirements, we will continue to fight for the right to employ more efficient construction mechanisms. In spite of these challenges, which have been in place for decades, we must continue to invest in Scarsdale's critical infrastructure, though continued capital projects, such as our water distribution network, sanitary sewer system, and public service buildings, to ensure a successful future for our community.
The last item I would like to discuss this evening is the implementation of a license plate reader, or LPR, and parking app in the Village Center in the coming weeks. The new LPR will assist in parking enforcement and I would like to be sure that residents, merchants and others that visit our Village Center are aware that the LPR will be in use and will be used to enforce meter feeding violations. We will also be rolling out a new parking app within the coming weeks to enable residents, merchants and others to extend their permitted time with ease and flexibility. Please note that overall time limitations remain intact, so please plan accordingly. These new technologies are expected to somewhat ease our constrained parking capacity in the Village Center and we are eager to commence their implementation. The Village Manager will have further information on the new parking app during Manager's comments. For more information on parking in the Village Center, please see the Village website – www.scarsdale.com.
LWVS Luncheon Speaker Outlines Effort to Fight Hate Crimes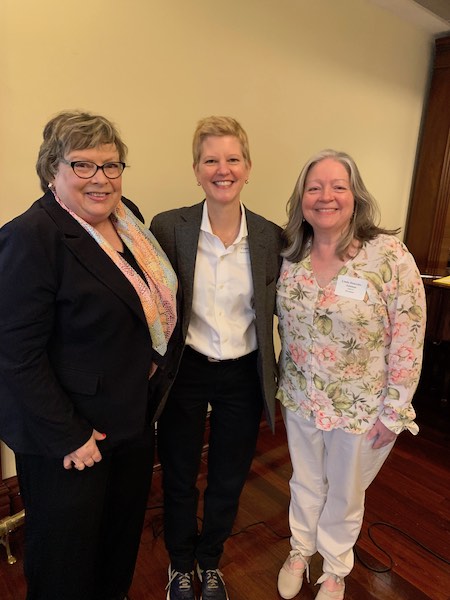 Cindy Dunne, Cynthia Deitle and Linda Doucette-AshmanAn illustrious crowd of mayors, trustees, legislators, representatives from Village organizations and current and former League members were in attendance at the League of Women Voters Annual Luncheon on Friday May 10 at Scarsdale Golf Club.
This year, as in the past, the guest speaker focused on an issue of importance to all; hate crimes and victims rights. Former head of the FBI Civil Rights Unit and current Programs and Operations Director of the Matthew Shepard Foundation Cynthia Deitle shared stories and pivotal learnings from a lifetime of defending victims of bias.
Deitle was introduced by league member Cynthia Dunne who met Deitle twenty years ago when Dunne was an Assistant United States Attorney in the Southern District of New York. She called Deitle "professional and inspirational."
Deitle reviewed some of the pivotal cases that cemented her commitment to protecting victims and becoming a crusader in the fight against hate crimes.
She discussed Kent State where the Ohio National Guard fired on unarmed students protesting the bombing of Cambodia, killing four innocent victims. Deitle was very young at the time, the slaughter impacted her for the rest of her life.
She recounted the story of Abner Louima who got into a fight after leaving a nightclub in Brooklyn in 1997. He was picked up by police who beat him and sexually assaulted him in a horrific display of police brutality. Deitle visited Louima every month for two years and hoped to get him to be an advocate against police brutality. However she later concluded, "It was selfish of me and conceited of me to want to use him after what happened." Louima wanted to rebuild his life, rather than spend the rest of it reliving that night.
Sometimes Deitle was called in after the death of a victim. This was the case of Zoron Teodorovich who was arrested for trespassing after he grilled a steak on a neighbor's barbeque. While in prison, he got into a disagreement with prison guard Paul Cote who pounded Teodorovich's head into the cember floor multiple times with his boot. As a result, Teodorovic went into a coma and died. It took Deitle more than a year to find the victims family overseas and bring his sister here to get justice for the death of her brother.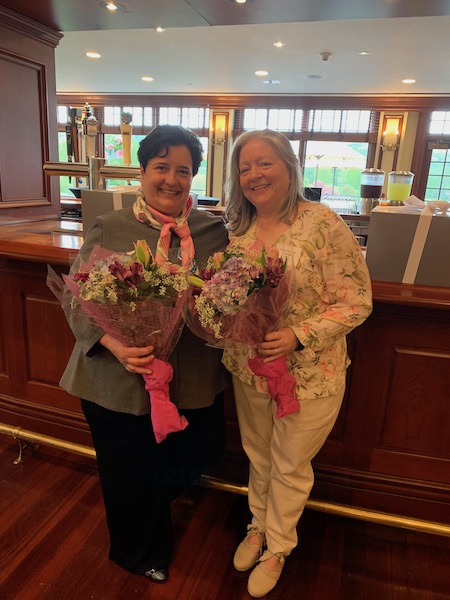 League Presidents Janice Starr and Linda Doucette-Ashman
Finally she discussed the murder of Matthew Shepard, a gay student at the University of Wyoming, who was beaten and tortured –possibly due to his sexual orientation in 1976. His case shown national attention on hate crimes and ultimately spurred the passage of new legislation to address hate crimes, "The Matthew Shepard and James Byrd Jr. Hate Crimes Prevention Act."
From these and other cases that she reviewed, Deitle shared what she learned:
-First impressions are often wrong
-Not all victims will be advocates
-Some victims just want to be heard and understood – the role of law enforcement is also to listen.
-Sometimes the victims are the bad guys, but they need to be protected too.
-Even if the victim has already died, the law should "do justice by people you may never meet."
-Referring to the parents of Matthew Shepard, Deitle said, "Some advocates change the world."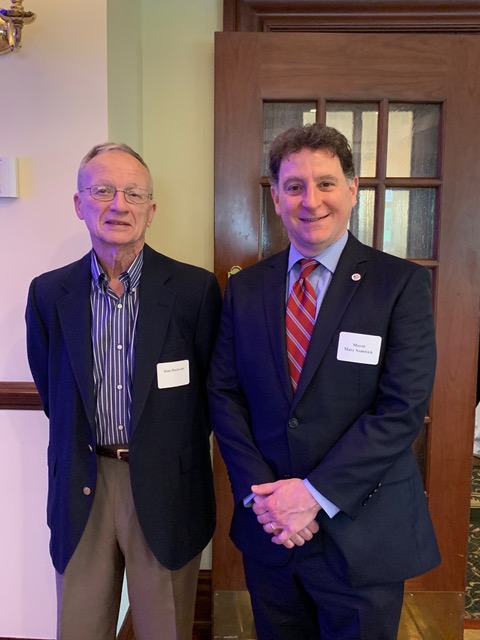 Former Scarsdale Mayor Dan Hochvert with Scarsdale Mayor Marc SamwickIn her present role, Deitle is collaborating with Matthew Shepard's parents Dennis and Judy Shepard, the Department of Justice, the Anti-Defamation League, NAACP and other non-governmental agency stakeholders to enforce the Hate Crime Prevention Act of 2009. She trains state, local, and federal law enforcement officials to recognize hate crimes and enforce the law.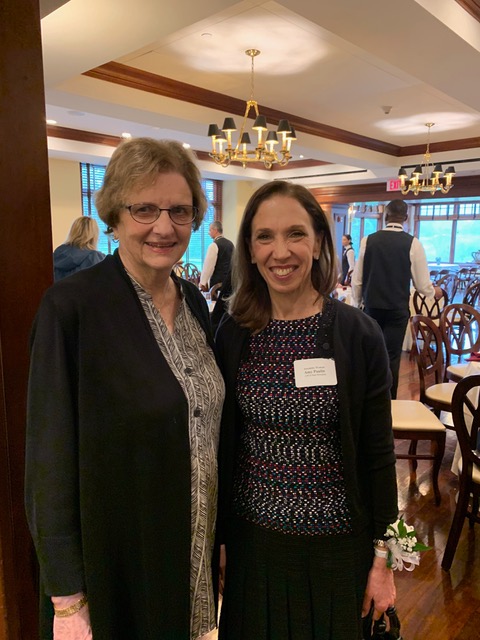 Barbara Jaffe and NYS Assemblywoman Amy PaulinHow can we make the world a better place? Deitle encouraged the audience to ""Be the change you want to see," saying "You are all advocates and allies and forces for good." She challenged the people in the room with these words: "What is your cause? What makes your heart beat? What gets you up in the morning? Whatever that thing is, get out there and try to push the needle forward. Do something. Anything."

Photo Credit: League of Women Voters of Scarsdale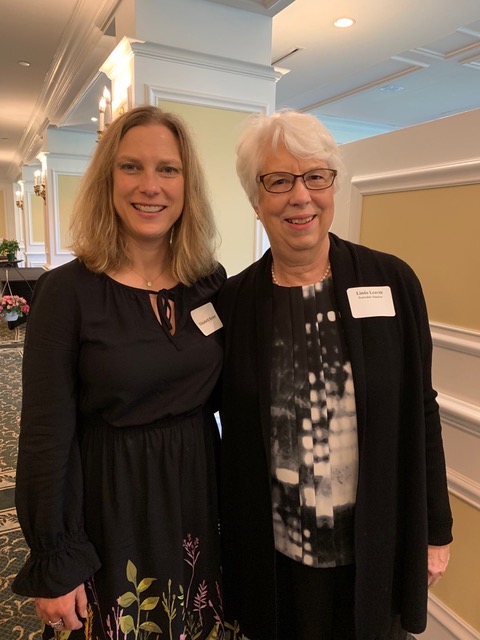 Library Director Elizabeth Bermel with Former Scarsdale Inquirer Editor Linda Leavitt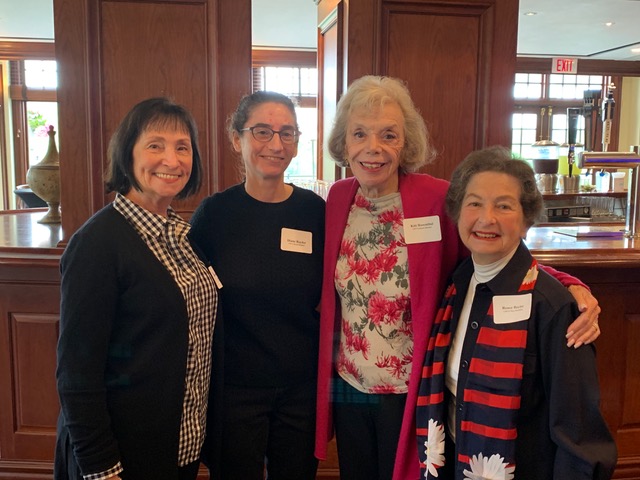 Barbara Chesler, Diane Baylor, Kit Rosenthal and Renee Baylor
The Debate Continues on Usage of Lights at Butler Field
Details

Category: Village Voices
Published:

15 May 2019

Written by

Joanne Wallenstein
The debate about lights at Butler Field continued at the May 13 meeting of the Board of Education when Athletic Director Ray Pappalardi provided an update on his efforts to come to an agreement regulating field usage with neighbors.
He said there was general consensus among all stakeholders that "everyone wants to support our student athletes," and that the "lights should benefit all the children of Scarsdale," including those who participate on high school teams and younger children who play with the Independent Sports Organization. He said there was agreement that the lights would be in use from September through November and March through May and everyone could agree on the times would the lights would be turned on.
However he said, "We have not come to an agreement on when and how frequently practices can take place on the turf field," and "We have not begun to tackle rules of enforcement and penalties."
Seeking further clarification on the points of disagreement Dr. Hagerman asked Pappalardi to outline the difference between current practice times and what would be possible with the lights. Pappalardi said, "There are disagreements around how late the lights should be on." He said, "Current practice is that the field is reserved until 7:30 pm five days a week. On Saturday we typically don't have to go late. (With the lights) there is the potential is to extend practice up until 9 pm Monday through Friday nights. The draft now has 8:30, but 8:00 would be a more reasonable time for kids to get home."
Board member Nina Cannon said, "We should leave some flexibility in this policy… To lock ourselves in – there may be circumstances why we need the lights later."
Board member Chris Morin agreed. He said, "There is no reason that practice can't take place. 9 pm is not unreasonable. Students stay up later as the days get longer. I am all for keeping flexibility in and making no limitations on practices." Later in the discussion he added, "It is not abnormal for kids to have activities going on at the high school until 9 or 10 at night. We have discussed events other than sports – what about graduation? Concerts? We should add that to this agreement. Also music – what about that?"
Discussing an enforcement and penalty policy, Dr. Hagerman said that administrators and faculty were compelled to follow district policies and that no enforcement or penalties need to be delineated. He said, "We will follow the agreements we have laid out."
Community members had lots to say about the proposal:
Nina Zoota of Cohawney Road questioned budget priorities, telling the Board that her son is on the Varsity swim team and must travel to practice. She said there are "no resources here." She continued, "Do I think a 9 pm practice is reasonable? 9 pm does not work for us. Having practice ending at 9 is too late."
Claudine Gecel of Kent Road also had concerns about budget priorities. She said she had just returned from the NYS Science Olympiad and that staffing limitations at the middle school prevented some students from competing. She said, "with current staffing we cannot go to nationals."
Janet Korins of Ogden Road said, "I am not sure we have agreement on the issues. From the neighbors' point of view this is a serious issue that should not be minimized. Practices and games can be heard from the field. At 7:30 at night the streets are quiet. We really value the quiet in the neighborhood and it is a significant issue. This affects everyone in the community. The neighbors have no idea that there will be games and practices late on weeknights. Now people are suggesting events and concerts – this is a legitimate concern for the neighbors. The fact that this is generous gift should not affect the process."
Several student athletes spoke in favor of the lights. Emmeline Berridge from Garden Road who plays varsity basketball and lacrosse, is a CivEd advisor, and participates in Model UN said that the student body lacks spirit. She said, "Lights would turn games into events."
Varsity Lacrosse team captain Andrew Bernstein seconded Berridge's feelings on school spirit. He also noted that "many opponents have lights," and that with lights, "bigger crowds would come."
Mia and Sophie Carroll of Sunset Drive spoke in favor of the lights, saying "most of the teams we play have lights and are at an advantage."
Rippy Phillips, who heads the youth football program said, "Night games are phenomenal. Without a turf field and no lights, we missed 15 practices for youth football – or half the season. I had to cancel practices because the fields were under water. We want a little piece of that field if our practices are cancelled."
Phillips continued, "It would be nice if the ISO's could use the lit field after the high school kids go home at 8 pm. Twenty years ago we had these same arguments about the turf field. We had all these arguments – but once it was in, everyone realized this was the best thing!"
Jeremy Gans of Harvest Drive said he was President of the Scarsdale Youth Soccer Club and favored installing lights at Butler Field. He said, "We had a wet fall. There was nowhere for the teams to practice …. I believe the long term solution is more turf fields in Scarsdale." He added, "I have a second grader who plays until 8 pm. It's not unreasonable for kids to stay out until 9 under the lights."
Brice Kirkendall Rodriguez who heads the Old Scarsdale Neighborhood Association said, "We must find balance. Minority populations should have a voice and basic rights. The immediate neighbors are entitled to peace and quiet in their homes. Unreasonable hours of use will affect sleep and homework for aspiring students. I am confident that a satisfactory solution can be conceived."
Mark Michael of Carstensen Road said, "the (use) creep will impact my quality of life. For those of us that are working on a compromise it sounds like the decision has already been made. It sounds like we're expanding it every which way. We can come to a reasonable consensus – but allow the participants to come up with solutions that work for all the parties."
Dan Ornstein, also of Carstensen Road thanked Ray for bringing both sides of the issue together. He said, "I am unique in that I live across from the field, but grew up here, I was a varsity athlete here and have three kids who all play sports. I have worked hard to work with the concerned neighbors. It's really important not to brush over the details here. I can promise you as someone who will support that there are real issues. Sound travels when there are no leaves on the trees. Please don't rush this decision – the devil is in the details. Don't rubberstamp the lights – it has to be done the right way."
Julie Zhu of Harcourt Road drew a parallel between this decision and the one to hire an outside candidate to be Principal of Edgewood School. She said, "Many parents were surprised. Both decisions will have a long-term effect. Night lights will be irreversible and permanent. Both decisions shape priorities of our school and the character of our community. I heard references to neighboring schools having night lights. New Rochelle – has lights – part of $108 million bond and Edgemont also does, and they were paid for with a $12 million bond. They both have lights with public funding and community buy-in."
Though Pappalardi said that extensive outreach had been done to the community, there was no representation from the Fox Meadow Neighborhood Association, representing many residents who surround the school.
Twelve Faculty Members Attain Tenure
Details

Category: School News
Published:

14 May 2019

Written by

Joanne Wallenstein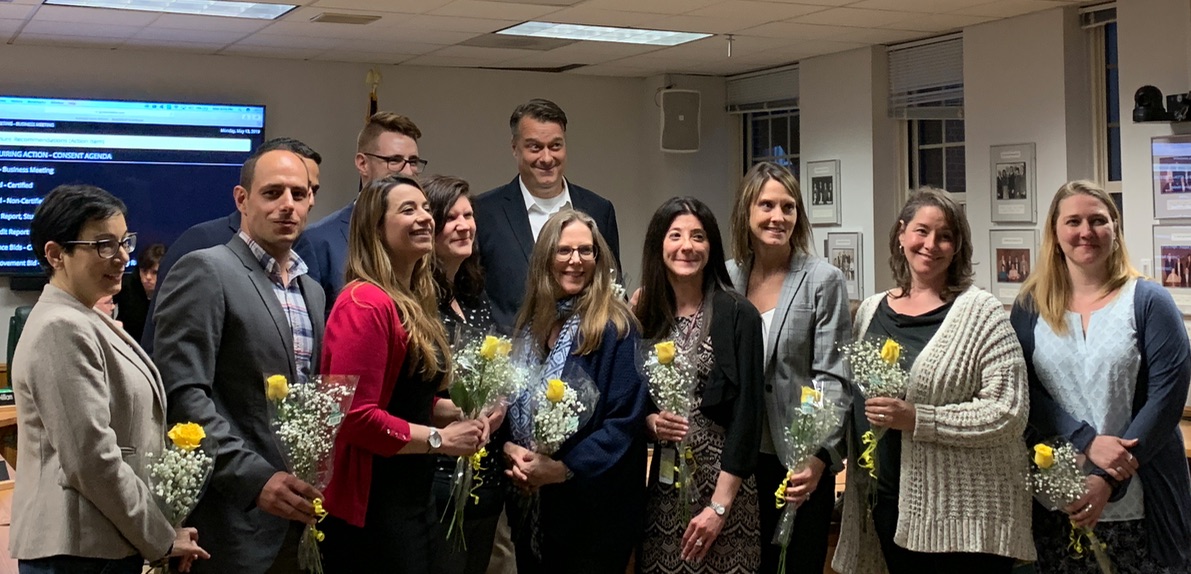 There were smiles all around at the opening of the May 13 meeting of the Scarsdale Board of Education when 12 teachers attained tenure. Schools Superintendent Dr. Hagerman thanked Scarsdale's faculty and said that getting tenure was an achievement and an accomplishment. To the awardees he said, "You have believed in us and we believe in you."
Assistant Superintendent Drew Patrick called tenure, "a significant accomplishment in the career of an educator," and reviewed the rigorous process for evaluating teachers including classroom observations, ratings, mentoring, year-end conferences, a portfolio of artifacts as well as feedback from the school community and an administrative review panel.
He said, "the rigors are commensurate with the achievement."
Here is the list of the twelve faculty members who were awarded tenure on May 13, 2019. Congratulations!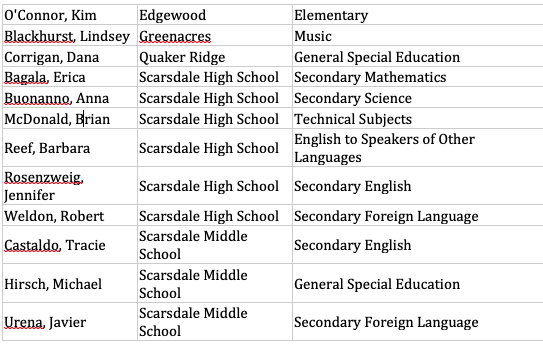 52 SHS Students Receive Academic Awards and 2 Receive National Merit Scholarships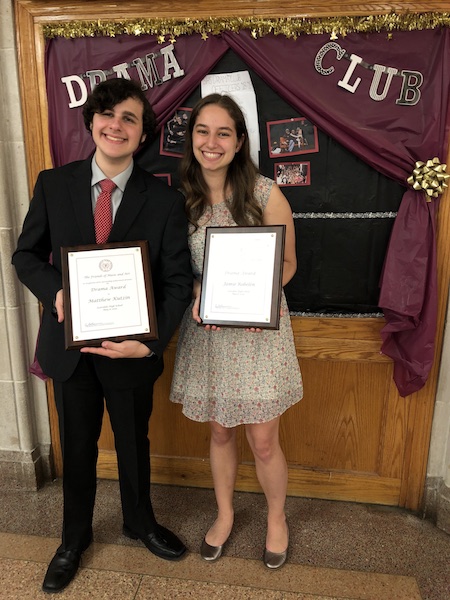 Matthew Kutzin and Jamie Robelen Received the Friends of the Music and Arts Drama AwardAs anyone living here knows, Scarsdale kids are some of the hardest working kids around. Each year a select few SHS juniors and seniors are chosen by the school faculty to receive awards to recognize academic excellence, accomplishments in the arts and service to the community.
On Wednesday night, May 8th, 52 students, gathered with parents and friends in the auditorium where students were presented awards by the heads of each academic department, community members, and even Principal Bonamo himself. The complete list of award winners is as follows:
Junior Scholarship/Service Award: Lily Kronenberg
Junior Academic Excellence Award: Jack Silvers
Wellesley Book Award: Lucy Brenner
SAA Rothschild Award: Teckhua Chiang
Counseling Department Award: David George
Scarsdale Foundation Award: Ross Forman
Dartmouth Award: Jenny Liu
Principal's Award: Amanda Glik
Billy Safian Humanitarian Award: Adina Mistry
Halliday Clark Sr. Memorial Award: Benjamin Klein
Casey Ferrone Memorial Award: Taylor Siegel
Rotary Club Award: Adeye Jean-Baptiste, Anya Raj
Technical Services Award: Ian Lerner
Michael V. McGill Book Award: Alexandra Wilson
Yale University Award: Spencer Sheppe
New York State Comptroller's Achievement Award: Carly Kessler, Henry Kronenberg
The Triple "C" Award: Francesca Greenwald, Aliza Mehlman
David Smith Memorial Award: Luzselena Aguilar
ART AWARDS
Excellence in Visual Art 2D: Lily Foley
Excellence in Visual Art 3D: Manya Kula
Media Award: Vivian Perfetti
Friends Permanent Collection Award: Sara Frankenthaler
Elisa Draper Art History Award: Helen Marino
ENGLISH AWARDS
Brown University Award: Harry Parks
Harvard University Award: Jack Silvers
Princeton University English Excellence Award: Noam Cherki
Audrey McGinn Creative Writing Award: Elizabeth Seider
SPECIAL EDUCATION AWARD
Steve Corbin Academic Success Award: Olivia Higgins
WORLD LANGUAGE AWARDS
Latin Award: Jonathan Fan
Spanish Award: Noah Yusen
Spanish Literature Award: Rena Li
French Award: Emma Townsend
Mandarin Award: Kylie McRobie
Departmental Award: Anika Agarwal
MATHEMATICS AWARDS
Rensselaer Mathematics & Science Award: Alison Chan
Math Faculty Award: Teckhua Chiang
SCIENCE AWARDS
Bausch and Lomb Award: Wolf Cukier
Science Achievement Award: Anika Agarwal
Science Department Award: Kathryn Koo
New York Science Supervisors Association Awards
Biology: Andrew Levy
Chemistry: Renee Dibbini
Physics: Noah Yusen
SOCIAL STUDIES AWARDS
Social Studies Excellence Award: Maya Bharara, Sean Michael
Social Studies Faculty Award: Lily Kronenberg, Andrew Morin
Social Studies Achievement Award: Vivianna Wang
PERFORMING ARTS AWARDS
Band Award: Nico Cavalluzzi
Chorus Award: Elias Hairatidis, Megumi Ozawa
Orchestra Award: Abigail Nishiwaki
Friends of Music and Art Drama Award: Matthew Kutzin, Jamie Robelen
Sidney R. Case Memorial Scholarship: Lindsey Donat
National Merit Scholarship Awards
The National Merit Scholarship Corporation awarded National Merit Scholarship Awards to two Scarsdale Students, Kelly Rutherford and Austin Tang. They are two of about 7,600 recipients of these awards, chosen from 15,000 finalists. The recipients are chosen by college admissions counselors and high school counselors, based on academics, test scores, leadership in school and community, an essay, and a recommendation from the school counselor. Both Rutherford and Tang were recipients of National Merit $2500 Scholarships.