Firsthand Accounts of the War in Israel
Details

Category: The Goods
Published on

23 July 2014

Written by

Joanne Wallenstein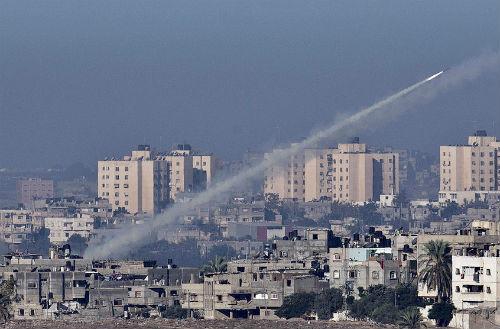 The war in Israel has affected the summer travel plans of many Scarsdale residents and their families. Some were already in Israel when the missiles started flying while others were scheduled to go and deliberated about putting off their plans or forging on. The people we contacted to sought to balance their wish to support Israel with concerns about their safety.
We spoke to Rabbi Jonathan Blake, head Rabbi at Westchester Reform Temple in Scarsdale about the situation and here are his thoughts:
"I hear of course a mixture of emotions: anxiety about the conflict and its escalation, pride in Jewish and Israeli unity and in Israel's conduct of the war, and a reassuring theme from many congregants that life continues to go on for Israel even under difficult circumstances. Israelis are nothing if not adaptable in crisis: sirens, bomb shelters, and emergency alerts have become part and parcel of the daily routine and there is a sense of comfort in the experience being shared among the population."
We reached out to several residents who travelled to Israel and here is what we learned. Scarsdale's Lauren Rimland is now staying close to Gaza. She sent us the following email on Wednesday July 23rd:
"I am currently in Israel with my parents and we arrived last Friday, as war was already in progress. We have been staying at my Uncle's dairy farm which is in the 40 km zone from Gaza. We have had daily sirens sending us the shelter, sometimes as many as 4 times a day. My Uncle's house does not have a shelter, so we have to run to the shelter next door. We have only 45 seconds to make it safely to the shelter. Not far from the Moshav is an Iron Dome which we are able to see and hear the loud booms. At night we are able to see the Iron Dome in action as well. We constantly hear and feel the rockets coming from Gaza. As we sit in their house, you can feel the vibrations. Everyone is on constant alert. My cousins are always on their cell phones on group communications, making sure everyone is ok and also, where the last rocket landed if it was in their neighborhood, to assess the damage."
"I have a very large family here. My aunt and uncle and their six children all live here. Each of my six cousins have family themselves and three of the families each have a daughter currently in the IDF. One is posted at the Gaza border and another is at the home front. It is disconcerting to see my 19 year-old cousin show up at her parent's farm with her rifle when she was on leave two days ago. What is truly amazing is to watch my other cousin stay composed as the sirens go off. She calmly starts singing a song as she leads her daughters into the shelter. The little girls are 2 and 4 years old. If you ask them what to do, they will tell you where to go and what to do."
"I am in awe of everyone here and will take this experience with me. I will be adding this experience to one from 1973 when i was here for my older brother's bar mitzvah in December right after the Yom Kippur war. My uncles walked into my grandparents' house and put their rifles on my grandmother's dining room table. It feel like it is deja vu."
"One of my cousins joked and said I have become like an Israeli because I am constantly checking my phone for the latest news about where the bombs are landing."
"We are supposed to return on Saturday, but Air France has indefinitely suspended travel to and from Israel, so we are now trying to figure out how to return home. Hopefully all will work out without too much difficulty."
In early July, Laura Kline, a rising senior at Scarsdale High School, was on a trip to Israel with a Jewish Organization called 92Y Havaya International when she experienced first-hand the missile conflict that is currently brewing on the Gaza Strip. Laura explained that during her two-week trip, she heard six sirens and blasts from explosions on two different occasions. Her group even had to go to a shelter for protection. Although she did not hear the explosions everyday, Laura conveyed the situation as stressful and traumatic. According to Laura, "the first time we heard the missiles, two of my Israeli friends cried. It's part of their life style unfortunately. It's not something you get used to, but with the iron dome and the shelters, you'll be ok." Because she became friends with Israeli teenagers like herself, she was able to understand the trauma they endured as missiles were being fired into their home country. She then explained, "one of my friends left the south and moved to Shoham, and she had post traumatic stress when she heard the sirens again." On one occasion, Laura and friends became aware that a missile had blown up a grocery store they were shopping in earlier that day. Luckily, she was able to stay safe.
Scarsdale's David Landau explained that his 17 year-old son Andrew has been in Israel on a NRTY trip for the last four weeks. Despite the conflict Andrew has had a great time and NFTY sent daily updates to the parents back home to keep them informed of the kids' whereabouts and to allay their fears. For the first three weeks of the trip they were able to keep to their planned itinerary. However last week they changed their plans and missed out on seeing Yad Vashem and shortened their time in Jerusalem to 1 ½ days. Though Landau has not spoken to his son much he does know that he has heard the sirens. Parents David and Melanie Landau had confidence in the iron dome and in Israel and remained relatively calm. However, Andrew was supposed to come home this week and when his flight was cancelled he was rerouted to Zurich where he will spend the night before flying to Geneva to catch a plane home. They expect to see him on Thursday July 23 after his three-day journey back.
Recent college grad Bryan Gertzog returned on July 2 from a Birthright trip to Israel and a few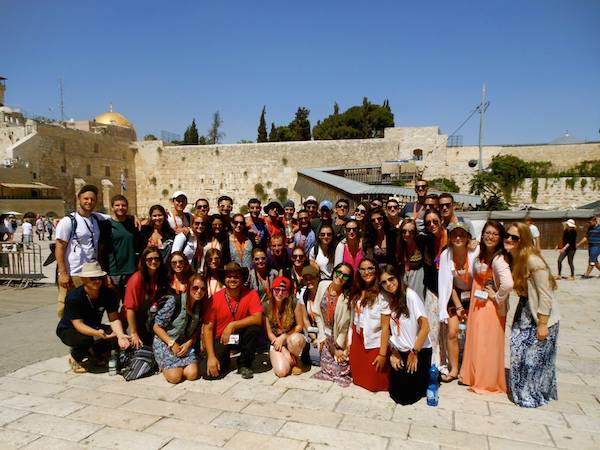 extra days in Tel Aviv. Here is what he shared:
"I got really lucky with the timing of my trip. Things started getting bad the day that I left, so I never really felt unsafe while I was there. I had an amazing experience on birthright and would highly recommend it when Israel becomes safer. I remember talking with the soldiers early in my trip about how the situation was relatively calm in Israel and had been for some time, with Syria being the biggest concen. Then news broke about the three boys being kidnapped and they knew right away that things might start to get worse."
And Monita Buchwald, sister-in-law of Scarsdale's Marlene Buchwald, is headed to Israel next week. She told Scarsdale10583 the following:
"We're expecting to leave in a week. We generally go to Israel every year to visit my husband Charles' family (his brother, sister-in law, their son (and daughter in law) and my nephew's 10 children. My brother-in-law lives in Bat Yam, a city South of Tel Aviv. He's an American who moved to Israel more than 40 years ago after finishing high school. Charles' parents moved there in 1973 but have since passed away. The focus of the visit is really just to spend time with family. I also have a very close friend in Jerusalem who I'll get together with. Our 29 year-old daughter Sarah is joining us on this trip. If possible, I had hoped to visit some art museums I've never been to. Since we travel there so frequently, we've seen everything touristy."
"For now, we haven't made any changes to our itinerary. I imagine, though, if the war is still on it will certainly restrict our freedom of travel. Additionally, we will really need to be aware of where bomb shelters are and how to respond to red alerts. That's certainly something we hadn't planned on."
"We're flying El Al but not sure about my daughter's plane because she's flying on US Air from Baltimore and at the moment, they aren't flying. Most of the time we will either be in Bat Yam, Tel Aviv or Jerusalem where our nephew lives. Our family is experiencing the red alerts and spending various amounts of time in safe rooms or shelters. Some have had to get out of their cars and lay flat on the road during an alarm, which is the standard operating procedure. While they are all trying to go about their regular lives, there is a sense of "battle.""
Did you go to Israel this summer? Share your experience in the comments section below.
Written by Joanne Wallenstein and Elizabeth Jacobs
On the Job in Scarsdale: Superintendent Thomas Hagerman
Details

Category: People
Published on

22 July 2014

Written by

Joanne Wallenstein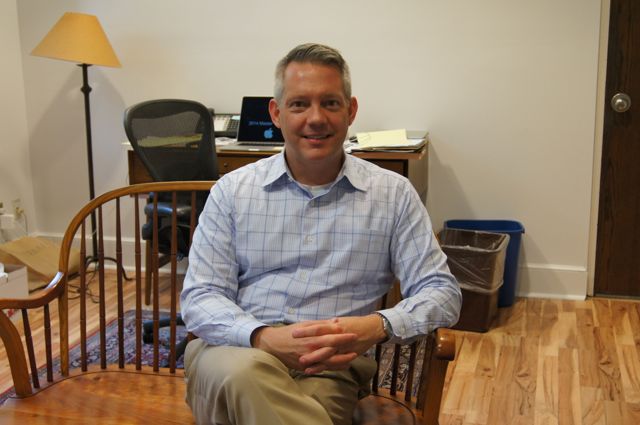 Scarsdale's newly installed Superintendent Dr. Thomas Hagerman started work three weeks ago and according to Board President Mary Beth Gose, he has not stopped since. He did however take a few minutes out of his day to speak to Scarsdale10583 about his transition to Scarsdale, first impressions, and plans for the upcoming year.
Hagerman, who comes to Scarsdale from Winnetka, Illinois didn't have the easiest time finding a place to live in Westchester. He quickly discovered it was a highly competitive real estate market, and after two failed attempts to buy a home decided to rent instead. He is however discovering some of the County's best features such as the walking trails at the Rockefeller Preserve and good restaurants nearby.
In order to get up to speed on the issues and his constituencies, Hagerman is holding one on one meetings with teachers, administrators, union leaders, past and present board members, leaders of community groups and parents to hear their views and their concerns. Armed with answers to a series of questions he is posing, he will formulate his ideas about what the district needs to do to move forward.
However, he says there are some issues that require immediate attention and rather than wait to address these in a formalized plan, he will "build the plane while flying it at the same time," and take on issues that should be addressed now.
When asked about his overall educational philosophy, Hagerman said that he comes from a "strongly progressive background." Quoting Carlton Washburne a famed educator from Winnetka, he said he believes in educating "the whole child" and in teaching students how to take care of themselves on all levels, emotional, physical and intellectual. Recognizing that Scarsdale can be a very pressured place where good grades triumph over educational passion, Hagerman hinted that work on meeting children's emotional needs would be a part of his plan.
Hagerman was drawn to Scarsdale by the district's focus on 21st century education and innovation. He is excited by plans for the maker's space, design lab and learning commons and looks forward to working with the faculty and technology team on developing the curriculum for these new facilities. He is also impressed with a new course in the high school called City 2.0 in which students undertake "project based learning" and integrate public policy, urban planning and economics to solve a real world problem in New York involving, for example, water or open space. Once the projects are completed, students present their findings to a group of professional experts in the field.
Though he is impressed with innovation in Scarsdale he recognizes that the district's infrastructure needs an upgrade. He said that in comparison to his district in Winnetka, many of our facilities look "rough" and ready for renovation. He said the high school looks like "Hogwarts" and that we need to create an environment where kids can learn. He also cited the need for an upgrade to our technological capabilities to facilitate better communication between schools and parents and to enhance educational opportunities using new technologies. He would like to improve the district's website to include more information about the schools, increase transparency and use it to display all that the district has to offer to outsiders.

He recognized that one of the challenges in Scarsdale is maintaining seven rather small schools and staffing each one with support staff. He understands that Scarsdale values its neighborhood schools and personal relationships between parents, teachers and students but said that a network of small schools is costly in comparison to a middle school of 2,500 students that he headed up in Beaverton, Oregon.
Hagerman arrived in Scarsdale just as a new contract with the teachers was finalized. One of the provisions of the contract was the formation of a joint committee of representatives from the teacher's assocation and the Board of Education to make a recommendation on whether or not to continue to welcome the children of Scarsdale faculty who live outside the district to attend Scarsdale schools. There are estimated to be fewer than 100 out-of-district children of faculty members in attendance and the new contract calls for a study of this practice to determine whether or not this continues to be feasible. This an issue that has apparently caused some rancor among the teachers. The committee has already met two times and will continue discussions in the fall.

Though Hagerman realizes that the endpoint of a Scarsdale education is admission to college, he said "there is a college for every student," and hoped that the focus here could be on igniting a passion for learning rather than admission to a brand name school. His passion and enthusiasm for education was evident – and if he can convey that to the faculty and students, he is sure to make a difference.
Taiim Cellar: Now a Mediterranean Tapas Bar
Details

Category: Good to Eat
Published on

23 July 2014

Written by

Joanne Wallenstein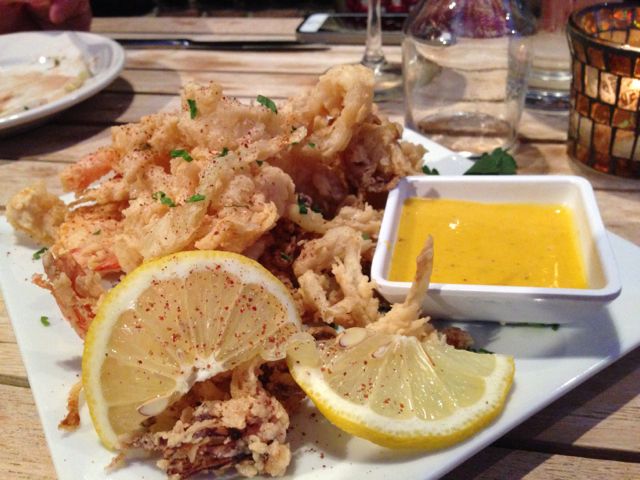 Taiim Cellar in Scarsdale Village has reinvented itself as a Mediterranean wine and tapas bar and is now offering a selection of small plates that can be enjoyed inside the sleekly designed restaurant or outside at tables on Boniface Circle. The restaurant installed a new ventilation system in the kitchen and is now permitted to grill, widening the possibilities of what they can serve.
We stopped by this week to sample the new offerings and were pleasantly surprised to find a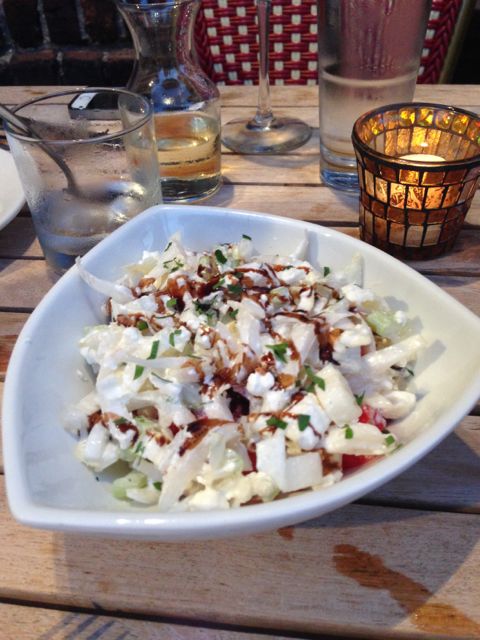 comfortable table outside and many appealing small plates from which to choose.
Along with a glass of chilled rose, we started by sharing an endive, watermelon, pickled celery, feta and mint in a yogurt dressing. It was crisp, crunchy and refreshing. Next up was the Fritto Misto –fried calamari, shrimp and fennel served with a rich truffle aioli sauce. Maitre D' Danny highly recommended the calamari in smoky tomato sauce shown here and the flavor was indeed unique.
However my favorite was the grilled skirt steak "Bavette" with cipollini onions in romesco sauce. Next time we'll be ordering two of those. It was sizzling and delicious.
Also on the menu are Taiim's signature selection of hummus, a good choice of panini sandwiches, plus salads and an extensive cocktail list. Prices are reasonable, portions are generous and it's easy to enjoy a quick bite.
Stop by for lunch or dinner and tell Danny you saw the write up on Scarsdale10583. Taiim Cellar, 11 Boniface Circle, Scarsdale, 914-723-6900, www.taiimcellar.com.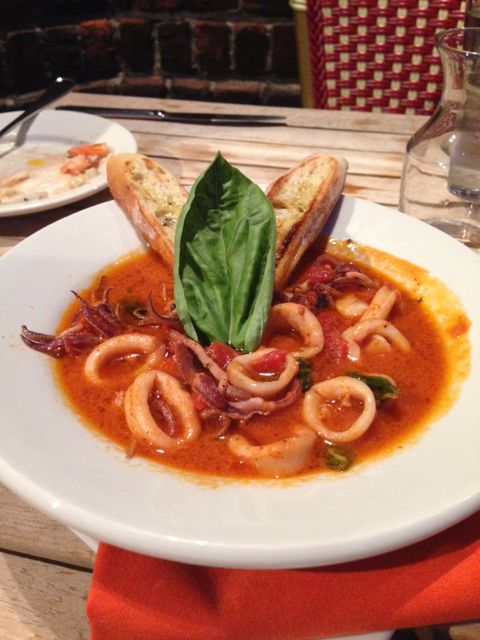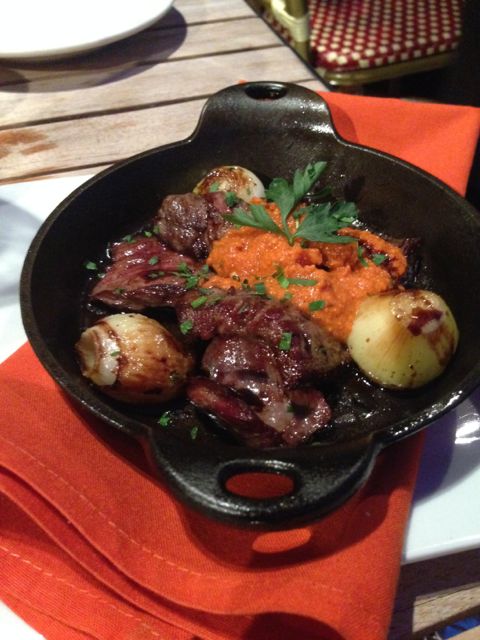 SHS Teacher Maggie Favretti Recognized for Innovation in Environmental Education
Details

Category: Good Work
Published on

24 July 2014

Written by

Joanne Wallenstein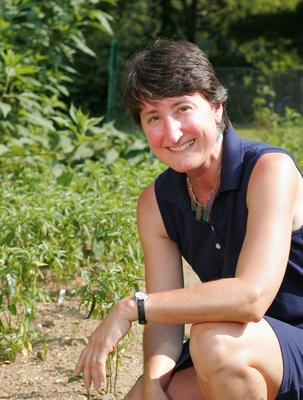 SHS Social Studies Teacher Maggie Favretti has been invited to the White House on August 12th to receive an Honorable Mention for the Presidential Innovation in Environmental Education Award.
Favretti is receiving the award for her work on the Scarsdale High School Sustainable Garden Project designed to teach students the community values and individual benefits of sustainable living through sustainable food practices and community service.
Using the high school garden as an outdoor classroom, students learn by doing, gain familiarity with the natural world, and learn confident creativity through collaborative problem-solving. The project seeks to reduce poor nutrition in community food programs.
With an interdisciplinary curriculum, classes attend the garden for a number of activities: photography, drawing, architecture, sculpture, plant science, soil chemistry, nutrition, health, measurement, mathematical patterns, statistical prediction, world cultures, history, physical education and ecosystem farming are just a few.
On April 15, 2014 Favretti and the Garden Club held a conference on "Building Sustainable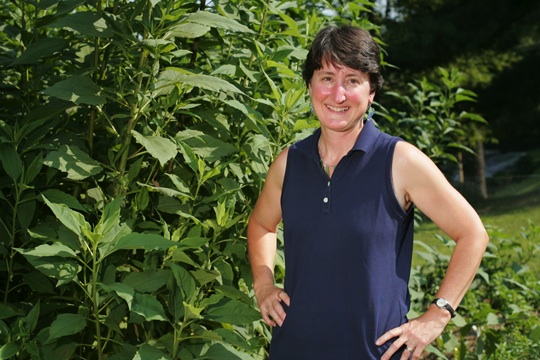 Communities through Backyard, School and Community Gardens" at SHS. The conference was a huge success with over 100 attendees. It resulted in the formation of the Gardens Against Hunger network and the group is currently building gardensagainsthunger.com, which will efficiently address most of the needs raised at the conference. They need donations for the web design, which will connect sustainable school and community gardens with small farms and food pantries. Anyone interested in supporting the project or being part of the network should call Favretti at 914-721-2567 or 914-462-2857.
As for Maggie, she is hopeful that her trip to the White House will include a tour of the famed White House Garden. Congratulations to Favretti and her team of gardeners.
Estate Sale on Kensington Road Friday and Saturday
Details

Category: Tag Sales
Published on

28 July 2014

Written by

Joanne Wallenstein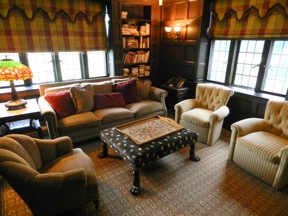 EstatesNY is thrilled to offer the sale of the contents of this wonderful home on Kensington Road in Fox Meadow on Friday August 1 and Saturday August 2 from 10 am to 4:30 pm. The sale will include fine antiques, extraordinary decorator quality furnishings, Oriental carpeting, antique and other lighting, beautifully designed custom window treatments throughout, exceptional Victorian carved and mirrored cabinets, a charming antique ladies writing desk, Ornate 19th Century Console or library table with detailed lions paw feet, antique Murano chandelier, French antique silk bench ...new sofas custom made with Pierre Fret upholstery and tassel trim ....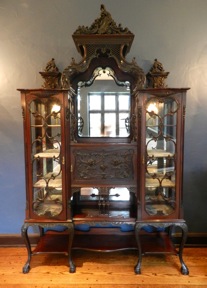 FANTASTIC!, Donghia transitional parlor chairs, French glass coffee table, baby grand piano in walnut case by Knabe; Antique game table with carved upholstered side chairs, exceptional Victorian burlwood front curio cabinet, pair of floral roll arm and back skirted sofas, carved kitchen table ensemble with decorator upholstered seats, practically new!, fine crystal and early chandeliers, all unusual. Also offered: a very special partner's desk, multiple bedroom suites featuring a high quality bedroom suite -- white painted ensemble with four poster bed, dressers, etc; other bedrooms, foosball and ping pong! a great upholstered "paw-print" paw footed ottoman! Everything in this home is in pristine condition and will be priced to sell.

Don't miss this opportunity! 6 Kensington Road, Scarsdale, NY; Friday August 1st and Saturday August 2nd from 10am-4:30pm both days. The sale is presented by EstatesNY Estate Sales and Services, handling exclusive properties. Be sure to visit estatesny.com for more pictures of this wonderful sale and sign up for our mailing list.