Police Report: Woman Scammed Out of $2K by Dating Site Contact Posing as Scarsdale Bank Branch Manager
Details

Category: Today's News
Published:

18 July 2018

Written by

Traci Dutton Ludwig
On July 14, a 32-year-old New Jersey Avenue woman reported she was "scammed" out of $2,000 by a man and woman who claimed to work for Chase Bank. She met the man, who called himself "Danny," on a website called "Plenty of Fish." "Danny" claimed to be the manager of a local Chase Bank branch in Scarsdale. On July 14, the woman was scheduled to meet "Danny" at the branch and open a checking account. He contacted the woman and told her to wait outside with the money she brought to open the account. He told her he would send his intern out to greet her and collect her money. She waited in her car, and a dark-skinned woman with long red braids came out to the car with a deposit ticket and $1,000 cash that allegedly belonged to "Danny." Danny had reportedly told the woman she would earn more incentives and he would earn a greater commission if she opened the checking account with a greater amount of cash. While in the car, the woman wrote her name and the alleged deposit amount needed to open the checking account. The alleged intern then left the car with the woman's money, the deposit slip and headed towards Chase Bank. When the woman attempted top catch up with the alleged intern, she lost sight of her. The woman attempted to call "Danny," but the calls went to voicemail. Police are following up.
Dead on arrival
On July 14, a real estate agent checking on a Gaylor Road house discovered a dead 53-year-old man in the house. No further information was provided.

An 88-year-old Webster Road man died in his sleep at home July 15.
Stolen
A woman reported someone entered her BMW parked in Merchant's lot and stole her $350 Lenovo laptop computer sometime between 1:08 and 1: 35 p.m., July 10. She was interviewing for a job at a local business at the time. There was no damage or signs of forced entry to the car.
A black "State" bicycle, valued at $450, was reported stolen from a Chateaux Circle basement storage cage July 11. The padlock to the cage had been pried open. The bicycle was last seen in the cage on July 8. Police are following up.
Identity theft
On July 11, a Broadmoor Road resident reported an unknown person attempted to fraudulently open two lines of credit and a debit and checking account, in his name, with Key Bank. The attempts were unsuccessful.
Harassment
On July 11, a Harwood Court psychologist reported receiving threatening phone calls and emails on July 10. They were from a former female patient whom the psychologist first saw in her Newburgh, NY, office in June. The threats included language in which the former patient stated she would "choke you until you can't breathe." The former 55-year-old patient is a resident of Marlboro, NY.
Bias incident in Greenburgh
Greenburgh police notified Scarsdale police of a swastika symbol found on a pedestrian bridge crossing over the Bronx River Parkway in Greenburgh. Scarsdale police checked temples and churches along the BRP corridor and found no evidence of bias incidents in the village.
"Joe Blow"
On July 10, a caller requested to speak with a police officer or the chief. When asked who was calling, the caller identified himself as "Joe Blow." He then reported the demolition of a Fairview Road property and alleged "workers were not controlling the blowing dust." Patrol investigated the site and did not see any demolition in progress. Adequate hoses were on site and being used to wet down materials to mitigate dust.
Welfare check
Police helped a home health aide gain access to an Aspen Road house and checked the welfare of the Aspen Road woman who lived there July 10. Everything was in good order.
A Fox Meadow woman was worried about her husband who allegedly left the house in an agitated state July 14. Police contacted the husband and determined he was in good condition.
Cash
A Hillview Drive resident reported an unknown woman left an envelope containing $100 cash, addressed to an unknown person, on her doorstep July 15. The unknown woman was described as an Asian woman driving a white Kia with a white male passenger in the car. The resident said she would hold onto the envelope, addressed to "Dale" from the "Humans" for a few days in case someone attempted to claim it. If not one claimed the money, the resident said she would turn it over to police.
Suspicious
An employee of Hoff Barthelson Music School reported a Hispanic man, approximately 5'1" tall with black hair and of medium build, looking into the windows of parked cars in the parking lot around 5:45 p.m., July 10. When approached, the man allegedly "went on his phone and started walking fast towards School Lane." At that time, a gray car, described as a possible Cadillac sedan with fancy rims, came quickly down the street. The man got inside, and the car sped away. Police searched the area, but the suspect was gone. Police are following up.
Civil matters
On July 10, a woman reported she was charged for 13 gallons of gas to "fill up" her tank at Scarsdale Avenue station, but she believed she received less gasoline because the next day her gas gauge was "low," and she filled up her car with $10 of gas at another gas station. She then went to the Scarsdale Avenue station and demanded her money back. The attendant showed her the receipt that stated she received 13 gallons of gas and told her that was the correct and documented amount of gas received. The attendant told her she could address the issue with the gas station manager when he returned from vacation.
On July 13, a man alleged that a jewelry dealer who lives in the village switched the diamond in a ring during an appraisal at the dealer's home. The man said he bought the alleged 3.1 carat diamond ring for $10,000 wholesale from the dealer 30 years in the past, during a time when the man was doing plumbing work in the dealer's house. The man said he brought the ring back to the dealer for a formal appraisal in May. The appraisal intake slip described the ring as a 3.5 carat ring based on an initial eye test with a magnifying glass. When the man picked up the ring approximately two weeks later, both he and his wife felt the stone looked different. The stone was officially weighed at 2.79 carats. The dealer said the initial description of the ring's size and weight was only an estimate based on a visual evaluation. Furthermore, since the stone was flat on top, the dealer said it could therefore look larger than it actually was. The dealer said he did not wish to do future business with the man and to pursue the matter in civil court should the man wish to do so.
Cars and roadways
A truck driver accidentally backed onto a Secor Road lawn, and the truck stalled there July 9. A mechanic was en route to repair the truck when police came upon the scene.
On July 10, patrol spoke with an official of a Wayside Lane church to advise the official that congregants should refrain from parking in the Wayside Tennis Court lot on Sundays. The official said he would make an announcement.
On July 11, police impounded an abandoned 2012 Honda Civic parked on Rock Creek Lane. The car was registered to a NYC man.
Pending the arrival of a technician, police erected portable stop signs at an malfunctioning traffic light at Heathcote Road and Morris Lane July 13.
Highway workers were notified about a large fallen branch on Ogden Road July 14.
A Meadow Road fire hydrant was reported to be off its base July 15. The water department was notified.
One car was legally repossessed in the village this week.
Twelve car accidents were reported in the village this week.
Animals
A raccoon was reported to be walking slowly and hissing during daylight on Boulevard and Sprague Road July 9. Patrol went to the area and found the raccoon on Sprague Road. Patrol observed the animal attempt to climb a tree, but the raccoon could not maintain its balance and fell out of the tree. Patrol shot and killed the sick raccoon, and sanitation workers disposed of the carcass.
A horse got loose from Boulder Brook Stables and was running on Mamaroneck Road July 9. Staff was underway and caught up with the horse. They brought the horse back without causing a disturbance.
A skunk was observed beneath a Jefferson Road grill July 10. Police gave the homeowner trappers' phone numbers.
As per New Rochelle police, sanitation workers were called to address a road condition involving a dead animal on Weaver Street July 11.
A Carman Road woman reported a dead rabbit on her driveway July 12. She alleged someone intentionally killed and placed the rabbit there. The claims were unsubstantiated. Police investigated the rabbit and determined it suffered major trauma to the rear of its body, such as from being hit by a car. Furthermore, police hypothesized the rabbit crawled to its final resting place in the woman's driveway after being hit by a car. Requests for video surveillance of the house and driveway, which would have substantiated the woman's claims of a stalker placing the rabbit on her driveway, were denied.
Police caught a loose Tisdale Road dog and notified its owner July 12. The owner was issued a summons for having a dog at large.
Sanitation workers were notified about a dead raccoon on Weaver Street July 13.
Raccoons exhibiting odd behavior, suspect of possibly having rabies, were reported on Lyons and Bell roads July 14.
A coyote was observed in a Sheldrake Road yard July 15.
Lost and found
On July 9, a Nelson Road man reported the diamond from his wife's engagement ring fell out of her ring and got lost while they were attending the Davis Park 4th of July parade on July 4.
A police officer found an iPad on Wayside Lane in the area of Paddington Road July 9. It was vouchered at headquarters for safekeeping.
On July 9, a man reported losing his driver's license somewhere on Christie Place July 6.
On July 10, a Huntington Avenue woman reported losing the front license plate from her car.
A Heathcote Road woman reported losing a license plate July 12.
On July 12, a man reported losing his driver's license somewhere in the village July 10.
An unattended rental Lime Bike was retrieved from Meadow Road July 12. Lime Bike was contacted for pickup.
A 3-5-inch address book found in Chase Road Park was given to police July 12.
Patrol attempted to find the owner's contact information and called her. A voicemail was left regarding the found address book.
A passerby found a blue floral-print purse and gave it to police in village center July 13. It contained personal papers and 12 cents. Patrol left a message for the owner, as identified through papers in the purse. The purse was vouchered at headquarters for safekeeping.
On July 13, a Webster Road man reported his medication was missing for several days. He declined to specify the brand and type of the medication. In the presence of his parents, he then told police he did not want to file a formal report.
Village code
A man soliciting for a pest removal company on Meadow Road was advised he needed a permit to solicit in the village July 11.
On July 13, police issued landscapers summonses for using gas-powered equipment in violation of village code on Ferncliff Road.
Police dispersed noisy kids from Boulevard after dark July 13.
Neighbors complained about barking dogs on Meadow Road July 14. Patrol advised the dogs' owner, and the dogs were brought inside. The owner apologized for the noise.
Firefighters
According to Scarsdale Fire Chief James Seymour, firefighters responded to 28 incidents in the last week. He shared the following details.
On July 9, firefighters responded to a reported oven fire in a Dunham Road house. They determined the resident was using the oven's self-cleaning feature and the oven was functioning normally as it generated high heat and a slight amount of smoke.
A dumpster on Central Avenue in the Midway Shopping Center caught fire July 10. Firefighters assisted Greenville firefighters extinguish the fire and check nearby buildings for extension. No extension of the fire was found in either the building's first floor or basement. Firefighters assisted with overhaul of the trash compactor and dumpster.
Firefighters assisted with a car accident on Claremont Road July 14.
A hanging light fixture in Penn Road house caught fire and self-extinguished July 14.
Firefighters confirmed there was no extension of the fire and that surrounding structural and cosmetic areas of the house were safe. They disconnected the fixture, removed it and capped the wires. They used fans to ventilate the house.
A natural gas odor was reported inside a Saxon Woods Road building July 16. Firefighters stood by for Con Edison.
This report covering police and fire department activity from July 9-15 has been compiled from official information.

This police report is sponsored by Scarsdale Security who does more than just security. Contact them about remote video for your home or business. Call 914-722-2200 or visit their website.
Add a comment
Melissa Feinberg Hired as Assistant Principal at Fox Meadow School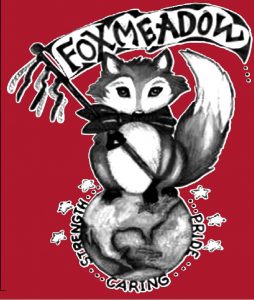 Assistant Superintendent Drew Patrick announced that the district has hired an assistant principal for Fox Meadow School. Melissa Feinberg, an enrichment teacher from the Great Neck North Public Schools will join the staff immediately and work with interim Principal Karen Eldon.
Here is the announcement from Drew Patrick that was sent to Fox Meadow parents today, Monday July 16:
Dear Fox Meadow Community,
I am writing to share the news that Dr. Hagerman will be recommending Melissa Feinberg to the position of Assistant Principal at Fox Meadow Elementary. Melissa will be joining us from Great Neck, where she served as a classroom teacher, staff developer, and enrichment teacher for the past 20 years. Melissa impressed us with her knowledge; experience as a teacher, staff developer, and teacher-leader; and enthusiasm for the work of leadership. The references I spoke to contained remarkably positive and supportive feedback, and identified Melissa as a star in Great Neck. They lamented there wasn't an opening for her among the ranks of leadership at present, and commented on her decency and humanity along with her skill and talent.
Given the unique transition required at Fox Meadow, we have asked Melissa to start right away. She will be meeting with Karen Eldon and Duncan Wilson this (Monday) morning, and will develop plans from there for the transition. Both Karen and Melissa are planning letters of introduction, as well as opportunities to meet and start to get to know you. Please join me in welcoming Melissa when you get the chance!
Finally, I want to thank the entire interview committee, and the Fox Meadow representatives in particular. They served the FM community well, and committed a substantial amount of time, thought, and energy to this process. Teachers Alethea Lynch, Kim Assatly, Lyndsay Freed, and Michele Boyum, along with parent representatives Molly Ardalan and Diane Baylor, deserve our gratitude.
Sincerely,
Drew Patrick
Assistant Superintendent for Human Resources and Leadership Development
Add a comment
Scarsdale Forum Committee Releases Report on 2014 and 2016 Property Tax Revaluations
Details

Category: Neighborhood News
Published:

17 July 2018

Written by

Joanne Wallenstein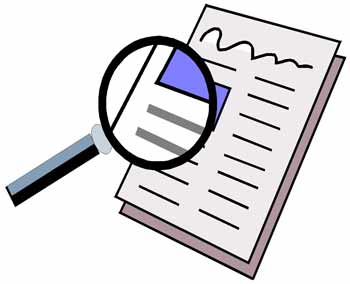 Following years of controversy in Scarsdale about two property tax revaluations in 2014 and 2016, a committee of the Scarsdale Forum studied both revaluations, examined the deficiencies of each one and drew some conclusions about lessons learned for future revaluations.
The report notes that Scarsdale residents may have given the revaluations more scrutiny than homeowners in other municipalities. The Village's highly educated group of data analysts, financiers and real estate professionals were able to critique the input data, processes and the mathematical models used for both revaluations and found many flaws in the inexact practice of assessing approximately 5,900 diverse properties.
The report notes, "It may well be the case that Scarsdale standards and expectations with respect to property revaluations are higher than ordinary industry standards. After all, Scarsdale standards for schools, police and other services are also higher than ordinary. In the context of revaluations, it may well be that the standards set forth here are higher than any potential vendors would want to bid on and commit to. Therefore, although this report articulates the necessary high standards, it does acknowledge that in practice it may be necessary to compromise for something less."
The 60-page report will serve to document what happened and suggest improvements if, and when, Scarsdale embarks on its next revaluation.
Here are comments from Robert Berg and Steve Pass who co-chaired the Assessment revaluation Committee of the Scarsdale Forum:
Bob Berg: This is a very important report that aims to teach people best practices in conducting a town wide revaluation in Scarsdale and how to avoid certain pitfalls encountered in both the Tyler and Ryan revaluations. Michael Levine was the primary author of this extraordinary report and he has done a brilliant job of crafting a highly readable report about an arcane and technical subject. This report is mandatory reading for everyone in Scarsdale Village government who has or will have anything to do with property valuation and assessment as well as any vendor or consultant who may seek work for the Village going forward. We are delighted that so many Committee members participated in this project and signed the report.
Steve Pass: After several months of work, our committee is proud to present a report with recommendations that the vast majority of members agree will improve and help set a vendor's expectations for any future revaluation. While the report only addresses deficiencies of the two vendors' work in Scarsdale, based on my own research looking at revaluations elsewhere, many of these deficiencies are not unique to Scarsdale or the two vendors we used. Thus, this report and its recommendations should be useful to any municipality considering a revaluation.
Here is a press release from the Forum about the report:
Scarsdale Forum Examines Technical Aspects of Recent Scarsdale Revaluations and Makes Recommendations to Avoid Future Problems
The Scarsdale Forum Assessment Revaluation Committee has released a report on the 2014 and 2016 revaluations.
The report recognizes that there were too many instances in both revaluations where the results were not adequately explained and, worse, where the processes and the results could credibly and logically be considered unfair. However, the premise and focus of the report is that, with the benefit of hindsight, Scarsdale can learn from these revaluations to prevent a repeat of the problems. The goal is to put future Scarsdale leadership in a better position to supervise/manage a revaluation and to stand behind it in an informed and convincing way.
The committee recognizes that learning these lessons and applying them requires an understanding of the technical and sometimes arcane details of revaluations and of assessment processes generally. Therefore, the report is designed to explain this material to residents regardless of their expertise in these areas. It uses these explanations to demonstrate how specific aspects of both revaluations had actual unfair impacts and created additional perceptions of unfairness. The report makes recommendations to prevent, or at least minimize, these deficiencies in the future.
The report specifically addresses six topical areas that comprise the revaluation process and makes recommendations with respect to each.
Inventory Data
Valuation Modeling and Methodology
Land Valuation
Documentation
Validation
Sales Data
The report includes many appendices that support the committee's observations and add to the report's value as a reference source. These include assessment industry literature, useful New York State materials, documentation from both revaluations, and some technical papers and spreadsheets. There is also an appendix that restates all the recommendations.
The committee believes the report will be a valuable educational resource, should any revaluations be considered in the near- to mid-future. While not every member of the public may wish to study it, the report has been developed in the belief that there will be those who do want to learn from it and use it as a guide. The Scarsdale Forum strongly encourages all leaders of the Scarsdale community to be familiar with its content and recommendations.
The committee members recognize that they are not experts in this field and are not declaring that any future revaluation must conform in all respects to this report. Rather, the committee believes that this report establishes expectations in terms of depth and detail of analysis. In any future revaluation, the assessor and any vendor should be expected to engage the public and address public concerns at this level.
This report takes no position on the current (July 2018) state of the Scarsdale assessment or on the timing of future revaluations. This is not to say that these are unimportant topics. Rather, these are potentially controversial topics and they are likely to require more analysis.
A copy of the report is available here.
Add a comment
Wrongfully Convicted Man Freed as a Result of Scarsdale Grad's Work
Details

Category: On Our Minds
Published:

16 July 2018

Written by

Joanne Wallenstein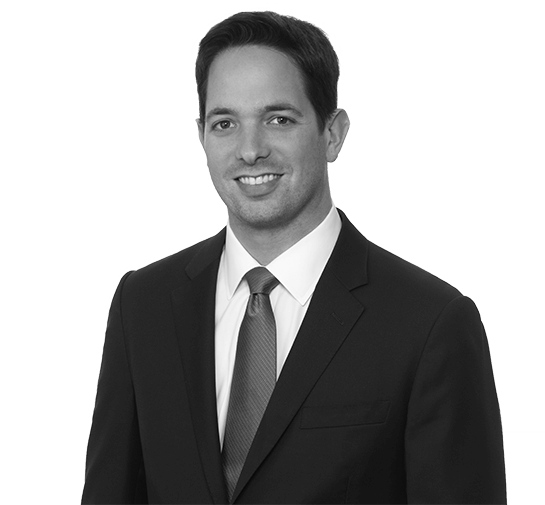 Sam Hershey SHS'01A 2001 Scarsdale High School graduate made headlines this week for his success in freeing a man who had been wrongfully convicted of murder 25 years ago.
Sam Hershey, an attorney at the New York law firm Cleary Gotlieb Steen & Hamilton has been working with the Legal Aid Society since 2013 to overturn the conviction of Shawn Williams, age 44, who spent more than 20 years in prison for the murder of his good childhood friend.
On Friday July 13, a judge overturned Williams conviction following a recommendation by the Brooklyn DA's conviction review unit to reopen the case in 2013. Former Detective Louis Scarcella was found to have elicited false statements in other murder cases and Williams conviction was based on the testimony of one witness who later admitted to having been coerced by Scarcella.
We asked Hershey a few questions about the case and here is what he shared:
How did you become involved with Legal Aid Society?
I work for Cleary Gottlieb Steen & Hamilton. Cleary and the Legal Aid Society have served as co-counsel to Mr. Williams.
When do you have time to do the work?
Cleary is very dedicated to pro bono and I was fortunate that they gave me the opportunity to devote a lot of hours to this over the course of five years.
What was it about William's story that convinced you he was wrongfully convicted?
Without getting into all the facts of the case (unless you want me to), Mr. Williams's conviction was implausible to begin with. We ultimately found the only witness to identify Mr. Williams at trial, and she told us that she had falsely testified under pressure from Detective Scarcella.
Will he receive any compensation for having served for so many years?
We certainly hope so.
Do you think this is just the tip of the iceberg and that other innocent people were convicted using testimony from Louis Scarcella?
Beyond a doubt, and I hope those innocent people are as fortunate as Mr. Williams to be given their day in court.
Hershey attended Greenacres School, the University of Pennsylvania and Columbia Law School. He was a high school debater and also served as a mentor with Let's Get Ready. He joined Cleary Gottlieb in 2012 and works in litigation and restructuring.
Add a comment
Scarsdale Swimmers to Cross Long Island Sound to Raise Funds for Cancer Research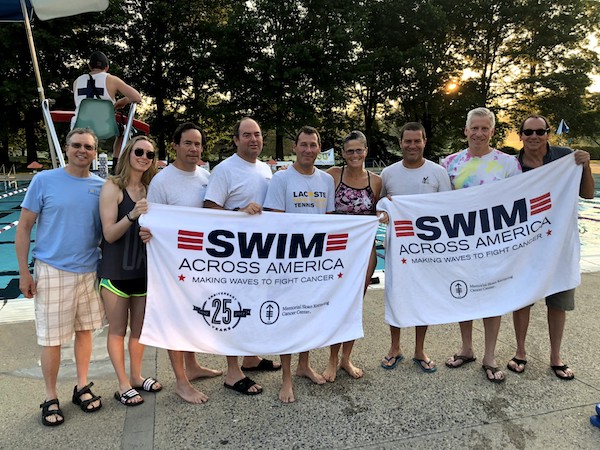 Michael Zeller, Amanda Rachlin, Doug Rachlin, Joe Kaufman, Joel Talish, Carol Wolfe, Eldad Blaustein, Josh Glantz, John NeedhamNext week, on July 28, more than a dozen Scarsdale residents will take part in the 26th annual Long Island Sound Swim to raise money for cancer research and treatment. As part of Swim Across America, the Long Island Sound Swim has raised more than $10 million over the past 25 years benefiting immunotherapy research at the Swim Across America Laboratory at Memorial Sloan Kettering Cancer Center, pediatric oncology research at Morgan Stanley Children's Hospital of New York-Presbyterian and patient services with Cancer Support Team.
The Scarsdale residents participating this year include Joe Kaufman, Joel Talish, Josh Glantz, Noah Glantz, Eldad Blaustein, Patrick Bates, John Needham, Dan Needham, Doug Rachlin, Amanda Rachlin, Miles Rubin, Noonie Thompson, Jeannine Palermo, Carol Wolfe, Michael Zeller, Peter Doyle, and Chip Rich. They will be joined by kayakers Jeff Malsch, Joe Losardo, and Mitch Kulick.
Each year, the takes a name in memory or honor of someone close to our team who has lost their life to cancer or is currently fighting it. We hope that one year, we will fail to have a name. While sadly this is not that year, we're grateful to be swimming in honor of a friend and Scarsdale neighbor.
This year, the team is swimming as "Team Valerie" in honor of Valerie Narins Malsch. Her husband, Jeff, has accompanied the team in prior years as a kayaker and will do so again this year. Valerie, a lifelong Scarsdale resident and mother of four, was diagnosed with Multiple Myeloma in April 2017. Multiple Myeloma causes cancer cells to accumulate in the bone marrow, where they crowd out healthy blood cells. Following her diagnosis, Valerie has undergone chemotherapy, immunotherapy and a bone marrow transplant, which required a three-week hospital stay and two additional months of very limited interactions with friends due to a severely compromised immune system. In May, Valerie's blood tests and bone marrow biopsy results showed no detectable cancer, and she is currently considered in complete response. Still, she will continue to take a maintenance drug cocktail for the foreseeable future. Valerie feels and looks great, especially with her current GI Jane hairstyle, and Team Valerie is motivated by her fighting spirit to swim on her behalf.
Please consider supporting Team Valerie by clicking here: Donate to Team Valerie.
The Malsch Family
Add a comment
Doing Business in Today's China
Details

Category: On Our Radar
Published:

18 July 2018

Written by

Anne Dowd Moretti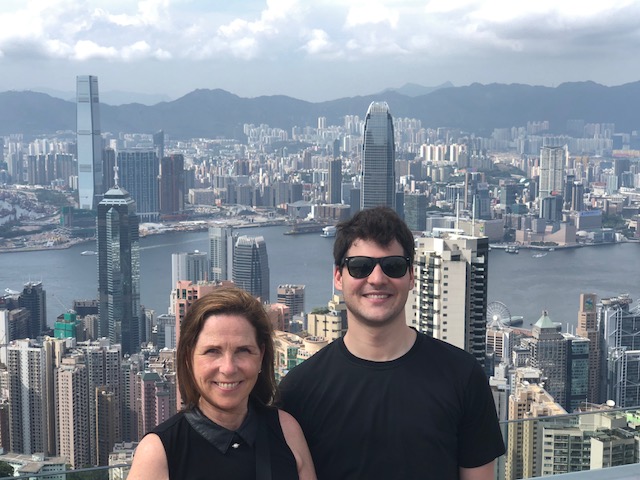 A lot has changed since my first trip to China 31 years ago. Back then, I was an international banking officer covering Asia. I used a map and my decent Chinese allowed me to get around. Crossing the wide boulevards, I dodged the hundreds of bikers whizzing by.

I recently went back in China for ten days with my eldest son Marcus. We travelled to three cities: Beijing, Shanghai and Hong Kong to develop my Chinese real estate networks. The juxtaposition of my memories of analog China with the sight of my millennial son effortlessly maneuvering through iPhone apps was fascinating.

We began the trip in Beijing where I was an exhibitor at the three-day Luxury Property Showcase event. This is a huge, invitation-only event featuring over 120 international real estate developers and agencies from 35 countries. It was held in a large conference hall at the Wanda Vista Hotel, and exhibitors like me were there to showcase their properties to thousands of wealthy Chinese and international real estate investors.

It was a bit like speed dating as the exhibitors were all seeking to grab the attention of attendees passing by and then pitch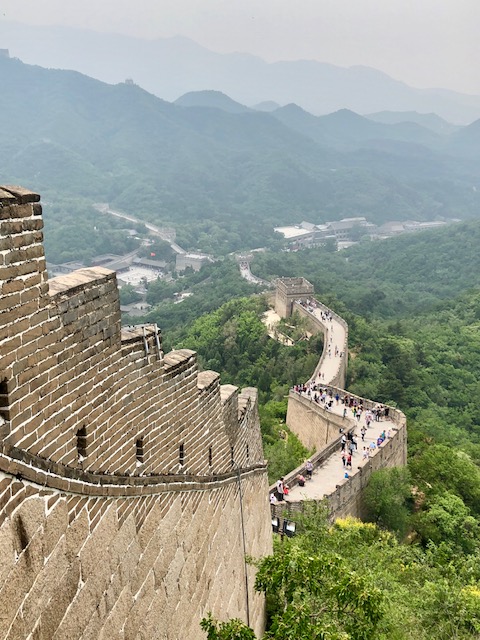 them on their market, whether it was Dubai, Australia, or Ireland. I outfitted our Julia B. Fee Sotheby's booth in beautiful Chinese and English displays with TV video and property brochures in dual languages. We had a Chinese translator but many of the attendees spoke good English.

Our booth by the door was quite popular as all the images of New York grabbed the attention of Chinese investors. By the third day, I had nearly lost my voice from talking so much. Everyone was connecting via Wechat, the social media and messaging site that has over a billion monthly users (including more than 100 million outside of China). Wechat was an integral part of the rapid meet and greet. Investors could quickly scan my Wechat QR code, and we were connected. No more business cards!

After the conference, Marcus and I went to the Badaling section of the Great Wall outside Beijing. We walked for a couple of hours on the wall in the withering heat. Still, it was exciting to see the wall again, and strangely, there were still few Western tourists there. There were however many Chinese tourists, including some very old people putting me to shame as they climbed up the uneven, rocky steps and walked the wall with us.
Beijing looks like a city that sprang up overnight, with big, boxy buildings reminiscent of many authoritarian countries. Yet the Prada and Gucci shops, Tesla and other luxury retailers are all doing brisk business. At night, once the sun goes down, the tall rectangular buildings suddenly light up, like the Vegas strip, with bright dazzling light shows, which give the city a lighter, festive atmosphere from its more serious day scene.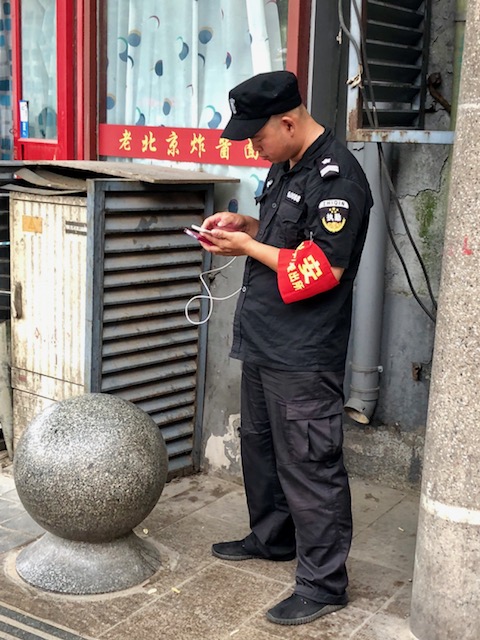 There are cameras everywhere. On every street corner, cameras are scanning faces, and recording images of any jaywalker who crosses before the light changes. I wonder how many times my image showed up on their screen before I realized why we were the only ones crossing.
An initial introduction to this state presence starts at Beijing airport where Waiguoren "foreigners" are directed to stop at special kiosks to be fully finger printed before entering the country. From the outset one senses the tight security surveillance and the sense that big brother is watching. The positive thing about this is that while walking through the streets at night, we felt quite safe, as the cameras were always there.
Hotels can be expensive, but transportation was surprisingly cheap. A 75-minute cab ride from the airport to hotel was only 96CNY (Chinese Yuan) which is about $14. Marcus arrived in Beijing after I did, and he downloaded the DiDi app (China's version of Uber), and he paid only 76 CNY. From that lesson, we quickly learned to use DiDi throughout our trip as it was so easy and cheap to get around both Beijing and Shanghai using DiDi.
We took the bullet train to Shanghai from Beijing and after a 4 hour 45 minute train ride we exited the train station into the steamy heat of a June evening in Shanghai. As we wound our way through the streets towards the Bund, Shanghai revealed itself as an incredibly intriguing architectural city, with old European style architecture and many Art Deco buildings, interspersed with new ultra modern buildings downtown. Shanghai is breathtakingly beautiful at night, with cityscape views and stunning waterfront scenes.
We were cautioned about the hot temperatures during the day; however, traveling with an adventurous and hungry Millennial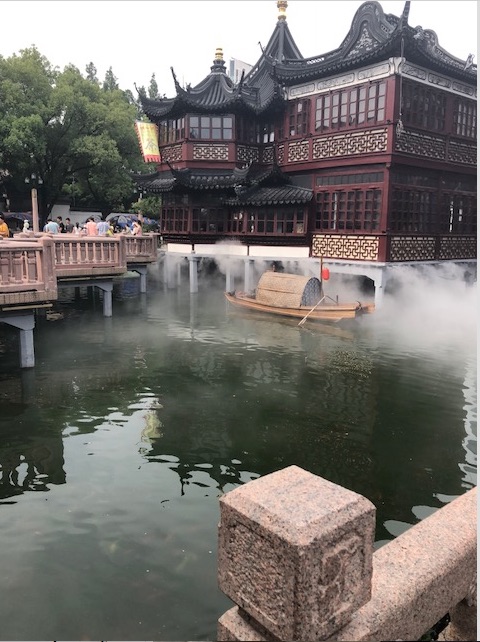 meant walking for hours in the heat, and patching band aids on my feet as we walked cobble stone streets to find a tiny out of the way place that Marcus found on Michelin. As we sat tightly, side by side, facing an elderly couple happily slurping their soup across from us, we were served up a piping hot, succulent plate of duck. I believe Shanghai is the largest city in the world with 24 million plus people, but it has many little intimate neighborhoods with tree-lined streets reminiscent of New York's Greenwich Village. Bamboo scaffolding, 10-stories high, wrap new buildings under construction. In the streets, men with pushcarts, bicyclists, mopeds and cars all compete for space on the roads. The restaurants and the atmosphere are bustling in Shanghai, and if you ever see the name Hot Pot, believe it! We both enjoy spicy food, but the boiling soup creation we made at our table ended up nearly searing the flesh from our lips as the noodles and vegetable mixture was infused with the hottest red Chile peppers on the planet.
Sad to leave Shanghai, we flew to Hong Kong, which was as loud and cosmopolitan and fast-paced as I remembered. Most of the cab drivers there had a few smart phones affixed to their windshields, and they would carry on texting conversations with friends as they zoomed along, turning right or left, whatever the map guidance directed. In Hong Kong my limited Chinese was of little help as the locals all speak Cantonese. And Marcus' Google translate speech wasn't working too well. So we used a lot of gestures, but found our way to the markets, including the Jade market and then the night markets where we wandered around looking at displays of fake designer bags, jewelry, and all kinds of plastic toys and bric-a-brac. We took the trolley up to the Peak, which offers 360o views of Hong Kong's skyscrapers and Victoria Harbour and towards the other side, quiet views of the mountains of the New Territories.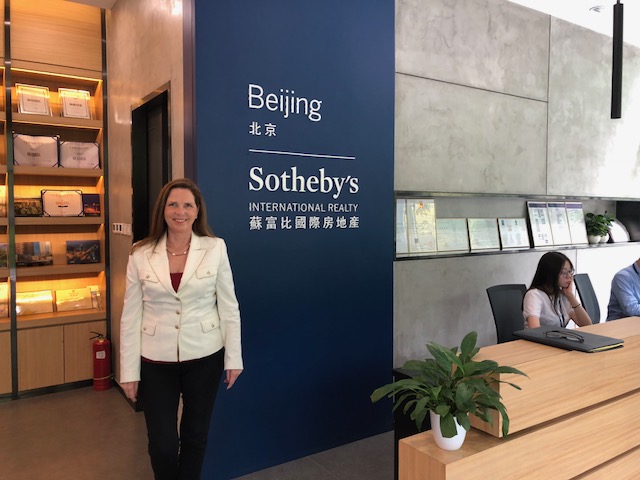 It was a successful trip. I visited our Sotheby's offices in Beijing and Hong Kong and spoke with the new Manager of the Shanghai Sotheby's affiliate opening soon. Check! But, as much as the trip was to make connections for my real estate business, it was quite a special experience to travel through China with my son and to see how it's modernized in so many ways. The rapid pace of modernization is exemplified by nearly every person holding an iphone, but the fundamental beauty and graciousness of the people and the places remain uniquely Chinese.
Add a comment