New Classroom Design Heightens Student Engagement
Details

Category: Schools
Published on

22 September 2014

Written by

Joanne Wallenstein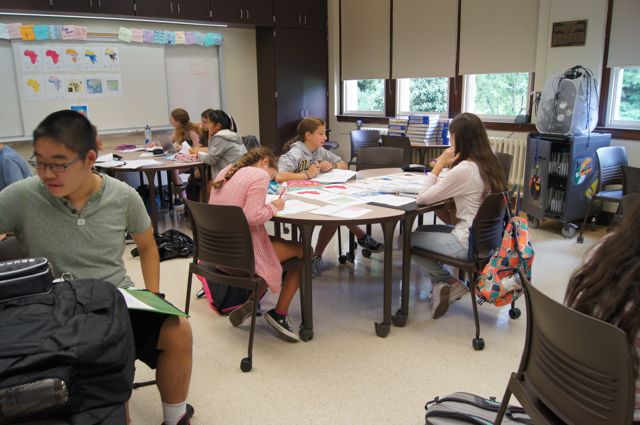 One high school teacher did not wait for the Scarsdale Schools Bond Referendum to pass to incorporate collaborative learning into her curriculum. Social Studies Teacher Nicole Minchillo-Barber has already converted her classroom into an iLab to support a curriculum that involves critical thinking, problem solving and collaborative learning in a more flexible environment.
We were fortunate to visit her and see a ninth grade social studies class in action, working on a project on how the geographic features of Africa affect the population, national borders and development. We asked Ms. Michillo-Barber to tell us more about the evolution of her classroom and here is what she shared:
Q. Can you explain why you asked to have your classroom redesigned, what features were included and how your teaching style is reflected by the new surroundings?
It was an organic process really. It just happened that room 303 was in need of some repairs. In speaking with Ken Bonamo, our principal, about these repairs, it became evident that to simply replace what needed to be fixed would not alleviate some of the "physical space" issues that existed in this small space. For example, I incorporate a considerable amount of Stamford Design School design thinking, whereby students use the physical pace of the room (wall, large tables, the internet, etc) to problem solve and ideate in groups and develop solutions to these problems. Previously only one wall in the room was effectively usable, so I was turning the windows and random sections of the room into "wall space" and filing out into the hallway to allow students the room to brainstorm, ideate and create. We agreed that this would be a good opportunity to redesign a traditional teacher-centered space into one that reflected the needs of students in a student-centered space.
Specifically, the room was gutted of its unusable and cumbersome cabinetry and corkboards, as well as the Smartboard. Working with Lisa Yokana, an art and architecture teacher here at the high school, we focused the redesign on maximizing wall space by utilizing "dead space," i.e., the four corners and high ceilings. We placed the storage space in the corners and across the top of the two sidewalls, thus opening up all three walls. We reoriented the "front" of the room so that it is not as deep and is more inclusive. We put white boards on all three walls, with sliding white boards on the two sides, so that when students ideated with post-it notes and brainstorming activities, we could return to those ideas the following class, undisrupted, while allowing me to conduct my other classes in between.
In addition, we selected configurable furniture that creates an atmosphere of communal learning and allows for a relatively easy transition of the learning space into a variety of activities. The classroom can be arranged into small groups, large conference tables, and pairings. I can arrange the room into pods with each pod having its own whiteboard on which to ideate. I can also arrange the room so that when I conduct a joint lesson or project with my 9th grade English partner, Amanda Filey, we can assure all students remain focused and engaged. The large, flat, even surfaces of the tables will also assist in large creative assessments.
Lastly, we opted to test out the next generation of classroom technology, a Sharp touch screen TV, and incorporate wireless mobile devices, specifically a class set of Chromebooks and an iPad.
Q. What kinds of problems are you asking the students to solve and how does the redesigned classroom accommodate this?
The World History 9 and 10, as well as the Philosophy elective are all critical thinking, problem solving and research based courses. As mentioned above, design thinking codifies all of these skills into one process. The classroom now provides a functional, flexible space for collective brainstorming and collaborative creating and problem solving, as well as the tools for research.
Q. Where did you get the idea to do this and what is it modeled on? Any special educational theory?
We believe that 21st century thinking skills can be more easily taught and practiced in a space that is designed to make this as natural as possible. We consulted the book, The Language of School Design: Design Patterns for 21st Century School, by Prakash Nair, Randall Fielding, and Jeffery Lackney. It reinforced our own experience-based conclusions that flexibility, adaptability, and variety are necessary to accommodate multiple intelligences and design thinking.
In talking to colleagues who visited the new iLab at Horace Greeley High School, they commented on the furniture and its multiple configurations, as well as how the different furniture had a tangible effect on student disposition to learning. Because of the positive feedback, we felt it was worth experimenting with configurable furniture.
Q. Have you noticed any changes in student engagement or attitude when comparing this year to last?
While its still early, I have noticed the rapid development of a communal and collaborative learning environment. From unsolicited and unprompted feedback from students, I have discovered that students feel more comfortable and empowered in the room. The room is less teacher-centered, simply because of the design of the room. For example, I am able to move about the room more freely to reach individual students and shift focus to different areas of the room and to different voices. With the use of the technology in the room I am able to maximize instructional time to allow for more lessons that develop skills and encourage collaboration and creativity.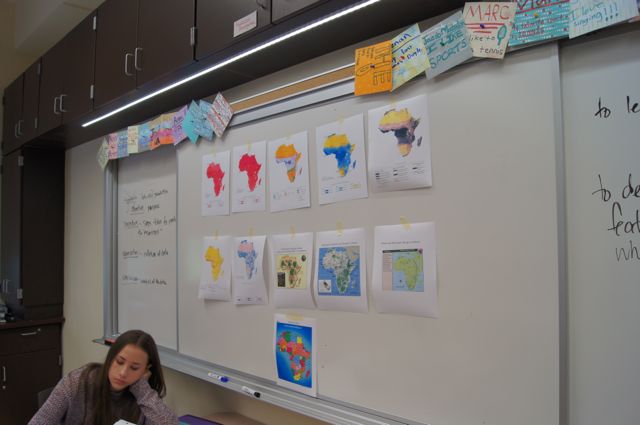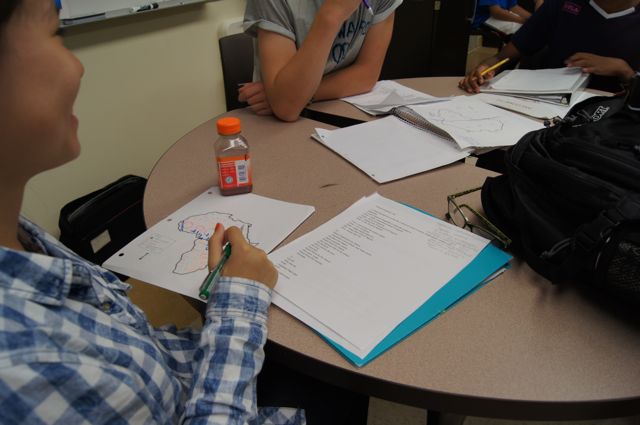 Save Scarsdale Public Television
Details

Category: Around Town
Published on

20 September 2014

Written by

Joanne Wallenstein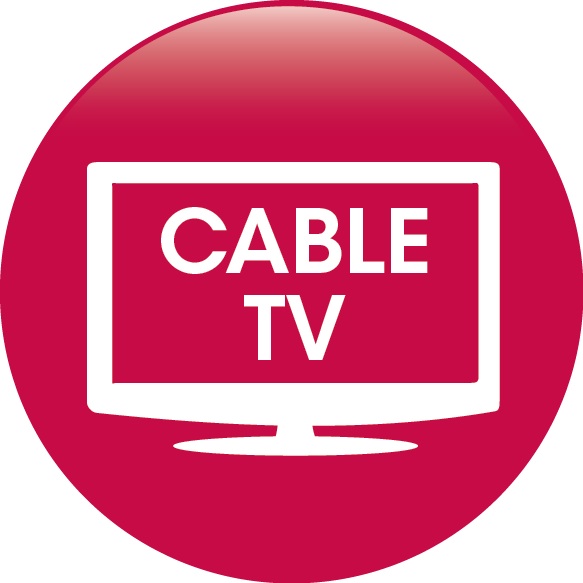 This letter was sent to Scarsdale10583 by Andrew Sereysky of Walworth Avenue: The Scarsdale Village Manager's office has proposed merging the Village's Cable Television operations (Cablevision channels 75 and 76 / Verizon channels 42 and 43) with the City of New Rochelle. The Board of Trustees will consider this proposal on Tuesday, September 23 at 6 pm.
The proposal is opposed by the Scarsdale Cable Television Commission, a group of Scarsdale residents appointed by the Village Board of Trustees to advise them with regard to cable policy and The Scarsdale Inquirer.
The Commission opposes this merger proposal because:
It will severely limit the availability and flexibility of the Village's Cable Television office to meet the needs of our Village and residents.

One of Scarsdale's current Cable Television contractors would become a full-time New Rochelle employee (with benefits) who would be shared with Scarsdale, but Scarsdale would be required to split the cost equally with New Rochelle, despite the fact that New Rochelle's population is more than four times as large.

More importantly, the proposal does nothing to address the lack of locally relevant programming for Scarsdale residents and community organizations. Despite ample existing resources, Scarsdale residents and community organizations currently are not able to receive training, equipment or assistance from the Village to produce local programming or to

cover local events (yet many of our neighboring towns offer this and more with similar resources).
The Commission has its own proposal to increase efficiency and deliver significantly improved cable television services to the Scarsdale community using currently available resources, including:
Providing interested Scarsdale residents and community organizations with access to training, equipment and assistance o produce and air programs highlighting issues of local importance.

Making programming and meetings accessible to residents via the Internet or mobile device.

Partnering with the Scarsdale Public Library to provide enhanced resident access to their events and programming.
The Commission urges all concerned Scarsdale residents to contact Mayor Steves and the Board of Trustees to express their opposition to the New Rochelle merger proposal and register their support for the Commission's alternative plan. The Mayor's e-mail address is: mayor@scarsdale.com.
Andrew Sereysky
57 Walworth Avenue
Scarsdale, NY 10583-1422
Celebrate Bicycle Sundays on the BRP on September 28
Details

Category: Neighborhood News
Published on

22 September 2014

Written by

Joanne Wallenstein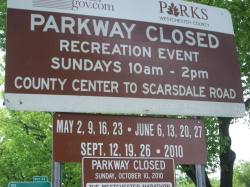 This Sunday, September 28 marks the 40th anniversary of Westchester County's Bicycle Sundays on the Bronx River Parkway. Festivities are planned including rides on the parkway and beyond and a tailgate party with live music in the parking lot of the Westchester County Center.
At 10 am there will be a ceremony at the County Center with former Lt. Governor Al DelBello, Greenburgh Town Supervisor Paul Feiner and several county officials to mark the four decades since DelBello, then Westchester County Executive, closed the parkway on a pilot basis in 1974.
The music starts at noon with Chris Brown, a Westchester singer/songwriter who plays several nights a week around the county. At 2, Tall County, a Putnam-based string trio, takes the stage.
Celebrate 40 years of riding on the Bronx River Parkway on Sunday September 28.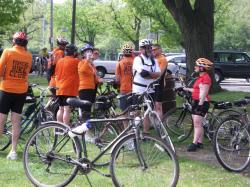 A Farm Share in Scarsdale
Details

Category: Local Finds
Published on

23 September 2014

Written by

Joanne Wallenstein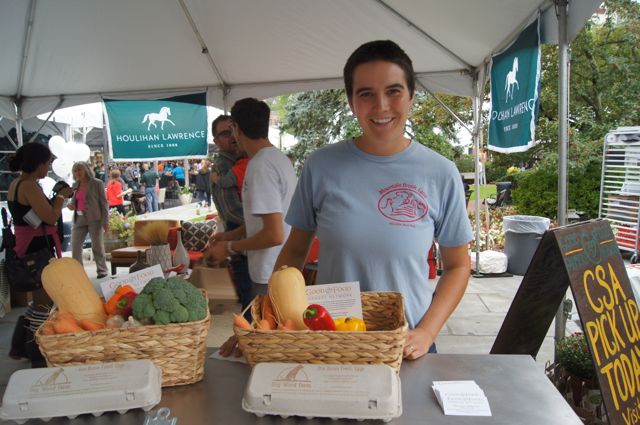 For those who miss the Scarsdale Farmer's Market, here's a great alternative. Scarsdale native Hilary Corsun is delivering fresh food from NYS farms to Scarsdale on alternate Tuesdays throughout the fall. Corsun, a 2006 graduate of the Cornell University School of Agriculture and Life Sciences runs Good Food Farmers Network that brings vegetables, salad greens, herbs, chicken, eggs, beef and even flowers from upstate farms directly to Scarsdale. You can buy a share and receive deliveries from now until Thanksgiving.
After travelling to Africa to learn about microfinance, working for a non-profit that educates farmers and farming herself, Corsun is seeking to fill gaps in the regional food system and make local agriculture more financially viable. She is aiding farmers with marketing and delivery and is now making their produce available to you.
She currently has 45 members of the network in Scarsdale who either pick-up their shares at Hitchcock or receive home delivery. You can choose to receive salad greens, vegetables, pea shoots, herbs, eggs and also opt for pasture raised beef and organic chicken. All the produce is pesticide free. This week's delivery includes the last tomatoes of the season, turnips, kale, peppers and arugula as well as triple-washed salad mix from Little Seed Garden. Depending on your selection, the cost is about $150 per season for fresh organic produce delivered direct to Scarsdale.
Learn more and sign up for your share at goodfoodfarmers.com or contact them at info@goodfoodfarmers.com or by phone at 914-874-4459. Fees will be pro-rated for the season.

Jon Mark to Chair Scarsdale Bowl Committee
Details

Category: People
Published on

22 September 2014

Written by

Joanne Wallenstein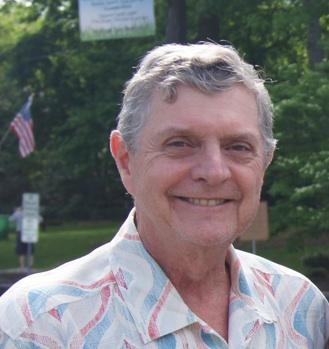 Evelyn Stock, President of the Scarsdale Foundation announced that Jon Mark has been named Chair of the 2015 Scarsdale Bowl Committee. As Bowl Committee Chair, Mark will head the Scarsdale Bowl nominating committee and the community celebration dinner to be held on Wednesday evening, April 22, 2015 at The Fountainhead in New Rochelle. The Scarsdale Bowl is awarded annually each spring to a Scarsdale resident in recognition of his or her outstanding voluntary public service to the community. The Executive Secretary/Treasurer of the Scarsdale Bowl Committee is Robert Jeremiah.
Mr. Mark grew up in Scarsdale and attended the Griffin Avenue School, Quaker Ridge School and graduated from Scarsdale High School in 1965, from Dartmouth College in 1969 and Columbia Law School in 1974. He is a corporate partner at the law firm of Cahill Gordon & Reindel LLP where he has worked for almost 39 years. He has also been active in community and village affairs. Most recently he served as a Village Trustee for four years. During that time he served as Chair of the Law Committee, Chair of the Land Use Committee, as Fire Commissioner, Police Commissioner and Deputy Mayor. He was also liaison to the Greenacres Neighborhood Association and the West Quaker Ridge Neighborhood Association.
He and his wife BK Munguía, an active civic volunteer in the Village and a former President of the Scarsdale Forum, have been residents of Scarsdale for more than 20 years. They have two adult children, Ramona and Sandor, who grew up in Scarsdale.
The Scarsdale Bowl is administered by the Scarsdale Foundation which operates as a not-for-profit community foundation to promote the civic welfare. It does so by supporting institutions and individuals in a manner that encourages educational and human development in the community. The Foundation provides need-based financial aid to Scarsdale High School graduates who are entering their sophomore, junior and senior years in college and to children attending the Recreation Department summer day camp. It also administers a number of special purpose funds, and makes grants for various community needs which have included the Scarsdale Volunteer Ambulance Corps and the Scarsdale/Edgemont Family Counseling Service.