Sports and Formal Swap on Saturday - Merchandise Accepted Friday evening and early Saturday am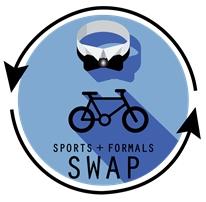 The annual PT Council Sports and Formal Swap returns this year on Saturday, March 24, 2018, from 10am to 12pm at Scarsdale Middle School! The best deals on sports equipment and dressy clothing for youngsters will be coming soon to Scarsdale Middle School -- please note the change in location from the past few years.
PT Council will be accepting gently used sports equipment (no skis), musical instruments, and youth formal wear. This event is a great spring cleaning chance to rid your basements, attics, and garages of all those outgrown bicycles, baseball and softball bats, tennis rackets, and lacrosse and field hockey sticks. Clear your closets of fancy apparel that no longer fit your growing children.
Merchandise drop off will be at Scarsdale Middle School, 134 Mamaroneck Road, from 5 to 7pm on Friday, March 23, 2018, and from 8 to 9:45am on Saturday, March 24, 2018 (before the Swap opens to shoppers).
Donors may obtain a receipt for tax purposes. All proceeds support the Scarsdale Council of Parent-Teacher Associations, the 501(c)(3) umbrella organization over all seven Scarsdale PTA units. PT Council informs and advises the PTAs as they fulfill their mission of promoting the welfare of their students.
If you have questions about this event, please send email to ScarsdalePTCouncil@gmail.com with "Sports Swap" in the subject line.
Add a comment
Scarsdale Mom Builds Successful Baked Goods Brand
Details

Category: Shout it Out
Published:

20 March 2018

Written by

Joanne Wallenstein
Jules Waxman created Baked in ColorMeet Scarsdale's Jules Waxman who has taken chocolate chip cookies to a whole new level. In 2016, Waxman, a Fox Meadow mom of three, launched Baked In Color, and she's been sharing sweets and building her brand ever since. Here are her responses to our questions about this impressive entrepreneurial endeavor:
What is Baked in Color and why are the cookies unique?
Baked in Color offers the first rainbow and custom colored chocolate chip cookies. Happy, fun and delicious, these cookies can be customized by color for all of life's special occasions: holidays, mitzvahs, corporate events, college acceptance, school spirit, sport events, birthday parties, you name it!
What did you do professionally before you began the company?
As a student at Cornell, I founded and ran a cookie delivery business, Quickie Cookie. We baked, packaged and delivered fresh cookies, with a quart of milk (think Insomnia cookies). I sold the company and spent the next several years working in Corporate Retail at Saks Fifth Avenue and Macy's. While working for these companies, I developed my skills in business development, strategic and financial planning, merchandising, team building, negotiation and marketing. After twenty years in corporate retail, I was excited to launch my own business.
How did you get the idea to start Baked in Color?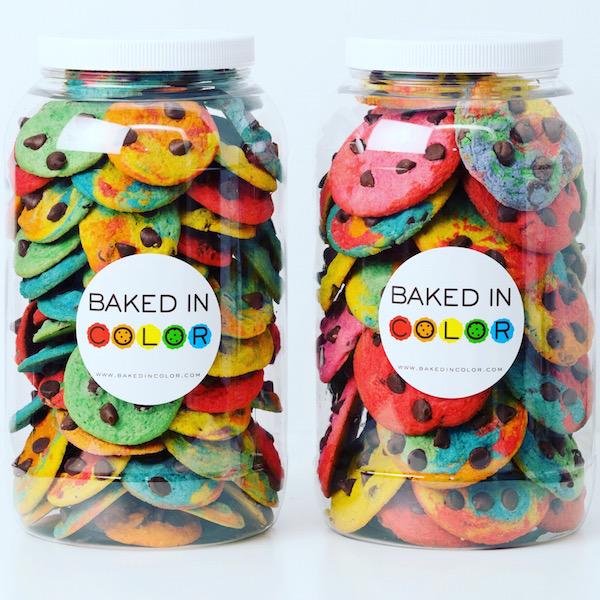 Chocolate chip cookies are America's #1 dessert and colorful rainbow desserts are the #1 social media dessert trend. I was inspired most by the rainbow bagel. Rainbow bagels look incredibly cool but don't taste great. I had a delicious recipe for chocolate chip cookies and knew that if I could figure out how to execute color, I would have something very trend right and extremely marketable. Thousands of test batches later, Baked in Color was born.
What were a few of your big breaks that helped to move the company forward?
Social media has been the big driver for Baked in Color. We started posting our cookies on Instagram and were quickly noticed by food influencers who posted the cookies on their Instagram and Facebook feeds. Six months after our launch, INSIDER took notice and shot a feature for their INSIDER FOOD and INSIDER DESSERT platforms.
The video went viral, receiving over 7 Million views on Facebook, in addition to millions of views on Instagram. Baked in Color was also featured by Today.Com, Huffington Post and Spoon University. The media exposure drove our sales tenfold, putting our brand on the map for big corporate players such as Goldman Sachs, Barney's NY, and Time Inc.
Where/how are most of the cookies sold?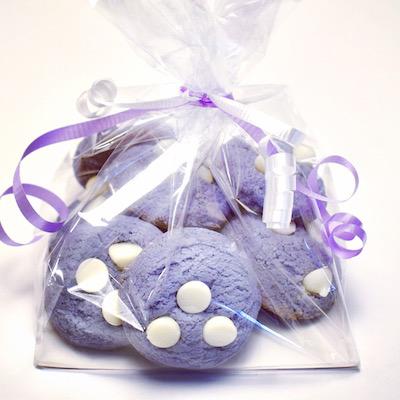 Baked in Color has a New York City location at TurnstyleNYC, the underground market at Columbus Circle, at 58th street and Broadway. We deliver throughout Westchester County and NYC and ship nationwide. We specialize in both personal and corporate events.

How can people buy the cookies – and what do you offer?
Orders can be placed online at www.bakedincolor.com. In addition to our online offering, we customize cookie colors and packaging to make the perfect dessert or party favor for your special occasion or event.
What advice would you give to others in the community who are thinking about starting their own business?
GO FOR IT! Be patient and stay positive. Work hard and move forward each day. Things will not always go well but don't get discouraged. Some days will bring opportunities and others will bring knocks. Hang in there. It's a long haul. Don't take rejection personally just move on to the next opportunity, of which there are countless. Be aware of the competition but don't get bogged down by it. Network, network, network. It's free to ask so ask others for help; people are generally happy to help. You can learn from most people and often each meeting leads to another opportunity. Follow your instincts but pivot when things aren't going well; cut your losses and move on.
Add a comment
Eclectic Private Art Collection Now Open to the Public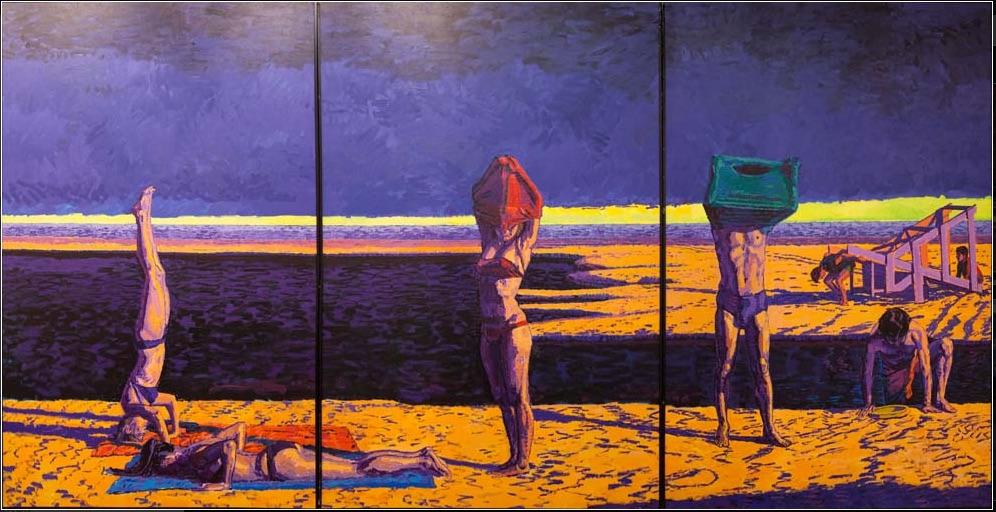 For years I have heard about a special private collection of art collected by William Louis-Dreyfus in Mount Kisco, but I had no idea how to get in to see it.

It sounded intriguing. Apparently Louis-Dreyfus, a successful businessman and the father of famed actress Julia Louis-Dreyfus, had been building this unique collection for fifty years. He passed away at the age of 84 in September 2016 and left a lifetime of artworks, among them a number of important self-taught pieces, in an unassuming building in Mount Kisco. How would I get in to see these 4,000 works?

Fortunately a friend mentioned that the collection, now officially The William Louis-Dreyfus Foundation, is open to the public by appointment and made a date for the two of us to tour it. When we arrived at the building, there were few signs from the outside that the former home of Ideal Electric had been converted into a 16,000 square foot museum.

Curator Christina Kee sat us down at a stunning Nakashima conference table and explained that Louis-Dreyfus was a unique collector who sought out unconventional works throughout his life, acquiring pieces from small auction houses and student exhibitions in addition to international galleries and art fairs. He assembled a diverse collection, purchasing the works of artists he admired throughout their careers. With an open mind and a discerning eye, he identified artists whose talent were not previously recognized or appreciated.

The result is an eclectic mix of drawings, paintings and sculpture, including a range of works from those who were once termed "outsider" artists, many who never attended traditional art schools and forged their own unique styles.

On view last week were the works of self-taught artists such as Bill Traylor, Thornton Dial, James Castle and Judith Scott – all with fascinating stories behind them.

We viewed a series of drawings by James Castle, who was born deaf in rural Idaho, who never learned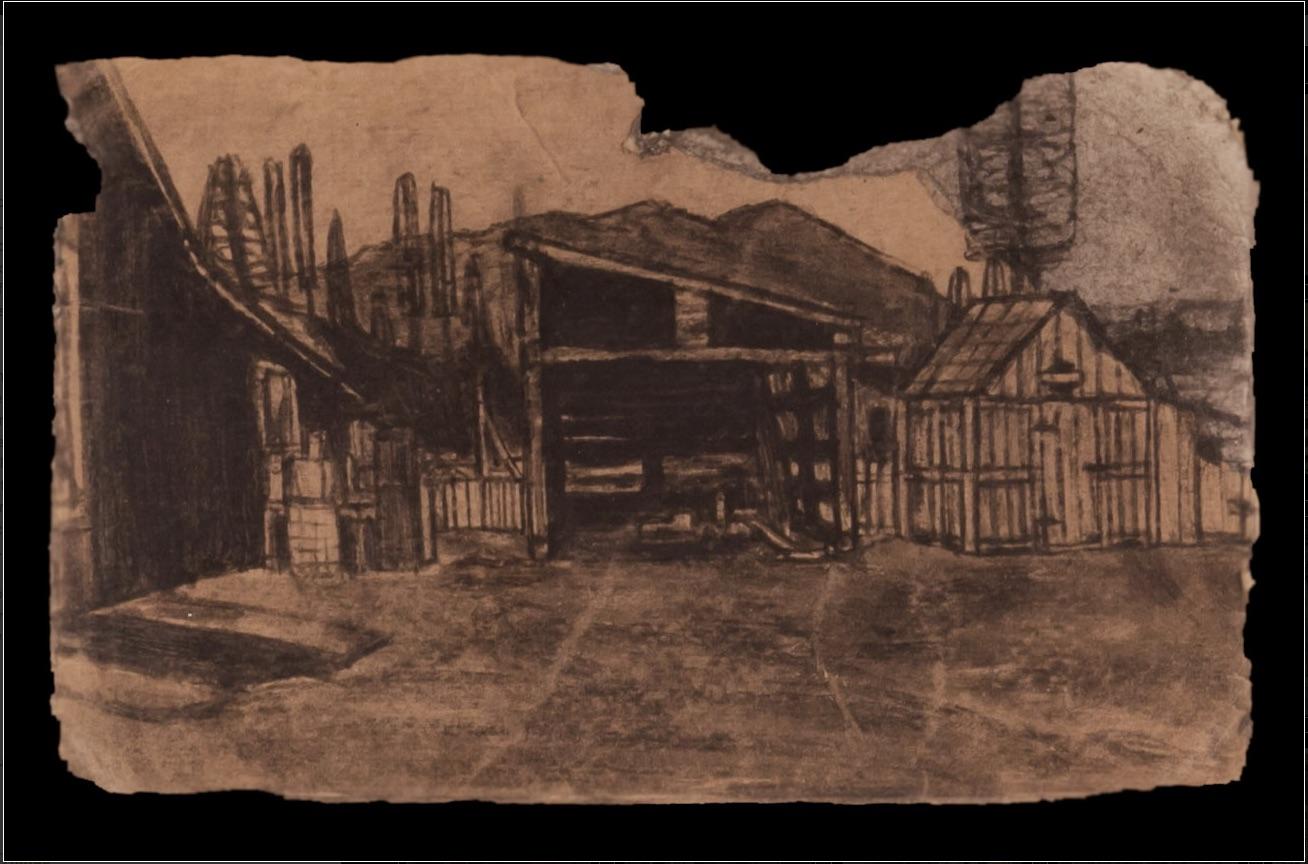 Farmyard View with Sheds by James Castle to communicate through any conventional means. He drew using a mixture of soot from the fireplace and his own spit, creating a medium called "soot and spit" by Castle scholars. He depicts a bleak and simple rural life, often drawing on the backs of cartons and containers.

Bill Traylor from Alabama was born into slavery and for most of his life he was a sharecropper on a farm. In fact, he did not start his career as an artist until the age of 84 when he set up his studio under a tin room in a marketplace in Birmingham. In the remaining years of his life he created over 2,000 drawings. They are simple but expressive works, depicting his unique experience in the south.

Not all the works are small. Large colorful canvases by Graham Nickson depict beach scenes in brilliant hues, and an extensive collection of paintings by the Italian artist Leonardo Cremonini are also part of the mix. Also view the works of celebrated artists like George Grosz, Raymond Mason, Red Grooms, and Claes Oldenburg.

The Foundation intends through the eventual sale of its artworks to benefit the Harlem Children's Zone, a New York non-profit that assists children in Harlem from toddlerhood through college. Founded by Geoffrey Canada the group seeks to end the cycle of poverty by positively impacting entire families over the course of their lives.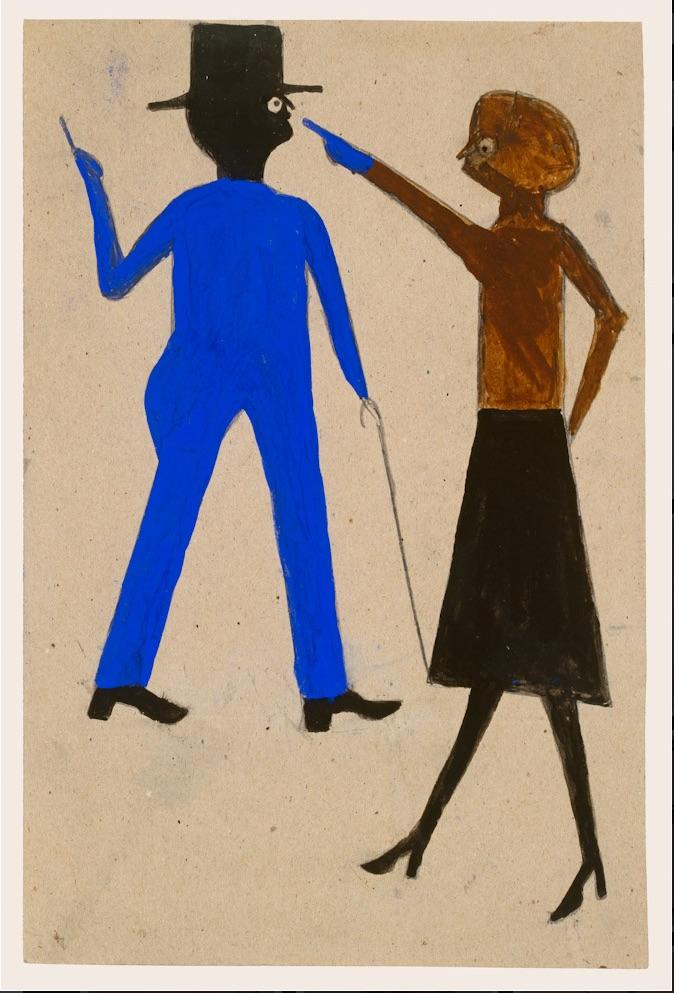 Woman Pointing at Man with Cane by Bill TraylorThe William Louis-Dreyfus Foundation is located in Mount Kisco and open year-round to the public by appointment, with tours regularly scheduled Mondays through Wednesdays. It will also be hosting an open house event on Sunday May, 20 from 1:00 – 4:00. To book a tour or attend the open house please contact info@wldfoundation.org. Space for the open house may be limited. Learn more here: www.wldfoundation.org.
William Louis-Dreyfus
Add a comment
Non-Partisan Slate Triumphs at the Polls
Details

Category: Around Town
Published:

20 March 2018

Written by

Joanne Wallenstein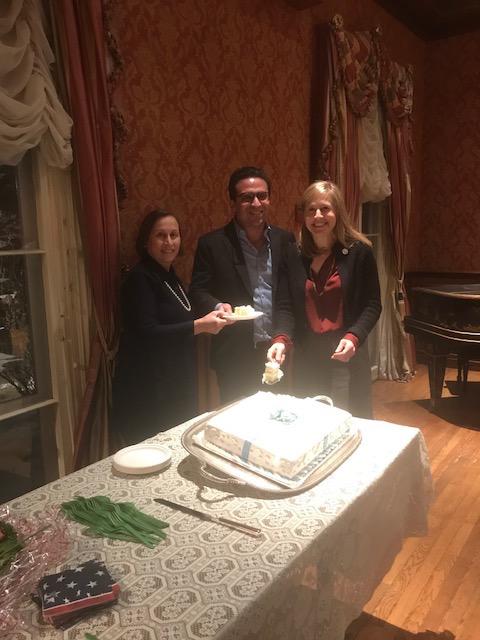 For the second year in a row, the Scarsdale Non-Partisan Party slate came out on top in a contested election for three positions on the Scarsdale Village Board of Trustees. The election pitted three candidates chosen by the Citizen's Nominating Committee against an independent candidate, and spurred a lively campaign.
Polls closed at the Scarsdale Library at 9 pm and after the votes were counted, former Mayor Jon Mark came to the Scarsdale Woman's Club to announce the results:
Here are the counts:
Jane Veron who will return for a second two- year term as Village Trustee, received 1,361 votes. Justin Arest got 1,243 and Lena Crandall, 1,234. Both will serve their first terms. These were the three candidates on the Scarsdale Non-Partisan Party slate.
Bob Berg, ran independently on the Voter's Choice ticket and receive 519 votes.
There were 69 absentee ballots and a total of 1,659 votes including the absentee ballots.

Last year, Berg and three candidates ran against the SCNP slate and drove 2,854 residents to the polls. Though they lost 2:1, the turnout was unprecedented. This year about half the number voted but the count still exceeded the normal participation in an uncontested election.
In the weeks before the vote, the campaign was visible all over town. Robert Berg won the right to place political signs in the Village right-of way and posted them throughout the town. Candidates and volunteers from both sides handed out materials at both the Scarsdale and Hartsdale train stations, engaging commuters in conversations about the election. Candidates appeared at public events such as the Chinese New Year festival, village board meetings, a meet and greet and the League of Women Voters' Forum. Berg was even spotted campaigning at the recycling center. Though Scarsdale is known for its non-partisan system, the community-wide debate became markedly partisan.
Commenting on the results, Campaign Co-Chair Jon Mark said that this was not the first time the 100 year-old Non-Partisan system had been called into question. He said there had been similar challenges in the 1980's and 1990's. He concluded, "Just because something is 100 years-old, it doesn't mean it can't work. Don't throw the baby out with the bathwater. Let's help new residents understand how the Non-Partisan system can work and foster a sense of community."
Mayor Dan Hochvert said, "We should give the people in this town credit for the results. They believed in the candidates vetted by the CNC and the Non-Partisan system."
ML Perlman said "I am proud of Scarsdale today. It's inspiring to see the historic and overwhelming support for our Non-Partisan system."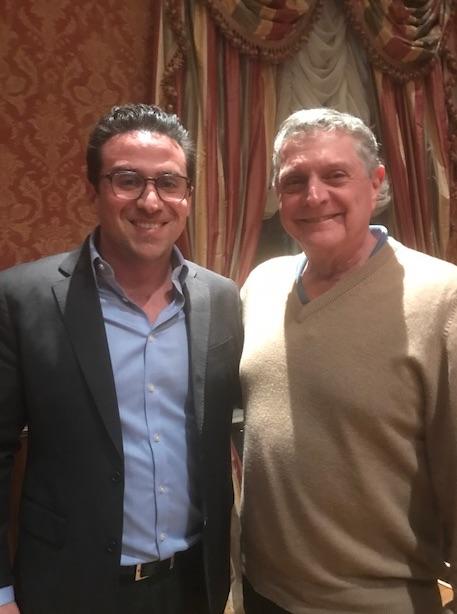 Justin Arest and Jon Mark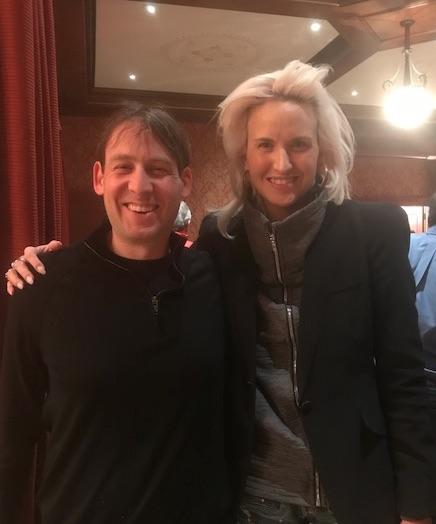 Ron Schulhof and ML Perlman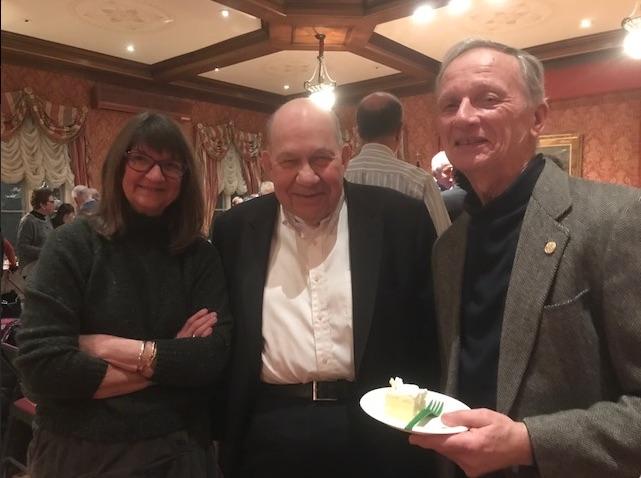 Deb Pekarek, Bill Stern and Dan Hochvert
BK Munguia and Eli Mattioli - Photo by Harvey Flisser
Dan Hochvert, Miriam Flisser and Marc Samwick -- Photo by Harvey Flisser
Photo by Harvey Flisser
Art Rublin, Tim Foley, Eli Mattioli and Madelaine Eppenstein - Photo Credit Harvey Flisser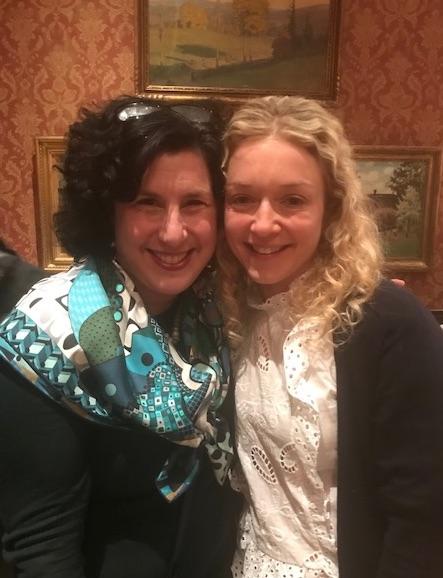 Diane Greenwald and Dara Gruenberg
Add a comment
Scarsdale Village Leads Westchester with First Ever Food Scrap Recycling Program Curbside Pickup Service
Details

Category: On Our Radar
Published:

21 March 2018

Written by

Jennifer Rossano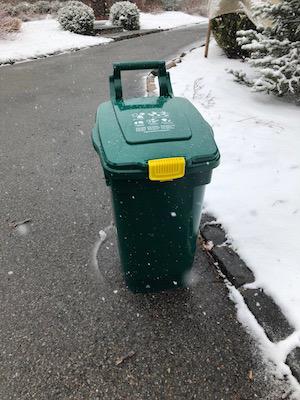 Trustees unanimously endorse plan for sanitation department to provide weekly curbside pickup of food scraps, the first program of its kind in Westchester County, engaging residents to broaden scope of recycling practices.

On Tuesday, March 13th the Scarsdale Village Board of Trustees unanimously voted in favor of implementing weekly curbside pickup of food scraps, underscoring their commitment to provide sanitation services that will make it easier for residents to engage in a broadening scope of recycling practices. The recommendation was presented to the Board of Trustees by the Conservation Advisory Council (CAC) as part of their Sanitation Study submitted in December 2017. Scarsdale will become the first municipality in Westchester County to provide such a service – history in the making.

Scarsdale launched its Food Scrap Recycling Program in January 2017, providing residents with a home starter kit and establishing a drop-off site for food scraps at the Recycling Center, 110 Secor Road. By metrics alone, the program has been an enormous success, with over 160,000 pounds of food scraps being recycled into compost in 2017. More than numbers, the program's success highlights an emerging mindset within the community about waste reduction and recycling at large. As early as 2nd grade, Scarsdale students learn the three R's: reduce, reuse, recycle, and toward the end of their educational journey, high school students can enroll in Food for Thought, a course that connects local, national and global issues surrounding food and sustainability.

Several towns have followed Scarsdale's lead in creating a Food Scrap Recycling Program. Larchmont, Mamaroneck, Bedford, Greenburgh and more recently New Castle and Rye Brook have all followed suit.

The new weekly curbside service is expected to roll out this spring and will operate in a similar manner to our current curbside paper recycling pickup. Residents will be notified of the new service schedule once it is finalized by the Sanitation Department. The Recycling Center drop-off site will also remain open. The service is open to all residents. Residents just need to email composting@scarsdale.com stating that they would like to sign up for the program.

The CAC's recommendation to launch a furniture donation program was also approved by the Board of Trustees at last Tuesday's meeting. A large furniture collection bin will be set up at the Recycling Center where residents can bring furniture and other household items. These donations will be picked up by Furniture Sharehouse, a local nonprofit organization that provides furniture and household items to those in need throughout Westchester County.

For more information about the work of the CAC, click here.
For further questions, email composting@scarsdale.com.
Add a comment