How To Find a Babysitter Who's Right For Your Family (from a teen sitter's perspective)
Details

Category: Parenting
Published on

20 January 2015

Written by

Lena Proctor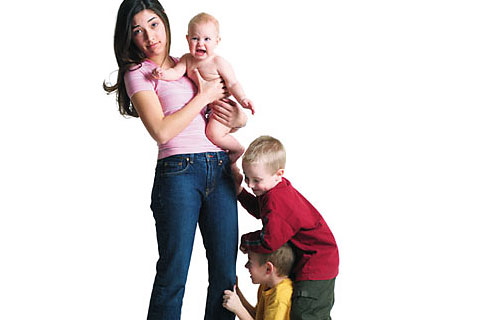 I can't count how many times local moms have asked me to babysit or sought help to find a babysitter. They want to know where they can find one, who they can call and what they will have to pay.
Though I do babysit and have friends who do as well, it's not always easy for either my friends to find a job that works for them or for parents to find a babysitter who is available when they need one. Here are some tips for parents to find a babysitter that will meet their expectations:
1) Where to look for names? Here are a few ideas. Ask neighbors with teens to can give you ideas and options. Also, the Scarsdale High School youth employment service called the Y.E.S office keeps lists of students who wish to babysit and you can post a job listing with them. You can find them here: If your kids go to summer camp, another easy way to find a babysitter is by asking one of your kids' favorite counselors to sit. You will have a head start because you already know the sitter is responsible and that your child likes the counselor.
2) Timing is everything: One of the first questions to ask a prospective sitter is their availability. If you need someone for Saturday nights and they are already booked at that time, go no further and call the next number. Keep in mind that many of the babysitters are quite busy with school, "There have been times when it is neurotic how much I am relied upon," says a Scarsdale High School student. If you really like your babysitter, communicating with them and scheduling a day that works both of you is important. Sophomore Aggie Chamlin says, "I try my best to accommodate the families but it doesn't always work out. This sometimes results in them changing the date or time so that they can go out and know that their kids are happy and safe."
3) The interview: Here are some good questions to ask a potential sitter:
• Why/when did you start babysitting?
• What experience do you have?
• When are you available? Friday/Saturday nights?
• If you have younger children: what is your experience with infants?
• What training do you have in first aid or babysitting?
In terms of a teen's work experience with children, you can consider not only babysitting jobs, but work as a summer counselor too.
4) Set clear expectations ahead of time: One student who babysits said, "The bad experiences I had were mostly when one of the children were in a cranky mood and I didn't know how to deal with them, like if they had a favorite book or food..." Communicate your daily routines to your sitter and let them know the "house rules." For instance: are electronics allowed? Dessert? Is the oven allowed to be turned on for baking? Both you and the babysitter will be much more comfortable if they know what's allowed and what's not.
Also let the sitter know how much you expect them to do in addition to watching the kids. While some families ask the sitter to help bathe the children, cook dinner, dress them or clean up, others just want the sitter to keep the kids happy while the parents are out. If your babysitter is worried about making dinner while taking care of the kids, don't ask him/her to do too much more.
5) Talk to your kids about how it went after the sitter leaves: Their feedback is probably the best way to know if you should hire the sitter again. Chamlin says, "in order to guarantee that your kids have a positive and fun experience while you are out, make sure that your children like the babysitter you pick." Another Scarsdale High School student Eliza Auchincloss says, "It's a lot nicer when the kids can communicate and are able to open up to me because it makes the job way more enjoyable." When the kids feel comfortable around your babysitter, the experience is positive for everyone; you, your kids, and the babysitter.
5. Some other tips:
• Don't forget to prepare food beforehand: not only for your children but also your babysitter.
• If your potential babysitter is too young for your comfort level, ask them to bring a friend along.
• Staying out late? Give the sitter a time later than you think you'll be out; it's always better for you to come home early than late. If you are out and figure out that you will be coming home later than you told your babysitter, call and let them know.
• Even if your babysitter lives close: offer to drive home if they don't have a car. Remember that your babysitter is also someone's child!
• How much should you pay? The going rate is anywhere from $12-$15
Are you available to babysit or looking for a sitter? Post your name/number in the comments section below!
Village Manager Al Gatta to Retire After 20 Years in Scarsdale
Details

Category: Shout it Out
Published on

20 January 2015

Written by

Joanne Wallenstein

Scarsdale Village Manager Al Gatta has announced that he plans to retire this coming June. Gatta has run the Village for as long as most can remember, managing many major infrastructure improvements and a professional staff who some say are among the best in the county. We spoke to Gatta about his time in Scarsdale and why he plans to step down this year. Here is what he shared:
How long have you worked in Scarsdale and where did you work before?
I have been in Scarsdale for twenty years and before that I was City Manager in Hartford, CT; Ann Arbor, MI and Methuen, MA and held management jobs in New Jersey.
What do you plan to do when you retire?
I am looking to do more policy work which means housing, employment, regional approaches to services, funding schools, income maintenance, transportation and how best to fund local governments. I may also teach a class or two which I did at Trinity College in Hartford and University of Michigan in Ann Arbor.
Why did you decide to retire now?
It is time to move on. Any good organization has to have movement at the top to bring in new perspectives and approaches to addressing challenges. We have done a lot of employee training and education and have made the organization one of the better ones in the County;
What are you proud of?
Twenty years is a good run and I was the first educated and trained professional manager in Scarsdale and brought management improvements to the finance system, budgeting, decision-making process and line services. Former managers followed the old pattern of either being a trained engineer or attorney to serve as managers.
I managed many capital projects over the years such as downtown traffic, parking, pedestrian improvements, sidewalks; the Christie Place Development and parking facility; the new Popham Road Bridge; the new Public Safety Building; pool improvements; new athletic fields including one artificial turf field at the High School; Kids Base program and long term lease; restrooms and tennis building at the high school and new restrooms and a tennis building at Brite Avenue. We closed the compost facility at Crossway and built the leaf transfer station at the same location, renovated the Supply Field Building, completed major multi-million stormwater projects and renovated all 16 village playgrounds. What else? We did a rehab of the Scarsdale Railroad Station; a land lease with SVAC; multimillion renovations to the Ardsley Road and Reeves Newsome Water Pumping Stations, initiated the rehabilitation of the Fire Station #1 and the rehabilitation of Wayside Cottage.
What were some of the biggest challenges you faced?
The challenges all involved being part of and managing a non-political system that made decisions by trying to achieve consensus. It takes patience, understanding, tolerance and faith. There were no shortcuts or decisions made easy because of the political votes. It's a very good structure for local governments.
What were some of the most controversial issues during your tenure here?
Controversial issues are always budget, taxes and particular land use issues as illustrated by the constant tension between the need to change and the limited growth theory. Also the interference of the State government in the management of local affairs, particularly budgeting and taxation by ranking bureaucrats who have no local government experience but do have great political acumen.
Who were some of the more "colorful" residents you encountered?
There have been a few and I have always taken it in stride. Looking for the humor in most instances is the only way I have survived for 45 years.
Who did you enjoy working with?
I have been fortunate in having had the best elected officials anyone can hope to work with as a local government manager. The elected officials have been smart, educated, sensitive, caring, wanting to do the right thing for the community honest, and nonpolitical. Also the Village employees and Department Heads have been among the most trained and educated I have worked with over the decades and compared to other local government workers in the county are head and shoulders over their performance.
What will be your legacy to Scarsdale?
I am not interested in a legacy; after all I am not the president of the United States and one thing I am very proud of is that I never took myself and position too seriously. The quality of work and honesty and straight talk was always a desire of my wanting to do my job as well as possible. I never tried too "out slick" anyone and those that did it to me drew my disdain.
In an email to Village staff announcing his retirement, Gatta said, It has been a pleasure towork with all of you during the last two decades as there is no way any manager can be successful without a loyal hard working workforce."
Movie Star Alert! Sendhil Ramamurthy in "Brahmin Bulls" at Pelham Picture House
Details

Category: People
Published on

20 January 2015

Written by

Stacie M. Waldman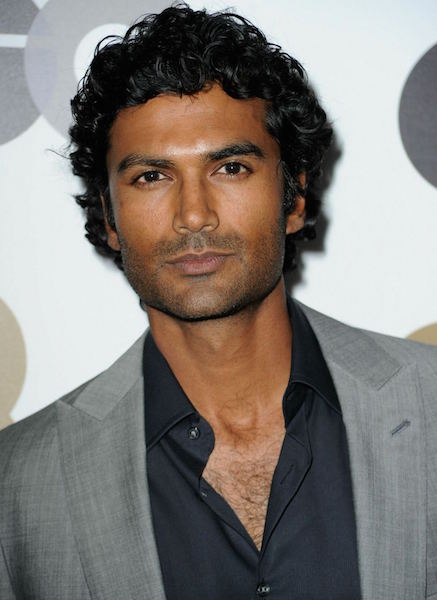 Local resident Sendhil Ramamurthy of Heroes fame will air his film Brahmin Bulls and lead a Q & A after the show on Thursday, January 22 at 7:30 pm. Starring Sendhil Ramamurthy and Roshan Seth, Brahmin Bulls follows the complicated, interesting lives of a father (Seth) and grown son (Ramamurthy) as they attempt to rebuild their damaged relationship and mend their own personal lives.

Eva Nagorski, a writer and producer who suggested the film showing to Pelham Picture House said, "I think it's important to support independent movies given how hard it is to make them and, in particular, distribute them. But that's far from the only reason I'm supporting Brahmin Bulls. It's a great film, Sendhil puts on a terrific performance, and it's a creative accomplishment overall for a first-time director." She added, "Pelham Picture House is a venue that not only supports independent films, but draws audiences from all over the area who appreciate them."
Sendhil was gracious enough to meet me one morning in Scarsdale to be interviewed for Scarsdale10583.com. Only after he had left did several people at the café come up to me and ask how I got to hang out with "The 'Heroes' guy."

What made you want to play the character of Sid in Brahim Bulls?

The role of Sid was written for me. The director, Mahesh Pailoor, and I worked together on the first role I ever booked out of drama school, a short film. He was still a film student. I auditioned for him, got the role, and we shot this ten-minute, visually stunning black and white short film. We got along well. Fifteen years later, all of the people who were a part of this short film got together for Brahmin Bulls. I was shooting Heroes at the time in Los Angeles and Mahesh called to tell me that he was at the American Film Institute now and wanted to do a film. He wrote the script, we raised funds for two years, and then we shot it for 21 days in Los Angeles. I'm an avid tennis player and I love that we used tennis in the movie because it served as the perfect metaphor. Playing Sid was a welcomed challenge. My character is in his thirties but acts like a teenager- he's completely rudderless. I'm the opposite of that in real life; I'm goal-oriented and I know exactly what I want. I enjoyed the quiet parts of the movie where all the acting had to be done through the eyes or with sighs and small movements. It's different from television where you have 42 minutes to tell the story because the remaining 18 are filled with commercials; there's no time for silence in television. In television you have deadlines because episodes are already ordered and paid for and there's timing involved as far as when shows need to air; but in Brahmin Bulls, having time to really work on a scene was really appealing to me and appeals to audiences.

How was it different for you to star in a movie as well as produce it?

I enjoyed being involved in producing this film, although after production is when I became more involved- getting screenings arranged and doing festival submissions. While shooting the film, I focused on my character and my acting. I'd love to continue producing from the ground up, like deciding how the money is spent, who's hired, etc. You don't really get that in television, even if you're the star of the show. You say your lines and you try not to bump into furniture. The chance to do something different really attracted me to this film and film in general. There was a learning curve. We made mistakes but we learned from them and next time we'll just make fewer mistakes. Or at least not the same mistakes.

How does Brahmin Bulls build an audience?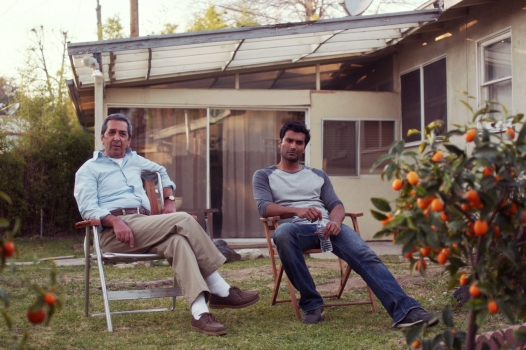 Marketing funds are limited, so we've done theatrical releases in several major cities in the U.S. and then it will go to video on demand. Word of mouth has been the best promotional tool. The New York Times gave Brahmin Bulls a favorable review and screenings like this one at Pelham Picture House really help get the word out as well. The film is a true grassroots effort, a total labor of love. None of us will likely make any money off of it. The movie is about people connecting (or not connecting); it's about relationships. This theme seems to have really appealed to audiences around the nation.

What's the most challenging part of being an actor?

The rejection. You can be rejected on a daily basis if not more. The uncertainty is the hardest thing to deal with. It doesn't always matter how good of an actor you are, there are always other factors out of your control. I just have the mindset that I enter every audition or taping knowing that I'm prepared and giving it my best shot and I try to let go of the rest. I do tend to micromanage the audition or scene I shot after it's done when I can't do anything about it and I think I will always do that. This is common even among the most esteemed actors.
Some people think that if you have a big role on a TV series for a while you can just walk into your next job. It doesn't often work that way. You have to reinvent yourself after every gig. You may get offers to do the same genre again, but if I wanted to do the same thing every day I would have chosen a different career.

To what or whom do you attribute your success?

I don't think I'm the greatest actor and I won't ever say that, but I can say that I'm one of the hardest working actors and that has helped with my success. I've been very lucky. I shoot for nine or ten months of the year and I haven't shot anything in New York in almost five years. It can be hard since New York is where my home and family are. Having an anchor- my wife and my kids- helps with my success a lot. The longest I can ever be away from my family is two weeks. I need a sense of normalcy, and that's what my family is for me.

What are your plans now?

I'm in the middle of shooting a film called Momentary Lapse of Reason. I'm reading a bunch of manuscripts because pilot season is starting. I'd love to do more comedy. I did a stint on The Office and I filmed a romantic comedy, but I always seem to be the straight guy while everyone else around me is scripted to be funny. I'd love to be a series regular on a comedy show.

See Sendhil's only local showing of Brahmin Bulls this Thursday, January 22nd at 7:30 PM at Pelham Picture House. You'll even be lucky enough to hear a Huffington Post-moderated Q&A afterwards. Purchase tickets ahead of time here andclick here to watch a preview. Brahmin Bulls runs for 96 minutes, is rated PG, and also stars Academy Award winner Mary Steenburgen, Justin Bartha, and Academy Award nominated actor Michael Lerner.
Deputy Manager Steve Pappalardo to Succeed Al Gatta as Village Manager
Details

Category: Village Voices
Published on

20 January 2015

Written by

Joanne Wallenstein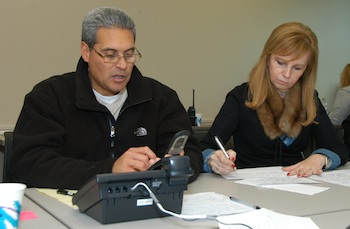 Now that Al Gatta has decided to retire, what's in store for the leadership of Scarsdale Village? We spoke to Scarsdale Mayor Bob Steves who shared the news that Gatta was retiring and offered information on succession plans.
Speaking about Gatta, Mayor Steves said, "We are losing a real good man. Al approached the job with the utmost professionalism. He understood the non-partisan mindset of the community and followed that mindset in the way that he staffed and led – all to the real advantage of the village."
Steves continued, "Al pays attention to the voices of the village trustees and residents and is on top of the community. He brought experienced professional judgment to the job. Gatta's professionalism shows itself in the quality of the senior staff and department heads and in the way all the village departments deal with the public."
We asked Mayor Steves why Al decided to retire this year and Steves replied, "He simply thought it was time to pursue other interests. The decision came as a surprise to me. There was no particular event or situation behind it... he just felt it was an appropriate time to move on and give Steve an opportunity to move up."
According to Steves, when Gatta told him he planned to retire Gatta quickly shared his thoughts on the process for finding his replacement. Though the village could conduct a nationwide search for a new manager, Gatta believed that the best candidate for the job was Deputy Village Manager Steve Pappalardo. Due to his tenure with the village and his training under Gatta, Al thought that Scarsdale would be best served by promoting Steve to the top spot and running a search for a new deputy manager.
But before making a decision, Mayor Steves convened a meeting of the former mayors of Scarsdale to hear their views on the pros and cons of promoting Pappalardo, an internal candidate. Mayor Steves happily reported that all the former mayors agreed that Steve Pappalardo was the best choice.
But their vote was not enough. The decision to select a village manager lies in the hands of the current Scarsdale Board of Trustees. A private session of the Board of Trustees was held to interview Pappalardo, At the conclusion of their discussions, the Board was unanimous in their decision to appoint Pappalardo as village manager.
In an email to village staff, Gatta announced his departure and Pappalardo's promotion saying, "I am pleased to inform you that Steve Pappalardo has been favorably considered as my successor. I trust that you will support Steve and make his time as manager rewarding as you have done for me over the years."