Police Report: Storm Preparation and Undercover Auto Helps Police Snag Quick Arrest of Greenacres Car Break-in Suspect
Details

Category: Today's News
Published:

17 January 2019

Written by

Traci Dutton Ludwig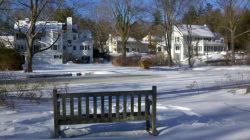 With snow in the forecast, the Scarsdale Police has issued the following advisory: The Village of Scarsdale is currently preparing for the snow storm tonight and this weekend. Keeping the Village streets clear and passable is critically important during periods of heavy snowfall. We ask our residents to take appropriate precautions and limit their travel to allow plow vehicles and Village crews to quickly clear snow and ice from roadways. Village of Scarsdale Department of Public Works crews are conducting equipment checks on snow plow vehicles and making necessary repairs to ensure effective use of personnel and resources during the storm. We don't suspend vehicular and pedestrian movement through the Village unless a local state of emergency is declared. This is determined based on the progression of the storm and the safety of the roads. Internal coordination is also being performed between various emergency services departments to ensure quick and efficient response to the storm. All after hour calls will be handled through non-emergency police phone lines at (914) 722-1200 unless otherwise notified.
Arrest: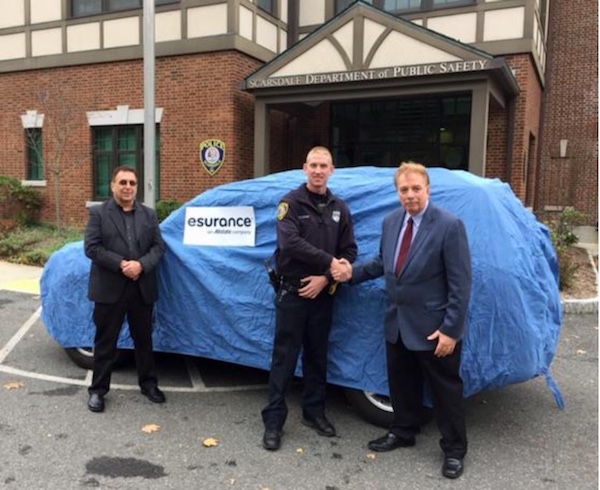 An undercover car helped catch a suspect on Fairview Road.At approximately 4 p.m., Jan. 11, a Fairview Road woman reported an unknown man smoking a cigarette in her driveway. He was described as black and wearing sweatpants and a gray hoodie. The woman said she saw the man approach her parked Chevrolet Suburban and activated the car's alarm via the key fob. In reaction, the man ran away from her car and fled. Upon checking her car, the woman noticed her black Prada handbag had been stolen, and the contents of the glove compartment had been tossed. Stolen with the purse were: an orange Prada wallet, a driver's license, cash, several gift cards, a glasses case, a phone charger and personal papers.
Police were called to the scene to investigate. Officers found a smoldering Newport cigarette butt and vouchered it as evidence. Police conducted a search of the area but did not find the suspect. At that time, all marked patrol cars left the scene; however, one undercover car remained in the area.
Shortly thereafter, the suspect emerged from hiding and was spotted by the undercover officer on Oxford Road, near Post Road. The undercover officer, together with police who were called back in marked patrol cars, stopped the suspect for questioning. He was smoking a Newport cigarette of the same brand found at the crime scene. Police conducted show-up, and the Fairview Road woman positively identified the suspect as the same man she saw in her driveway. At that time, the suspect – Jonathan Martin, 26, of White Plains – was arrested. The stolen property was found scattered in a Fairview Road backyard, and some gift cards were found in Martin's pockets, along with other valuables, such as watches, a cell phone, cell phone cases and two Metro cards, that are under investigation. Martin was arraigned at Scarsdale Village Justice Court on the following charges: fourth-degree grand larceny of a credit card, fourth-degree criminal possession of stolen property – credit cards, fourth-degree criminal possession of stolen property greater than $1,000, trespassing and fourth degree grand larceny of property greater than $1,000. Martin was transported to Westchester County Jail where he is being held on $15,000 bail.
According to SPD Captain Thomas Altizio, "The police department has used undercover vehicles in the past and is aware of the benefits of their use, but we are very pleased that the use of this vehicle resulted in an arrest so quickly. We are grateful to Esurance for this recent vehicle donation and to the Fairview Road resident for notifying us immediately of the suspicious activity and providing us with detailed information that lead to a quick arrest."
Car break-in
On Jan. 7, a Walworth Avenue woman reported two of her cars – a BMW 328 and an Audi Q7 – had been broken into at approximately 3 a.m., and an EZ-Pass was stolen from the Audi. Both cars were unlocked at the time. A third car, an Acura MDX, was locked and not entered, but its window had been damaged by an apparent attempt to cut the glass.
Identity theft
On Jan. 9, a Lyons Road man reported someone used his person information to obtain goods around December 29, 2018. Police are following up.
On Jan. 12, a Heathcote Road man reported an incident of identity theft in which $8,000 was withdrawn from a checking account with a forged signature on a withdrawal slip. The incident occurred in Florida on Jan. 9. Police are following up.
On Jan. 11, a Brewster Road man reported a fraudulent charge on his American Express credit card. Police are following up.
Text message
On Jan. 8, an Overhill Road employer reported receiving a text message containing obscenities. The message was allegedly sent by the boyfriend of a woman who interviewed for an employment position but was not hired. Police tried to reach the boyfriend and the interviewee for follow-up.
Bang
A report of "two shots fired in the area" was determined to be the use of noisemakers at Fenway Golf Club, activated to scare geese from the golf course Jan. 11.
Safe place
A caller reported four young men were "dealing cell phones" on East Parkway Jan. 13. Police went to the scene and interviewed the men. They said they were conducting a Facebook Marketplace transaction. They had decided to use a public place for safety reasons since the young men were not familiar with each other. Police said they could use public safety headquarters for safe Internet exchanges in the future, in order to avoid concern by the general public.
Accident investigation
Following a Mamaroneck Road/Crossway accident being investigated by White Plains police, in which a 2012 Nissan struck a telephone pole at 2:30 a.m., Jan. 12, a charge of driving while intoxicated (first offense) was entered against the driver – Nelson A. Barrios, 22, of Mamaroneck. In the course of the accident investigation, numerous items fell out of the Nissan while it was being pulled upright by a tow truck. These items included one large Ziploc bag and one small Ziploc bag, both containing a white powder believed to be cocaine, capsules believed to be a controlled substance, an oil vape pen and empty cartridges. Empty beer cans were observed in plain sight inside and outside the car. Further investigation and follow-up by Scarsdale police is forthcoming, pending the results of the WPPD accident investigation unit. One person was ejected from the car during the accident and was transported to a hospital by Scarsdale Volunteer Ambulance Corps.
Arrest
On Jan. 12, police arrested Melvis Gant, 49, of Mount Vernon, on the charge of operating a motor vehicle with a suspended registration. In the course of traffic patrol, police learned that Gant's car's registration had been suspended for failure to pay five parking tickets within 12 months, and a warrant for his arrest had been issued out of Scarsdale in Nov. 2018. Gant's car was impounded, and he was released on $65 cash bail. He was given a desk appearance ticket for Jan. 16, to resolve the charged violations.
Summons
On Jan. 10, police conducted a traffic stop of a car on Overhill Road, due to the car being stopped with its engine running. The driver stated the car belonged to his friend sitting in the passenger seat. A check of the driver's license revealed the license had been suspended on Oct. 25, 2018, because the driver failed to pay a driver's responsibility assessment order. Police issued two summonses to the driver – one for a stopping/standing/parking violation and one for third-degree aggravated unlicensed operation of a motor vehicle.
Improper license plates
Police stopped to help a motorist with a BMW leaking a large amount of fluid on Hutchinson Avenue Jan. 12. The driver, a Bronx man, produced a valid driver's license but improper registration and insurance proof. A computer check revealed the car's PA plate was registered to a different owner and different type of vehicle. The Bronx driver said he had just purchased the car and provided police with a copy of the sales documentation and a PA title signed in his name. He further explained to police that the seller told him he could use the existing license plate until he could obtain proper registration. Police issued the man three summonses – for an unregistered vehicle, improper plates and operating a motor vehicle without insurance. The plate was removed from the car and vouchered for safekeeping for its rightful owner.
Cars and roadways
Police notified Verizon about fallen wires on Walworth Ave. Jan. 7.
Traffic cones were moved closer to the curb near a Griffen Avenue construction site, as per police request Jan. 9.
The highway and water departments addressed a broken water main on Springdale Road Jan. 10.
Eleven car accidents were reported in the village this week.
Civil matters
Police helped an Ogden Road employer and an employee reach a mutual agreement regarding a verbal dispute Jan. 7.
On Jan. 8, a Kingston Road woman reported a monetary dispute with her interior designer. The woman claimed the designer did not deliver furnishings and window shades that the woman already paid for. Police tried to reach the designer to help mediate the dispute, but the designer could not be reached. Police advised the woman to follow up in civil court.
Lost and found
On Jan. 8, a passerby found a wallet on East Parkway. It contained a German driver's license, a Lufthansa ID card, Visa cards and approximately $75 in U.S. currency. Police reached out to a real estate broker, whose business card was inside the wallet. She contacted her German client, and he picked up the wallet from headquarters.
Firefighters
According to Scarsdale Fire Chief James Seymour, firefighters responded to 32 incidents during the reporting period. Seymour shared details of the following incidents below.
On Jan. 7, workers using gas-powered saw to cut concrete in the basement of a Cushman Road house released carbon monoxide into the house. Firefighters advised the workers about safety and ventilated the structure. Scarsdale Volunteer Ambulance Corps was called to evaluate occupants who had been exposed to the CO gas.
A light fixture inside a Morris Lane kitchen was emitting a burning odor Jan. 7. Firefighters disconnected the fixture and advised the homeowner to call an electrician.
On Jan. 8, firefighters assisted Eastchester firefighters and Con Edison representatives check houses for possible gas migration related to a gas leak at the Scarsdale/Eastchester border. No gas readings were detected in any of the structures checked.
Firefighters stood by for Con Edison and shut down a boiler leaking carbon monoxide inside a Kensington Road house Jan. 8. Firefighters assisted with ventilation of the house.
On Jan. 10, firefighters responded to an activated smoke alarm in a Webster Road house. The homeowner, who was not at home, said she left something cooking on the stove on "low." Firefighters entered the house and found a pot on the stove, with food burning inside. They removed the pot to the backyard and ventilated the house. They secured the door upon leaving.
Firefighters assisted with a rollover accident, with injuries, on Mamaroneck Road Jan. 11.
The oil burner of a boiler puffed back in a Greenacres Avenue house Jan. 11.Firefighters shut down the system, identified accumulation of carbon monoxide inside the house and ventilated the house. The resident was advised to call for service.
Firefighters assisted at a motor vehicle accident involving a Beeline bus on Popham Road Jan. 11.
Firefighters assisted at a one-car rollover accident on Mamaroneck Road, with injuries, Jan. 12.
Firefighters ventilated a Wynmor Road house and stood by for Con Edison due to a gas leak at the curb box servicing the house Jan. 13. Firefighters assisted Con Edison in checking other nearby houses, and no gas readings were found.
This report covering police and fire department activity from Jan. 7-13 has been compiled from official information.

This police report is sponsored by Scarsdale Security who does more than just security. Contact them about remote video for your home or business. Call 914-722-2200 or visit their website.
Cannon to Leave School Board, District Announces Retirement of Administrator and Teachers
Nina CannonBoth her board colleagues and the administration appeared to be surprised by school board member Nina Cannon's announcement at the BOE meeting on Monday night that she has decided not to run for a second term on the school board. Well-liked and respected, it was assumed that Cannon would continue to serve and move into a leadership position on the board during her second two-year term.
However, citing the responsibilities of her full-time job at Hunter College, Cannon said she was finding it difficult to manage her professional responsibilities and the time commitments she has as a board member, including attendance at board meetings and liaison assignments. She said, "I value the work we do at the table," but felt that she could not commit to another three years. She assured the board that her "term does not end until June," and vowed to "carry out her commitment."
Cannon has joined a growing list of recent board members who opted to retire after one term on the board. In recent years Joel Gurin, Jonathan Lewis, Sunil Subakrishna and Art Rublin have all decided not to serve a second three year term which left voids for experienced members to assume the roles of board vice president and president.
In June, in addition to Cannon, both Leila Maude and William Natbony will complete their six years of service on the School Board. The newly elected School Board Nominating Committee will now need to nominate three candidates to serve.
In other personnel changes, Assistant Superintendent Drew Patrick announced the following retirements as of July 1, 2019:
Larry Chatzinoff – Assistant Principal at the Scarsdale Middle School
Cheryl Higgins – Teacher at Heathcote Elementary School
Kate Krahl - Social Studies Teacher Scarsdale High School
Deb Krisanda – Teacher at Greenacres Elementary School
Lisa Onofri – Teachers at Heathcote Elementary School
Elizabeth Ungar – Math Teacher at Scarsdale High School
Here is an announcement from the School Board Nominating Committee about their candidate recruitment:
SBNC seeks candidates to nominate for three seats on the Scarsdale School Board: Nina Ledis Cannon not seeking second term on Board of Education.
The School Board Nominating Committee (SBNC) is seeking to identify potential candidates to serve on the Scarsdale Board of Education. The SBNC held its first meeting of 2019 on January 13th and is now engaged in active outreach to build a robust candidate pool.
Over the next several weeks, SBNC members will recruit and review candidates in order to nominate three candidates for the nonpartisan slate in the next school board election. The school board election and budget vote are slated for Tuesday, May 21, 2019. Bill Natbony and Leila Maude are completing their tenures on the board and Nina Ledis Cannon has chosen not to seek renomination.
The SBNC invites all Scarsdale School District residents to propose names of qualified individuals to serve on the Scarsdale Board of Education by email to sbncchair@gmail.com. A candidate must be at least 18 years old, a U.S. citizen, a qualified voter, and a resident of the Scarsdale School District for at least one year prior to the May 21st school board election date. Jordan Copeland, SBNC Chair, stated: "The non-partisan SBNC process is critical to the excellence of our Board of Education and our schools. This year we will be proposing three new candidates for the Board, so this is a rare opportunity for service-minded Scarsdalians to help shape the educational policies that profoundly affect the children of our community."
Interested candidates should complete a biographical information form and submit it via email to the SBNC Chair, Jordan Copeland, at sbncchair@gmail.com as soon as possible, but no later than 5:00 PM on Tuesday, February 26, 2019. Forms are available on the SBNC website at www.scarsdalesbnc.com. Please see the "Join the School Board" tab or contact the SBNC Chair for further information.
Contacts:
Jordan Copeland, Chair
Tanya Singer, Vice Chair
Jill Spieler to Receive the 2019 Scarsdale Bowl Award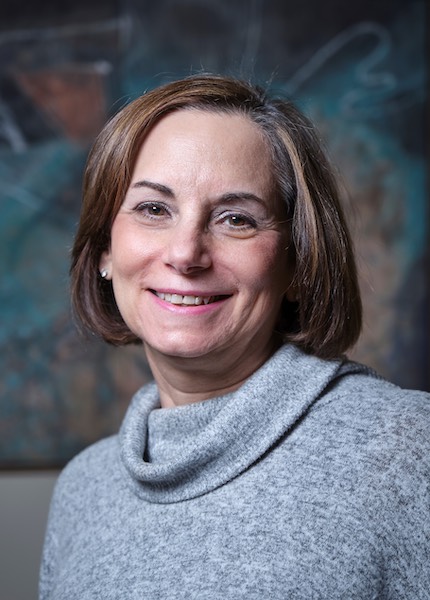 Jill Spieler will receive the 2019 Scarsdale BowlJill Spieler, an extraordinary resident with 40 years of dedicated volunteerism to Scarsdale, will be the 2019 recipient of the community's highest award, the Scarsdale Bowl. The Scarsdale Bowl is awarded annually, since 1943, to recognize an individual's outstanding contribution to the civic institutions of Scarsdale, by giving unselfishly of their time, energy, and effort.
Explaining the decision to award Spieler the Bowl, Deborah Pekarek, Chair of the Scarsdale Bowl Committee, said "Jill Spieler is a Scarsdale gem, contributing in a generous and unselfish fashion, again and again. Her calm demeanor, collaborative spirit, and her desire to find long-lasting solutions to improve and deliver important services for Scarsdale are hallmarks of her volunteerism. Her leadership abilities are extraordinary and span Village, School and other community institutions."
On Sunday January 6, 2019 the Committee voted to honor Jill Spieler, for her extraordinary service to this community. Delegates from the Bowl Committee, including Pekarek, Scarsdale Foundation President Randy Guggenheimer, Foundation Liaison to the Committee Seth Ross and Committee Secretary/Treasurer Abby Sroka together with Committee Members Karen Brew, Karen Ceske and Dorothy Finger arrived at the Spieler home to announce the Committee's selection. When advised of the recognition bestowed upon her Spieler said "I am touched". After allowing the news to sink in she said, "I am just beginning to feel the excitement of this honor, understanding it is a symbol of the community we live in, as I begin to recall all the wonderful Scarsdale volunteers I've had the opportunity to work with over these last 40 years. "
Spieler has a long, distinguished record of volunteer services to Scarsdale and beyond. Spieler began her service to the Scarsdale community in 1981 as a founding member of Kids B.A.S.E and The Little School. She served as a Board Member from 1983-1988 when she became President of the Board. She served a two- year term as President and continued on the Board through 1998. During her tenure, Spieler provided outstanding leadership during the difficult period when Kids B.A.S.E lost its original space in the Scarsdale School facilities. As reported by Jackie Irwin, "Her focus, energy and collaborative skills were critical in the effort between the Village and the program to raise $1.8 million for the current facility adjacent to the pool complex."
Spieler continued her commitment to this community by serving on the Scarsdale Village Board of Ethics, the Advisory Council on Youth, and the Village Parks and Recreation Council, becoming Chair of the Recreation Committee in 2000. Spieler was also an active member of the League of Women Voters and chaired the Voter Service committee.
Spieler also joined the Scarsdale Forum Board in 1999, where she later served as First Vice - President and President. Following her service on the Forum, she was nominated to the Scarsdale Board of Education in 2007 where she served for two terms and was elected President in 2011. She served as President of the Board for two years.
Spieler will be honored at the Scarsdale Bowl dinner on Wednesday evening, April 10th, at Mulino's at Lake Isle, in Eastchester. Pekarek encourages all members of the community to attend: "The Bowl Dinner is a wonderful event thanking an individual for their service to benefit the common good of our beloved Scarsdale." The Bowl Committee will send out invitations in late February. However, one need not receive an invitation in order to attend the dinner, and the Committee encourages all who are interested to sign up for the dinner on the Scarsdale Foundation website starting February 25th.
The Bowl Committee, a diverse group of 15 community volunteers, selects the recipient after reviewing many worthy candidates who are nominated by the community. The annual tradition of awarding the Scarsdale Bowl is maintained by the Scarsdale Foundation. The Foundation engages in a broad range of philanthropy in the Scarsdale community and supports many local institutions. One of its primary functions is funding and distributing need-based scholarships to deserving Scarsdale High School graduates and Scarsdale residents in their sophomore through senior years of college.

The community is invited to join the Bowl Committee on April 10th at Mulino's at Lake Isle in Eastchester, at 6:30 P.M. to honor Jill Spieler who exemplifies Scarsdale's spirit of volunteerism.
Dine Like Royalty at the New Z Prime Italian Steakhouse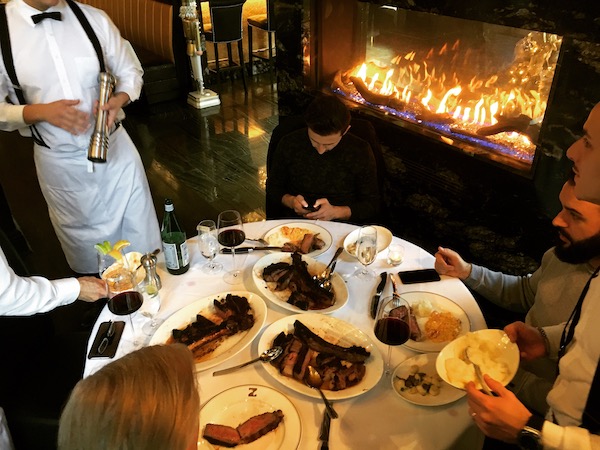 At a time when everything seems to be rushed, it's a joy to enter the new and stunning Z Prime Italian Steakhouse, to enjoy an upscale meal served with care in a luxurious setting. This corner of East Post Road has housed many restaurants through the years. The latest reincarnation is striking. Enter its doors. Are you in Dubai, Las Vegas or perhaps in one of Manhattan's upscale dining emporiums? No, you are right here in White Plains and as you step inside you are transported to a past era, where lavish surroundings were an integral part of the dining experience.

The mastermind behind this new and elegant dining spot is Scarsdale resident Zef Perlleshi. His creative talents are many. He created a palace like atmosphere with love. General manager Duge Perlleshi keeps things running smoothly. Everything here is top of the line, from the fully equipped kitchen to the beef aging box to the fine quality food and service. The capable wait staff offers professional service dressed in black pants, crisp white shirts, black suspenders and bow ties. Zef Perlleshi said, "a visit to our restaurant makes you feel like royalty with quality in food, service and ambiance. We offer the best of all worlds. Our location is convenient for the residents of the surrounding communities who wish to enjoy an upscale dining experience. Perhaps a chain of restaurants is in our future." Perlleshi would have loved to serve Frank Sinatra, Sammy Davis Jr., Jackie O, Marilyn Monroe and Grace Kelly.

To set the scene, the bar and lounge area is quite comfortable. My eye immediately focused on a gold sculpture of a woman above the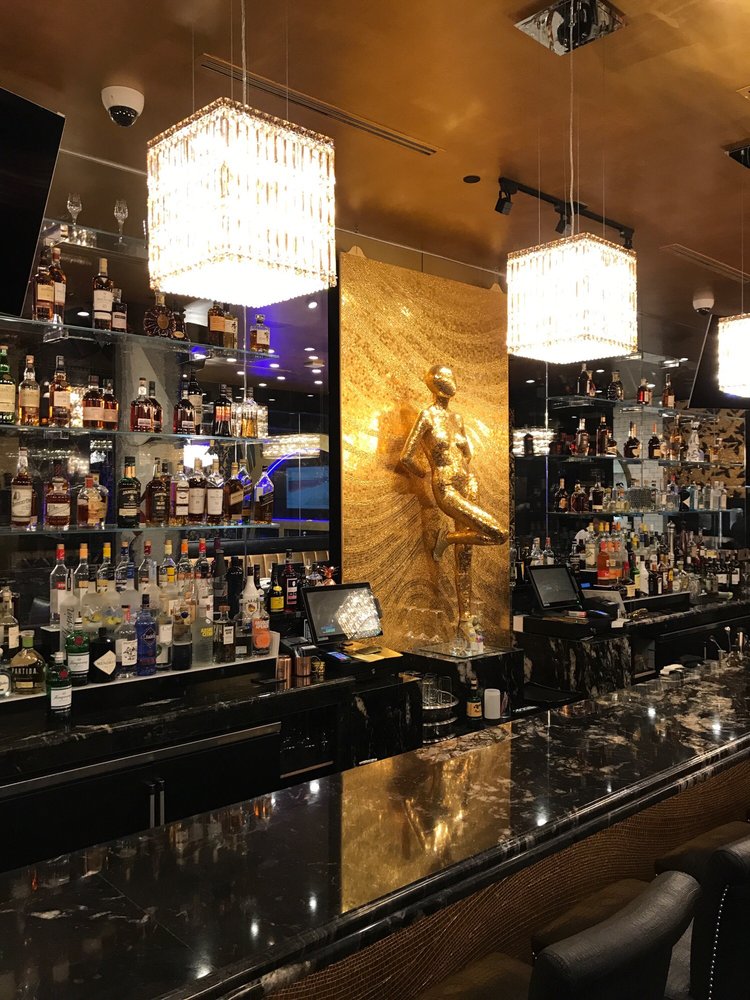 bar, formed from small gold mosaic tiles.

We proceeded to the breathtaking dining room, a vision in gold and black. Sparkling Swarovski crystal chandeliers light the room. The banquettes are upholstered in black and gold leather, walls are covered in tile mosaic patterns and the gold ceiling and flaming fireplaces cast a warm glow on the room and on the guests. Glass doors at the far end of the dining room lead to several private dining areas. What a lovely venue for a celebration. The tables are set with crisp white linens and gold rimmed china monogrammed with a Z.

The carefully designed menu has several raw bar choices to start. Oysters, seafood towers, shrimp cocktail, tuna tartare and wagyu carpaccio are offered. We enjoyed a truly colossal crabmeat cocktail The oversized portion, certainly enough for 2, arrived on a large crushed ice filled container. The crabmeat sat atop it with a sprinkling of radicchio. A tangy cocktail sauce and spicy white horseradish and fresh lemon completed this fresh and abundant starter. On future visits, I might try sautéed mussels, Wagyu meatballs, grilled octopus, slab bacon or crabcake. For a lighter starter, several soups and salads are available. The Z prime arugula and cranberry salad with pine nuts, manchego and parmesan cheeses with a champagne vinaigrette would be a fine beginning.

On to the main event. Filet mignon, black and blue, perfectly cooked, was my steak of choice. It was succulent, tender and divine. Future visits might include New York strip, bone in rib eye, porterhouse or perhaps a veal chop, Colorado lamb or Berkshire pork chop. Z has its own aging box, in house, where the beef is dry aged for up to 35 days. Side dishes include traditional steakhouse choices of creamed spinach and hash browned potatoes and much more. There are Brussels sprouts with pancetta, caramelized onions and lemon, broccoli rabe with sautéed cherry peppers, loaded potatoes au gratin with bacon, cheddar and smoked gouda which each sounded great. We were blown away by the lobster creamed corn. This generous dish of corn off the cob, with large chunks of lobster meat, bacon, mascarpone and parmesan cheese was a creative and outstanding dish. Savoring this unique side dish with my tender filet mignon was a taste of heaven. Several sauces were offered to accompany the steak from hollandaise to béarnaise, red wine and au poivre but for me it would have been a pity to mask the texture and taste of my filet with any sauce.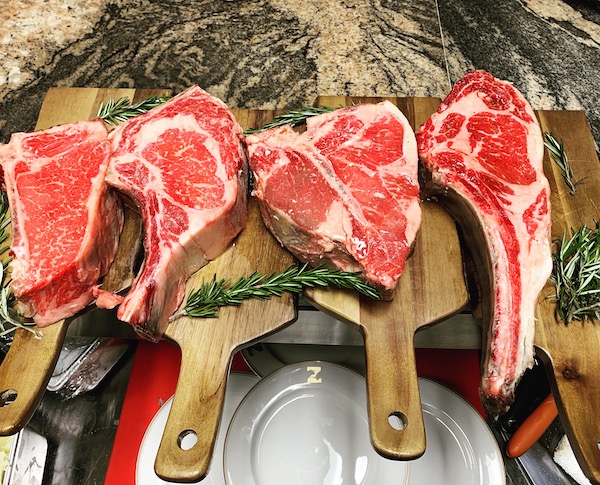 There are several seafood entrees, each with interesting preparations. Would it be branzino with cherry tomatoes, nicoise olives and capers, sesame encrusted ahi tuna with a soy ginger glaze or perhaps a whole lobster with infused drawn butter? We chose the salmon which arrived on a cedar plank topped with a crabmeat and sun dried tomato cream sauce. The topping enhanced the fish without overpowering its fresh taste.

Since Z is a prime Italian steakhouse, several Italian inspired dishes are offered. Here is pollo parmesan, piccata di vitello, black truffle gnocchi and a delightful sounding lobster arrabiata with capelllini, butter poached lobster, San Marzano tomatoes and a touch of chili flakes.

Several dolci sounded excellent, but I passed on dessert so I could keep the memory of my superb steak and side dishes with me. Perhaps my next visit will include ricotta donuts, tartuffo, big apple pie, or gelato or sorbetto. An international wine list has many selections to accompany your meal.

At lunch you may start with soup or an arugula salad. Follow that with an entrée salad of lobster Cobb, seared tuna, steakhouse salad or Cajun salmon. You may choose from a selection of burgers and sandwiches. There is a brunch burger with wagyu beef, avocado, smoked bacon, cheddar and fried egg, wagyu meatball sandwich, Philly cheese steak, crab cake or an extravagant millionaire burger with Wagyu beef of the finest quality, shaved black truffles, foie gras and pink Himalayan salt.(Check the price on that burger before ordering it.)

With Frank Sinatra melodies in the background, singing "My Way", I concluded that Zef Perlleshi created the new upscale Z prime Italian Steakhouse "his way". From ambiance to food and service it is a fine addition to the Westchester dining scene. Enjoy a special lunch or dinner at Z where fine food, and a lush setting combine for a lovely dining experience.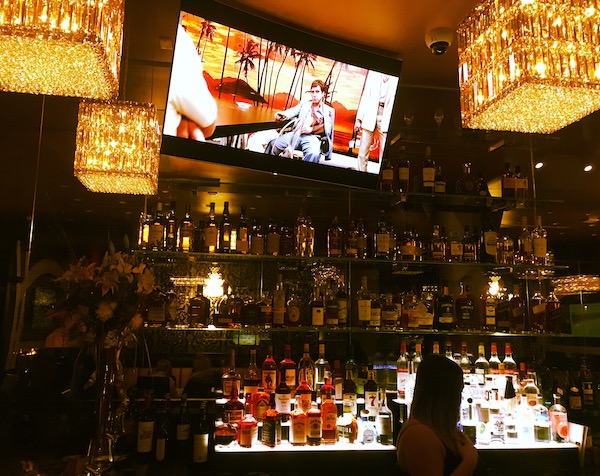 Z Prime Italian Steakhouse
189 East Post Road
White Plains
914-682-0011
https://zprime.com/
Demographer Provides 5-Year Enrollment Projection for the Scarsdale Schools
Details

Category: School News
Published:

15 January 2019

Written by

Joanne Wallenstein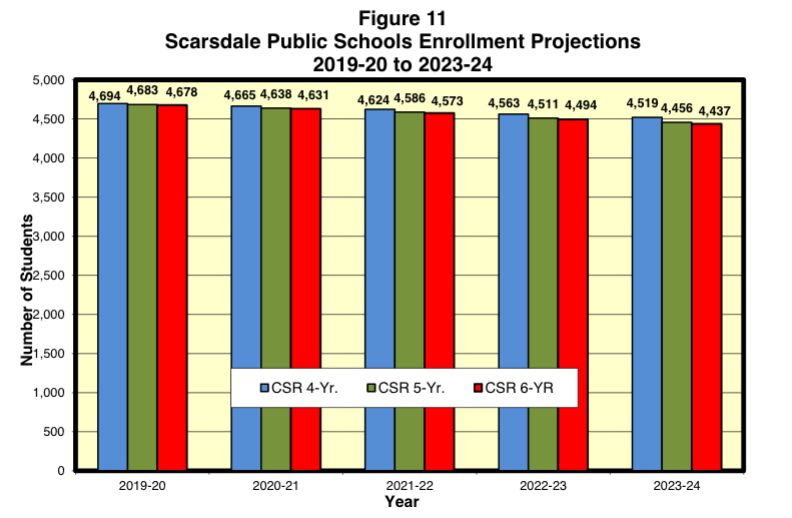 It was somewhat of a surprise last spring to learn that projected enrollment for kindergarten in Scarsdale was down – way down. Though traditionally each elementary school had three kindergarten classes, a steep dip in 5 year olds – and their parents – caused kindergarten enrollment to drop by 66 students for the 2018-19 school year. This meant three fewer kindergarten class sections and concern about what the long-range picture might be.
Administrators conjectured that changes in the tax laws had discouraged home buyers. A trend to keep children in preschool for an additional year had delayed enrollment in school and also contributed to the dip.
Now, as the district begins the budgeting process for 2019-20, Assistant Superintendent Drew Patrick invited demographer Richard S. Grip to attend the January 14 meeting of the Board of Education and present his projection of five-year enrollment trends for Scarsdale.
Why can he only project for five years? Grip had a very good response. He explained that a big factor in enrollment projections are birth rates. Given that kindergartners are only five when then enter school, he said it was difficult to project enrollment of those who have not yet been born.
Before discussing projections, Grip provided a demographic analysis of the Scarsdale community, based on numbers from the 2012-2016 American Community Survey. Here are a few interesting facts:
Diversity: The community as of 2016 was 81.4% White and 14% Asian. 22.9% of residents were foreign born.
Residents are highly educated – 87.9% have a bachelors degree and 57.2% have a graduate or professional degree.
The median family income was reported at $250,000 plus.
There were 5,863 households with a median value of $1,311,900.
Grip also provided an analysis of the age distribution of Scarsdale's population and it was interesting to note the large population of children and adults from 40 – 60, with a pronounced dearth of residents between the ages of 20 -35.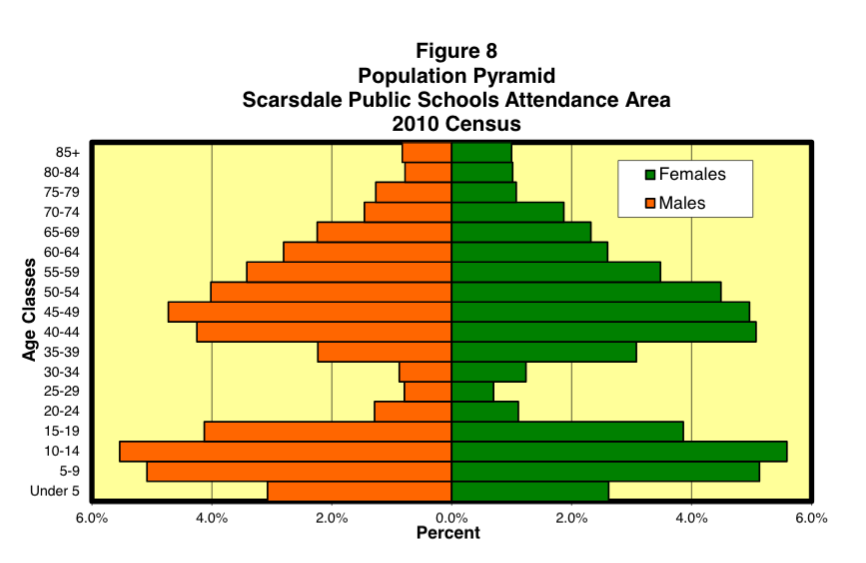 Turning to his projections, Grip introduced the concept of "Kindergarten Replacement" saying, "The district has experienced negative kindergarten replacement in eight of the last nine years. Negative kindergarten replacement occurs when the number of graduating 12th grade students is larger than the number of kindergarten students replacing them in the next year." He said Scarsdale has experienced negative kindergarten replacement in eight of the last nine years. However, these losses were partially offset by children who moved in for higher grades and reduced the overall loss.
Using data about births, fertility, housing starts and home sales Grip provided projections for the school population for the next five years. His medium projection forecasts expects to see a decrease of 227 students in the next five years. He anticipates that the total school population will drop from 4,683 in 2019-20 to 4,456 in 2023-24. Between 2009 and 2018, overall enrollment in the Scarsdale Schools ranged from a low of 4,726 to a high of 4,821, so these new numbers are somewhat sobering.
His projections for incoming kindergartners hold steady at around 280 per year, which is higher than the 259 students enrolled this school year, but nowhere hear 2013-14 when 350 students enrolled.
Despite this dip, overall, Grip was very optimistic about the future of the district. He said, "This is an excellent district and people are clamoring to get in."
Where Your Village Taxes Go
Details

Category: Village Voices
Published:

15 January 2019

Written by

Joanne Wallenstein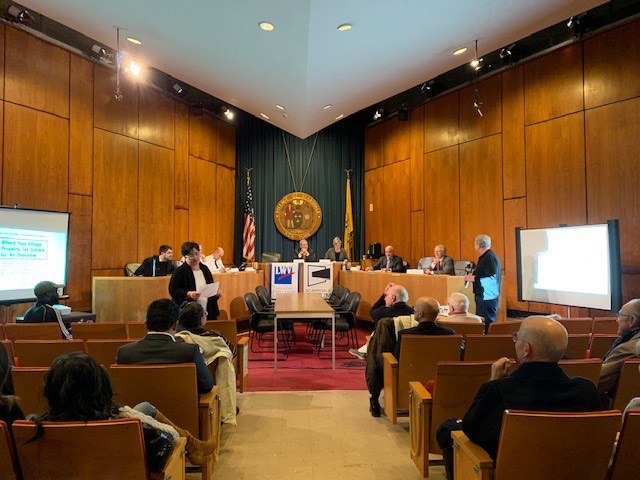 Though the portion of your real estate taxes that goes to Scarsdale Village only accounts for 18.3% of the total bill, the services they fund are perhaps the most visible manifestation of your payment. Many residents are not clear on which department is providing which service and how their tax payments are being spent. In an effort to enlighten the public on just what the Village does, the Scarsdale Forum and League of Women Voters presented a session called "Where Your Village Property Tax Dollars Go: An Overview" at Village Hall on Thursday January 10, 2019. You can watch the presentation on video here:
The program was well attended and included presentations from Village Manager Steve Pappalardo, Village Treasurer Mary Lou McClure, Benny Salanitro head of the Department of Public Works, Police Chief Andrew Matturro and Fire Chief Jim Seymour. They explained how the annual $56.5 million in Village taxes are spent.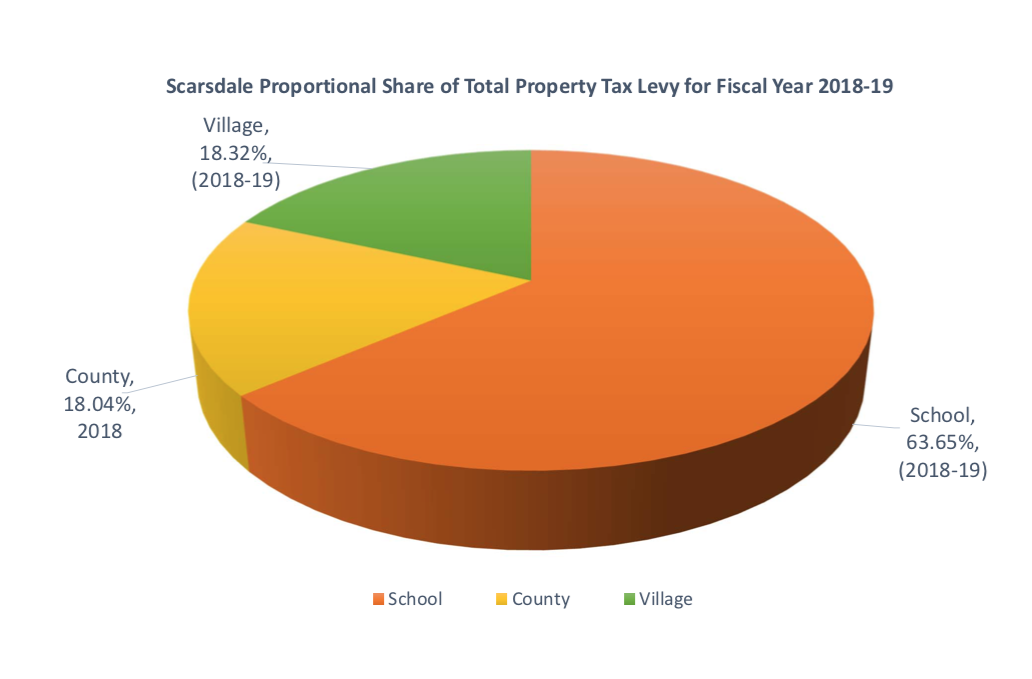 Here are just a few facts that may surprise you:
Scarsdale has 91 miles of roadways – 78 miles are owned by the Village and the rest by the county and the state.
5 miles of roads were repaved and 8,000 linear feet of curbing were installed in 2018
The Department of Public Works collected 4,100 tons of fall leaves in 2018.
The Sanitation Division collected approximately 6,700 tons of solid waste, 8,000 tons of organics, 650 tons of co-mingled recyclables, 1,800 tons of newspapers, 14.8 tons of textiles in 2018.
In 2018 the Scarsdale Fire Department responded to 1,778 calls, an increase of 343 over 2017. Why? Chief Seymour says, "My best conclusion was that the automatic aid agreement added roughly 24 responses and there were two significant storms (3/2 & 9/25) in which handed us 50 responses for each. Lastly, through social media and word of mouth, we have really increased our efforts to educate our residents to call us when they need us."
And Police Chief Andrew Matturo reported that the average response time for police for priority calls in 2018 was 4.05 minutes and for all calls was 4.40 minutes.
What is the cost of these services per household?
The average household pays $832 a year for roads, sanitation and facilities maintenance.
The average household pays $751 for police protection.
The average household pays $629 a year for fire protection.
Another question often asked, is how do our local taxes compare to those paid by residents of neighboring municipalities. It turns out that our rates are pretty favorable.
Village Treasures Mary Lou McClure presented the following bill that compares property taxes in Scarsdale against taxes in Larchmont and Pelham Manor for homes of a similar assessed value: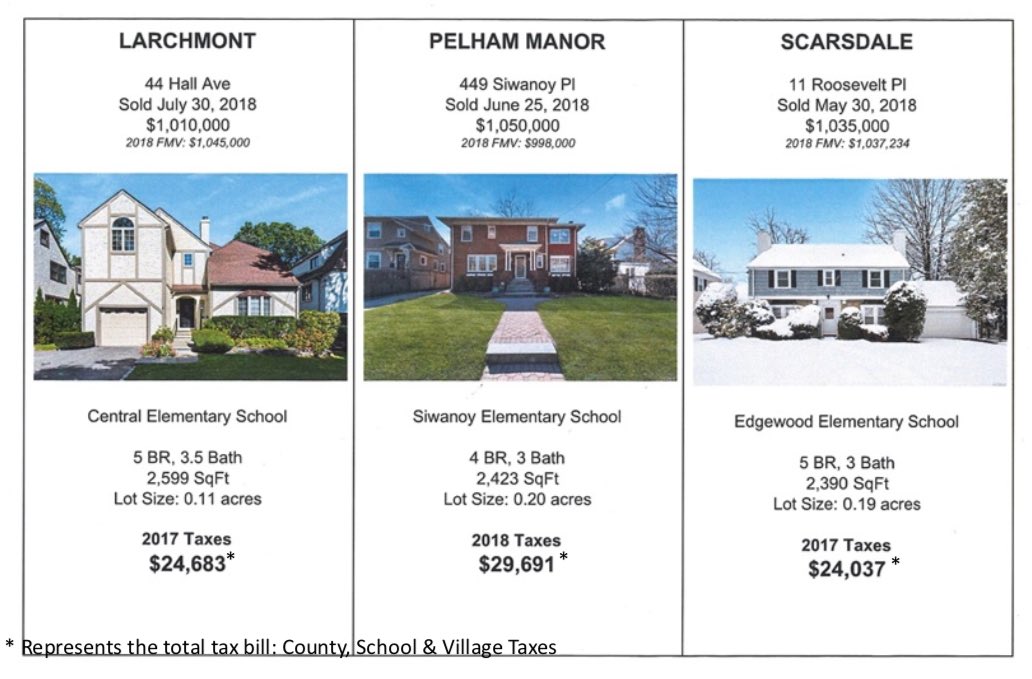 And how does Moody's rate Scarsdale's debt? McClure reported that Scarsdale has an Aaa rating which "reflects the village's sound financial position with healthy reserves and history of stable operations, affluent and sizeable tax base favorably located near New York City and manageable fixed costs. The rating also reflects moderate pension and OPEB liabilities."
Following the presentation, the audience was given the chance to ask a few questions. The first asked if the Village of Scarsdale has considered consolidating services with other municipalities. Village Pappalardo replied that "yes" the Village had considered this many times and is doing what it can to share services with neighboring municipalities without doing a wholesale consolidation. Fire Chief Seymour noted mutual aid agreements with other fire departments to respond to fires in Eastchester and Greenburgh and to have their forces back ours as well.
Another asked if the Recreation Department was self supporting. Village Manager Pappalardo said that the Rec Department puts on 150 programs and 65% of their expenses are covered for fees collected by users. However, the cost to manage the department and maintain the facilities are covered by taxes rather than fees.
To a question about the development of the Freightway site, Pappalardo said, "We have seven responses from developers. The Board is discussing next steps – including drafting an RFP. There is a public comments session on January 22 at 6:30 and you can see all the documents online under "planning."
To a question about upgrading Village Hall, Pappalardo said, "There is nothing in the budget now, though it will have to be addressed sometime. We need $1.5 million just to upgrade Rutherford Hall. The whole building needs a lot of work."
Dara Gruenberg who spearheaded the event said, "I am thrilled that the LWVS and Forum collaborated which is unprecedented. The feedback I have received from many who attended and aren't involved in the Village was that it was very informative and clear. We marketed it to the real estate agencies and a lot of brokers came. I think there were 60 people there. So overall a success! Huge thanks to the LWVS, the Forum, Village Staff, and the committee that worked so hard to put this together."