The Centennial Graduation at Scarsdale High School
Details

Category: Schools
Published on

26 June 2017

Written by

Joanne Wallenstein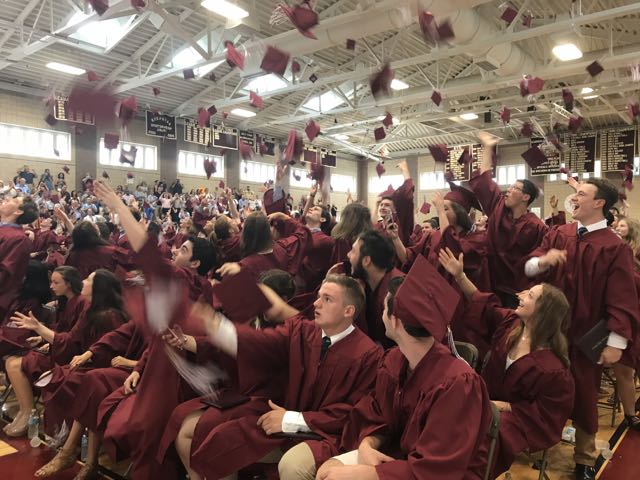 Threats of thundershowers brought the graduation for the SHS Class of 2017 indoors but did not dampen the spirits of the happy seniors and their family and friends. Almost 400 students graduated in the 100th commencement exercise at Scarsdale High School on Friday June 23, 2017. Due to the weather, each student was given two tickets for admission to the gym, with the overflow crowd watching the ceremonies on a large screen in the auditorium. In the end, the rain did not start until well after the ceremony, giving everyone a chance for family photos outside.
The class assembled for the last time for a group picture,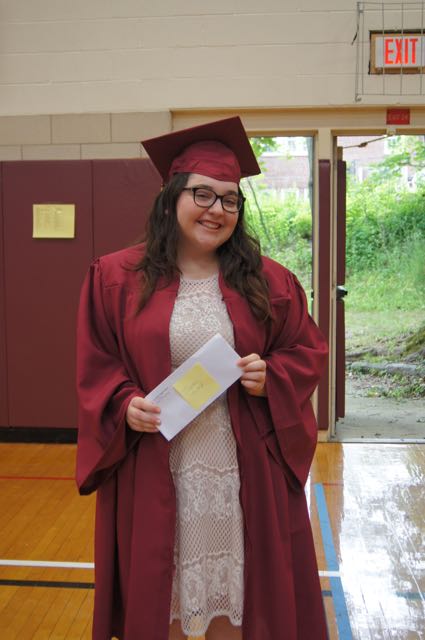 and SHS Senior Caroline Kaufman was presented with the Henry David Thoreau award for marching to the beat of a different drum. Sabeen Khan explained that the class would mark the centennial by burying a time capsule in the new courtyard to be built at the school. She had collected memorabilia including ten memes from the freshmen class, a Raiders jersey from the sophomores and the New York Times from the juniors. The seniors voted to include an iPhone. The time capsule will be unearthed one hundred years from now in the year 3017.
Lee Maude, who is just completing two years as President of the Scarsdale School Board welcomed the crowd and congratulated parents on the "extraordinary effort that that got (your) kids here today. She told students that they will take the Scarsdale High School experience with them and advised them to work collaboratively, to maintain lifelong relationships with friends, teachers, coaches and mentors and to use what they have learned to "engage in the world as a productive and informed citizen." She asked them to "listen, consider all views and engage in civil conversation" and to live the motto, "Non Sibi." Maude also encouraged the grads to wander off the beaten path, try new subjects, experience the unknowns and "all that life has to offer."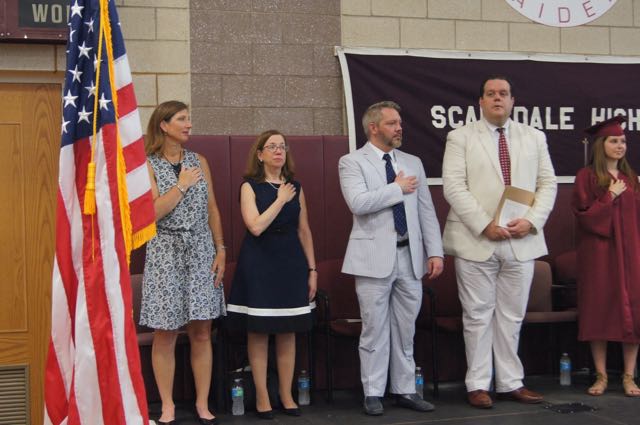 Class Treasurers Chloe Suzman and Zach Gelles introduced the class faculty advisor Eileen Cagner and Heather Waters, calling them the "dynamic duo" who led the class with patience and passion.
The advisors' enthusiasm for the class was clear. Waters exclaimed, "You did it, and you did it with style!" They complimented the students on their dance moves, their sense of community and service to others. They advised them to be kind to themselves and to others and to be nice and stay positive. Quoting from Willy Wonka, the senior class play, Cagner said:
"If you want to view paradise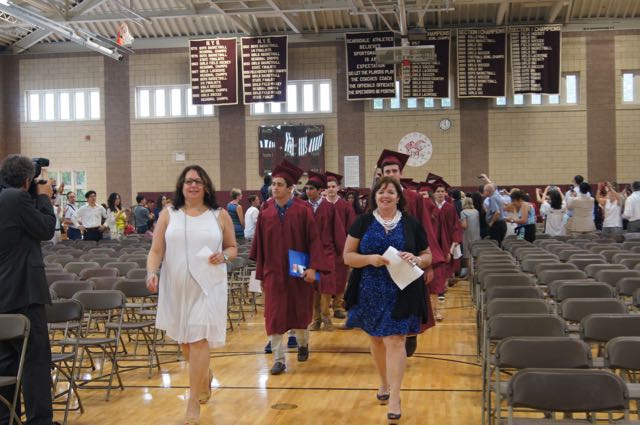 Simply look around and view it
Anything you want to, do it
Wanta change the world?
There's nothing to it"
Class President Alex Lane noted the inclusivity of the class, saying, "We found a way to come together. We went beyond our core group of friends and bonded with others." At the prom he noticed, "Crazy inclusivity and togetherness." He said, "I hope that wherever you end up you find a way to feel exactly as I do now. I hope your find a web of special people. I am grateful that you have been part of my web."
SHS Principal Ken Bonamo looked back on Scarsdale history 100 years ago, explaining that women did not have the right to vote, less than a third of adolescents were in school and the word "teenager" had not yet been invented. He told the students that they would be called on to face the next big problems and said that commencement marked "the beginning of the phase when more will be asked of you to make the world a better place." He continued, "All of us gathered here today have the shared hope that you will have a life of intellectual engagement, a life filled with purpose, a life filled with love... Leave a legacy of love... Look at yourselves and love what you see. ... Infuse love in your work, in your relationships and in your self regard. Bonamo parting words were, "I wish you all a wonderful graduation day and health and happiness in the future."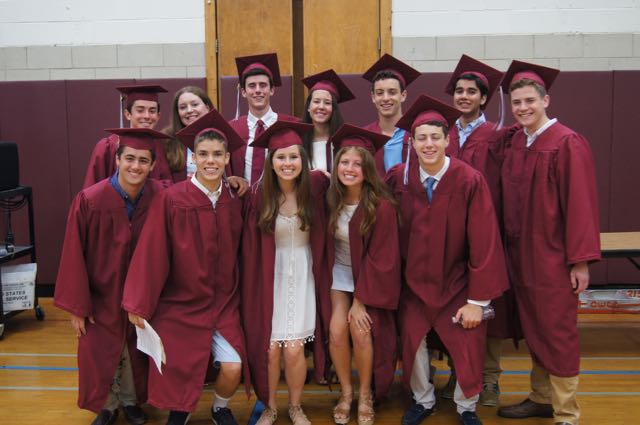 With that, Superintendent Thomas Hagerman asked, "Have these seniors met the requirements for high school graduation imposed by the Regents of the State University of New York, the Commissioner of Education and the Board of Education?" He certified them as graduates of Scarsdale High School, bid them to go forth and with that, each students was given his or her diploma.
Watch the ceremony online here:


A School Graduation Proceeds Rain and Shine
Details

Category: Parenting
Published on

26 June 2017

Written by

Louisa Blatt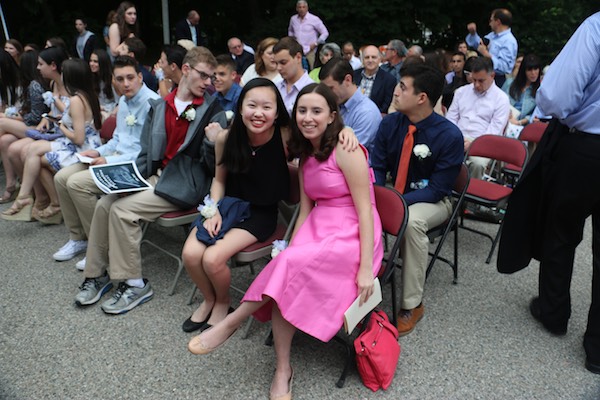 The rain couldn't put a damper on anyone's mood at the Scarsdale Alternative School's senior graduation. Due to SAS's small size and personal nature, its graduating ceremony was touching and personalized. Each of the A School teachers presented on a handful of advisees, telling wonderful stories about each student until all 28 have been uniquely celebrated. Well, in this case, 29. Director of the A School and A School teacher, Howard Rodstein, graduated with the class of 2017 onto retirement. It was a very emotional occasion, filled with tears and hugs. Underclassmen also contributed by presenting gifts to the seniors and organizing the event. Though the ceremony had to be moved inside in the middle, it continued to be lovely. Senior Aaron Hirsch closed the ceremony with an address to his classmates, explaining as best as he could what the A School truly means.
Update on School Facilities Planning: Construction Concerns, Timing, Setbacks and More
Details

Category: The Goods
Published on

22 June 2017

Written by

Joanne Wallenstein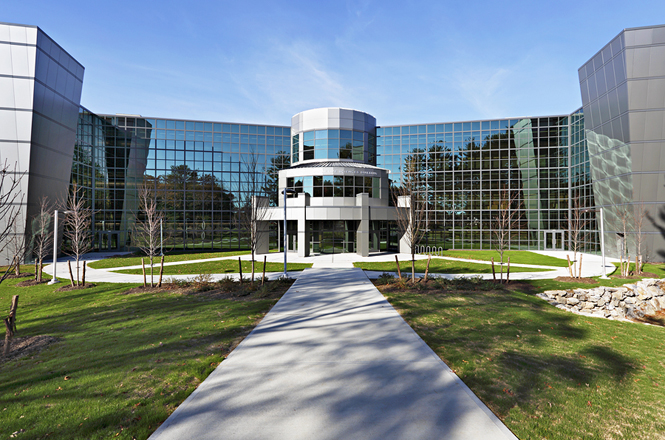 The Scarsdale School administration and architect offered some new information on facilities plans at two public forums on June 20. At meetings on May 22 and June 12, district architects BBS reported on their assessment of district- wide facilities needs and presented their recommendations for facilities updates and the addition of cafeterias at three elementary schools and a major overhaul and expansion at Greenacres. The June 20 sessions were held to answer community questions about the proposed projects.
Both meetings included a summary review of what was already presented but here is some new information that was revealed:
At the opening of both the morning and evening public forums, School Board Vice President Bill Natbony announced that the Board had requested analyses and information from the architects and financial advisors that they will make available to the public when they receive it.
They have asked for the following:
A long-term comparison of the costs of a new school vs. a renovation at Greenacres including financing, state aid and energy savings. Maintenance costs for the renovated building will also be factored in.
An analysis of where students will be sited during a renovation, whether it be inside the school, in trailers or in other locations.
A traffic study detailing the mechanics of student drop-off and pick up at a renovated Greenacres School.
Read Natbony's statement here: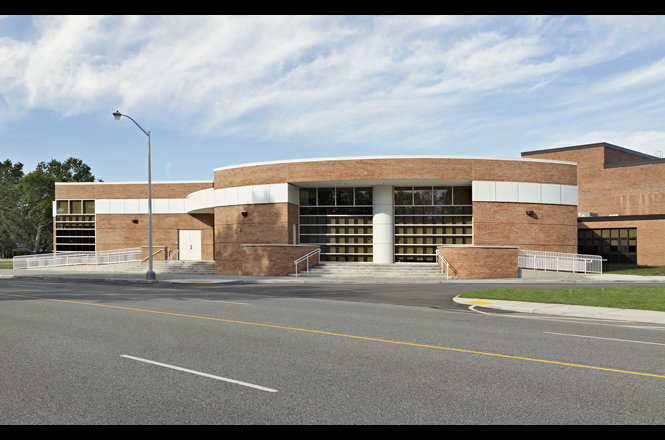 Timing: Roger Smith, the principal from BBS said the firm was moving toward a December, 2017 bond referendum, but cautioned that the date might be "a push" given all the questions that need to be answered before a vote. Also in regards to timing, Board Vice President Bill Natbony added that the Board is considering holding additional community meetings this summer to consider these issues.
Historic Preservation: Smith said that he spoke to the NYS Parks and Recreation Department about Greenacres and now says that the existing building may be appropriate for historic preservation and might not be "eligible for demolition." That was curious because if the building warrants historic preservation, the architects would be required to maintain the facades. Plans now call for two of those facades to be demolished.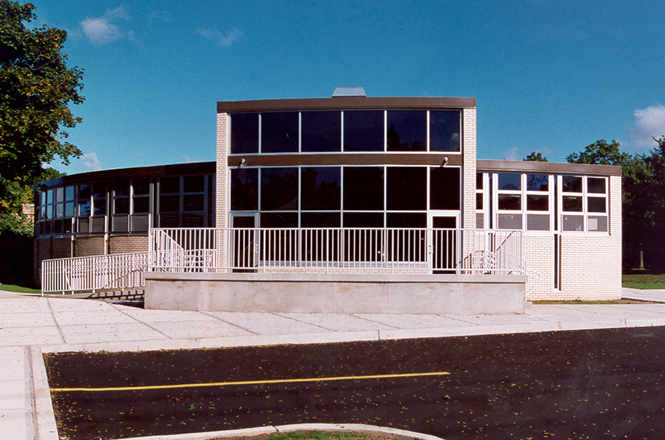 Setbacks: Plans call for the building to be expanded almost to the street on both the Huntington Avenue and Putnam Road sides. Just how far the school would extend had not been revealed and no renderings, aerial views or elevations have been provided. When asked, the architects said that on Huntington Avenue, the three-story building would be built to within eight to ten feet of the property line. The large building looming over the sidewalk may be a visual obstruction and it is difficult to imagine where children will line up to cross the street to the field, if only the sidewalk remains. In this area of Greenacres, which is in zone A3, zoning code requires homes be set back 30 feet from the curb, three times the distance proposed for the school. However, school construction is not subject to review by the Village Architectural Review or Zoning Boards.
Parking: The architects' schematic calls for 28 additional parking spaces to be built across the street on the area that is now the blacktop. Since the parking spaces on the school side of the street would be lost, more spaces will be needed. However, one speaker noted that if the parking lot was placed there, the children would need to traverse it to get from the school to the field and playground.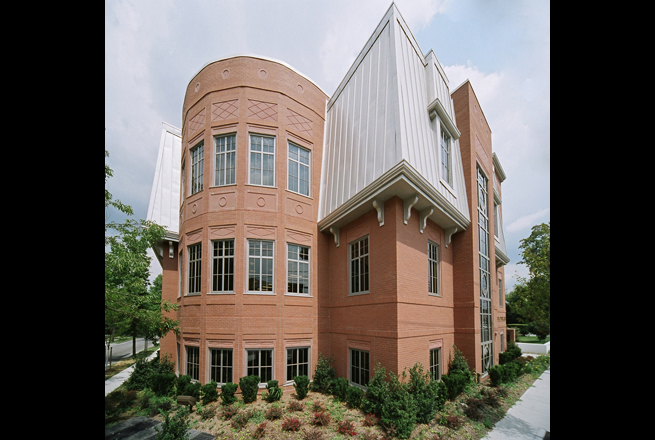 There were many questions and comments at both the morning and evening sessions. Those who wish to save the Greenacres field reiterated their views on the importance of the green space while parents who will have children in the school during the proposed renovation voiced their concerns about the risks of renovation to their children's health. Older residents, primarily from Greenacres, shared their feelings about the school and proposed solutions to forge consensus.
Thomas Giuffra, the father of a 7 year-old and a lawyer who deals with lead contamination raised the risks of lead exposure to children and adults of all ages and asked that the children be removed from the school during renovation. Pointing to the environmental engineer he said, "People like you make promises they can't keep and other people get hurt." He also asked if the entire building would be brought up to code during the renovation with fire sprinklers throughout the building. That question was not answered.
Responding to parents who were concerned about environmental toxins during renovation, Dr. Hagerman defended the safety of the renovation pointing to two large homes that were built on Sage Terrace across from the school in the past few years. He said though there were few safeguards for those projects, there would be many controls in place during a school renovation. The environmental engineer at the meeting said there would be continuous air testing and Assistant Superintendent Stuart Mattey said asbestos removal and lead abatement would be done when the children were not in the school.
There was much discussion about the BBS cost estimate of $59 million for a new school, almost double the estimate for the renovation. Some came to the mic to ask for an apples-to-apples comparison of the features of a new vs. a renovated school. Would the new school include an auditorium or theater? They asked for more details on the design of the renovated facility and the new school. How large will the maker space be? Will it be light and look like a 21st century school? Another new voice asked for a qualitative analysis of a new vs. a renovated school, focusing on factors beyond the money, to give residents a framework beyond the money.
When asked about the life span of the renovation, Smith said it would be 30-40 years. He contended that the portions that are 100 years old are still good as well.
There were still many questions to be addressed:
Foremost, parents wanted to know how the construction will be staged, where the construction equipment will be placed and how the school will function during this two to three year renovation. Smith said the district has hired a construction management firm that will analyze the work plan and provide a construction implementation plan (CIP).
In response to a question about how lunchrooms would be staffed, Stuart Mattey advised that there would be self-funded food service that would not require staffing for food service but would require district management. There was no discussion of how food would be delivered or waste picked up in tight neighborhoods or the need for additional parking spaces to accommodate the workers.
The architects have prioritized all facilities needs on a scale of 1 to 5. There has been no discussion as yet about why, for instance, priority 3 items at many schools were included in the numbers for the bond proposal or how pressing these needs were.
Next steps: There is a Board of Education meeting and a Board retreat scheduled for July 6th. A refined presentation from the architects is expected at that time.
You can watch both forums in their entirety on the school district's website here:
(Pictured here are schools designed by BBS – photos from their website.)
Same-Sex Parenting in Westchester
Details

Category: Parenting
Published on

21 June 2017

Written by

Stacie M. Waldman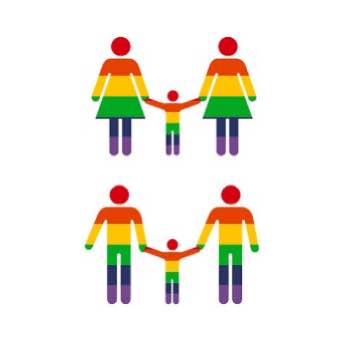 When I set out to write an article on same-sex parenting in Scarsdale, I did not expect to come back completely empty-handed. I received referrals for same-sex couples living in other nearby towns and I had people write to me saying they didn't know of any personally in Scarsdale but they'd be welcome and accepted with open arms. When I finally found a dad who was raising kids with his husband in Scarsdale and was willing to chat with me he ilet me know that there are actually four other gay couples raising children together within his area of Scarsdale. Is there anything that Scarsdale, as a village, can do to encourage more same-sex parents, parents-to-be and couples to move here? Is Scarsdale a "gay friendly" place to raise a family?
I had the opportunity to speak with him as well as two lesbian couples who are raising their kids in Edgemont and Mt. Vernon. Their names have been changed for privacy. Here is what they shared:

Lilly and her wife and moved to Edgemont in 2000; shortly thereafter their first child was born. "We moved from the city with the intent of having kids. We considered going to towns that had more diversity and other families with same-sex parents," she said. "We considered the river towns in Westchester as well as Montclair, New Jersey. We ultimately settled on Edgemont because we thought that even though we'd likely be the only same-sex couple here, we knew the schools were top notch and felt that although not diverse, people would be accepting of our less traditional family," she added. This actually turned out to be true on all fronts; Lilly and her wife have found Edgemont as a whole to be entirely accepting of their family and for the first 15 years here did not meet another gay couple in Edgemont.
Phoebe has been surprised at the number of gay couples she has met here in Westchester. She and her wife moved from Brooklyn after their first baby was born; like most, they needed to get out of the city and into the suburbs. "We picked lower Westchester for the commute and because it's a larger, educated population so we thought we'd probably feel less discrimination towards and more acceptance of our family," she said. They scouted the area, picked a home in Mt. Vernon and soon after had their second child. Their kids are now three and one and they are thinking of moving before the kids start elementary school to be in a better school system within Westchester.
I asked both women and the Scarsdale man how it has been so far raising kids in lower Westchester. "Starting in Kindergarten, we made it clear to the teachers that our child has two mothers," said Lilly. "From there it just became known and there was never a need to proactively announce it. No one ever flinched at all." Lilly and her wife were particularly impressed with Edgemont schools when it came time to make cards for mom/dad holidays. "They'd suggest that our kids make something for a grandfather or uncle for Father's Day and for Mother's Day they would come home with two cards, one for each of us." As far as other kids in Edgemont, "...we found that kids' values often reflect parents' values," Lilly responded. They did have fears that their kids would be bullied or singled out for having two moms but this never happened. "There have been some uncomfortable situations, like kids asking how it's even possible to have two moms," she added. She thinks Westchester County in general is accepting of LGBT families but that homophobia does still exist.
Phoebe and her wife have been pleasantly surprised with their reception in Westchester. "We've met quite a few gay couples and met two PTA heads at private religious schools that are both same-sex parents. I run the LGBT Tri-State Facebook group which has put us in touch with similar families all over Westchester. We've met LGBT people who live with their families in Yonkers, Dobbs Ferry, Eastchester, Tuckahoe, White Plains...they're everywhere." She added, "I don't think we are facing anything different here than we'd be facing anywhere else." Phoebe did once recall going to a fundraiser where a guy who had too much to drink cornered them and asked when he could meet the father. "I think he meant it as a joke," Phoebe said, "but it definitely set us back a bit." Although Phoebe didn't think it's specific to Westchester, she said that one of the hardest things for gay couples with kids is if your child doesn't biologically resemble you. This is likely an issue for parents of adopted children who are a different race or ethnicity. "People often feel like they have a right to ask uncomfortable questions."
The Scarsdale man thinks that Scarsdale is a fabulous place to raise kids as a same-sex couple. He has absolutely no complaints and believes the situation couldn't be more ideal. As a member of the community, he thinks it's a total non-issue being gay in the community. It has been remarkably inclusive. At school he has noticed that mother's day is referred to as parents' day and various inclusive book suggestions have come home that they appreciated.
Are there other towns in Westchester that seem to have more gay couples? Lilly responded, "We have friends in New Rochelle who are gay and they're definitely not the only ones in that town like we are in our town. The river towns have more diversity and more same-sex couples. That being said, I was recently out walking our dog and I bumped into a couple of guys who are a gay couple in Edgemont. They don't have kids and as far as I know they are the only other same-sex couple in-town." Phoebe lives in Mt. Vernon but sends her daughter to preschool in Bronxville. "Bronxville has never really felt comfortable for us," she said. "It has always seemed kind of stuffy. Everyone seems to love Pelham!" The Scarsdale man said that Montclair, NJ is becoming a hub for same-sex couples raising kids.
Noel D'Allacco sits on Rob Astorino's LGBT Advisory Board for Westchester County. Although not gay herself, she has been on the board for 3-4 years and advises the County Executive in cases of possible discrimination. There have been almost no issues during her tenure on the board. However during this year's gay pride parade in White Plains, cars were vandalized with hateful messages against gay people. "The biggest issues in Westchester County surrounding gay people are really with the youth counseling services and supportive things like that," Noel voiced. She encouraged anyone seeking support and a community to check out the Loft in White Plains.
So, it seems that Scarsdale remains a progressive community that has been inclusive and accepting of families with same-sex parents and would be welcome more same-sex couples/LGBT families. The Scarsdale man said that it would help for straight couples to proactively discuss the possibility of kids having two moms or two dads with school-age children. He isn't sure what the community could do to invite more same-sex couples to consider Scarsdale as a place to live and raise a family but he thought this article could help position Scarsdale as an inclusive and comfortable place to be gay and raise a family. Mostly, he wanted to say a big thank you to Scarsdale for doing exactly that.
Fireworks Spectacular on Thursday June 29th, Carnival on July 4th at the Pool
Details

Category: Village Voices
Published on

19 June 2017

Written by

Joanne Wallenstein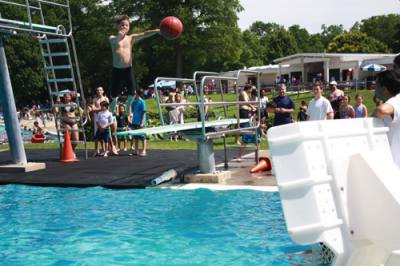 The Scarsdale Parks and Recreation Department have announced the annual fireworks spectacular and the July 4th carnival at the Scarsdale Pool Complex.

Fireworks Spectacular (Thursday, June 29th)

Scarsdale's Annual Fireworks Spectacular, open to the public, will be presented at the Scarsdale Pool on Thursday, June 29th, at 9:15 PM. Returning to the spectacular will be a performance by the Westchester Band at 7:30PM. Please note that a $2.00 fee will be charged to all non-pool members entering the pool starting at 5PM in conjunction with the scheduled fireworks. Beginning at 8PM ALL individuals entering the Pool Complex will be charged $2.00. Picnicking is allowed on the grounds, but alcoholic beverages and smoking are not permitted. Pool members wishing to avoid paying the $2 fee are advised to enter the pool facility before 8PM.

July 4th Carnival (Tuesday, July 4th)

Throughout the day on Tuesday, July 4th, there will be a variety of carnival attractions and aquatic games at the Scarsdale Municipal Pool between the hours of 11:00 AM and 4:00 PM. A DJ will be on hand playing music! Picnicking will be allowed in the pool complex during the day as well, but alcoholic beverages and glass containers are forbidden.

School Board to Consider Revisions to Residency Requirements
Details

Category: Around Town
Published on

21 June 2017

Written by

Joanne Wallenstein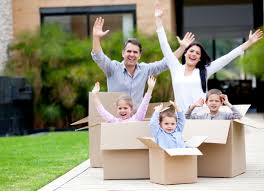 A much discussed policy on the admittance of non-resident students has been revised by the district lawyers and will be voted on at the meeting of the Scarsdale School Board on July 6th. At the end of the June 12 meeting, where they was a first reading, Dr. Hagerman announced that these were in the agenda but did not read or explain the changes. There was no board discussion about the policies at that time.
Policy 5152 dictates rules for the admission of non-resident students to district schools. After the district got more stringent about enforcing these rules during the school year, complaints emerged, specifically from divorced parents and those whose homes were being renovated.
You can view the proposed revisions here:
Here is a review of the changes:
First, the old policy said that the district will accept tuition paying students under limited circumstances, and with the approval of the Superintendent and Board of Education. In the new policy, "the Board of Education" has been eliminated, and instead says, "with the approval of the Superintendent, subject to the provision of this policy."
The prior policy required payment of annual tuition for non-resident students up front, while the new policy allows for payment in three installments in September, January and April.
The prior policy allowed those who own an unoccupied house in the district to attend the school tuition-free provided that: the student had lived in the house for the prior three years, it was unoccupied due to a renovation and the parents continued to own the home and did purchase another residence.
In the new policy, this entire provision has been eliminated. Therefore, it appears that if you own a home in the district that is under renovation and move out, you will need to pay tuition to send your children to district schools. This does not appear to conform to New York State law that does allow non-resident students to attend, "upon the consent of the trustees or the board of education," and stipulates, "The school authorities of a district or city must deduct from the tuition of a nonresident pupil, whose parent or guardian owns property in such district or city and pays a tax thereon for the support of the schools maintained in such district or city, the amount of such tax."

If you buy a house before the start of school but fail to move in, you can pay tuition for up to three months to enroll your children in school. After three months, if you have not moved in you will need an extension from the Superintendent to continue attending school. (Note: It is not clear from the policy what happens if you move in a few weeks after the start of school. Do you receive a pro-rated refund of the tuition paid?)

Students whose parents move out of the district after the completion of eleventh grade can pay tuition to finish at Scarsdale High School with the approval of the Superintendent and advance payment of tuition.
The former policy allowed children who were living with relatives, another Scarsdale family or foster parents to attend the schools if the Scarsdale caregivers were given full custody. However in the new policy, this clause has been deleted.But this appears to be contradicted in the implementation guidelines below t(5152R) where there is a provision for guardians to provide documentation of custody.

Regulation 5152-R details verification and investigation of pupil addresses. This was the provision that caused consternation among divorced parents who the district asked for custody arrangements and divorce agreements. This policy was also used to question people who had moved out of their homes during renovations.
Here are the proposed revisions to the policy: (Deleted text is in red – proposed new text is in green):
1. The address of the parents must be the address of residence for each student. If a student claims residence with a person other than his/her parent(s), evidence of the transfer of full care, custody, and control must be established by the person claiming such transfer. legal guardianship or permanent residence must be presented.
2. Should a student's address change at any time during his/her enrollment, residency must be confirmed by the parent. an acceptable document; e.g., a lease, a utility bill, a voter registration card.
3. If a student's address is not the address of his/her parent(s) or legal guardian(s), the Building Principal shall consult the Census Office to confirm the procedures used in determining the student's current address. The Census Office shall then investigate and provide specific evidence with regard to of the child's claim to of residency.
4. If the evidence indicates that a student's address has been purposefully changed in order for him/her to attend a school in a district other than the one he/she is legally entitled to attend, he/she shall be immediately excluded from the schools of the District consistent with the law. transferred to the appropriate district.
5. Student registration shall not be delayed pending verification of the address. A verification and/or investigation shall take place after student registration has been effected, but before the student is admitted for attendance.
The revisions to these policies will be voted on by the Board of Education at their July 6 meeting.