Police Report: More Car Tracks on School Property; Neighbor Objects to Bird Calls
Details

Category: Today's News
Published:

20 March 2019

Written by

Traci Dutton Ludwig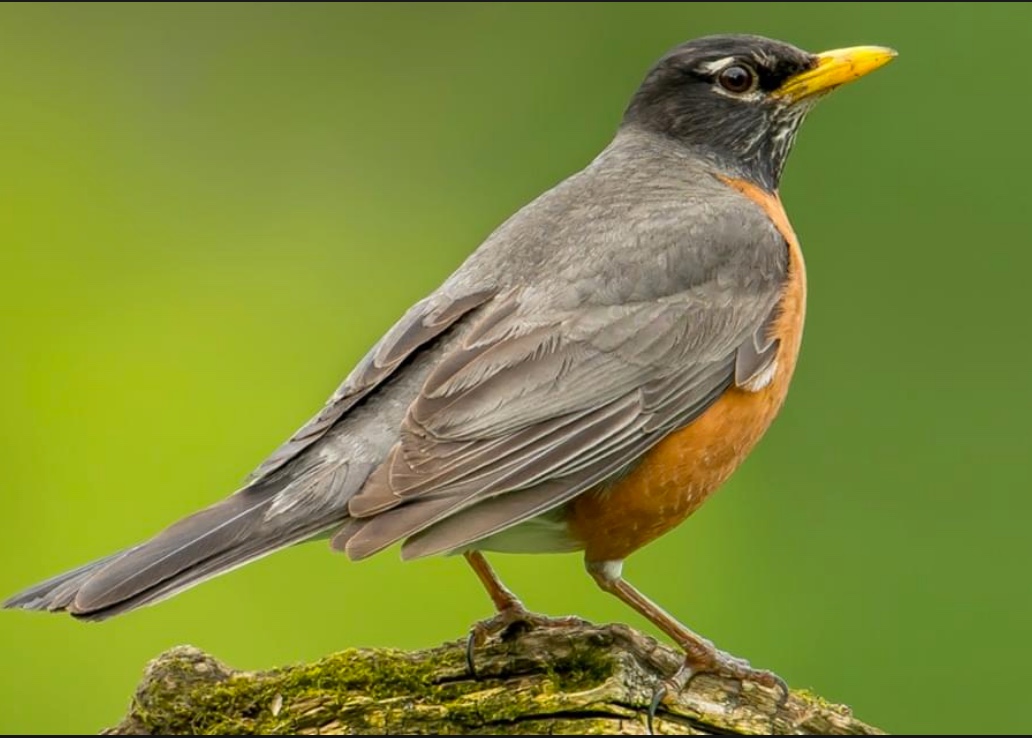 Scams: A Coralyn Road man received a text message alleging to be from Bank of America March 12. The message instructed the man to call a number, allegedly Bank of America, and follow prompts to enter his personal information. After being disconnected, the man called Bank of America and learned the call had been a scam. The man contacted the credit reporting agencies to report the incident.
A Carthage Road couple reported, on March 16, that they had been receiving calls from an unknown person claiming to have access to the couple's online accounts. While patrol was taking the report, the suspect called again. Police answered the phone and instructed the suspect to cease calling. Police advised the couple to block the caller's number.
Stolen
On March 12, a Birchall Drive resident alleged that her iPad and its leather case were stolen from an Uber she had used on March 12.
Identity Theft
On March 13, a Graham Road resident reported an incident of identity theft. No further details were released.
A Fayette Road resident reported someone opened a credit card in his name and charged over $10,000 of purchases on the card.
Aggravated Harassment
An Edgewood business owner reported receiving harassing text messages and calls from a former employee March 12. The calls and messages occurred between January and March and contained insults and threats. The report was made for documentation purposes only.
Criminal Mischief
On March 15, a school district school employee reported someone had made "donuts" on the high school practice field and a traffic island with a car. Damage from the tire marks was estimated to be $2,500.
Two tires were slashed on a car parked on in the rear parking lot of a Popham Road lot sometime between 5:30 p.m., March 16 and 12 p.m., March 17. Patrol requested video surveillance footage of the parking lot to assist in investigation.
Photos
A Paddington Road babysitter reported that a car pulled up in front of her boss's house and the driver took several pictures of the garage March 11. The car was already gone when police were notified. The homeowner said she would review video surveillance and get in touch with police if she could provide more specific information.
Intoxicated
On March 14, an intoxicated man entered a Christie Place establishment asking fro alcohol. The manager refused to serve the man alcohol due to his condition, and the man allegedly became unruly. Police were called, and the man was asked to leave the premises.
Locked in
A person using a Palmer Avenue bank got stuck inside the ATM lobby when the doors failed to open at 4:15 p.m., March 16. Police spoke with the branch manager who said he was aware of the problem with the doors and had ordered a new part for repair. He said he would return to the bank to temporarily correct the issue.
Cars and roadways
Police helped a female pedestrian cross the street and get on the sidewalk safely near Bypass and Weaver Street March 11 and March 17.
Con Edison was notified about a large tree branch on wires on School Lane March 11.
An unoccupied car was smoking on Fenimore Road and the Bronx River Parkway March 11. Firefighters broke the driver's side window to open the hood. Shortly thereafter the driver arrived. She reported that the car "died" while driving on the parkway. A tow truck responded to the scene and removed the car.
Patrol helped a homeowner reattach a phone or cable wire to his house March 12.
Police helped a woman find her parked car on East Parkway March 13.
Police notified Verizon about a low-hanging wire on Mamaroneck Road March 13.
A "Do Not Enter" sign leading to a one-way street on Gaylor Road and Boulevard was missing March 15. Police notified the highway department for replacement.
Police placed three large traffic cones in a large pothole on Popham Road March 15. The highway department was notified.
Police stood by while a woman and her friend changed a flat tire on her car March 15.
Police notified Verizon about a fallen wire on Sprague Road March 16.
Dogs
A loose dog was reported on Autenreith Road March 11. Police caught up with the dog on Woodland Place, but it was aggressive and police were not able to gain control of it.

An Ardmore Road woman put a loose dog in her backyard area and called police March 16. In the meantime, the dog's owner called headquarters to report her dog was missing. Police reunited the dog with its owner and issued the owner a verbal warning.
Village code
A Brewster Road resident complained that a neighbor was playing audible bird sounds outside on a daily base March 13. Police spoke with the neighbor who said she was playing the noises in order to deter robins from nesting in her yard because the previous year's robins were aggressive and would not allow the woman to walk in her yard. Police informed her the noise was in violation of village code and issued a warning. She agreed to stop playing the bird noises.
Police advised two solicitors on East Parkway that a permit was required for them to be soliciting in the village March 14.
Lost and found
A passerby found a small purse at a bus stop and gave it to police March 14. Patrol tried to contact the owner of the purse but was unsuccessful. The purse's contents were documented, and the purse was vouchered at headquarters for safekeeping.
Firefighters
According to Scarsdale Fire Chief James Seymour, firefighters responded to 36 incidents in the village this week. He shared details of the following narratives.
On March 11, firefighters removed a pot of burned food from the stove in a Donellan Road house while the homeowner was not at home. Firefighters ventilated the house with fans.
Firefighters assisted at a car accident on the Bronx River Parkway March 11. The car was smoking heavily, and firefighters determined oil had spilled on the engine block, thus causing the smoke.
Firefighters assisted Yonkers fire department in fighting a structure fire in an apartment building in Yonkers March 11.
On March 13, a Sage Terrace resident reported approximately two feet of water in the basement. The water was caused by a leak from an overfilled steam boiler. Firefighters drained the boiler to an appropriate level and pumped the water from the basement. They advised the resident to contact the boiler company for service.
A Hillandale Close resident reported an oven fire March 15. Firefighters responded to the house and found the oven locked and smoking without any active flames. Firefighters checked the area around the oven for possible extension. No extension was found. The resident was advised to let the oven cool down and call for service.
On March 16, a White Birch Lane resident reported a gas odor near a gas boiler. Firefighters stood by for Con Edison. A leak was located after the shut off valve. Firefighters and Con Edison personnel shut down the boiler and advised the resident to call for service.
An Innes Road resident reported an interior gas odor in the house March 16. Firefighters stood by for Con Edison. Con Edison found a broken gas line to a dryer and took measures to shut that gas connection. Con Edison released firefighters from the scene.
On March 17, an oil burner malfunctioned in a Chateaux Circle building. Heavy smoke and carbon monoxide were detected. Firefighters evacuated the building, shut down the boiler and used fans to ventilate. The building superintendent was advised to contact a technician for service.

This report covering police and fire department activity from March 11-17 has been compiled from official information.

This police report is sponsored by Scarsdale Security who does more than just security. Contact them about remote video for your home or business. Call 914-722-2200 or visit their website.

Retiring Faculty Members Say "Thank You Scarsdale"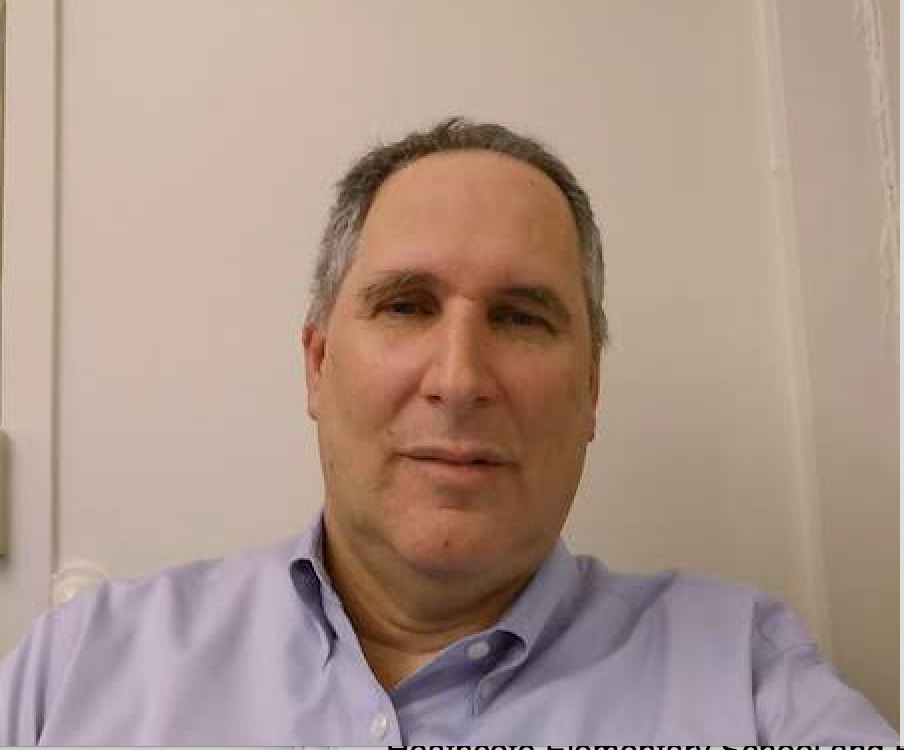 Mr. Larry ChatzinoffThis year, Scarsdale is losing many beloved faculty members. We spoke with a few of them to hear their thoughts on retirement and their plans for the future:
Larry Chatzinoff is retiring after 20 years of working in education. He spent his first year as a math teacher at Woodlands Middle School and the following 19 years working as a math teacher, math department chair, and eventually vice principal at Scarsdale Middle School. Over the years, he's cherished "working with highly motivated students and collaborating with passionate teachers that work hard every day to provide the students at SMS with a world class education," and attending many sporting events, concerts, talent shows, school musicals and more.
Some of his favorite memories involve working and bonding with students from the Student Organization, especially the day he volunteered for "Pie in the Face" at the "Challenge the Teacher" event. "The joy, that's an understatement, that the students got from throwing a sponge with shaving cream in my face was priceless," he said. He has also appreciated the support he receives from teachers to promote his ideas; one of which is his creation of Family Math Night, where students teach their parents how to solve difficult math exercises, which has become a successful event.
Chatzinoff feels touched by the supportive response he's received from fellow faculty members upon the announcement of his retirement. "It has been a privilege and an honor to work at Scarsdale Middle School for the past 19 years. I have worked with an amazing group of teachers, support staff and administration throughout my tenure. Most of all it came down to working with incredible children that motivated me each day to be at my best. I have thoroughly enjoyed watching my students excel in activities outside of the classroom," said Chatzinoff.
Linda Rich is retiring after 38 years as a math teacher, 32 of which she spent at Scarsdale High School. Within those 32 years, Rich spent the first 23 in the Alternative School, and the last nine in the high school. "My favorite part of teaching is feeling like what you do gives you a stake in the future, whether it's helping students to appreciate math, be better problem solvers, or getting them to consider other perspectives and feel supported," said Rich.
She looks back fondly on her memories from Scarsdale, such as putting a choreographed lip sync performance together at the A-School talent show with her fellow teachers and watching her students perform as well. Another time, she was moved when a former student of hers was being interviewed by Westchester Magazine as a local entrepreneur, and he named Rich as a teacher who influenced him. As a results, they reconnected and even did a photo-shoot together. "You don't always get to know the positive effect you have had on your students, so when that happens, it is quite satisfying," said Rich. She's grateful for all she has learned from her students and fellow faculty members. "Thank you, Scarsdale!" she concluded.
Elizabeth Ungar is also retiring from her position as math teacher after working at Scarsdale High School for fourteen years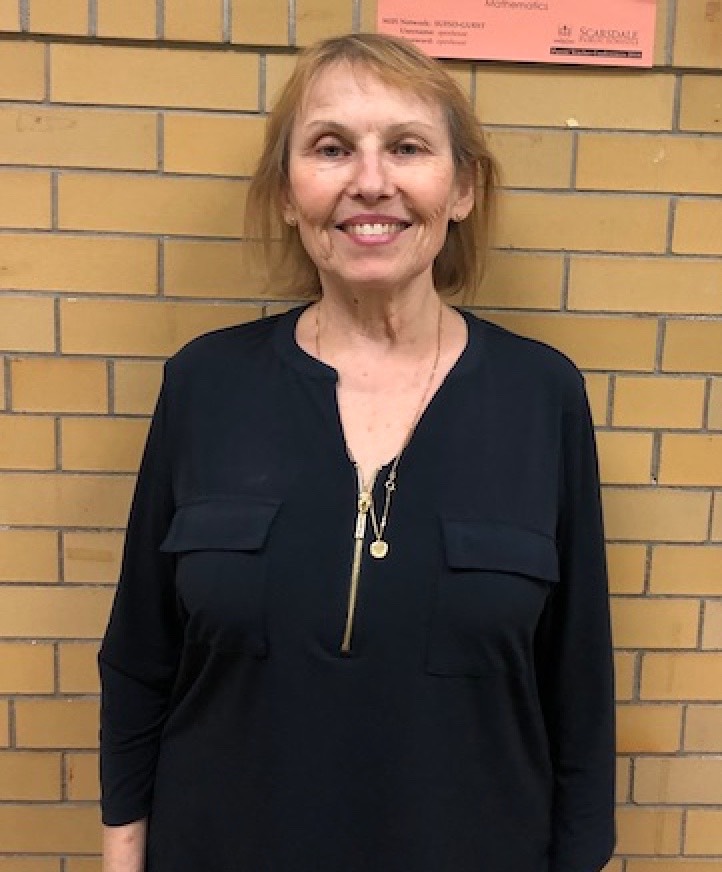 Ms. Elizabeth Ungarand the Bronx High School of Science for six years. This was Ungar's third career after working as a full-time mother and a computer programmer. In her time here, she's found getting to know her students as fulfilling as teaching them and seeing them learn. Ungar understands that "many of them [her students] are carrying burdens," making her a kind and understanding teacher and mentor. As for her retirement, "I have many projects that I have in mind… things that I've always wanted to do but never get to, like go to a matinee in the middle of the week." Ungar will miss being in the classroom, but she also is looking forward to the possibilities her life holds in her retirement.
Other Scarsdale faculty members retiring this year include Deborah Krisanda of Greenacres Elementary School, Kate Krahl of Scarsdale High School, Lisa Onofri and Cheryl Higgins of Heathcote Elementary School and Edgewood Principal Scott Houseknecht.
Firefighters Knock Down Early Morning Fire on Church Lane
Details

Category: On Our Radar
Published:

24 March 2019

Written by

Joanne Wallenstein
Firefighters responded to a call at 4:43 am from 15 Church Lane on Sunday March 24 where they found smoke in an occupied house. They helped the occupants get out and looked for the source of the smoke. The living room of the house appeared to be under construction and was closed off with a plastic barrier. Inside it was filled with smoke.
Firefighters brought in a hose that stretched to the second floor of the house where they found the fire travelling inside the walls. They were able to quickly extinguish it.
One of the volunteer firefighters sustained minor injuries.
Scarsdale Fire Chief Jim Seymour thanked the crews from Hartsdale, Greenville, SVAC, Westchester County Firefighters Battalion 19 who assisted Scarsdale firefighters. (Photos courtesy of the Scarsdale Fire Department.)

Bronxville Woman Arrested After Shooting Husband at 5 am
Details

Category: Around Town
Published:

21 March 2019

Written by

Joanne Wallenstein
Yonkers Police arrest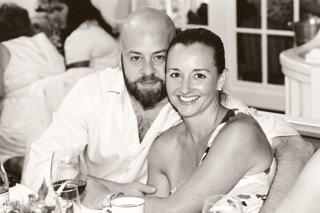 ed Sloane Finn, age 44, of Bronxville for allegedly shooting her 46 year-old husband Eric Finn in the stomach at 5:03 am on Wednesday March 20. According to the report, police received a 911 call from 14 Bronxville Glen Drive from a woman who said she had just shot her husband. When police and emergency personnel arrived they found Eric Finn on the living room floor with a gunshot wound in his abdomen. He was given medical aid and taken to a trauma center where he is now listed in serious but stable condition.
Four handguns were found in the apartment and police are currently investigating the incident. According to Yonkers Police, the "Investigation has yielded that the wife allegedly shot her husband; her motivations are being examined at this time. There were no other persons present inside the apartment at the time of the incident, and no other injuries were reported."
Sloane Finn was placed under arrest and charged with Assault 1', a Class B Violent Felony in the New York State Penal Law; and was expected to be arraigned on March 21. The case is being prosecuted by the Westchester County District Attorney's Office.
Sloane Finn is well known in Scarsdale and in Westchester where she plays competitive platform tennis and tennis. Her profile on Linked In shows that she is currently a Senior Claims Manager at United Rentals and has a law degree from South Texas College of Law in Houston and an undergraduate degree from Bucknell University.

Update: Finn was arraigned on Thursday March 21 in Yonkers City Court and posted $100,000 bail. A temporary order of protection was issued for Finn's husband and their child.
Eight Amazing Storytellers Perform at the 3rd Annual Tales from the 'Dale and Beyond
Details

Category: On Our Radar
Published:

17 March 2019

Written by

Joanne Wallenstein
There was complete silence …. interrupted by loud guffaws -- when eight talented local storytellers took the stage at Heathcote Auditorium on Thursday March 14 to share their tales. The Scarsdale Adult School's third annual Tales from the 'Dale and Beyondtm drew an enthusiastic audience to listen to a diverse line-up of locals – including a rabbi, a teachers, a visiting student from Memphis, a Pakistani immigrant and the father of a soldier in the Israeli army. Produced by Leesa Chalk Suzman and hosted by Sandi Marx, the event was well orchestrated, well timed and well received.
Each storyteller took full command of the stage with stories that were in turn heartwarming, heartbreaking, amusing, embarrassing and revealing.
Former Scarsdale resident and storyteller extraordinaire Sandi Marx started out with her own story before introducing the evening's talent, sharing what happened when she thought she won a quick $10,000 on a Christmas lotto scratch-off card. She had big plans for those winnings.
Rabbi Jonathan Blake wondered aloud how he could get this big a crowd to attend Shabbat services at Westchester Reform Temple and told the story of a chance encounter with a well-coiffed stranger at Shakespeare and Co. and the happy family reunion that ensued.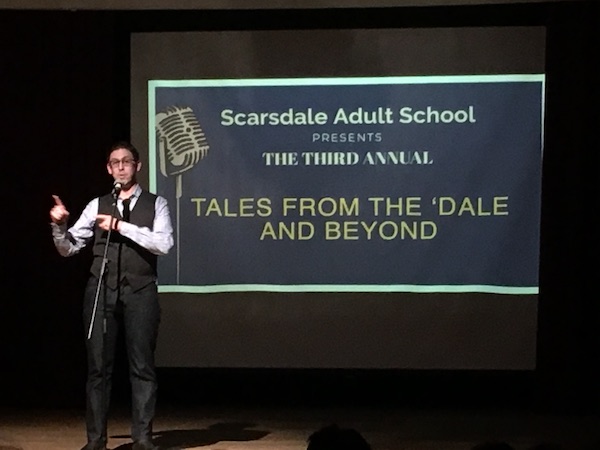 SHS English teacher Jennifer Rosenzweig had the room close to tears when she revealed how her own chance encounters with a crow and a butterfly turned out to be signs from nature that helped her through a serious health crisis.
Afghani immigrant and Connecticut College student Wali Harin gave a hilarious interpretation of "The Three Little Pigs," as he understood it as an eight-year-old boy struggling to interpret the illustrations.
In an encore presentation, Scarsdale mom Victoria Assa looked back at her upbringing as the only child of ambitious Russian immigrants who gave new meaning to the term "helicopter parents" in the lengths they went to ensure her success in their adopted land.
Paul Warhit left us hanging on the edge of our seats after he explained what happened to his son when he joined the Israeli army and ended up in a violent confrontation with Hamas in Gaza. The experience caused traumatic psychological wounds and Warhit left us all in a dark place.
Visiting STEP student Frederick Smith said, "Football is a different game in Memphis," and explained how people take bets on the high school games and exact revenge on the players when they lose money. Even though Fred became estranged from his father after his parents divorced, Fred found that he was not alone. After a football game, when Fred was threatened by one of the gamblers, his coach came to his defense and restored his faith that someone had his back.
Last, a Moth Grand Slam winner was brought in to tell the final tale. Micaela Blei shared an endearing tale from eighth grade, when she found herself friendless and isolated. Though she came from a conservative Jewish family, salvation came in offers of companionship from a group of students at a Christian Youth Group who invited her to learn German folk dancing. How to tell her folks….?
The stories were so engrossing and moving that the evening flew by.
This is one Scarsdale tradition that I hope will continue in years to come.
Congratulations to Sandi Marx, Leesa Suzman, the Scarsdale Adult School and all the storytellers for their brave and honest performances.
Commenting on the night, Scarsdale Adult School Director Jill Serling said, "Tales from the 'Dale tm was yet again a wonderful gathering of many from our Adult School community and newcomers to our program as well. The emotional and provocative stories highlighting family, faith and destiny were enjoyed by the 230+ in attendance. SAS Board Co-Chair Leesa Chalk Suzman selected a terrific line-up of storytellers. Moth Story SLAM winner Sandi Marx entertained and delighted us once again as the master of ceremonies. We are deeply grateful to all who volunteered their time to the show and to those who were able to join us at this special event."
Leesa Suzman added, "I couldn't be more proud and in awe of the eight amazing storytellers who bravely said yes when I asked them to tell a true story in front of hundreds of people without any notes. Their stories took the audience on a heartfelt transcontinental journey from Scarsdale and Queens, NY, to Memphis, TN, and then Israel, Russia and Afghanistan-all over the course of 90 minutes. I am particularly grateful to the evening's host, Sandi Marx, who always lends an especially comic and human touch to this event, and to Jill Serling, Executive Director of the Scarsdale Adult School, for unhesitatingly supporting the idea for Tales From the 'Dale and Beyond tm from the get-go three years ago."
Marc Samwick Candidate for Mayor of Scarsdale Vows to Make Village Government Open and Accessible
Details

Category: Around Town
Published:

26 February 2019

Written by

Joanne Wallenstein
Marc Samwick, a former two-term Village Trustee, has received the nomination from the Scarsdale Citizens' Non-Partisan Party as their candidate for Mayor of Scarsdale. We asked Samwick to comment on the issues of the day, and below are his responses. Remember to vote in the Village election on Tuesday, March 19, 2019 at Village Hall, 1001 Post Road, from 6:00 am to 9:00 pm.
For those of us who don't already know you, tell us about your background, your family and your professional career.
My wife, Cynthia, and I moved our family to Scarsdale in 1997. Our sons, Jason, Oliver and George, have grown up in Scarsdale and have all graduated Scarsdale High School. Like many, we moved to Scarsdale for the schools. But we had another strong draw -- Cynthia's older sister, Andrea Seiden, and her family lived here, and we wanted our families to be close, especially our five boys. We expected to spend our days surrounded by a close family. What we didn't expect was to also be immersed in the strength, generosity and support of the Scarsdale community. Cynthia and I and our boys have built very full lives with great friends, neighbors, and family. We love Scarsdale, and it means so much to us to give back to this wonderful community that has given us so much.
I grew up in Westport, CT and graduated with honors from Union College. I also received an MBA with honors from Columbia University Graduate School of Business.
Professionally, I am a real estate investor and developer, focusing on properties in New York, New Jersey and Connecticut. As a developer, I work with many different communities, and I understand the roles, responsibilities and interests of residents, elected officials and staff. My experience working with various cities, towns, and villages provides me with a broad perspective and knowledge of different approaches to managing municipal matters. Over my two terms on the Board of Trustees, this experience assisted me in my role representing Scarsdale residents.
What were/are some of your volunteer activities in Scarsdale?
I thoroughly enjoyed my time on the Board of Scarsdale Little League. One of the highlights of my time on the SLL Board was a program I originated with Dave Feuerstein, a former professional baseball player, to "Coach the Coaches." This program was designed to give coaches a solid base of fundamental baseballs skills to provide the children with a higher level of baseball instruction throughout the entire baseball season. Altogether, I have coached over 20 baseball teams in Scarsdale. I particularly enjoyed helping players develop over the course of a season. I remember working with one player that struggled all season at the plate. The greatest moment of that season was when that player hit a double in the final game of the season – and our entire team erupted in supportive cheers.
I currently serve on the Building Committee of the Scarsdale Library. I have been working to enhance the form and content of the communication between the construction consultant and the Library Board. I also served as an Alternate on the Village Planning Board and on the Finance Committee of Westchester Reform Temple.
What were some of your contributions during your 4 years as Village Trustee?
As a Trustee, I am very proud of the work I did on the project to renovate and expand the library. I worked closely with the Library Board and its Campaign Committee to determine the right balance between a "build once" opportunity based on record-breaking resident generosity and fiscal prudence that fit into the village's long term financial plan. The process of striking the right balance was not easy – but it was the type of collaborative process that Scarsdale is known for. We listened to each other to determine how to manage the trade-offs needed to achieve our budgetary constraints while maintaining the core mission of creating a vibrant community hub that will benefit generations of Scarsdale residents. I believe my contributions as a Trustee helped the Library Board to balance the benefits and costs of the library project. Once comfortable that the right balance had been struck, I gave my full effort to marshal support for this exciting, transformative project. I am very proud of the work we accomplished and am very excited about the planned opening of our new library in 2020.
I am also very pleased to have been involved in the initiation of the Freightway redevelopment process about two years ago. Since $2.3 million would have to be spent to maintain and improve the aging, unattractive parking structure within the next few years regardless, the time was right to reexamine and rethink the site. From the start, we recognized the importance of extensive community input. We formed a steering committee comprised of key village stakeholders, including members of land use boards, realtors, a village merchant, the Scarsdale Neighborhood Association President, the President of the Overhill Neighborhood Association, an architect, and a member of the School Board. Former Mayor, Jon Mark, chaired the steering committee. I was very proud to have participated in the steering committee as well. We then retained BFJ Planning, an expert planning firm that has worked extensively in Scarsdale and the region, to actively engage the community. The resulting redevelopment study was based on numerous public workshops, focus group meetings, an online survey as well as commuter and merchant intercept surveys, two walking tours and even participation from the acclaimed SHS City 2.0 class. In total, there was input from well over 750 village stakeholders during the eight-month scoping process. The village subsequently issued a request for expressions of interest from the development community. It was very encouraging to see extensive interest from developers with seven responses submitted.
I am excited to continue to work closely with the community on the next steps of this lengthy and deliberate process over the coming years. Regardless of what is done at the Freightway site, I intend to remain vigilant about protecting village resources to ensure that we maintain sufficient commuter parking and protect the integrity of our schools, among other things.
What are some of the challenges that face the Village?
There are challenges every year in balancing Village finances with the high tax burdens we face as residents. It is important to keep in mind that village taxes represent about 18% of our real estate taxes (school and county taxes make up the remainder). It is also notable that about 75-80% of the village budget is related to personnel costs, and that the vast majority of Village employees are represented by unions, and subject to binding, collectively bargained contracts over multiple years. Lastly, we should be aware of reduced state aid in the face of added unfunded state mandates, and the possibility of further cuts out of Albany as they seek to balance the state budget.
As a result of this confluence of challenges, the realistic focus of managing the village budget is about working to control costs in the few areas where we have discretion while still providing the essential services that our residents demand and expect. We are very fortunate to have strong professional Village management, led by our Village Manager, Steve Pappalardo, who has created a culture of cost consciousness, teamwork and efficiency that permeates throughout Village staff. For example, Fire Chief Seymour developed a plan to reduce the total number of fire apparatus by adding more flexible equipment to our portfolio. This creative approach is actively encouraged by the Board of Trustees and Village management in all our departments as we actively work to find budget efficiencies. I hope to further encourage this type of creative thinking to bring about more long-term budgetary savings.
Please share your views on our current building code, lot coverage code and historic preservation.
As Land Use Chair, I was proud to be part of the group that convened a meeting of the Planning Board, Board of Architectural Review and the Zoning Board of Appeals to evaluate what is being done well and what could be improved upon with respect to land use in Scarsdale. We received thoughtful and constructive comments that addressed administrative and legislative matters. There have been subsequent meetings and discussions over the past year, and I look forward to picking up on the work that has been done and continuing to move this process forward.
How would have voted on the resolution to join the lawsuit against the IRS re: SALT rules and regulations?
First, we have to be clear that the new limitation on SALT deductions was created at the federal level and it can only fully be addressed by an act of Congress.
Second, the communities of Westchester County will feel it far more than most, Scarsdale included, through a combination of state income taxes and local property taxes. It is up to us to attempt to mitigate the harshest impacts to our residents while we advocate our Congressional representatives for relief. It should be noted that our Representative, Eliot Engel, is already the co-sponsor on a bill to restore the full SALT deduction.
Third, at the Village level, we have to do whatever we can to protect our residents. We started that process when we allowed for the prepayment of 2018 property taxes in the final days of 2017, prior to the SALT deduction limitations that commenced in 2018. I support measures that protect our residents while keeping the village and its residents from exposure, including Scarsdale joining with 18 other municipalities, plus counties and school districts, in an effort to push back on proposed IRS regulations that would have further limited options for our residents. Most recently, Assemblywoman Amy Paulin has done phenomenal groundwork and found top-notch attorneys to press a future federal lawsuit in defense of our taxpayers on a pro bono basis. Assemblywoman Amy Paulin has also established a separate social welfare non-profit to cover any expenses. Therefore, the Village's finances are sufficiently protected, and the only potential risk that has been identified is to Scarsdale's reputation. I believe that the balance of the potential risks and rewards of this lawsuit tips firmly in favor of fighting for our residents.
Finally, to date we have only been able to speculate what the impact will be on our residents. At the close of the current tax filing season, we'll have data on who in our community is truly affected and how badly. I anticipate there will be more ideas to come, and more circumstances to respond to on behalf of our residents. So long as our finances and our liability is sufficiently protected, we owe it to our residents to do everything we reasonably can to help them with this ongoing issue.
When you speak to residents about their concerns, what are some of the complaints or issues you hear most often?
The most frequent comments I have heard recently relate to two things: (i) taxes and the village budget, including SALT deduction limitations, and (ii) Freightway. Both of these items I discussed previously.
What do you hope to accomplish as Mayor of Scarsdale?
I am genuinely excited by the potential to continue to serve Scarsdale. I am particularly eager to work closely with the community on issues such as Freightway and land use matters.
I firmly believe that one of the most important things we can do as Mayor and Trustees is to listen. To that end, I plan to roll out a less formal way for the community to communicate with our elected officials. I will hold casual meetings open to all residents in less formal settings than our semi-monthly meetings at Village Hall. The intent is to provide more open and accessible communication so our elected officials can do a better job representing our residents to improve our outstanding community.
Scarsdale Citizens' Non-Partisan Party Triumphs in Village Election
Rochelle Waldman, Jonathan Lewis, Seth Ross and Marc Samwick: Photo Credit Lisa Van GundyScarsdale has a new Mayor as well as three newly elected Village trustees. In an uncontested election, the candidates nominated by the Citizens Nominating Committee drew a larger than usual number of voters to the polls which demonstrated support for the candidates and Scarsdale's non-partisan process.
Marc Samwick, who previously served two terms as Village Trustee was elected to serve a two year term as Mayor, with 434 votes. The three candidates for Village Trustee also received support at the polls with Jonathan Lewis getting 434 votes, Rochelle Waldman 427 votes and returning trustee Seth Ross 421 votes.
Lewis with 434 votes received more votes than any single candidate in an uncontested election in the last 18 years, per Village Clerk Donna Conkling.
A total of 457 votes were cast, with 19 write-in votes.
Commenting on the election, Marc Samwick said, "Seth, Rochelle, Jonathan and I are deeply grateful to the CNC for nominating us, to the campaign volunteers for working so diligently on our behalf, and, most importantly, to the voters of Scarsdale for entrusting us with the responsibility of public service. We look forward to being accessible and listening to our neighbors as we weigh the challenges and opportunities before us."
One voter who attended the post-election reception at the Scarsdale Woman's Club said, "There was a lot of excitement at the party this evening. Everyone is truly thrilled with the slate."
ML Perlman, the Campaign Committee Chair for the Scarsdale Citizens Non Partisan Party said, "Two years ago, I chaired the nonpartisan campaign committee during the most contested election this community has seen in 20 years. It was during that time that I saw first-hand the unwavering value the nonpartisan process places on its commitment to nominating qualified leadership year to year. Both then and now, I was reminded by my mentors and longtime community residents that our campaigns are not about fanfare, political promises, or headlines. Whether in times of contest or in times of relative peace and quiet, we remain steady stewards of the core components of our system's platform: judicious temperament, exceptional character, and the experience to govern wisely.
You do not hear nonpartisan candidates idealize slogans or disseminate promises of quick fixes because they understand that real challenges are complex and nuanced requiring a combination of sound policy development and implementation over time. The nonpartisan view extends many years ahead in its tireless commitment to a rigorous annual search for individuals to step up to serve on our Village Board with deliberate care and sound judgement. The result is a process that is well designed to service the needs of our community to solve problems and achieve progress.
I would like to extend my thanks to the 28 CNC resident volunteers who approached hundreds of potential candidates and provided invaluable due diligence research to present their endorsement of Marc, Jonathan, Seth, and Rochelle. Thank you to these four candidates who will generously donate their time and impressive capabilities in their respective roles on the Village Board.
I believe that the enjoyment we all share in the success and many virtues of our community certainly reflects the excellence in leadership of the countless individuals who volunteer throughout Scarsdale; past, present, and in the many years to come."
The new Board of Trustees with outgoing Mayor Dan Hochvert: Photo Credit: Lisa Van Gundy
Samwick addresses the crowd: Photo Credit Lisa Van Gundy
Majestic Scarsdale Tudors Saved From Wrecking Ball… For Now
Details

Category: Village Voices
Published:

21 March 2019

Written by

Laura Halligan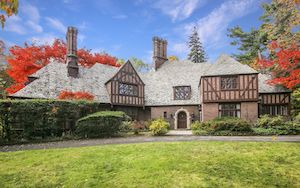 3 Hickory LaneOn Tuesday March 19, the Scarsdale Committee for Historic Preservation (CHP) denied applications to raze two significant Tudor homes, located at 3 Hickory Lane and 75 Morris Lane.
Previously, the owners of 3 Hickory Lane received permission to subdivide the property and plan to build a new home on the empty lot at the intersection of Hickory Lane and Olmstead Road. According to architect, Bana Choura, who is a former member of the Committee for Historic Preservation, the owner had hoped to renovate or sell the existing house at 3 Hickory. However, right before the owners closed on the property in 2017, the home's water heater malfunctioned, and pipes and radiators burst throughout the structure, causing significant water damage. Faced with the added work and cost of cleanup and repair, the owners now are seeking to demolish the house. Currently, it sits vacant and is listed for sale by Houlihan Lawrence for $2.350 million, which is $50,000 more than the price the developer paid for the home and the additional lot. The house and remaining .84 acres of land are currently assessed at only $1.359 million, so the asking price is $1 million more than the assessed value.
Choura, a former member of both the CHP and the Scarsdale Board of Architectural Review, reported that the home requires a gut renovation and said, "I know this committee's responsibility is to assess and evaluate the exterior aspects of the house, and its historic relevance, not the interior conditions. I do respectfully request that you consider the hardship due to the cost of repair, not only to replace the full heating system but to the damage to all the structural elements, both visible and invisible… After obtaining preliminary estimates for the repairs and to bring the house up to date… it was very clear the excessive cost is not justified, nor does it make economic sense."
Masterful or Not?
Choura then argued that the structure did not meet any of the village's five criteria to determine historic value. "I examined closely 3 Hickory Lane and applied all the criteria contained in village code… to this home… It is my professional opinion that none of the criteria set forth… is satisfied, and that the CHP, hopefully, will issue a certificate of appropriateness..."
As published previously, the home was designed by noted architect Charles Lewis Bowman, a onetime McKim, Mead & White draftsman, and built in 1929. Much of the Tuesday's discussion focused on whether Bowman could be considered a "master" (even though the CHP and trustees considered him as such in 2017), and whether the structure truly embodied "distinctive characteristics of a type, period or method of construction."
Choura began her presentation by stating that, "This home, like thousands of other homes, was built in the village during the most prolific building period in village history, and hundreds of those homes have far more intricate design, detailing and craftsmanship than this home."
Bowman, a resident of Bronxville, was a highly regarded architect in his time, and designed 53 homes in Bronxville, 52 of which still stand. Known for his "Stockbroker Tudors" and "Cotswold Cottages," he designed houses in accordance with his clients' wishes. However, Choura argued that Bowman was not considered an expert who produced work of "high artistic value."

One of the CHP members countered by reporting that Professor Andrew Dolkhart, the architectural historian, had described Bowman as "an important talent and leading figure in the design of historically informed suburban residences that were popular in the New York Metropolitan Area in the 1920s," and that Bowman's "designs received recognition during his lifetime, and were published in most of the common and professional popular architecture and design magazines."
Another committee member who visited the property stated, "Going and seeing it, it's truly the work of a master. The detailing, the construction techniques… the exterior is… largely intact. While there might be some interior damage that requires a gut rehab, the exterior does not present itself that way. With (Dolkhart's) report stating that, not only was the architect recognized during his lifetime… it goes on to list all the elements of the building, and says the entire design holds together in a highly successful manner… I think it is representative of a work of a master."
While Choura agreed with Dolkhart's general observations, she maintained that the professor did not use the term "master" in his description of Bowman, and did not refer to the home as "historic." Further, she asserted that the building did not represent the best of Bowman's work, nor did it rise above the level of other Tudor homes of the same period.
Going Public
Before beginning the public comment session, the CHP clarified Choura's assertion that the owners would not have made the application had there been no water damage. Then, the current real estate listing for the property, which states "…Water damage limited to a few secondary rooms…" was entered into the record.

Then, nine residents urged the CHP members to reject the application and save the building. Among those who spoke was Lisa Kleinow, who lives next door to the property. She pointed out that in a previous real estate listing, the home was promoted as "… designed by noted architect Louis Bowman, who is credited with having created the Tudor style in Bronxville and Scarsdale." She continued, "They used the Bowman name as a noted architect and the reason that this house is what it is. For it to be torn down now… is just a travesty."
Emily Kronenberg, an architect who lives in Scarsdale, said, "I went to see this house three times, in it's damaged state. Luckily, the water damage was only in some back, servants' rooms and some hallways, and none of the exquisite architectural details of the living room, entryway, powder room… the dining room… It's a very minimal area that's damaged... This house is exquisite…. In my humble opinion, it is architecturally significant and masterful."
Lee Miller, who is an architectural woodworker, stated, "I find (the house) breathtaking…" Referencing his firm's recent renovation work at the Cartier mansion he said, "I can attest to the fact that the woodworking, the joinery, the quality of the wood... (are) superior. It's not something I see every day and, on some level, it eclipses the woodwork that I saw at the Cartier mansion. Bowman did 53 homes in Bronxville… 52 of those 53 homes are still standing. It speaks volumes about him and what he's done."
Soon after public comment and discussion among themselves, the six CHP members who were present voted unanimously to reject the application, and were met with applause.
An "Ordinary" Tudor…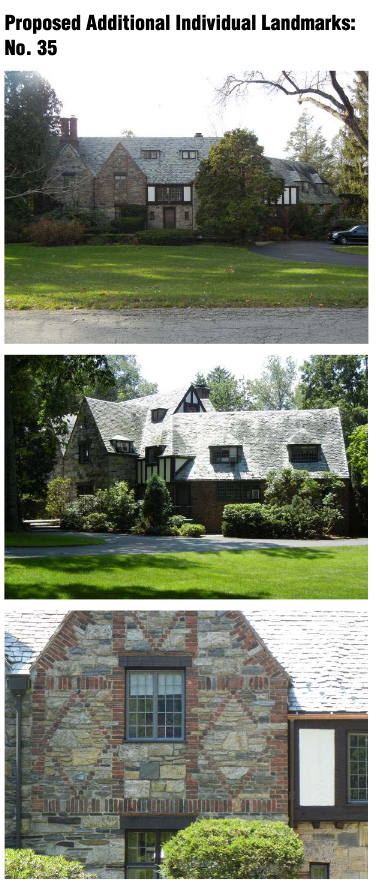 Next, the CHP heard from John Cotungno, the architect representing the owners of 75 Morris Lane, which was designed by architect Franklin P. Hammond. In justifying the application to demolish the home, also listed for sale by Houlihan Lawrence, Cotungno was brief and to the point: "This is a decent house, but I don't agree with the report I received yesterday from the professor…. In looking at (the house), it's an ordinary Tudor. It looks no different from any other Tudor I've been doing additions to… I do agree that they use four materials – brick, stucco, stone and timbers – and it does have a slate roof, but that's true of just about every Tudor."
He went on to say that he has worked on many Hammond houses in Scarsdale, and he didn't believe the architect was particularly noteworthy or famous. "He's a good architect; I even compared him to myself… He definitely wasn't as famous as Bowman." When discussing 75 Morris Lane, he asserted that the home possessed details "here and there that are OK, but not out-of-this-world, not totally unique."
When asked about Professor Dolkhart's statement: "The juxtaposition of large and small stones in different colors and textures, and red bricks on the main façade is highly unusual, and appears to be unique in the village." Cotungno said that he couldn't say if the façade was planned or if it was the result of Hammond simply using materials that were available at the time. He added that he didn't believe the design was noteworthy, despite the fact that Dolkhart asserted that it was extraordinary and wrote,"75 Morris Lane is a significant house in Scarsdale."
The CHP members then reviewed the history of the home and its various owners, including its first owner, entertainment lawyer Arthur F. Driscoll, who also served as mayor of Scarsdale for a year. While discussing that the home may not rise to the level as 3 Hickory, one of the committee members noted that it probably was more of a prototypical example of Tudor architecture, rather than exemplary. However, at 6,267 square feet, the house is quite large for the time period, and, since no significant alterations have been made to the building, it is in its original state. This, along with Dolkart's statement, seemed to sway the committee toward preserving the home prior to public comment.
Residents Weigh In
Sara Hawkins provided additional information on the home's history, including details on Driscoll's legal career. One board member then responded by saying, "When we talk about a high-level executive… certainly it's interesting… and should be considered." Another added, "Does that mean the house has historical significance? I don't know. "
Eric Lichtenstein pointed out that 75 Morris was proposed as a Scarsdale landmark in the village's 2012 Cultural Resources Survey, conducted by architects Li/Salzman and Dolkhart, yet 3 Hickory was not. Therefore, if the application to demolish the Hickory home was denied, certainly, Morris should be preserved as well.
Jack Miller, a former, longtime member of BAR then said, "Contrary to what John says, there is corbelling and usage of materials in this house… I'm an architect and I don't know how this house was constructed. I don't know how some of the brickwork was done, how some of the timbering was placed, or how some of the stonework was incorporated. It is marvelous… It has such incredible detail and work. As far as its siting and floor plan goes, it's a meandering wonder on the lot; it's really interesting to see." Miller then went on to question why the owners are refuting the architectural value of the house when their real estate listing states, "One of Scarsdale's premier properties with fabulous curb appeal… Built in 1929, this majestic estate offers exquisite architectural details and remarkable craftsmanship."
In response, one of the CHP members stated that, while informative, real estate listings do not determine a home's significance, and that factual information and expert opinion, such as Professor Dolkhart's, is more important in assessing each property. Further, each property is judged on its own merits, not compared to other structures. However, another member noted that a real estate listing can be considered a statement from the owner, and conflicting statements should be noted in the review process.
After a brief discussion, the committee voted to deny the application to demolish 75 Morris, with five members agreeing, and one abstaining.
Will the Other Shoe Drop?
As they consider their next steps, the owners of each home have a right to appeal the CHP decision and may file a petition of hardship. So, either or both of the homes are still in danger of being lost. Given the Scarsdale Board of Trustee's track record of granting past hardship claims, and recent protests of CHP members, what happens next is anyone's guess. However, recent changes to village preservation code and efforts to draft new, landmark preservation legislation may make a real difference in retaining the village's architectural history in the future. Stay tuned.