Police Report : FBI raids Nelson Road house. Bronx man arrested on vehicle and traffic charges
Details

Category: Today's News
Published:

17 April 2019

Written by

Traci Dutton Ludwig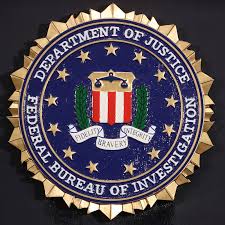 FBI raid: The FBI raided a home at 257 Nelson Road as part of an investigation at 6 am on April 12. According to a statement issued by local police, "The investigation is a federal matter being handled by the FBI. At this time, the scene is secure, and there is no threat to the community." Calls to the FBI for further information have not been returned.
Arrested
On April 10, police arrested Rickey L. Booker, 61, of the Bronx, on vehicle and traffic offense charges including operating a motor vehicle without insurance or a valid registration. Police conducted a traffic stop of Booker's 1998 Toyota Camry on Mamaroneck Road after police noticed the car was missing a front license plate. A check of Booker's driver4's license showed it had been suspended a total of 15 times over a period of seven dates. Additionally, an active warrant for Booker's arrest had been issued out of Harrison, in relation to unresolved traffic offenses. Booker was arrested, and his car was impounded. Harrison police picked up Booker on their warrant. Booker was issued an appearance ticket for Scarsdale Village Justice Court, returnable April 17.
Identity theft
On April 8, a Franklin Road woman reported her credit card was fraudulently used to purchase items.
On April 10, a Parkfield Road resident reported approximately $300 in unauthorized charges on her credit card.
Dispute
A Heathcote man reported he was having a dispute with his household's au pair April 11. The au pair was allegedly working her last night in the household. While police were on scene, she collected her belongings and left the scene.
Noises
On April 11, at 5:40 a.m., a man reported hearing people's voices. He was unsure if the voices were coming from inside his house or outside. He told police he would meet them at the side door to his house. Police arrived, and the man advised that the noises were in fact birds chirping. Police advised the man to exercise care in determining if an emergency was occurring.
Solicitation
A caller reported a woman wearing a red and black coat was asking people for money at Greenacres and Walworth Avenues April 11. Police went to the scene and interviewed the woman. She admitted to asking a passerby for $12 cash. She said she needed money for a train ticket since her son was in a car accident in Poughkeepsie. Police checked the woman's ID and learned two similar incidents had been reported about her – in 2010 and 2018.
Son
A Quaker Ridge woman called police to report she could not find her son April 11. While on the phone with police, the woman said her son was, in fact, in his room.
Card and roadways
Police helped a woman cross Weaver Street near Bypass and get to a safe location on a sidewalk April 9.

A tree fell at Bypass and Weaver Street April 10. Police notified the highway department for removal.
Con Edison and Verizon were notified about low-hanging wires on Mamaroneck Road, possibly caused by a previous traffic accident, April 11.

Police issued a warning to a driver who was driving erratically but did not show any signs of impairment April 11.

A car stalled at a Mamaroneck Road traffic light April 12. Police helped the driver push the car off the roadway while the driver awaited a private tow.

Verizon was notified about fallen wires on Stratton Road April 12.

Two summonses were issued to drivers who passed a stopped school bus on Popham Road April 12.
Squirrels were shorting out a weather head on top of a utility pole on Sheldrake Road April 13. Con Edison was notified.

Police assisted a woman cross Weaver Street safely April 14.

Police taped off a deteriorating section of a Heathcote Road sidewalk and notified the highway department for urgent repair April 14.

Ten car accidents were reported in the village this week, and one car was repossessed in the village this week.
Village code
A man was using a circular saw on Cushman Road at 7:30 a.m., April 11. Police issued him a summons for using noisy power equipment before 8 a.m.
Lost and found
On April 11, a Kingston Road woman reported losing her front license plate somewhere in the village.

On April 11, a Post Road resident walked into headquarters and reported losing a wallet in the village. Later, the resident told police she had located the wallet.

A Cushman Road resident said she lost her passport and personal identity papers April 13. The documents were last seen inside a drawer in her house in July 2018.

A passerby found keys on a small flashlight key ring in the village and dropped them off at headquarters for safekeeping April 13.
Firefighters
This week, firefighters responded to 27 incidents in the village. Details of some of the incidents are listed below.
An instant hot water device was emitting a burning odor in a Butler Road kitchen April 8. Firefighters disconnected the unit, removed it from the house and ventilated the space. The resident was advised to repair or replace it. While firefighters were active on this call, a passing car struck their fire engine parked outside on the street.
Con Edison was called because of a possible gas odor in a Weaver Street storm sewer April 9.
Firefighters measured an elevated level of carbon monoxide in a Black Birch Lane kitchen April 10.They ventilated the house and stood by for Con Edison. Con Edison determined the cause of the CO was the cooktop. Gas was shit to the unit, and repair or replacement was recommended.
Firefighters helped a Nelson Road resident change batteries in a smoke alarm April 11.
On April 11, firefighters helped police and paramedics with a patient displaying alcohol withdrawal symptoms before the patient was taken to a hospital.
A HVAC system motor was burnt out in a Brittany Close house, causing smoke, April 12. Firefighters disconnected the unit, ventilated the basement and advised the homeowner to repair the unit.
Smoke was reportedly coming from a Con Edison utility pole connected to an underground service line on Sheldrake Road April 13. Firefighters stood by for Con Edison.
Firefighters assisted with three car accidents during the reporting period.
This report covering police and fire department activity from April 8-14 has been compiled from official information.

This police report is sponsored by Scarsdale Security who does more than just security. Contact them about remote video for your home or business. Call 914-722-2200 or visit their website.
Historic Home, Modernized for 21st Century Living, on the Market in Scarsdale
Details

Category: Real Estate
Published:

18 April 2019

Written by

Joanne Wallenstein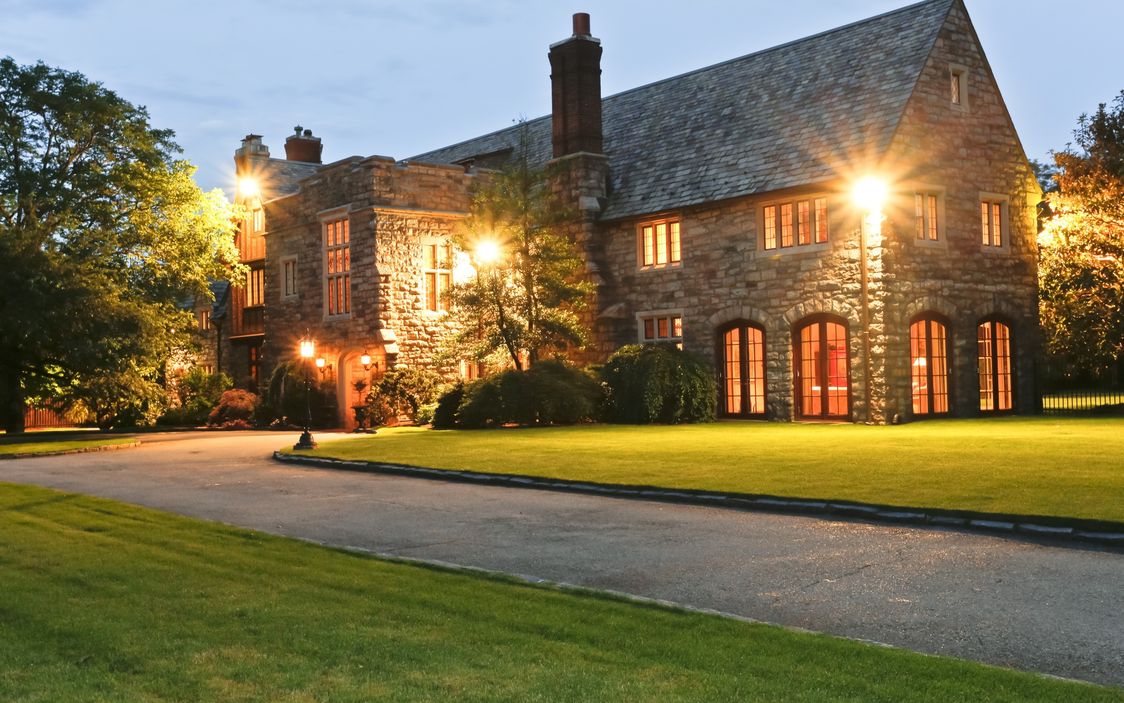 As the Village Board of Trustees considers new preservation code that would safeguard some of Scarsdale's most distinctive homes, many of these historic homes are showing up on the market.
Last week 57 Birchall Drive, a 10,000 square foot stone Tudor home on 3.16 acres was listed for $7.5mm. Photos show that the home maintains its original façade but has been thoroughly modernized inside. It's a good example of how a classic home can be preserved and renovated to meet the needs of modern living.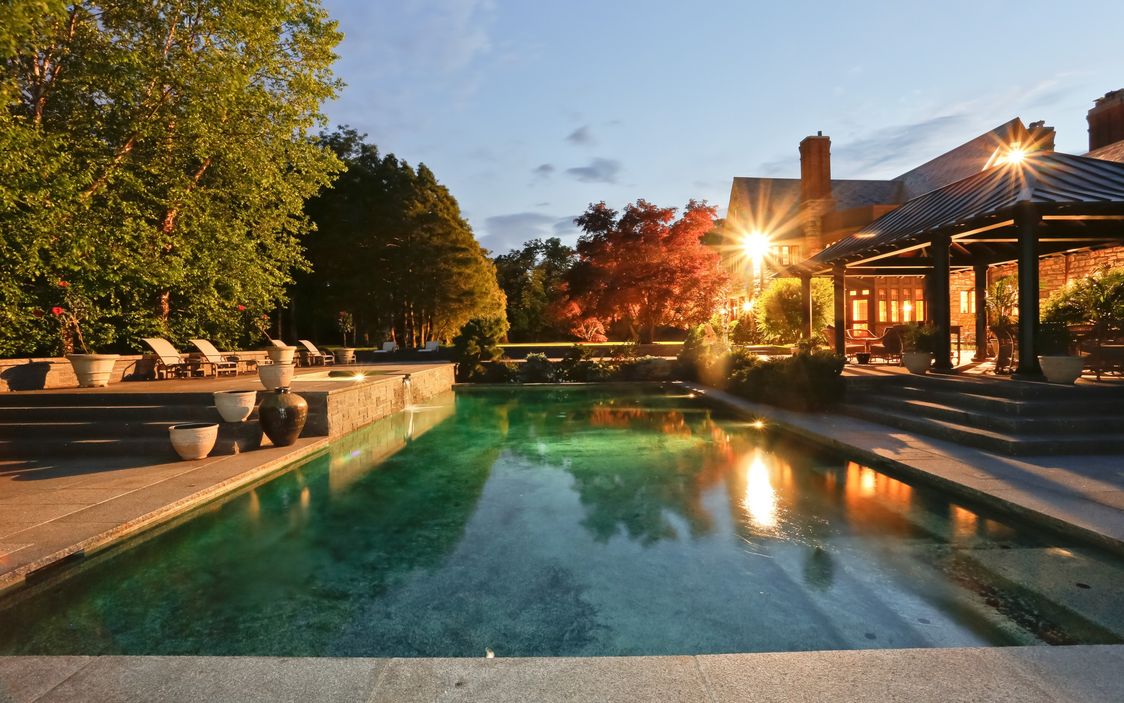 The home was listed as a "proposed individual landmark" in the Scarsdale Cultural Resources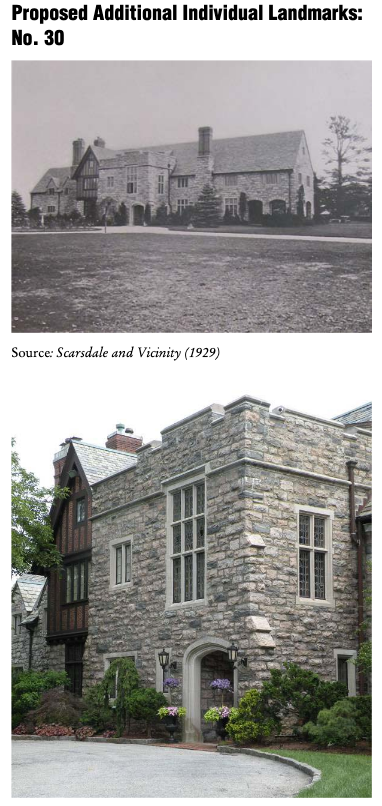 survey done by Li/Saltzman in 2012. Here's some history on the house:
"Set well back from the street, this large Tudor Revival house on a large plot of land has the feel of an English country house, undoubtedly the intent of John Hoagland when he commissioned

its construction. John A. Hoagland was the son of Joseph Hoagland, a founder of the Royal Baking Powder Company, a firm for which, John's New York Times obituary states, he "worked in his early manhood" (New York Times, April 18, 1942, p. 15). Hoagland's estate house is a massive stone structure with a strongly medieval feel, including such features as crenellated towers, arched entry, and deeply projecting half-timbered gable. Comparison of the house with a photograph published in the 1929 volume Scarsdale and Vicinity shows it to be almost unchanged since then."
Today, in addition to the house there is a guest cottage with a four-car garage, an expansive pool and spa, a zen garden and a sports court.
Sold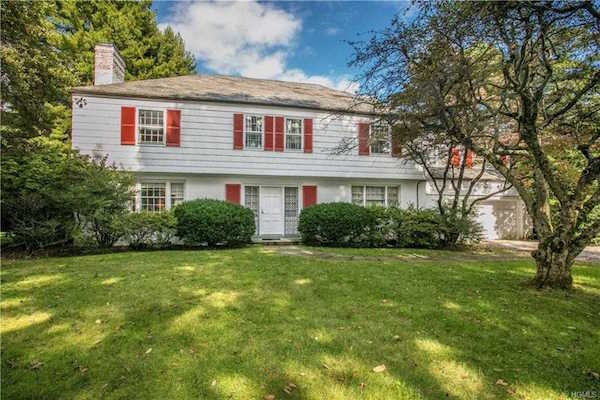 49 Sheldrake Road: This is the perfect opportunity to build your dream house. This is a much loved home on a beautiful acre in the Heathcote section of Scarsdale on a tranquil tree-lined street. This sunlit home, with mature plantings, has an incredible amount of light and privacy. Seven bedrooms and four-and-a-half baths. Property being sold AS-IS.
Sale Price: $2,204,000
Real Estate Taxes: $43,637
Assessed Value: $1,770,000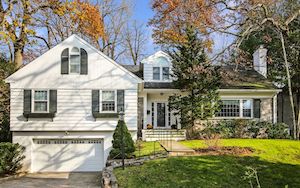 54 Paddington Road: Modern sophistication meets classic Scarsdale home. Outstanding open floor plan creates living and entertaining perfection, natural light streams through the plentiful, large windows complementing beautifully stained dark hardwood floors throughout. The entry foyer has a double height ceiling leading to the spacious living room, dining room, kitchen with breakfast area and family room. First floor also offers a mahogany shelved library and two ensuite bedrooms. Upstairs are two more bedrooms (one is double sized) plus the Master Suite with two separate walk-in closets and bathroom. Basement has a shelved recreation room and a bonus room with exterior door.
Sale Price: $1,745,000
Real Estate Taxes: $36,972
Assessed Value: $1,550,000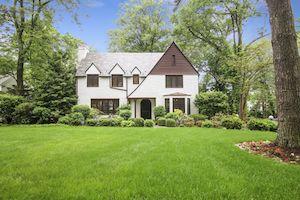 324 Heathcote Road: Heathcote gem, set on a half acre of gorgeous level land with room for a pool! The first level features a charming entry foyer, chic formal living room with fireplace, formal dining room and fabulous open plan kitchen/family room with top-of-the-line appliances and granite counters, a lovely screened porch, perfect for outdoor dining on a warm evening overlooking the stunning property, full bath and an attached two car garage. The second level boasts a lovely master bedroom with a large deck with a view of the property and a luxurious bathroom with a steam shower, three additional bedrooms and a hall bath. The third level includes ample open space with an extra-large walk-in closet for excellent off-season clothes storage. Taxes were grieved and will be REDUCED in 2019 by $7500.
Sale Price: $1,315,000
Real Estate Taxes: $40,412
Assessed Value" $1,625,000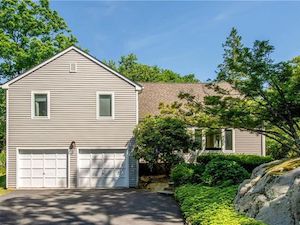 111 Evandale Road: Fully renovated sleek and stylish home on tranquil dead end street with over a half acre of park like property within walking distance to Greenville elementary school and bus station. This home has been thoughtfully updated with open spaces and great layout for modern living. Custom kitchen w/ top of the line appliances, cascading caesarstone countertops & huge center island with statuary backsplash. Entertaining is easy with open dining room & living room with gorgeously appointed millwork. There are 3 bedrooms (one en suite) & hall bath, laundry room on 2nd level. The Master Suite is an oasis with vaulted ceilings, modern spa bath & huge closets. The lower level has an amazing family room & bath with sliders to backyard. There is also a mudroom and 2-car garage.
Sale Price: $1,300,000
Real Estate Taxes: $39,431
Assessed Value: $1,191,100
Featured Listings: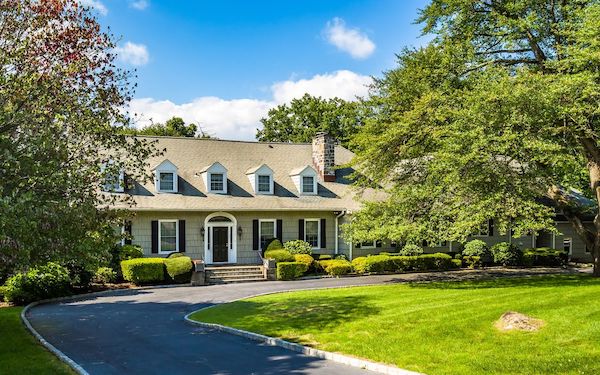 2 Sundale Place, Scarsdale
Have it all in this Edgemont School District gem on one acre with heated salt water Gunite pool. This renovated home boasts a circular drive, three car garage on a premier cul-de-sac street with views which include sunsets, July 4th fireworks an golf course. The expansive updated cook's kitchen will delight.
Learn more here.
Listing Price: $1,970,000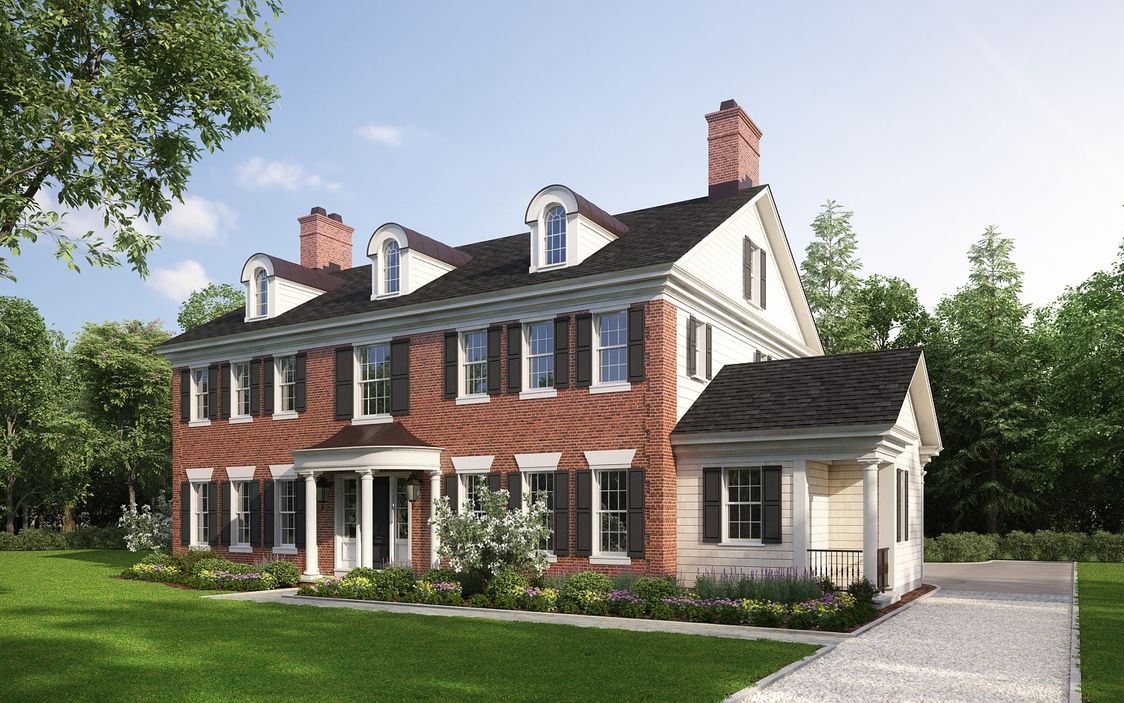 129 Cushman Road, Scarsdale
Spectacular brick Colonial in prestigious Murray Hill Estate area with elegant street presence crafted by Scarsdale's premier builder, KOSL Building. Set on level, private .50 acre lot with room for a pool. Time to customize. Built with the highest quality materials and craftsmanship, this home will truly delight.
Learn more here.
Listing Price: $4,295,000
Proposed NYS Tax Code Change Would Cause Steep Increase in Property Taxes for Golf Clubs
Details

Category: On Our Radar
Published:

17 April 2019

Written by

Joanne Wallenstein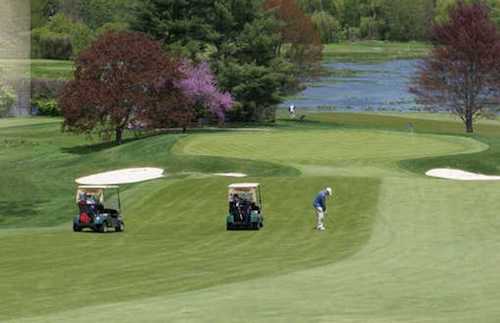 Westchester residents, many who are still reeling from the loss of federal tax deductions for state and local taxes, now face the prospect of another onerous change to the tax code. This time the code change is under consideration by NYS rather than the federal government. If enacted it could further impact the cost of living in Westchester's suburbs.
The proposed change in the state code could have far-reaching effects on local golf clubs. The proposed code, which has already passed the State Assembly Real Property Tax Committee, would change the way golf courses are taxed and assess them on their "highest and best use," rather than current use. In other words, this would allow golf courses to be taxed as if they had already been subdivided and developed into residential homes rather than as golf courses.
If this did happen, real estate taxes for the country clubs would increase dramatically, and clubs would be forced to impose precipitous hikes in dues to their members. Some would likely go out of business.
And if many did close, imagine the burden on local infrastructure and schools if these golf courses were developed into housing … not to mention the loss of open, green space and the tree canopy.
A letter from the Board of Directors of Scarsdale Golf Club to their members says, "The bill sets a slippery slope precedent that could ultimately impact a wider universe of New York businesses and residents. If the proposed tax model is expanded beyond golf courses, New York home owners could conceivably one day receive a letter from their local assessor saying: "We've noticed that under the town's building codes your lot could be subdivided and your home replaced with two (or more) substantially larger houses. Therefore, beginning next year we will calculate your property tax based on the potential valuation of those larger houses...."
Here's what NYS Assemblywoman Amy Paulin said about the proposed change in the tax code: "I'm not in favor of this bill. I don't believe these properties should go from underassessed to overassessed in the blink of an eye."
The bill is now being considered by the State Senate Committee on Local Government, which is chaired by State Senator James Gaughran.
Shred Fitness Opens in Scarsdale
Details

Category: Around Town
Published:

19 April 2019

Written by

Joanne Wallenstein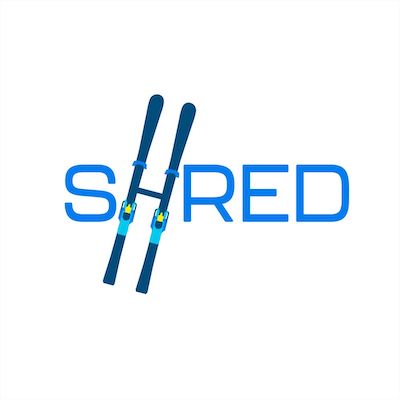 A sparkling new exercise studio with an original workout plan has opened on Weaver Street in Scarsdale. SHRED Fitness, which employs an exercise routine inspired by skiing, is the brainchild of Caroline Levere who has come up with this novel approach to fitness boot camp and designed and built a studio to facilitate the routine.
We stopped by for an introductory class and were pleasantly surprised by Levere's routine and the positive aura she emits. We began with a series of warm up exercises, some floor and some standing, moved into a few sets of resistance exercises using weights and the medicine ball, did some aerobics and movement and ended up slaloming downhill on the skier's edge machine. The time went quickly and we felt that all muscle groups had been worked out. For those with worries about high impact exercise or those suffering from injuries, the plan can be quickly adapted to meet your needs.
Levere, who has an MBA and formerly worked at some top design brands, is pursuing her passion for exercise and is eager to share her novel plan with you. She's even designed a line of SHRED fitness attire that you can find in the shop, located at Weaver Street. There's plenty of free parking in the back.
According to Levere, "SHRED Fitness is a ski-inspired full body workout, perfect for people of all fitness abilities. Although we are a ski-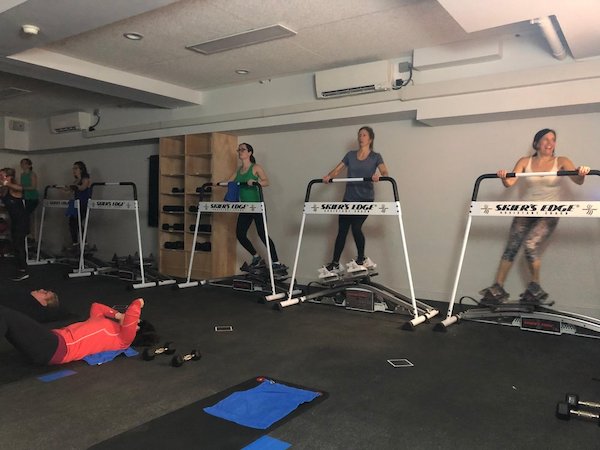 inspired studio, the workout is loved by skiers and non-skiers alike. Expect to get your heart rate up during cardio drills, improve your balance, stability, and core strength, and SHRED it up on the skier's edge! Classes are 45 minutes long, and we have three showers in the studio in case you need to shower after class."
Receive a free introductory class when you sign up with this offer code: SDALE10583.
SHRED Fitness
1481C Weaver Street
Scarsdale, NY 10583
https://www.shredfitny.com/
info@shrefitny.com
914.356.3350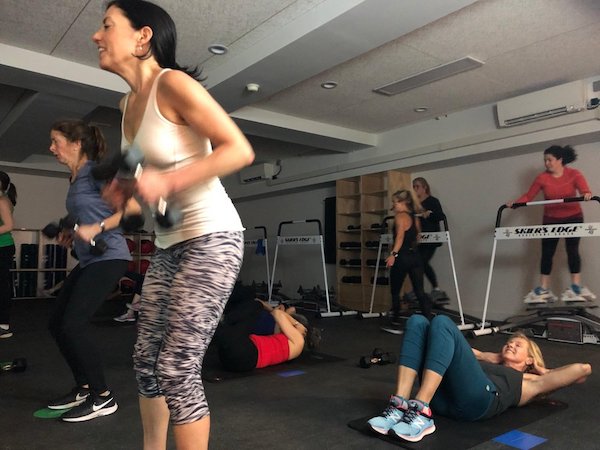 Welcome Chris Coughlin, the Next Assistant Principal at Scarsdale Middle School
Details

Category: School News
Published:

16 April 2019

Written by

Joanne Wallenstein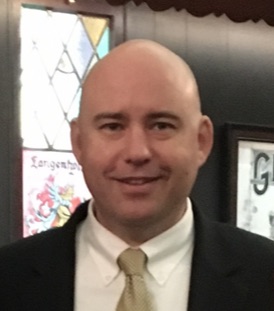 Chris Coughlin will become the next Assistant Principal at Scarsdale Middle School when Larry Chatzinoff retires at the end of the school year. Coughlin, who currently works at the Bedford Schools, attend the April 8, meeting of the Scarsdale Board of Education when his appointment was announced. Coughlin is the third administrative hire to move south from Bedford along with Assistant Superintendent Drew Patrick and interim Fox Meadow Principal Karen Eldon who retired as principal of Bedford Elementary School.
We asked Coughlin to tell us about himself and here is what he shared:
Tell us something about your educational and professional background.
I have worked in the Bedford Central Schools since 1999 as a teacher's aide, and intern, a social studies teacher, a coach, a Dean of Students, and the Director of Health Physical Education and Athletics. The fifteen years I spent as a social studies teacher and a coach were among the most rewarding professionally. I hold a M.S.E. in Educational Leadership, Administration, and Policy from Fordham University, an M.S. in Criminal Justice from Suffolk University, and a B.A. in Political Science from Hartwick College.
Why did you decide to make the move?
This past year was my 20th year working in the Bedford Central School District which is a place I love. To be honest I was not looking to make a move until I saw the posting for the position at SMS. I have several former colleagues and friends that work in Scarsdale and have always talked highly about the mission and vision of the district. When I started to investigate further I saw a district that states in multiple ways a great pride in helping to create balanced independent leaners and leaders. I viewed the interview process as part of my research into whether I would be a good fit for Scarsdale. At every juncture in the process I met committed professionals, invested parents, and kind and polite students. After seeing the operation and meeting the people up close the decision became an easier one. I count myself extremely fortunate to be selected as the candidate for this position.
What were your responsibilities in Bedford and will you have a similar role in Scarsdale?
My present responsibilities as the Athletic Director are diverse. To name a few I am the supervisor of health and physical education department for the school district responsible for the delivery of instruction for our 4,000 students. I oversee 60 athletic teams and 71 coaches with an annual budget of over $800,000. I help to schedule and staff over 600 athletic and community events per year.
My new role in Scarsdale will have some similarities. I will be tasked with building the master schedule for the school which will be a new challenge however my current job revolves around complex scheduling. Building leadership requires both approachability and visibility two qualities I have a great deal of experience with. Additionally, SMS' approach is a team one between students, staff, and parents which fits with my approach toward education.
What were some of the challenges faced by the district during your tenure?
Bedford Central School District like many districts struggled with budgetary issues when the tax levy cap came into effect. We lost a good amount of teachers and support staff due to budgetary realities. Doing more (or even the same) with less is a challenge for any profession however in the educational setting the decisions made can have a direct impact on students. BCSD is in a better place financially and the new and great challenge I have been a part of has been a restoration and addition of new programs.
How does Bedford's security system compare to Scarsdale's? Are they also making changes to their procedures and technology?
I would say they are comparable as both Scarsdale and BCSD are guided by the same security consulting firm.
What do you look forward to in your new position in Scarsdale?
I always would tell my students that teaching is the best job in the world because in essence you get paid to learn new and exciting things and share them with students. I will be embarking on a whole new journey of learning, learning about the students and their families, learning about the community, learning about my colleagues at SMS, and learning where I can get a good lunch.
Live, Love and Eat Tacos at The Taco Project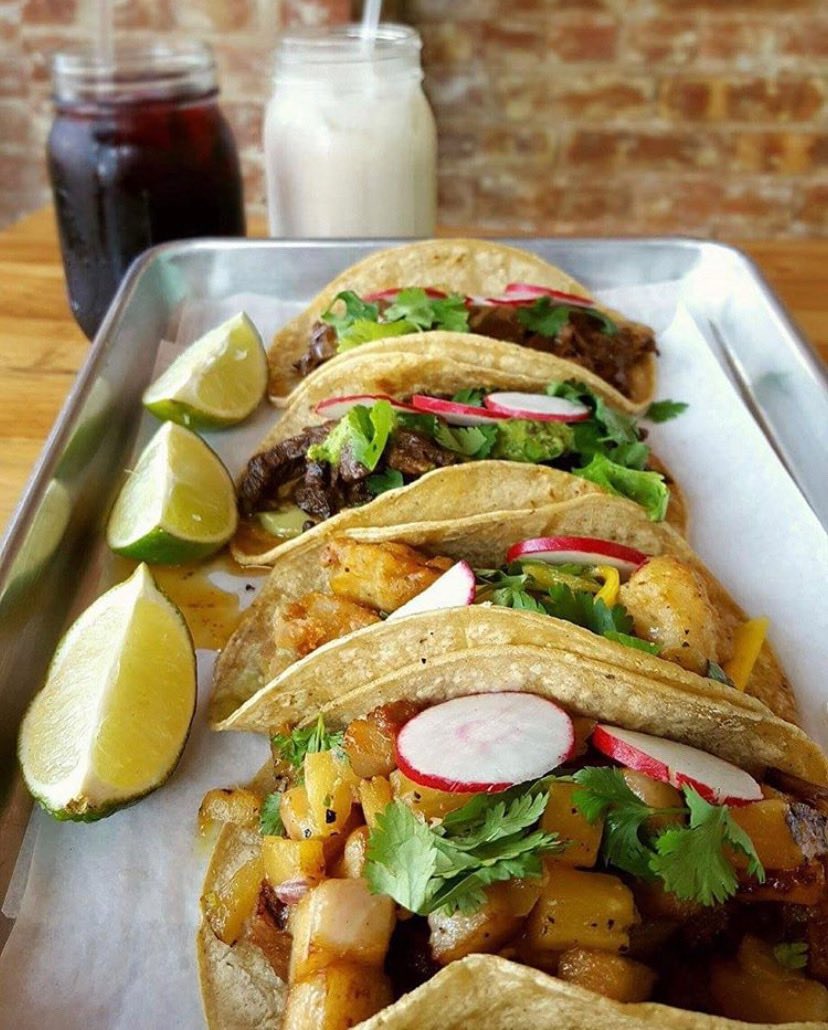 The Taco Project with locations in Yonkers and Tarrytown has just arrived in Bronxville on Pondfield Road, which formerly housed Still Meadow and Scarborough Fair. Mexican restaurants have become very popular, each having their own unique appeal. Owned by partners and lifelong friends, Nick Mesce, Carmelo Milio and Sebastian Aliberti, with whom I had the pleasure of chatting, I discovered that The Taco Project has a delightful buzz about it. With very fresh ingredients, high quality and reasonable prices, Aliberti said, "We offer a contemporary twist of Tex-Mex food We love to create a unique menu as well as a friendly vibe. We are a boutique type of spot, California inspired and experimental. Our personality is behind our restaurant. We are a fast and casual spot that is hip for young and old and we bring "spunk" to our contemporary menu. To be successful, a restaurant owner must be humble and treat their staff well. We treat our staff like family. We are always open to improvement. Although we are quick and casual, we never lose our attention to detail. With Chef Alfonso Vivar heading the kitchen, and the three partners keeping an eye on the dining room, Bronxville's Taco Project is quick to become a favorite spot to enjoy Mexican style food in a contemporary manner.

The bright and cheerful corner space is simply decorated with a Mexican flair. A white brick wall boasts a mural exploding with color. The limited seating is mostly counters and stools. You place your order at the counter which displays the full menu, and be seated. Your Taco Project logo tee shirt and sneaker clad wait staff will bring your order to you from the open kitchen in the rear of the restaurant. Intricate Spanish tiles, and lots of Mexican inspired art work line the walls and a painting of Frida Kahlo watches over the guests. Upon my lunch time visit, every seat was occupied and a long line of people were leaving with takeout orders. The sun was shining through the many windows as we anticipated our tasting.

Each dish arrived on a paper lined metal tray. Crisp, freshly prepared corn tortilla chips accompanied a dish of smoothly textured guacamole. Taco Project salsa was prepared with chunks of fresh tomatoes mingled with its juices and spices. It was a light and refreshing. Corn on the cob arrived as Mexican corn brushed with cotija cheese, cayenne pepper, and mayonnaise. Sweet and spicy, it was a joy to demolish every last bit of corn off the cob. Another starter worth trying are the sidewinder fries. These fan shaped slices of potatoes are dipped in a craft beer batter and fried to a golden brown. With chipotle aioli, jalapeno ketchup and Mexican blue cheese, this starter is one of those dishes where you can't eat just one.

On to the tacos. Hard to resist were the short rib tacos. The tender shreds of braised short ribs were garnished with a homemade mole sauce and topped with a julienne of radish, fresh cilantro, and caramelized onions. Generously wrapped in a corn tortilla it was a perfect choice. Also scrumptious was the shrimp taco. Here, a tempura batter encased each shrimp. Fresh mango, cilantro, radish and tomatillo sauce completed this tangy combination. Atlantic cod was the filling for the fish taco, either sautéed or battered. We enjoyed the sautéed chunks of fish, combined with a red cabbage slaw, guacamole, cilantro and radish. Other taco choices, served two to an order, on soft yellow corn tortillas or hard shell, for an additional cost, are free range chicken, steak with chimichurri and guacamole, crumbled Mexican chorizo, braised pork belly with pineapple salsa, classic ground beef, and veggie with black beans, smoked corn and jicama among its ingredients. Specials are added to the taco menu regularly and may include salmon, or pulled pork.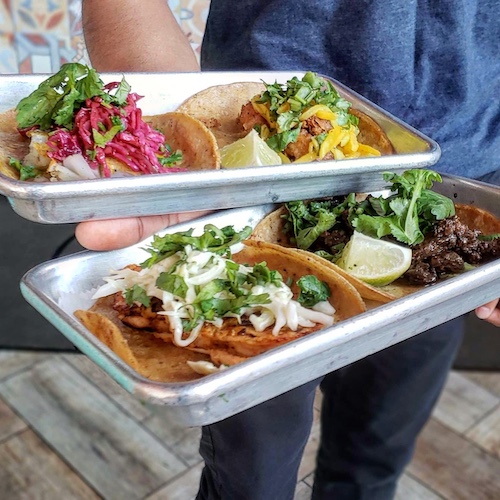 Burritos here are filled to order in a flour tortilla and served with rice and beans, cojita cheese and sour cream. Add steak, chicken, fish or vegetables to customize your burrito. A flour tortilla "bowl" is your serving dish for a burrito bowl. This can be filled with your choice of ingredients. Quesadillas can be ordered with fillings of your choice, as well. Even the salads here are unique. Try smoked corn and field greens with a jalapeno cilantro vinaigrette or honey habanero chicken salad with free range chicken and mixed greens.

The Taco Project is a spot where you should make every effort to leave room for dessert. Of the three choices, I sampled a delicious housemade flan with caramel sauce and fresh whipped cream. It was more like a wedge of cake, rather than a pudding. A coconut tres leches cake was also a homemade treat. The portions are large, so be prepared to share. Next visit perhaps I will end my meal with their homemade churros. Jarritos, Mexican sodas are offered in many flavors. Beer and wines are available and housemade sangria with fruit are some beverage choices. We chose the house made agua frescas. The hibiscus variety was rich and the classic horchata, the cinnamon infused rice drink was most refreshing.

As the logo of The Taco Project suggests, "Live Love and eat Tacos". If the tacos are prepared at The Taco Project, you are certainly going to enjoy them, as well as other menu choices. Visit The Taco Project where a feeling of youth and joy permeate the atmosphere.

The Taco Project
65 Pondfield Road
Bronxville
(914) 356-8226

Recipe:
Taco Project Guacamole and Chips

3 ripe Haas avocados
2 Tbsps. fresh lemon juice
1 small red onion, diced
2 Tbsps. minced cilantro
1 tsp kosher salt
½ jalapeno, diced
Place all ingredients in a bowl. Mash until smooth. Adjust seasoning to taste. Serve with lightly salted yellow corn tortilla chips, homemade if possible.