Architects Present Plans for Greenacres School: What We Know and What We Don't Know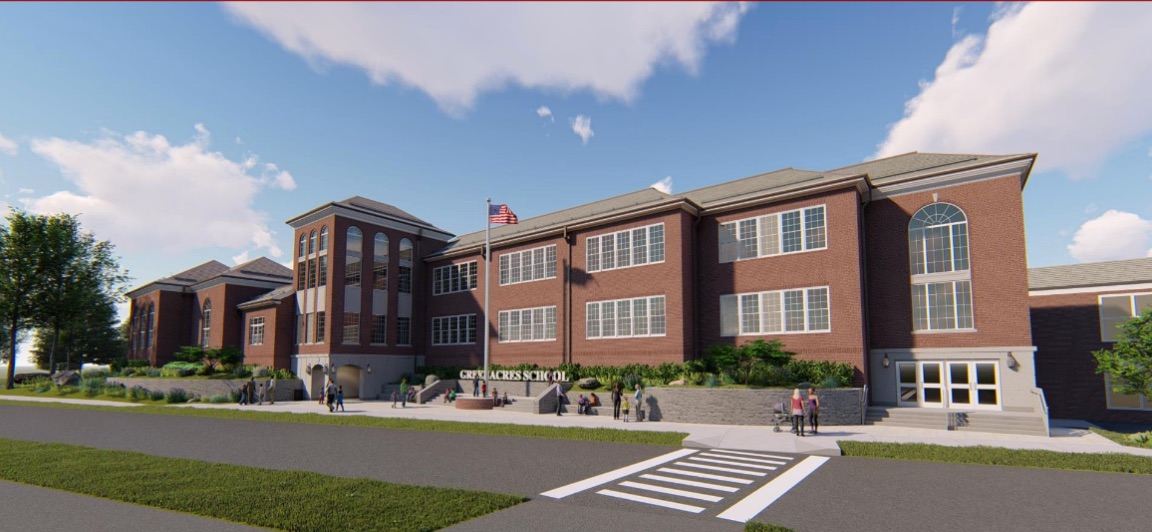 The community has heard little about the plans for Greenacres Elementary School since a very contentious bond vote in February 2018. Though the $35 million renovation is the largest single spend for the district in decades, there has been almost no opportunity for input from residents and neighbors. At the November 5 meeting of the Board of Education the administration invited representatives from district architects BBS and construction management firm Park East to provide an update on construction plans for the school, which School Superintendent Dr. Hagerman said will be submitted to the State Education Department in a few weeks.
The interior plans, most of which were very simple sketches lack detail. The rough schematics, provide an overview of the building layout, but reveal little about the building infrastructure, any features of the classrooms or common rooms, the casework, finishes and design. In explaining the plans, the architects did not address many of the key concerns that were expressed in 2017 before the passage of the bond.
In the half hour given to the project, here is what we did and didn't learn:
What we know:
Architects presented two renderings of the new façade of the school featuring two three-story stair towers, a two story classroom addition and a cafeteria/learning commons on the Huntington Avenue side of the school.

About the plaza between the school and the sidewalk on Huntington Avenue, the architect said, "We tried to step that back off the street," but just how far off the street is unknown as no dimensions are provided. Also unknown is the height of the large retaining wall that buttresses the plaza. The reconstruction of the parking lot shows five parking spaces and room for dumpsters.

Discussing the schematics, the architect explained that the large kitchen is included in the plans and indicated that there would be access for food service trucks on Sage Terrace. A handicapped ramp has been added to the rear of the school to allow access to the upper playground.

About the lower level of the school architects said that all students would be moved upstairs and the remaining space would be converted to storage. The second floor will include both the art rooms and rooms for special education.

The gymnasium, where the original windows will be covered by the new classroom wing, will get skylights.

The kindergarten, first grade and second grade classes in the original portion of the school will get new ceilings, new flooring and new lighting. Bookcases will be added under the windows and some of the teaching materials will be placed on portable carts to de-clutter the classrooms. Large teaching monitors- or screens – will be on wheels so that they can be moved around the classroom. The rooms will be outfitted with flexible furniture to allow for various seating configurations. Prior to the bond vote there were lengthy discussions about the small size of these classrooms which do not meet national standards. It appears that walls will not be moved but efforts will be made to maximize the existing space.

The interior space of the existing library will be reconfigured with new bookcases and furniture.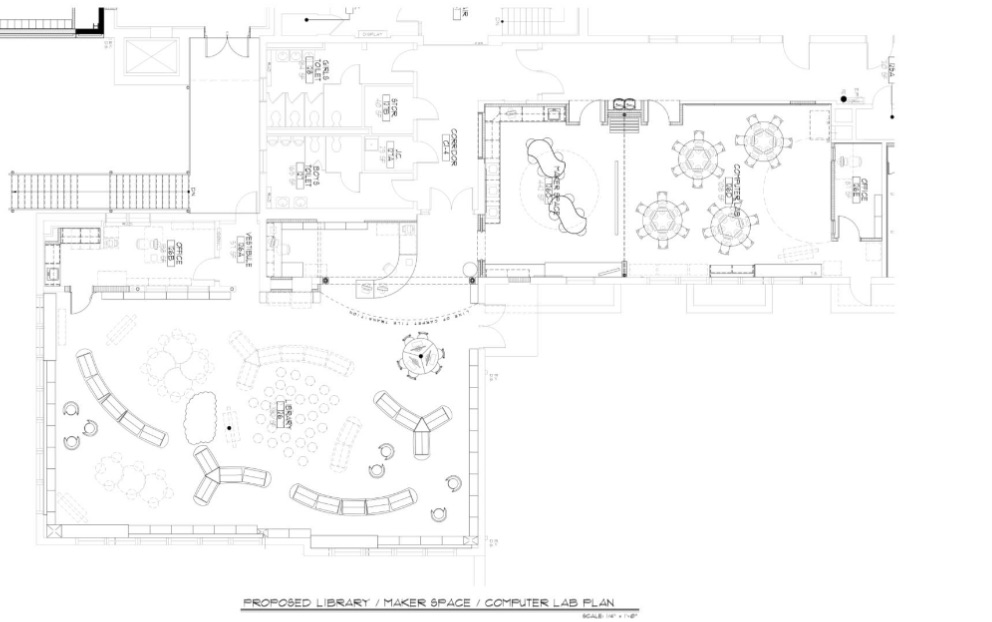 Schematic for library, maker space and computer lab.


There was also discussion of redesigning the courtyard though no plans were shown. Dr. Hagerman mentioned a labyrinth, an outdoor reading area and a small group spot and possibly a water feature. Planter beds may also be added to replace those displaced by the construction.

In the discussion that followed, Board Member Lee Maude asked if the scope of the job had changed since last year and was assured that it remained the same.

Assistant Superintendent Stuart Mattey mentioned that the large kitchen might be used as "relief for the commissary program for the district," as all meals are now cooked at the high school, putting considerable pressure on the high school's kitchen. This new kitchen may be used to cook meals for Greenacres and possibly Fox Meadow School – so presumably food would be transported from the Sage Terrace entrance to Fox Meadow. There are no elevations shown of the Sage Terrace entrance but the architect said there will be a driveway there to accommodate food delivery, pick up and distribution.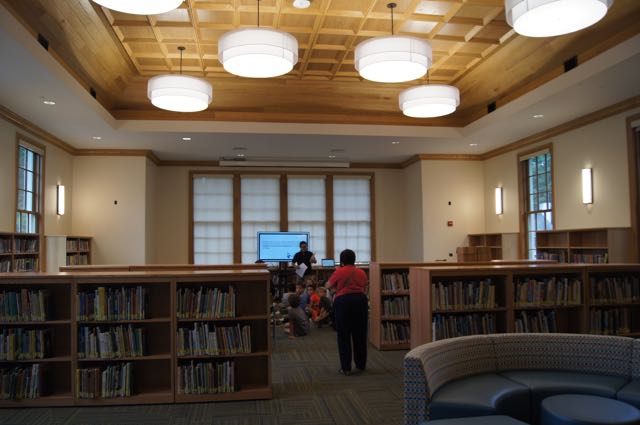 Check out the ceiling of the new Edgewood Library. What's planned for Greenacres?In terms of timing, plans now call for the renovations to the existing classrooms in the school to take place over the summer of '19 and to be completed by the beginning of school. Work on the large addition on Huntington will also begin in June 2019 and run through August of 2020.

The construction site will be surrounded with an eight-foot fence and a two gated entry system that will cut off access to the sidewalk during deliveries. A portion of the blacktop across the street will be used as a staging area. This will be used for parking for the construction workers, storage and office trailers and dumpsters. It was not clear how this would be screened from the playground.

Since the State Education Department is short staffed, BBS will expedite approval of the plans by having them reviewed by an architecture firm who has been approved to do third party reviews. This will take 8 – 12 weeks, rather than the 42 weeks estimated through SED. However if the project bypasses the State Education Department, will it receive as rigourous a review?
What we don't know:

Prior to the bond vote many questions were raised about the suitability of the building for a large expansion. Below are some of the outstanding issues that were not addressed on Monday night:
Air conditioning and ventilation: The gym has had very high humidity levels and under this plan the existing windows will be covered up, possibly decreasing air circulation in the room. There was no discussion of adding ventilation or air conditioning to the gym or to the library which is also very warm. Ventilation for the existing classrooms, some of which get very hot in June and September was not mentioned.

Lead Pipes: The school has now installed filters on sinks and water fountains due to lead. There was no discussion of replacing the original pipes in the old part of the school which leach lead and require filters.

Mold: The school has a history of mold problems. There was no discussion of how this would be addressed. The original portions of the school are sitting on a dirt foundation which generates moisture and humidity. There was no mention that anything would be done about the dirt crawl spaces that are the foundation of the original part of the school.

Renderings: There were no renderings provided of the interior spaces at the school. For a project of this scope, one would expect to see elevations and renderings of the cafeteria, learning commons, renovated library and a model classroom. No details on what will be included were provided. When former district architects KG&D presented plans for the high school learning commons and Edgewood library, detailed schematics were provided. (See below) Take a look at the sketch that BBS presented for the Greenacres Library. Will there be casework, reading nooks, group instruction areas? Will Greenacres receive a library on parity with Edgewood?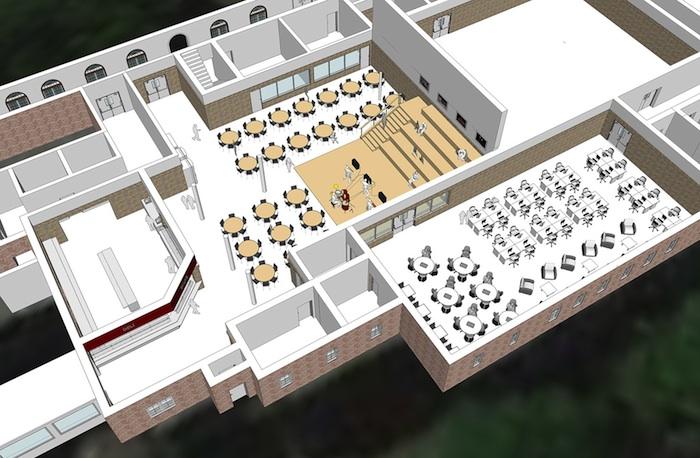 A rendering of the new learning commons provided by former district architects KG&D prior to the construction at Scarsdale High School
The main feature of the new building is a large learning commons and cafeteria. However no details have been provided. How will this room look from the inside? How will the space be used? Will the custodial staff still need to set up and take down lunch tables every day or will they be built in? Will there be a stage or any place for a performance in the new learning commons?

Parking: Another ongoing concern is parking. The school lacks a parking lot and a pick up area. In the new plan, several of the existing parking spaces have been eliminated. No plan was put forth to replace these, add parking or improve the drop off and pick up process. With the school extending to the sidewalk, it is not clear where the children will line up to be picked up. In addition, the entrance to the school will be two three story stair towers. One wonders how many young children can be safely inside a stair tower at once for recess and when school lets out at the end of the day.

Food delivery: Residents on Sage Terrace will now have trucks on their street delivering food and transporting cooked meals for children at other schools. It is not clear that they are aware of this development.
The project has a big impact on the Greenacres community. The building does not conform to neighborhood norms and lacks the required setbacks from the street. Has the district met with the Greenacres Neighborhood Association to review the project and get their input? What about the Village Planning Department who reviews traffic and parking requirements? If they have met, the public should be made aware of what was decided.

Despite all these questions, the administration is quickly moving forward with the plan, and says they have fully vetted them with the teachers. They plan to submit the package to the State Education Department in just a few weeks. If community members have concerns, they need to speak up quickly.
Watch the presentation online here:
Add a comment
Three Scarsdale Varsity A Girls Soccer Players Honored At All Section Award Dinner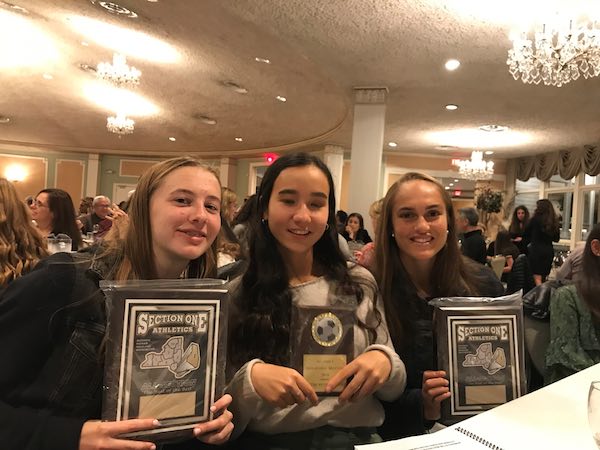 Olivia Bryant, Nayumi Parente-Ribeiro and Allison StaffordOn Monday evening, November 12, three Scarsdale Varsity A girls soccer players were honored at the 2018 All Section awards dinner at Colonial Terrace in Cortlandt Manor. The awards dinner occurs annually after the conclusion of the high school soccer season and recognizes the top high school female soccer players in Section 1, which consists of all high schools in Westchester, Rockland, Dutchess and Putnam counties in New York State.

The 2018 Scarsdale Varsity A Soccer team was represented by senior forward Nayumi Parente-Ribeiro, who was All Section honorable mention; junior forward Olivia Bryant, who was All Section; and senior mid-fielder Allison Stafford, who was All Section for the third consecutive year. Stafford was also named to the Westchester/Rockland/Putnam/Dutchess Coaches Association's Elite 12, which recognizes the top senior girl soccer players in Section 1 who have also have excelled in the classroom. Head coach Mindy Genovese described Bryant as "a dynamic forward with explosive speed, technical ability and powerful shot who was a scoring threat every time she touched the ball." Regarding Stafford, Coach Genovese stated: "Allison was the key playmaker for our team who won countless balls to start our counter-attacks. She is an exceptional player who played with perseverance and grit and displayed great leadership on and off the field."

2018 was another successful season for the League champion Scarsdale's Girls Varsity A soccer team, which after a slow start against the top non-League teams in the Section, ended the season with a 9-7-1 record. The team peaked at the end of the season, going undefeated in its last nine games before losing in the quarterfinals in the playoffs, taking eventual Section champion Arlington to overtime in a 1-0 loss in a game that could easily have gone the other way. The Raiders will graduate nearly a dozen seniors in 2019 but there is considerable talent that will be returning next year, making the team well positioned for another successful season and playoff run.
Add a comment
Recycling Made Easier
Details

Category: On Our Radar
Published:

14 November 2018

Written by

Conservation Advisory Council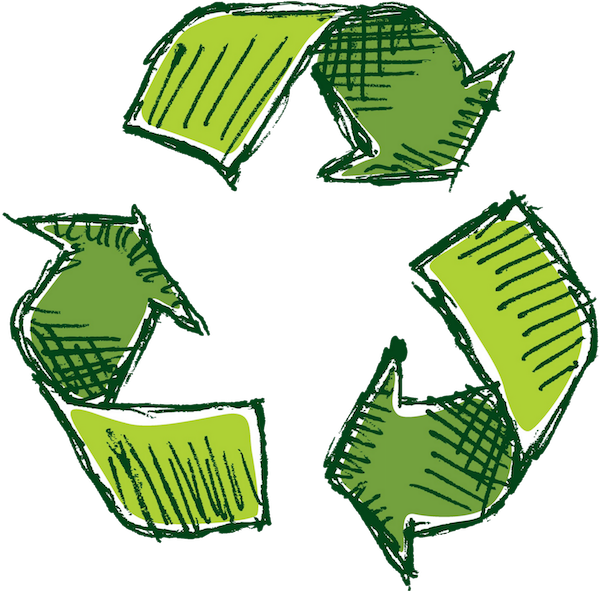 What can be recycled in Scarsdale can sometimes be confusing. This is the first article in a series of articles on WHAT and HOW to recycle in Scarsdale.
Our Sanitation Department does a great job of making our waste disappear so it's easy not to think about it, but it all has to go somewhere. Instead of ending up as garbage that is burned just 30 minutes from Scarsdale, most items we use every day can be recycled and turned into something new while generating revenue for our County.
Every additional item that is recycled keeps our air, land and water safer, lessens the need to manufacture products from scratch, and reduces greenhouse gas emissions. With a little effort and armed with a little knowledge, we can individually and collectively make a big difference!
This first article is a comprehensive guide to Commingled Recycling - Plastic, Glass, Metal, and Cartons. For a printable version or to read other CAC sustainability articles, click here. An article about Paper and Cardboard recycling will be published next month.

To ask further questions, please contact the Scarsdale Conservation Advisory Council using the online contact form.
Commingled Recycling (Plastic, Glass, Metal, Cartons)
Containers should be emptied and rinsed (see FAQ below). You can include caps and lids.
PLASTICS

ACCEPTED ITEMS: Any plastic coded #1 - #7
(except NO plastic bags, Styrofoam, or big, bulky items - even if numbered)
HOW TO DISPOSE OF NON-ACCEPTED PLASTIC:
• ALL plastic bags, Saran wrap, bubble wrap, air pillows: Trash or store recycle bins (FAQ below)
• Styrofoam (even coded #6, see FAQ), vinyl, diapers, utensils, and straws: Trash
• Very large items such as very large plastic toys: Donate or curbside Bulky Trash
• Empty containers that held hazardous material: Trash (see FAQ below)
GLASS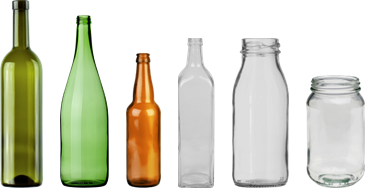 ACCEPTED ITEMS: Glass bottles and jars for food and drinks (any color)
HOW TO DISPOSE OF NON-ACCEPTED GLASS OR GLASS-LIKE ITEMS:
• Glass vases, Pyrex, drinking glasses, ceramics, plate glass, candle jars: donate or trash
• Light bulbs: LED and Incandescent (trash); CFL (recycle at vendors, see FAQ below)
METALS


ACCEPTED ITEMS: Metal food and drink cans, aerosol cans, aluminum foil and foil pans, and screw-top metal lids (separated from glass jars)
HOW TO DISPOSE OF NON-ACCEPTED METALS:
• Metal hangers: dry cleaners, scrap metal bin at Scarsdale Recycling Center, or trash
• Batteries: Non-rechargeable (trash), rechargeable (big box stores, see FAQ below)
• Bulky metal (e.g. water heater): leave at curb on bulk pickup day (2nd trash day of week)
• Other metal (keys, pipes, knobs, nails, etc): scrap metal bin at Scarsdale Recycling Center
• Empty containers that held hazardous material: Trash (see FAQ below)
CARTONS (NEW!!!)


ACCEPTED ITEMS: Food and drink cartons, soup cartons, juice boxes, and ice cream cartons
Commingled Recycling FAQs

COLLECTION: Why can't we place recycling in plastic bags for pickup? Plastic bags jam the sorting machines at the recycling center so recycling needs to be placed LOOSE in our bins. If worried about your bin getting dirty, you can line it with a large bag that stays in the bin.
RINSING CONTAINERS: Do I have to clean my containers before recycling? Food residue should be removed and containers should be briefly rinsed but they don't need to be sparkling clean. The recycling process can handle a little residue but rinsing keeps everything neater.
PLASTIC BAGS: Are plastic bags with recycling number signs accepted? No, not in the County program. But clean soft, thin film plastic, such as plastic bags (grocery, bread, cereal, garbage, newspaper, dry cleaner, Ziploc, etc.); Saran wrap; bubble wrap, air pillows, and packaging wrap may be recycled through supermarkets/large box stores which are required to have bins. Click here for more information on plastic bag recycling.
PLASTIC BAGS: Can we get a plastic bag recycling bin at the Scarsdale Recycling Center? Our County does not currently process plastic bags and Scarsdale cannot meet the minimum volume required to recycle privately. The Scarsdale CAC will continue to look into options.
PLASTIC CODES: What does the number inside the triangle recycling symbol mean? It denotes the type of plastic that the container is made of and can aid recyclers in the sorting process. Westchester accepts all numbers (#1 -#7) EXCEPT Styrofoam (even if #6) and plastic bags.
STYROFOAM: Why is Styrofoam not accepted, even when coded #6? Municipal recycling programs rarely accept Styrofoam for recycling due to the difficulty in processing, transporting and recycling Styrofoam. Some shipping stores (more info) accept loose fill peanuts. The most waste-conscious option is to avoid Styrofoam whenever possible.
CARTONS: Why are cartons put in commingled recycling when they look more like paper? Food and beverage cartons are lined with a thin film of plastic to make them leak-proof so they go through a different recycling process than regular paper/cardboard. The same equipment used to sort other commingled items is used to sort the cartons so they are processed together.
LIGHTBULBS: Why do different bulbs have different disposal requirements? Incandescent bulbs and LEDs may go in trash or be recycled through some retailers. However, fluorescent tubes and CFLs contain mercury which is toxic. Large home improvement stores typically accept CFLs (more info) but not fluorescent tubes which should be brought to the County Hazardous Materials depot (link).
METAL: What if I have an item that is part metal (like a broken scissor with plastic handle)? If the metal can be separated, it may be placed in the scrap metal bin at the Recycling Center and the plastic placed in recycling or trash; otherwise, the whole item should be placed in trash.
BATTERIES: How do I dispose of batteries? Regular (non-rechargeable) batteries go into trash. Rechargeable batteries contain toxic materials and should be brought to big box electronic stores that have rechargeable battery recycling bins, not placed in trash.
HAZARDOUS ITEMS: What's considered "hazardous?" Materials such as pesticides, herbicides, stains, kerosene, automotive fluids, solvents, and pool chemicals are considered hazardous. Empty containers used for such hazardous materials should go into the trash, even if empty. Full or partial containers with hazardous material should be brought to the County Hazardous Materials depot (link). Household cleaners are not considered hazardous and these empty containers can go into recycling if coded #1-7. Click for a list of hazardous materials.
General FAQs

What happens to our garbage? Household garbage is brought to a County incinerator 30 minutes north of Scarsdale, where it is burned and generates electricity. The County has controls in place to minimize the negative environmental impact, but there are unavoidable toxic by-products. Residual toxins are emitted into the air and hazardous ashes must be buried in landfills. Recycling helps to reduce these negative environmental impacts.
How does recycling help? Every additional item that is recycled keeps our air, land and water safer; reduces use of fossil fuels; lessens greenhouse gas emissions; and enables us to turn items we no longer use into something new while generating revenue for our County.
What happens with our recyclables? Our recyclables are brought to the County's Material Recovery Facility in Yonkers, where they are sorted, bundled into bales, and sold on the open market to manufacturers who turn our recyclables into new products.
What determines what recyclables are accepted? Not all plastics, glass, metals, or paper products are the same. Even if they look similar, raw materials can be different, or they may require different processing equipment due to materials or shape. The County specifies what is accepted based on what it's able to process and what it's able to sell.
Why are commingled and paper/cardboard collected separately? Processing them separately yields a much higher quality recycling stream which helps ensure our recyclables are sold and turned into new items.
I've read about towns throwing out their recycling. Is this happening here? NO! Our dual-stream recycling system and residents' efforts to minimize contamination have ensured all our recycling is sold and turned into new products even as other municipalities have had difficulties.
Additional Recycling Resources:

• Scarsdale Recycling Guide
• Yonkers Materials Recovery Facility (MRF) video
• Scarsdale Sanitation Dept: publicworks@scarsdale.com or 914.722.1294 (Mon-Sat, 8am-3pm)
• Westchester County Recycling Helpline: 914.813.5425 (Mon-Sun, 9am-7pm)
Add a comment
First Winter Storm Causes Gridlock and School Closing
Details

Category: Shout it Out
Published:

16 November 2018

Written by

Joanne Wallenstein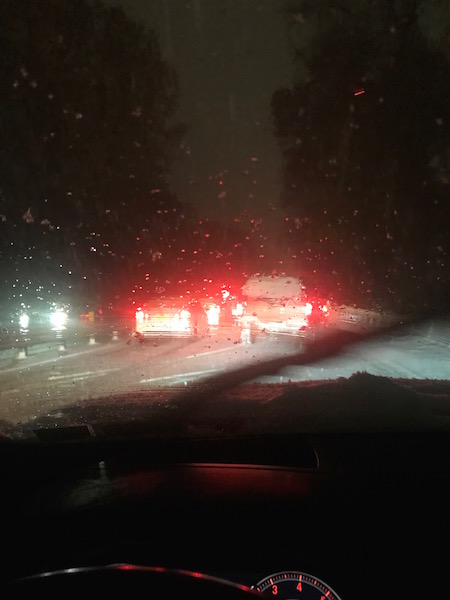 The Bronx River Parkway came to a complete halt on Thursday night.The first winter storm of the season wreaked havoc on drivers on Thursday night November 16. The original forecast was for two to three inches of snow, but as the sun went down temperatures dropped and a slick, wet snow fell heavily atop wet leaves in the street and caused treacherous driving conditions.
The Scarsdale Schools suspended after school activities on Thursday and originally announced a two-hour delay for the opening of school on Friday November 16. However at 8:15 am a second email was sent, announcing that schools would be closed for the day.
According to Scarsdale Police Captain Thomas Altizio, Scarsdale Police received 84 calls for help from drivers during the storm. Alitzio reports that a full complement of police were out, directing traffic, pushing cars out of ditches and attempting to clear a host of minor accidents that occurred.
Police manned intersections to try to alleviate the traffic but stuck cars caused gridlock and little could be done. The intersection of Fenimore and Fox Meadow Roads came to a stop, and the Popham Road bridge was blocked as well. When a rush of commuters attempted to drive home from parking garages in Hartsdale and Scarsdale, stuck cars blocked their way. Altizio says that intersections at the Post Road, Mamaroneck Road and Saxon Woods Road were also snarled.
Cars stalled and fishtailed on the icy surface. One Greenacres man reported that he was stuck in his car on the Bronx River Parkway for an hour, just a half mile from his home but unable to get off the road.
The Department of Public Works was unable to clear many of the blocked roadways as plows could not bypass the stuck cars. Plows worked through the night and as of Friday morning most roads are wet but clear.
Fortunately no one was hurt and Altizio has not heard of any big trees downed by the storm. However his own 40-minute commute home last night took five and a half hours. Many cars were abandoned along the highway. Conditions were no better at rush hour in downtown White Plains which also came to a complete stop when so many left their offices at once.
Add a comment
Not in My Backyard: Residents Growl About Proposed Dog Park
Details

Category: Neighborhood News
Published:

14 November 2018

Written by

Joanne Wallenstein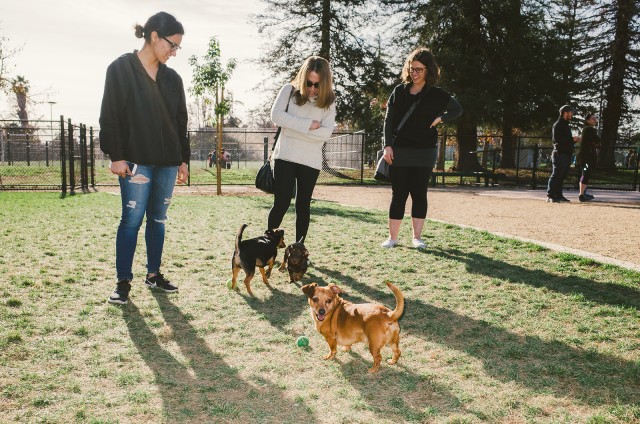 A dog park may not be in the stars for Scarsdale. At a heated public forum on Tuesday November 13, scores of residents came out to voice their objection to the location of a dog park at Weinberg Nature Center, at Drake Field and at Crossway.
Their objections started with concerns about the proximity to their own backyards and extended to fear of parasites, wildlife preservation, potential litigation, children's safety, parking traffic and unwarranted spending.
The response was so negative, that by the end of the meeting it was difficult to understand how the proposal had come this far.
As background, both the Scarsdale Forum and Scarsdale Neighborhood Associations Presidents (SNAP) had issued reports asking the Village Trustees to look into building a dog park in Scarsdale. Both reports extolled the many benefits of dog parks for dog owners and dogs alike. The SNAP report called a dog park a "much-needed amenity" for the Village of Scarsdale and asked the Village Board to "consider the establishment of a dog park in an appropriate location."
The Scarsdale Forum report concluded by saying, "The availability of a dog park in the Village is of interest not only to many of the 418 registered dog owners in Scarsdale, but also to others who would have to register their dogs if a dog park were made available, a not inconsequential benefit to the general public health and welfare. "However, the Forum report did note that siting the dog park could be a challenge, saying, "The issue of the location for the dog park will be of primary interest to neighborhood residents."
Following these recommendations, at their September 25 meeting, the Scarsdale Board of Trustees approved a resolution to "identify a qualified vendor for the development of dog park plans and specifications, as well as to complete any necessary environmental review, with such proposal for services to be presented to the Village Board at a future Recreation Committee meeting where consideration of park feasibility will continue."
However, rather than simply identify a consultant, it appears that the Village retained consultants JCY to examine the feasibility of a dog park at Weinberg Nature Center, which the Mayor said posed the most challenges and therefore required professional expertise. At the opening of the meeting on November 13, residents wanted to know why Weinberg was the only site studied and why Village Managers had not followed the Board's instructions.
Lucille Munz from JMC Planning presented the findings of their study on the feasibility and costs of a dog park at the Weinberg Nature Center. They examined the compatibility of the site with existing uses and adjacent uses, its impact on vegetation, wetlands, visuals and noise. They studied Rumbrooke Dog Park and Yorktown Dog Park to understand usage and parking needs. They determined that 40 parking spaces would be required to accommodate peak usage from 9-3 on weekdays and on weekends.
They recommended that the park be 100 to 200 feet away from homes, that the site have potable water and that the site be relatively flat and at least 1 acre. JMC was only able to identify three quarters of an acre at Weinberg that was flat and met the necessary setbacks from homes and wetlands.
Considering Weinberg, Munz found that the site vegetation was primarily invasive species such as Norway maples, burning bush and ivy, and estimated that to build a dog park 27, 16-caliper invasive trees would need to be removed, 1.75 acres would be disturbed and 15,000 square feet of impervious surface would be lost.
She recommended that 25 additional parking spaces should be built, adding to the already existing parking lot that runs along Mamaroneck Road.
The total cost for items such as tree removal, land clearing, grading, drainage, wood chips, planting of evergreens, construction of gravel paths and parking, fencing and a key fob system was estimated at $361,850, with annual maintenance costs of $9,200. These estimates were far higher than expected and some of the costs were related to specific conditions at the Weinberg Nature Center.
Munz also noted that potential affects of a dog park included increased traffic mostly on weekend, impact on nature center activities and the Leatherstocking Trail connection and noise disturbance due to increased visitors.
Trustees were invited to comment first and Justin Arest said, "The Board was clear that no contracts should be issued by village staff. It is unclear as to how we arrived here – with an executed contract – and I intend to look into this…The board needs to hear from the community that this is wanted and desired. Even if you are here to speak about one site, please also give your thoughts on a dog park in general. Where is this money coming from in the current climate? Should we consider a public private partnership? Is there grant money available? Can permits help offset the costs? How many dogs are there in Scarsdale? How will we staff the park? How will we enforce use by those who have permits?"
Jane Veron echoed Arest's concerns about the consultants and added, "I am very interested in hearing from the community. We received a Forum report and SNAP commentary."
Carl Finger said, "I think this report gives us something to chew on. We need to see if there is significant support for a dog park. What are the costs for a less challenging site? How does this compare to the Weinberg costs? Anyone in the abstract would like a dog park. When you get down to the site and the costs it is more difficult to reach a resolution. I have significant concerns about the site."
Seth Ross said, "We have not found a location that the community can get around. Weinberg seems like a less than ideal site. I think there will be similar objections to other sites. Another factor is size. It's optimally an acre or more but at Weinberg we have ¾ acre and the topography is not ideal. I don't think we are far along in the process of agreeing to go forward."
Lena Crandall said that the President of the Weinberg Nature Center had written a letter saying she is concerned from a scientific perspective. Disease could be transmitted between dogs and wildlife. She is concerned about coyotes and strongly opposes the idea of mixing wild and domestic animals. Crandall also had a response from a realtor who feels that a dog park would enhance the community.
The Board then invited the public to speak and a long line formed. Speaking at length, Sabine Bochner of 1 Barker Lane called the dog park "a horrible nuisance." She said that Weinberg is already an active place and feared that the dog park would cause cars to "spill out onto Barker Lane," and "impact traffic going to the Hutch." She questioned the estimate of $9,200 to run the park and warned, "If the dogs fight, owners will sue the village. There will have to be someone there enforcing usage."
Melanie Spivak, the President of the Quaker Ridge Neighborhood Association said she is "in support of a dog park but not at Weinberg Nature Center." She said, "I love that I can see wildlife in our neighborhood. As a member of SNAP I endorsed a dog park – but it has to be the right location." She said the Weinberg Nature Center is a "sanctuary for animals and a place to enjoy peace and beauty." She feared that "more trees will be taken down," and called the traffic
'problematic."
The President of Bronx River Audobon called Weinberg Nature Center "a living memorial," that was opened in 1958 as a wildlife preserve and should stay that way." Discussing the dog park at Ward Acres he said, "Birding has stopped because the dogs chased away the birds."
Residents also objected to a dog park at Drake Field. Tom Wilentz said, "I am alarmed at the thought of a dog park in Drake Field. I don't believe there is a 200-foot buffer. It is a multi-use park. If it were turned into a dog park it is only 1 acre – that would be it for Drake Field? This is not an ecologically friendly idea."
Gregg Schwinn of 49 Barry Road said, "I am against a dog park at Drake Field or anywhere. My area faces flooding and sewer back ups. The idea of spending $60,000 or $360,000 at a time when we have sewage backing up into people's houses makes me wonder why this is on the table. If we have 422dogs in Scarsdale, that's not a high percentage of dog ownership. Who would pay for this? Some won't take the dog to a dog park – people are afraid of their dogs getting sick. Why not look at something everyone could use?"
Anu Ramachandran of 3 Barker Lane said he lives across from the nature center. He said, "We took our dog to the dog park but she was injured. I heard the study was of many sites. Now I am alarmed – you have commissioned a study of one location. I am concerned that a judgment has already been made. Quaker Ridge is the home for an enormous number of activities. Golf courses, the pool, Crossway Fields… We have enormous traffic on Mamaroneck Road. There is a good chance that I will get into an accident. It takes 3-4 minutes for us to exit our house."
Sarah Bell, President of SNAP and the President of the West Quaker Ridge Neighborhood Association said she had many letters from residents to read. She said, "SNAP favored the village researching the feasibility of a dog park. Ultimately they did not recommend any one location. SNAP thought this meeting should be adjourned to get information about the other sites."
Mayor Dan Hochvert asked her not to use up all the remaining time but she continued, "Jeremy Gans, President of the Scarsdale Youth Soccer Association is opposed to using Crossway for a dog park as it competes with those using the field for sports." Adding her own opinion she said, "Crossway is also inappropriate."
Sarit Fuchs 2 Penn Blvd said, "I am not in favor of a dog park at Crossway. It's a busy place and there are lots of kids. Weinberg not an appropriate place."
Maura Mandrano a three-year employee of the nature center said, "I object to the idea of a dog park at the nature center. I love dogs – it's not that. I am a wildlife rescuer. I looked for a release spot to release wildlife – it was a perfect place for squirrels, opossums, birds. The spot for the dog run is far from the parking lot. There is a tendency for people to leave the dog off leash when they are going to and from the pen. They will impact the wildlife. Weinberg has programs for children
Kids are out on the trails all year round."
Roger Pellegrini of 22 Drake Road said, "I am surrounded by Drake Park. Turning my house into a dog park would make it uninhabitable. I am a dog owner. In theory a dog park is a great idea. I went to Ward Park – it's a dust bowl – and every time you go there is a fight."
Fred Green of 459 Mamaroneck Road said "I am a dog owner and a lifetime Scarsdale resident. We should use taxpayer funds to enhance the community. People move here because of the schools and the fields. They don't move here for a dog park. When the tax burden is this high we should invest in enhancing the community. If we have funds for a dog park, let's revisit the tax rate. There is litigation around dog parks. They fight with each other and bite people. In the abstract it's a nice idea. We are not desperately in need of a dog park. But we are in need of infrastructure."
Bob Berg, who was one of the authors of the SNAP report said, "We recommended that this meeting be adjourned. We asked that the Village study the issue. We wrote a report explaining the positives of a dog park. Because you focused on Weinberg, people have come out to object to it. Why not have the consultant do a study of all the sites? Let's see if there is a suitable place? The actual costs should be lower and fees should cover them. Dog parks are not crazy zones where dogs attack each other. A Scarsdale facility will be well run and supervised by friends of the dog park.
Instead of having hysteria lets have the consultant analyze it. I don't see this as a major expenditure. It upsets me that we spent $50,000 on a tennis court."
Rich Schechner said, "I have a petition signed by 33 residents against a dog park at Drake Park. We are opposed to a dog park. Montgomery Road is the parking lot for Edgewood School. Any added spaces will not change the traffic on Montgomery Road. Houses on Montgomery all get run off from the park – if you change the surface it will run off – and have a potential problem of parasites. There are other areas that would be better suited. There is currently no parking at Drake – take it off the list tonight."
Tom Giordano quoted the September 28 issue of the Scarsdale Inquirer which excerpted the Forum report on a dog park. It said, "Finding a location might be very difficult to solve….no matter how well suited, the residential owners will be upset."
He asked, "Why create all this turmoil for a dog park? Let's concentrate on other important matters."
Allison Park said, "I am opposed to a dog park, primarily because of parasites. Parasites would get into water."
Gwen Horn of Stratton Road is a fan of dog parks. She said, "I frequent Ward Acres. I have wonderful experiences there. It's a great way to keep people in the community. It brings people together."
Stuart Katchis of 2 Barker Lane said, "Why don't you partner with neighboring communities that have one. Let us register there and defer their expenses. Let's use things in other communities."
Ron Parlato of 1 Sherbrooke Road said, "I own the 10 acre site next door to the Weinberg. When I did my DEC updates they found the American beaver swimming in the 2.7 acre pond. What did the Weinberg family dedicate and donate this park for?
As time ran short before the start of the Board of Trustees meeting, the Board invited speakers to continue during the public comments portion of the regular meeting.
As one speaker said, "Don't' ask people if they are in favor of a dog park. Ask them if they favor a dog park in their own backyard." With NIMBY concerns ruling the night, it was doubtful whether the Trustees would continue to pursue the creation of a dog park. There appeared to be no location that would not upset someone.
Add a comment
Seinfeld and Gervais Visit Martine's in Scarsdale
Details

Category: Around Town
Published:

15 November 2018

Written by

Joanne Wallenstein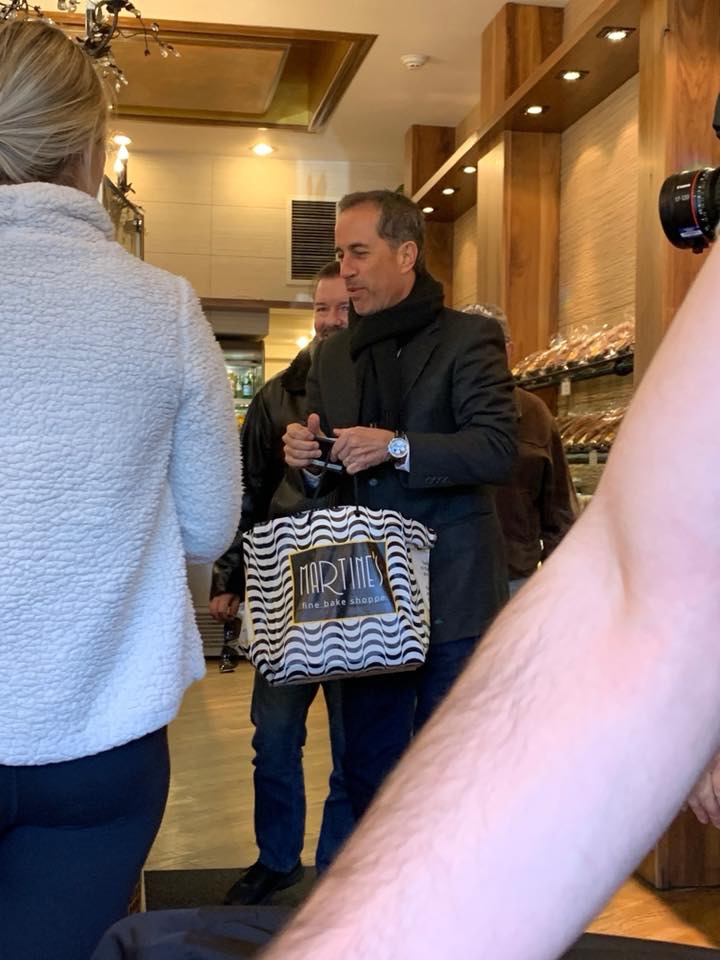 News about Martine's excellent baked goods has gone national! On Monday 11-12, we got this photo of none other than Jerry Seinfeld and Ricky Gervais who were inside Martine's in Scarsdale buying a chocolate babka.
The two comedians drove up to Scarsdale as part of their series, "Comedians in Cars Getting Coffee," and also had breakfast at City Limits in White Plains.
Now that Martine's is famous will it be even harder to get a parking spot on East Parkway and get a table inside Martine's?
Thanks to Jon Drucker for the photos of the celebrities.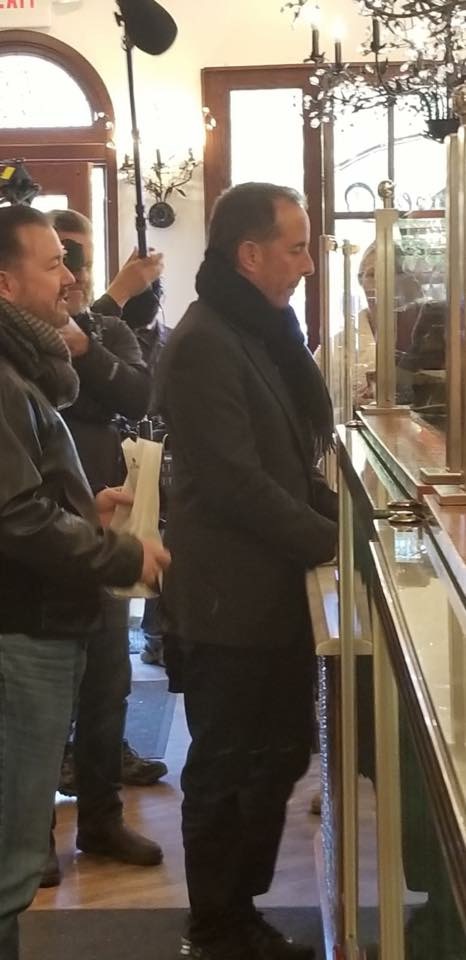 Add a comment
Four Prewriting Strategies For Writers Of All Ages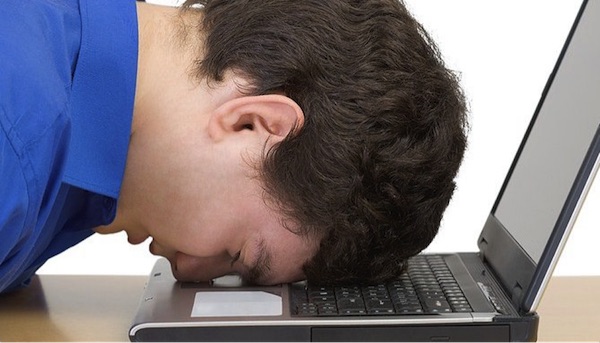 When you need to turn a blank page into a brilliant essay, paper or presentation, try these prewriting exercises. They are easy, quick, and adaptable to any writing assignment. They are certain to generate ideas, organize your thinking, and inspire you to better writing. Try the four below and see which works best for you!
1) Free writing
Free writing is a process of generating a lot of information by writing non-stop. It allows you to focus on a specific topic, but forces you to write so quickly that you are unable to edit any of your ideas.
Time yourself! Free write on the assignment or general topic for 5 minutes non-stop. Force yourself to continue writing even if nothing specific comes to mind.

Don't overthink it, and do not worry about grammar, spelling or even making sense.

Don't judge what you write -- just get down as much as possible in the timed period.
After you've finished free writing, look back over what you have written and highlight the most prominent and interesting ideas. Then, if you like, you can begin all over again, with a tighter focus.
Take a look at the following example, which demonstrates the free writing method for the prompt "Where Should I Apply to College?" The writer is unconcerned with convention, style, or writing rules.
Where the heck am I going to apply to college? I have zero idea, how can I possibly know now as a teenager? College, stress, school, grades, maybe a Gap year? I don't want an all-girls school even though my grandmother wants me to go to Mt. Holyoke because she did. I want a party school! YES, frat parties and football games and the stuff I have heard that sound so fun! I love parties. Parties, parties, parties. Big schools have that. School, college far away would be scary. Here is my partial list: UConn, Wheaton, Roger Williams (beach), U of Miami (warm), Brown (dream school can't get in) and U of Wisconsin where the state makes a lot of cheese and it requires a flight to get there -- that's a drag. I do really well in interviews. I'm really hungry and wonder if I have hit the five minute free-writing mark. How about Maine? Cold but beautiful and I want to be a marine biologist (I do? Where did that come from?) and my friend's brother is taking it at Colby……
2) Reporter's questioning
Asking the six questions that journalists use everyday is a powerful way to direct and organize your writing. This exercise works with all writing projects, from personal narrative writing to research projects or literary analysis. Questioning is effective because it focuses attention on what needs further research. The level of questioning can be basic or sophisticated, and the facts generated often end up as textual evidence in body paragraphs of the finished paper.
Who? Who is involved? Who is affected? Who is the central character?

What? What is the topic? What is its significance? What is the basic problem? What are the issues?
Where? Where does the activity take place? Where is information missing?
When? When did the issue or problem develop? When is the deadline or end point?
Why? Why did the issue or problem arise? Why is it an issue or problem?
How? How can this be fixed? How does it affect those involved? How can it be resolved?
Example: How much does the U of Connecticut cost? Where is Wheaton College and do they require SATs or ACT scores? When can I apply and what is the deadline? Do I know anyone who goes to either school? What types of programs exist? Who do I know who can help me figure this out?…….
3) Mind mapping
Mind mapping is an effective prewriting exercise because it provides a visual picture of your ideas and how those ideas relate to one another. The result will look like a web on your page. This exercise also determines where most of your ideas are clustered, giving you an indication of your level of interest, often sending you in new directions and areas of original thought.
To begin, put the subject, topic or prompt in the center of a page, and circle it. As you think of other ideas, link the new ideas to the central circle with lines. Review the image, and revise with a new web as often as you like.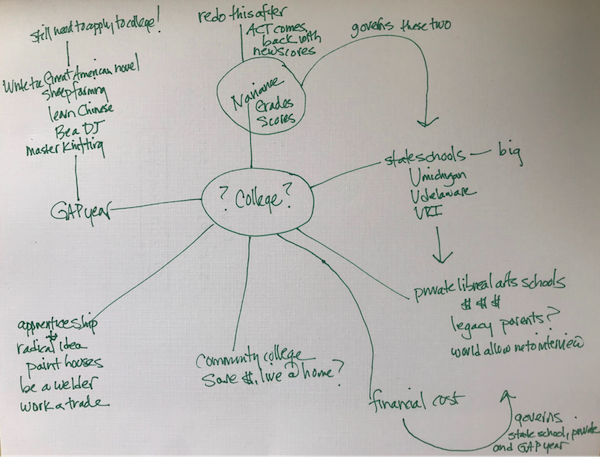 4) Brainstorming
Brainstorming is a process of quickly and freely generating a lot of information using lists and phrases. It can be done individually, with a partner, or in a group. Like freewriting, it requires openly expressing thought without judging, evaluating, analyzing or rejecting any ideas. Simply get everything down on paper!
After you complete your list, if possible find a partner and explain your list. Ask your partner's feedback to inspire more items on your list, adding until you think it is complete. This is brainstorming at its best.
Brainstorming alternates between loose thinking/writing, and then tightened thinking/writing. After you have completed your initial list, either individually or with a partner, put on your editor's cap. This is the time to organize, reduce, reorder, categorize, analyze and evaluate the list. Cross off items and reorganize the list, grouping like items together. Put the most important at the top. Your condensed list often becomes an organized outline for your writing project.
Brainstorming example: College, costs, distance, flights from near home, state schools, small liberal arts private schools, community colleges near home. Grades, test schools, Naviance. What kinds of students at the following. My list. Early decision?? Do any schools allow pets on campus? Do I have to take a gym class? I love science and where are the best science schools? Scared, worried, want that one place badly.
The above brainstormed list, condensed after editing: Grades and costs will influence where I apply. Chose an ED if my ACT comes back high. Apply everywhere, then wait and see, and finally, reevaluate. Don't get invested emotionally until accepted!
Caroline Crosson Gilpin is a private English tutor and essay coach for student writers in grades 5-12, and college and graduate students. An experienced high school teacher and college writing instructor, Gilpin is also a former editor at The New York Times Learning Network. For many years she was education editor at The Scarsdale Inquirer, where she reported on local and national education issues and also coached student writers and interns. Gilpin's four award-winning biographies are part of an early reader series for National Geographic Kids. She has master's degrees from Temple University (in journalism), and from Teachers College Columbia University (in Teaching of English). For a complete list of in-person and remote tutoring services, contact her at carolinegilpin60@gmail.com or visit Carolinegilpintutoring.com.
Add a comment
Analysis: How Do Home Sales Prices Measure Up to Scarsdale Assessments?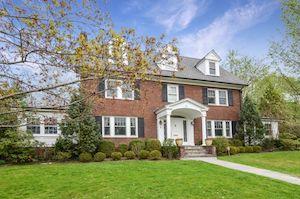 This analysis was submitted by Scarsdale resident Lee Fischman. Last year he co-chaired the Scarsdale Forum's Assessment Revaluation Committee and authored a draft report on the 2016 revaluation which was not published.

Property assessments are a cornerstone of Village finance and yet are based on an imprecisely valued asset: homes. They therefore tend to be notoriously inaccurate, unstable, and often controversial. When they get too far out of whack, a municipality-wide revaluation is called for.

What's the state of Scarsdale's assessment? The following analysis uses data provided to me by Village staff. I've had my work reviewed by at least one qualified, neutral person and will gladly provide it to anyone else who asks (contact the Editor and she will forward the request). A footnote describes what data was left out of my analysis , which runs from 2010 through June of this year. In the charts below, the term "Roll Year" is used, but since roll years are updated in the fall, the roll year 2017 actually includes the first six months of 2018. I could not provide an analysis past June 2018 because disqualifying "condition codes" were not yet applied by staff to certain records; I would urge that these be amended on a timelier basis, or a decision to conduct a future revaluation could be needlessly delayed for lack of information.

Equity is a critical aspect of assessments; residents want to know that owners of differently valued properties are each "paying their fair share". The leading statistic for this purpose is currently the Price Related Bias (PRB). Below is a chart of Scarsdale's PRB over time.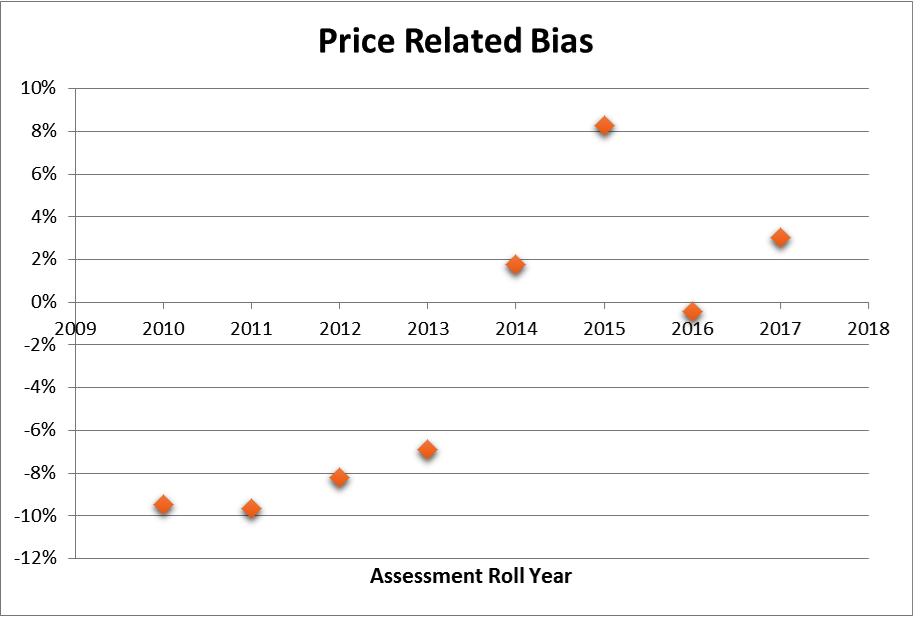 Pricing bias was decidedly negative in the years leading up to the 2014 revaluation, indicating that assessments undervalued more expensive properties. The 2014 revaluation appears to have flipped assessments to slightly favoring less expensive properties. While continuing to use the 2014 roll, in 2015 assessments become strongly progressive, at a level which probably was outside of reasonable bounds. The reader may recall that the Assessor cited market price movements as a major reason why a new revaluation was necessary, although she did not show them.

The 2016 revaluation resets the PRB to a nearly equitable level. This surprised me, as I distrusted the 2016 revaluation as much as anyone else! However, by the following year, using data from September 2017 through June of 2018, the PRB again trends towards greater progressivity. Preliminary indications (not published) are that this trend continues.

How accurate have initial assessments been over the years? The following chart tells the story. Prior to 2014, properties were on average over-assessed. In following years, they seem on average to have been under-assessed. Final, post-grievance assessments could have lessened the (positive) extremes seen below, provided a homeowner took the chance to grieve. Of course, an average is just that, and so the vertical lines show the spread of assessments. (For you nerds, they extend 1 standard deviation either way and assume a symmetric distribution.)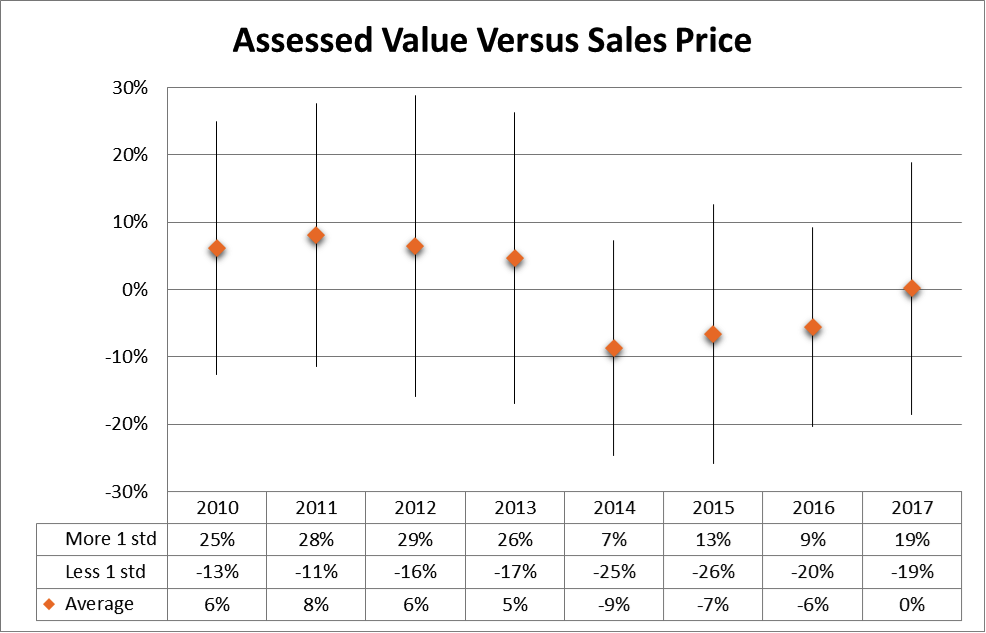 The 2014 revaluation also appears to have increased the average error in assessed values versus sales prices; this aligns with a major criticism of the estimating method used in the 2014 revaluation, that it introduced additional error into valuations. Interestingly and surprisingly given problems with the 2016 revaluation vendor, that latter effort appears to have modestly reduced overall error. Further results indicate that while the 2014 revaluation did nothing to improve valuation accuracy, the 2016 valuation brought assessment accuracy to its lowest point since 2010. That is even more amazing considering that this author believes the 2016 revaluation involved guesstimates.

These statistics matter a great deal because they deeply affect our pocketbooks, our sense of fairness, and they change over time. The public needs to be shown this information and probably more, on a regular basis and next time preferably not by a private citizen, but by Village staff. We need to publicly monitor the health of the current assessment, and together understand when new revaluations are required.

1) My analysis excluded:

• Christie Place sales
• All data with inadmissible condition codes
• New construction or renovations within two years, on the reasoning that assessments would be out of date for these.
• Land sales
Add a comment
Celebratory Walk for Fox Meadow School, Author Visits Greenacres
Details

Category: School News
Published:

14 November 2018

Written by

Midori Sonada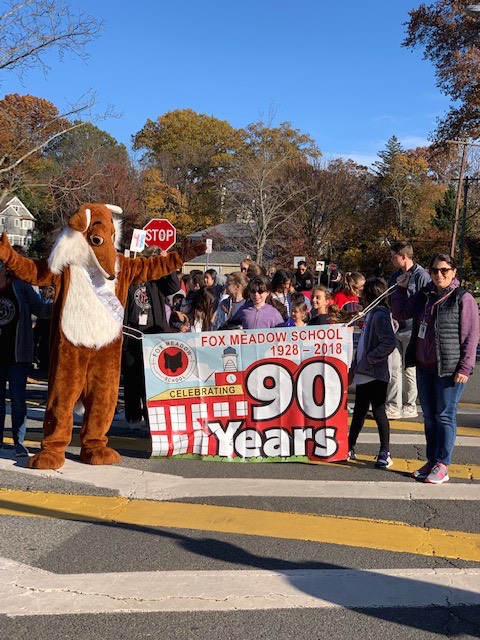 Over 400 students along with teachers and administrators took a celebratory walk from Greenacres Elementary School to Fox Meadow Elementary School on Thursday November 8 to commemorate the opening of Fox Meadow School 90 years ago.
The excited kids were bussed from Fox Meadow to Greenacres where they were greeted by police, fire trucks and Foxy the Fox. They lined up by class on the blacktop at Greenacres before forming a big line to walk down Brewster Road and commemorate the walk the students made 90 years ago for the opening of Fox Meadow School.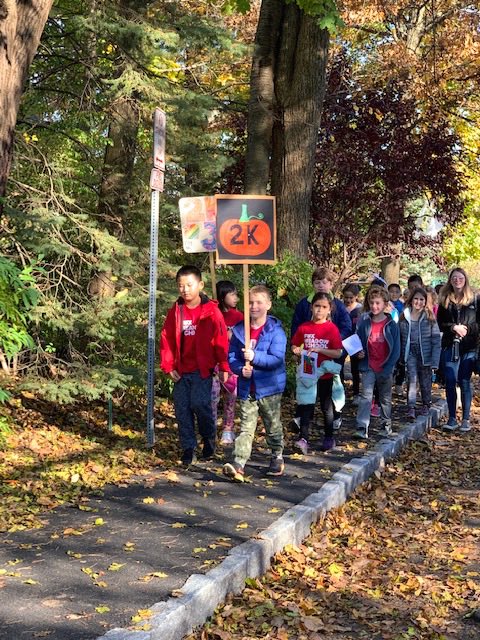 Dan Gutman, Author of My Weird School Visits Greenacres
Dan Gutman On Thursday, November 8th some lucky Greenacres students won a lottery to have lunch with visiting author, Dan Gutman. Mr. Gutman, a resident of New York City, is the author of the extremely popular My Weird School series. In addition, he has also penned several books on topics such as famous athletes, the electoral process, and a machine that does homework (the last being fiction).
While munching with his third, fourth and fifth grade lunch mates last week, Mr. Gutman discussed with them their futures, their teachers, and, of course, the weirdest thing to happen at Greenacres (a police incident was cited). Fifth grader Ella Hurwitz said, "Lunch was fantastic…he was really funny." Charlie Im, a third grader, said, "I think it's really interesting to hear how books are written. Maybe I'll write one one day."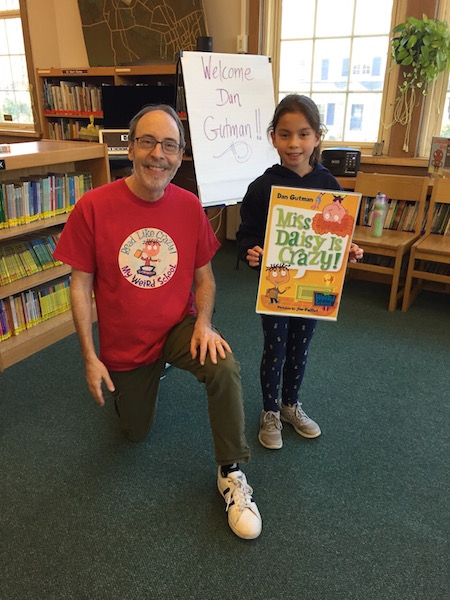 Mr. Gutman loves writing for children, and values the opportunity to meet face to face with his audience. In addition to the lunch with about a dozen students, he also met with each of the upper grades and also spoke at a school assembly. He shared with his young audience how being an author was not always so easy (such as receiving 20 rejections for one book) as well as what it's like when you get your rhythm (it takes about a month for him to write a book in the My Weird School series).
While he's had to say farewell to some of his beloved creations (Rappy the Raptor, a picture book series, is now sadly gone into extinction) he also sees new avenues for opportunity, such as ebooks and other media, on the horizon.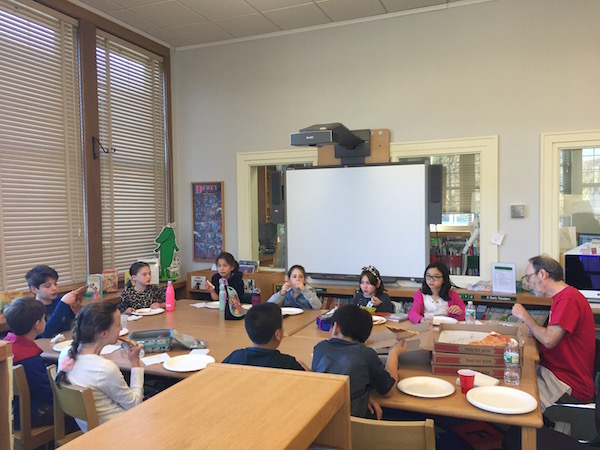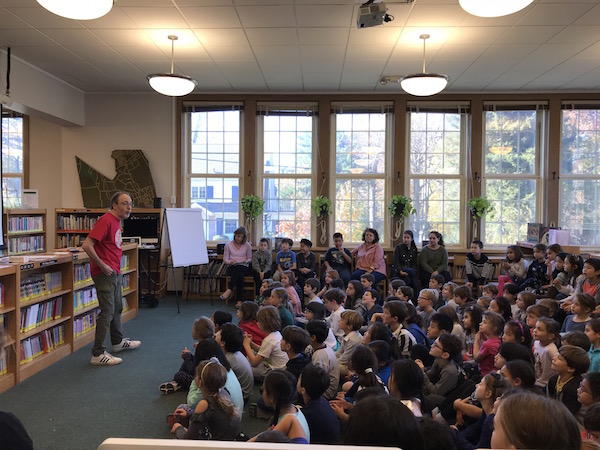 Add a comment