STEP Celebrates Students' Success in Scarsdale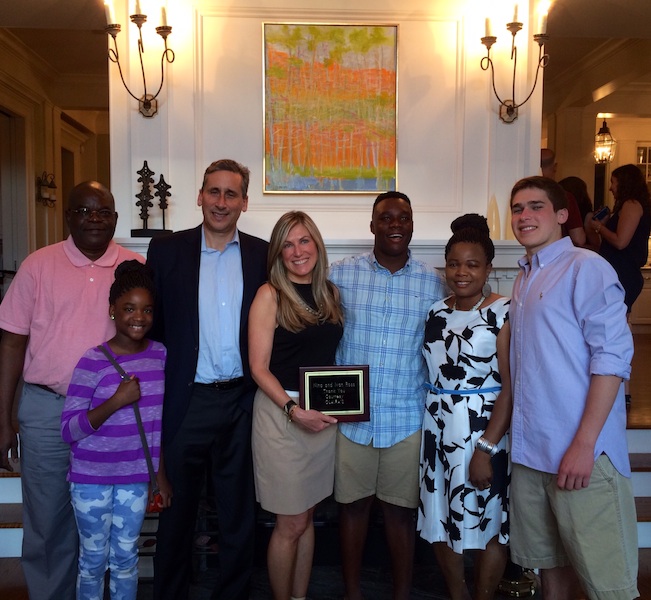 Scarsdale Student Transfer Education Plan (STEP) marked the graduation of STEP scholar Dare Olaifa at a celebration dinner in his honor at the home of STEP Board Member Beth Ehrich Berkeley on June 26. Dare, who came to Scarsdale High from Memphis for his junior and senior years, is headed to Villanova University this fall. At the graduation fete, Dare's parents and 10-year-old sister joined STEP board members and friends to commend his many accomplishments during his time at SHS.
STEP senior co-chair Valerie Abrahams presented Dare with gifts from the STEP board and a MacBook Air, a gift from friends of his host family. In her remarks, Valerie praised Dare's academic success and his activities in the community. At SHS, Dare joined the football and track teams, participated in various clubs, was elected to student government, and most recently, performed in the senior class performance of Grease. On weekends, he volunteered at Hawthorne Cedar Knolls, a residential treatment center for adolescents with emotional problems. Valerie also thanked Dare's SHS deans and teachers, as well as former SHS History Department Chair, Eric Rothschild, who founded STEP in 1966. Rothschild, a widely respected retired SHS teacher and Scarsdale Village Historian, attended the graduation dinner as a continuing supporter and board member of STEP.
In a heartfelt speech, Dare thanked his host family, Nina and Ivan Ross and their sons, Ethan, Tyler and Josh, and the STEP board for guiding him through school here, and helping him to feel at home in Scarsdale. He also thanked representatives of Collegistics, a local college advisory service founded by several STEP board members, for helping him to navigate the application, financial aid, and scholarship process. Dare's father, Olefemi Olaifa, expressed his family's gratitude to the Rosses and to the STEP program. Dare's sister, Grace, presented the Ross family with a plaque of appreciation. The Olaifas emigrated to the United States from Nigeria when Dare was six years old.
Robert Lee, STEP's rising senior from Memphis, lives with Nan and Lee Berke during the school year. DonTavius Holmes, STEP's incoming junior, will arrive in Scarsdale in August. He will live with Bettina and Michael Klein. STEP will welcome DonTavius at an event in September, and both students will join STEP board members and students from the SHS STEP Club at its annual fund-raising bake sale at the Friends of the Scarsdale Library book sale on Saturday, September 6.
The Scarsdale Student Transfer Education Plan (STEP) is an independent community program that identifies promising students of color and enables them to attend Scarsdale High School for their junior and senior years. The program offers qualified students access to Scarsdale High School's strong college preparatory program and extensive extracurricular activities, as well as the cultural and recreational resources of the New York metropolitan area. While in Scarsdale, each visiting student lives with a host family and is encouraged to become an integral part of the Scarsdale community. To learn more about STEP, to inquire about becoming a host family, or to make a donation, visit www.scarsdalestep.org.