Changing Places: Retailer on the Move
Details

Written by

Joanne Wallenstein

Category: The Goods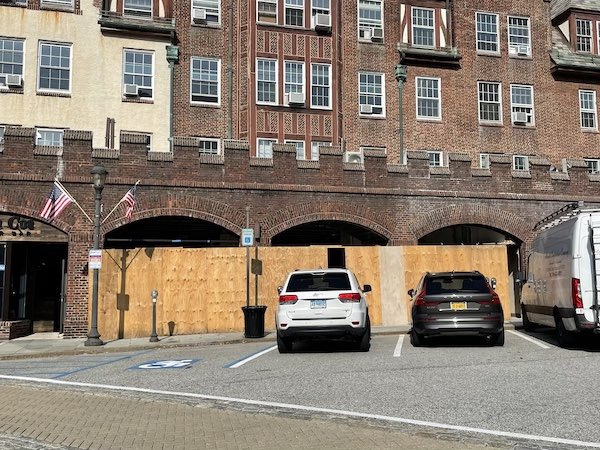 What's going in behind the big wood boards on Boniface Circle? It's been a topic of speculation for weeks, and now we've got the answer.
A favorite Village retailer is expanding into larger quarters, giving them more display space and room for their growing customer base. Michael Rosen from the Eye Gallery of Scarsdale is happy to report that they will be moving from their site on the corner of Spencer Place and Harwood Court where they have been since 1979 to their expanded new digs.
The 1,400 square foot retail space along with another 1,000 square feet below are now being renovated under the direction of architect Len Brandes – who also designed the new gelato shop and Scarsdale's French bistro, Micheline.
The store will feature a brick and glass storefront, similar to their neighbors Pamela Robbins and Rothmans, also on Boniface Circle.
Rosen explained, "We have 3,000 frames in inventory, half of which we can't display. Now these beautiful frames will be housed in custom milled cabinetry, enabling customers to see far more of what is available."
The store will also feature an espresso bar and seating to accommodate their growing customer base.
Work began in August and Rosen hopes to open in the new location in January. In the interim, stop by the Eye Gallery on Spencer Place for the latest in custom glasses and sunglasses.
2023 Health, Beauty & Wellness Fair Shines in the Rain
Details

Written by

Joanne Wallenstein

Category: The Goods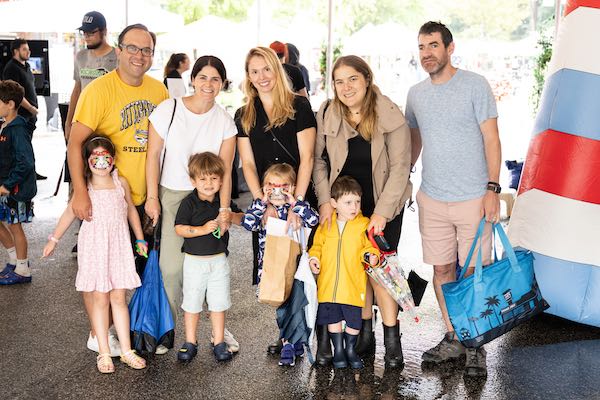 Steady rains did not stop the 2nd Annual Health, Beauty & Wellness Fair, presented by White Plains Hospital on Sunday, September 10th in the Village center. The event was a combination of health and wellness vendors with the offerings of the Scarsdale Farmers' Market and games and fun for children.
Fortunately each vendor was shielded from the elements by a tent – and they braved the rain and wind with smiles. We stopped by and chatted with representatives from Scentfluence, Back to Rock, Anthi's Greek Specialties, Arlotta Food Studio, Baked by Nandini, Babka Paradise, Copper Faucet Soap Company and Khem Studios, who were all cheerful despite the less than ideal conditions. Kids posed for photos in costume, tried the racetrack and had their faces painted staying dry under large dining tent.
Marcy Berman-Goldstein from the Scarsdale Business Alliance planned and produced this ambitious event. Here's what she had to say:
"Despite the unfavorable weather conditions, we are grateful to the community members who showed up to support our Farmers' Market Vendors and the HBW Fair sponsors and participants. The Scarsdale Business Alliance (SBA) relies on its community events and fundraising efforts to operate and to support its business members, and remains committed to continuing to infuse vitality in our Village center. Thank you to this year's sponsors. Without their generous support, this event would not have been possible."
Families in attendance enjoyed participating in numerous activities, including the 30' mini-raceway with remote-operated cars, multiplayer balloon blast game and fan-favorite classic carnival games, photo-booth, GameTruck gaming sessions, face painting, caricatures and music activities. Lulu's Blue's Cruise Band entertained attendees with blues, jazz, funk, rock, and reggae.
We are thrilled to have selected Scarsdale Edgemont Family Counseling Service (SFCS) as the 2023 beneficiary. Jay Genova, Executive Director of SFCS offered an inspiring message: "On behalf of the Board of Directors, Staff and for all those that receive services through SFCS, please accept our heartfelt thanks for selecting SFCS as the beneficiary of the Health, Beauty, and Wellness Fair. The event was well-organized and provided SFCS with a unique opportunity to market our services and interact with the community in a fun and light-hearted way. We hope that we lived our messages of being adaptable and resilient and that we delivered the message that SFCS is available to the community in rain or shine."
Photos by Mark Jessamy
Routines, Relationships and Resources: Keys to a Smooth Transition Back to School
Details

Written by

Wendy MacMillan

Category: The Goods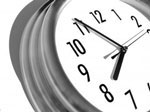 It's that time of year again! The days are cooler, the nights are longer and the air is filled with the excitement of a new school year. Whether the first week of school has your kiddos jumping for joy or wringing their hands, we have some suggestions to help the transition back to school go as smoothly as possible.
First, Scarsdale High School Psychologist Dr. Peter Faustino's advice is to "Definitely fall into three R's (not reading, writing and arithmetic) but Routines, Relationships and Resources."
Faustino suggests, "Start school routines now! The benefits of exercise and good sleep are showing profound effects on mental health. High School can be rigorous as student's juggle various demands, but prioritizing exercise and sleep are the foundation to managing it all. Examples would be to set an alarm now for the start time of school and practice getting into bed at the time you should when school is in session, eat meals as if you have started a school schedule, plan walks or regular physical activity, and perhaps even begin reading a new book to soften the transition of September."
He also explains, "Relationships are key in the science of resilience as well as in academic success. Remind anxious teens that everyone is feeling a little nervous AND everyone is also looking forward to connecting. So freshmen should take chances to say hello to new classmates or be brave and ask to sit at someone's table at lunch. Juniors and seniors should reach out to teachers and connect in the first few weeks to ask questions and build trust. This also means avoiding social media and focusing time and energy on "in-person" connections that sound like laughing in the hallways, making plans to socialize on weekends, or spending time with teachers during office hours or afterschool."
Finally, Dr. Faustino would "Encourage children to reflect on their Resources (both internal and external). Internal resources include avoiding negative thinking ("This school year will be soooo hard or junior year is the worst.") and replacing it with positive thoughts. Ensuring that our thoughts remain positive will help us maintain motivation, effort to accomplish goals, and positive feelings. Teens can do this by focusing on past successes, thinking about smaller manageable goals and gratitude for the things that they have in their lives as opposed to the things in the future that have not yet happened. And external resources are all of the school based professionals who are available to help families when school presents a challenge. Reducing the stigma around asking for help or mental health struggles means using the resources that schools offer in the form of School Counselors (Deans), School Psychologists, or School Social Workers."
While Dr. Faustino works at SHS and his suggestions are geared toward teens, his advice is applicable to, and can be adjusted to help students of all ages.
Members of the SMS Wellness Committee agree with many of Dr. Faustino's ideas and further emphasize these suggestions:
Get a good night's sleep.
A healthy sleep routine has so many benefits including boosting stamina, focus, and moods!
Remain organized and follow a predictable routine.
Try packing up and preparing the night before and creating and posting a visual checklist for your child.
Plan and eat healthy meals and snacks.
Eating a healthy diet full of protein and lots of fruits and veggies will help boost energy levels, increase attention span, and keep your immune system strong!
Use mindful techniques to help ease anxiety.
In addition to relieving tension and stress, mindfulness can also help improve focus and attention.
Regularly check in with your kids.
Check to see how they are feeling about going back to school. Try to ask open ended questions and use "active listening" skills. But also express your confidence in your child's ability to make a smooth transition.
Communicate with your child's teacher and other faculty members.
We are lucky to have such dedicated and responsive teams here in Scarsdale! If you have any questions or concerns, don't hesitate to reach out to your child's teacher, counselor, or school psychologist. And don't forget that Scarsdale Edgemont Family Counseling Services is an invaluable resource for our community!
From preschool through senior year, these tips should help any student start the year off right. Wishing all of our families a happy and healthy school year!
Wendy MacMillan is a former teacher and a proud mom of two children. While her background is in psychology and education, Wendy was recently trained in mindfulness at Mindfulschools.org. She has long been passionate about wellness, and as an active member of the Scarsdale PTA, Wendy helped to bring mindfulness to her children's elementary school. In addition, Wendy helped establish and is an acting member of the school's Wellness Committee.
Back to School in Style
Details

Written by

Wendy MacMillan

Category: The Goods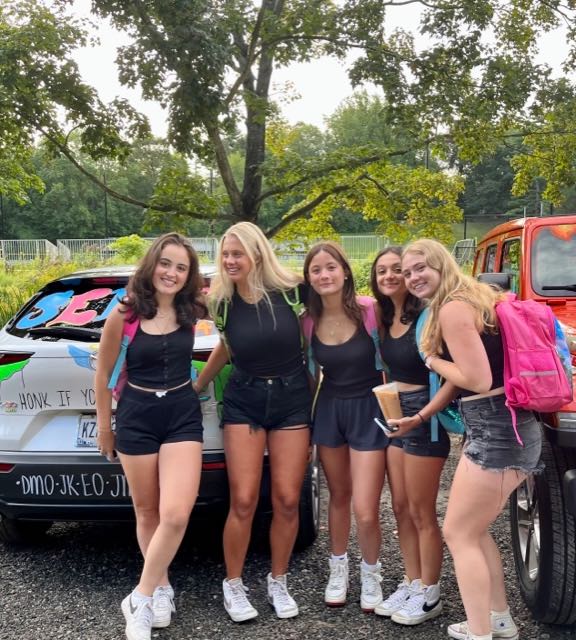 With a touch of fall in the air, Scarsdale kids were off to the first day of school. The pre-Labor Day weekend start was a first for the district, but no one seemed to mind. High School students arrived in painted cars, some with coordinated outfits, looking sharp and eager for the 2023-24 school year to begin. Administrators, teachers and staff were happy to pose as well.

At the elementary schools, some walked, others boarded buses, but everyone arrived in style. Take a look at these photos taken by Wendy MacMillan. And if you have photos you would like to add to our galleries, please email them to scarsdalecomments@gmail.com.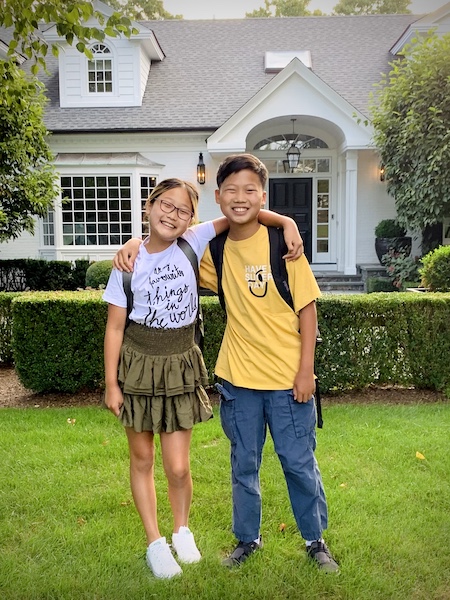 It Could Be You: Burglary Prevention Strategies from the Scarsdale Police
Details

Written by

Joanne Wallenstein

Category: The Goods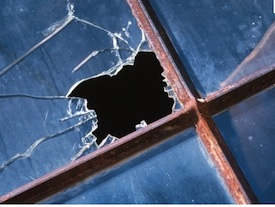 Though no one likes to think about it, burglary is on the rise in our area. In warm weather we tend to go in and out of the house without taking precautions. However, better to be safe than sorry. Here are some burglary prevention strategies from the Scarsdale Police:
The New York Metropolitan area, including Westchester County, continues to experience a rise in property theft. The Scarsdale Police Department deploys patrol 24/7 and conducts burglary and larceny patrol on a regular basis. We collaborate with local jurisdictions and Westchester County's Real Time Crime Center to share information in an effort to minimize the number of thefts.
Critical components of property crime prevention include being an observant neighbor and immediately reporting suspicious behavior to the police and "Target Hardening" of your property. Residents are encouraged to call the police first if suspicious or unusual behavior is observed. Callers can remain anonymous. Please use 911 in any emergency and 914-722-1200 for everything else.
The following tips and strategies are presented for consideration in target hardening your home.
LOCK YOUR DOORS AND WINDOWS
It is critical to consistently ensure all doors and windows are locked, even when you step out briefly. This simple act can significantly deter potential burglars. This includes the second-story and attic windows.
USE/INSTALL A SECURITY SYSTEM
There are numerous options on the market for home security systems, including some more affordable DIY setups. These systems can deter potential burglars and increase your peace of mind. Please use a loud audible siren and ensure that your alarm is registered with the Village of Scarsdale and monitored by a central station that will notify us when an alarm is triggered. Please consider using your alarm system even when you are home.
STORE VALUABLES AND CAR KEYS OUT OF SIGHT
Don't tempt potential thieves. Keep expensive items and automobile keys out of view from doors and windows.
DON'T ADVERTISE THAT YOU'RE AWAY
If you're going on vacation, avoid signaling your absence. Ask a neighbor to collect your mail or stop delivery services until your return. If you want to post photos on social media, please try to wait until you return home.

DON'T HIDE KEYS OUTSIDE
It's safer to give a spare key to a trusted neighbor than to hide it in a predictable spot outdoors. Under an obvious rock or doormat is not an effective hiding place. This also includes leaving house keys inside vehicles.

KEEP YOUR HOME WELL LIT
Install outdoor lighting around your home, if possible, especially near entrances. Motion-activated lights can be particularly effective. Please keep your neighbors in mind when positioning lights.
WINDOW SECURITY FILM
This clear layer can strengthen your windows and prevent them from shattering, deterring burglars.
VIDEO SURVEILLANCE CAMERAS
High-definition security cameras offer real-time monitoring and recording. Some cameras also offer facial recognition, night vision, and remote access via smartphones. There are inexpensive options on the market that do not require professional installation and can be an added deterrent.
AVOID BUSINESS PATTERNS
Residents should try and avoid bringing business funds to their home. If doing so is unavoidable, residents should avoid creating any patterns related to payrolls or collections.
SAFES SHOULD BE KEPT SECRET
Ensure that safes are hidden and difficult to get to. Do not share any information about the presence of a safe in your home.
KEEP AN EYE OUT
Ask a trusted neighbor to look after your home and be vigilant for anything that appears suspicious in nature. You and your neighbors are the best judges of what is suspicious, and the Scarsdale Police Department will send officers to investigate when a call is received– don't second-guess yourself or hesitate to call the police.
SPD DARK HOUSE PROGRAM
When you will be away for a period of time, enroll in the Scarsdale Police Department's "Dark House" program to ensure a patrol officer checks on your home while you're away. Call 914-722-1200 to get more information and register.
HOME AUTOMATION
Consider installing a few automated light bulbs that can be turned on remotely or with certain planned scenes while you are out of the house.