Who Do You Think Should Win the Scarsdale Bowl? Committee Seeks 2023 Honoree
Details

Written by

Joanne Wallenstein

Category: The Goods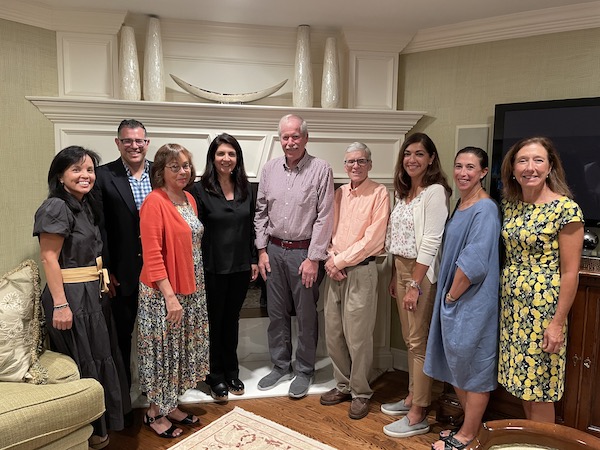 The 2022 Scarsdale Bowl Committee is looking for nominations for the 2023 Bowl Award winner. The Committee will hold its first of several meetings dedicated to selecting this year's honoree on December 11, 2022. Nominees for the Bowl award are requested by December 1st, but will be accepted until December 11th. Candidates must be Scarsdale residents who do not currently hold elective office. The Scarsdale Bowl Committee seeks a diversity of candidates for consideration. To access the nominee recommendation form, click here.
The Scarsdale Bowl, under the sponsorship of the Scarsdale Foundation, has been awarded annually since 1944, to an individual (or, in exceptional cases, to a married couple) who has given "unselfishly of their time, energy and effort to the civic welfare of the community." The founding donors of the Bowl believed that "many who serve generously and voluntarily, without office, honor, or publicity, are those deserving of having their names permanently inscribed on the Scarsdale Bowl." The Scarsdale Bowl Award is the highest honor bestowed on a Scarsdale resident in recognition of his or her volunteer public service in the community. The Bowl itself, with the honorees engraved names, is permanently displayed at the Scarsdale Library.
This year, the Bowl dinner is scheduled to be held on April 27th at Mamaroneck Beach and Yacht Club. The dinner will pay tribute to the newest Bowl honoree, as well as celebrate the spirit and culture of volunteerism in Scarsdale.
The Scarsdale Foundation is pleased to share that Erika Rublin is the Chair of the Scarsdale Bowl Committee, with Leah Dembitzer serving as Secretary and Isabel Finegold serving as Treasurer. The members of the Bowl Committee are Becky Bach, Sara Farnsworth, Carl Finger, Tim Foley, Adam Hellegers, Ronny Hersch, Sharon Higgins, Angela Manson, Margot Milberg, Susan Ross, Xue Su and Beverly Thornhill. Elyse Klayman, a Scarsdale Foundation Trustee, will serve on the committee as a liaison, along with Suzanne Seiden, President of the Scarsdale Foundation Board.
This year marks the 100th anniversary of the Scarsdale Foundation, a community institution that has quietly but effectively helped individuals and local community organizations through scholarships and grants over the course of a century. Most significantly, the Scarsdale Foundation has awarded more than $1 million in scholarships during the past ten years to Scarsdale's high school graduates in their sophomore, junior and senior years of college. Funds raised at the Scarsdale Foundation Bowl Dinner will enable the Scarsdale Foundation to continue supporting Scarsdale students faced with financial obstacles to continue their education. We look forward to gathering in recognition of all that makes Scarsdale a special place to live, and to benefit generations to come.
Questions? Please reach out to Erika Rublin, Bowl Chair at erublin@gmail.com. Additional information about the Scarsdale Foundation and the Scarsdale Bowl may be found at www.scarsdale-foundation.org.
Democrats Take Westchester with 60% of the Vote
Details

Written by

Joanne Wallenstein

Category: The Goods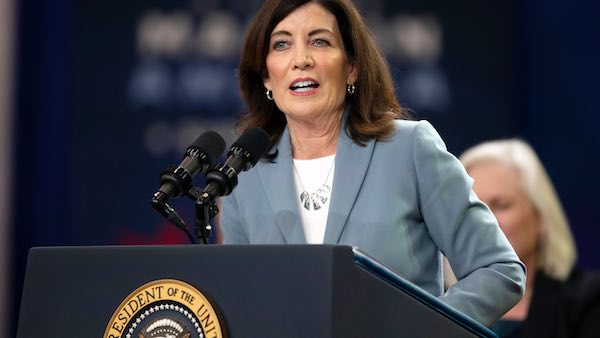 Kathy Hochul is the first female governor of NYS.After a tumultuous election season and wide uncertainty about the outcome of the vote, Democrats took Westchester County and voted in New York's first female Governor Kathy Hochul with 60% of the vote to 40% for Republican challenger Lee Zeldin. Zeldin, a former Congressman from eastern Long Island. Zeldin's platform centered on fighting crime and was effective at narrowing the gap in the vote in a state where Democrats outnumber Republicans 2:1. On the streets of Scarsdale, election signs for Zeldin were plentiful causing many to speculate about the sentiments of local voters but in the end, the Democrats prevailed.
All the other races on the ballot in Westchester followed suit, with Democrats taking approximately 60% of the vote to 39% for their Republican challengers.
According to the Westchester County Board of Elections website on Wednesday morning November 9, here are the winners in Tuesday's election:
Governor/Lieutenant Hochul/Delgado – 60%
Comptroller Thomas DiNapoli – 63%
Attorney General Letitia James – 61%
U.S. Senator - Charles Schumer -63%
Congressman Jamaal Bowman – 60%
State Senator Shelley B. Mayer 61%
State Assemblywoman Amy Paulin – 63%
Two candidates from Scarsdale were on the ballot. Former Scarsdale Mayor Miriam Flisser ran as the Republican candidates for Congress vs. incumbent Congressman Jamaal Bowman and got 37% of the vote.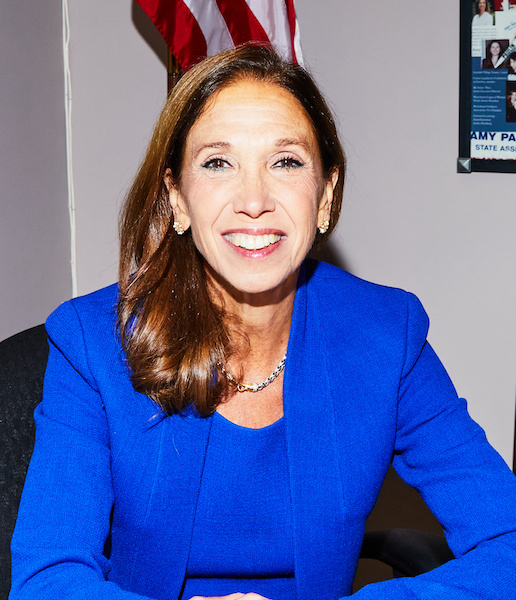 Amy Paulin retained her seat in the NYS Assembly
Frank Murtha challenged incumbent State Senator Shelley B. Mayer and received 39% of the vote.
Statewide, the gap between Hochul and Zeldin was far narrower, with Hochul receiving 52.7% of the vote to Zeldin's 47.3%.
The Clean Water, Clean Air and Green Job Environmental Bond Act, which provides $4.2 billion to fight climate change, mitigate flooding, conserve land and water quality improvements passed in Westchester with 73% voting YES. The Proposition was on the back of the ballot and there was concern that voters would not remember to turn over the ballot to vote for the proposition. In Westchester, 275,090 votes were cast on the proposition which is 37,000 fewer votes than were cast in the Governor's race, so perhaps some did not see it.

Assemblymember Amy Paulin thanked her supporters, saying:

"I am honored to have been re-elected to the New York State Assembly and look forward to continuing to serve as your representative. Thank you for your support and faith in me.
Campaigns are always the best way to meet with constituents and hear what is on people's minds. This one was no different, whether it was knocking on doors or taking part in debates and candidate meetings. I heard so many good ideas and important perspectives.
Now I am energized to go back to Albany and meet our State's issues head on. That means improving public safety, improving our economy, addressing climate change, and so much more.
I look forward to working with Governor Hochul as she enters her first full term, along with my colleagues in the Legislature. While I'm pleased that New Yorkers showed confidence in our Democratic team, the campaign is a reminder that people have a wide range of opinions and that my obligation is to pay attention to all constituents, whether they supported me or not.
Thank you to all those who came out to vote. Elections, and your vote, matter more than ever.
Thank you again to my friends, family and constituents who have stood with me in the communities of Eastchester, Bronxville, Tuckahoe, Pelham, Pelham Manor, Scarsdale, Edgemont, New Rochelle, and White Plains. We live in incredible communities with amazing people, and by standing together during the next two years, we can make our communities even better."
Commenting on the results, State Senator Shelley Mayer said, "Thank you to the voters of the 37th Senate District for their support and faith in me. I'm deeply honored to have been re-elected to serve as your Senator. I owe thanks to all my friends and supporters who stood up for me in so many ways, to my team which was incredibly disciplined and driven, to new voters who took a chance on me, and to my family, which is a constant source of support and love. Whether you voted for me or not, I'm humbled to serve all those in this district, from Yonkers to Pound Ridge, Eastchester to Port Chester, Harrison to White Plains, Scarsdale to Rye, and all the places in between. On to the work at hand!"
Congressman Jamaal Bowman said, "Two years ago, we celebrated an improbable victory. Many people doubted that we could stand against a 31-year incumbent with all the money and power. We proved them wrong then, and tonight we showed them how truly powerful the people are.... The voters decided resoundingly that I was the best person to represent them. To everyone who believed in me once again, know this: I will never stop fighting for every person and every community in every part of this district. We will continue to fight for health care as a right, not a privilege. We will continue to fight for reproductive freedom. We will continue to fight for meaningful gun reform to stop the killing and keep our kids safe. We will continue to fight for a liveable planet to pass to the ones coming behind us. We will continue to fight for a high quality public education for every child. And we will continue to fight for our democracy—now more than ever. I want to thank the voters of NY-16 for placing their confidence in me again. I am a Black man, raised by a single mother in a housing project. That story does not always end in Congress. I am so excited to get back to Washington to make good trouble and be your champion."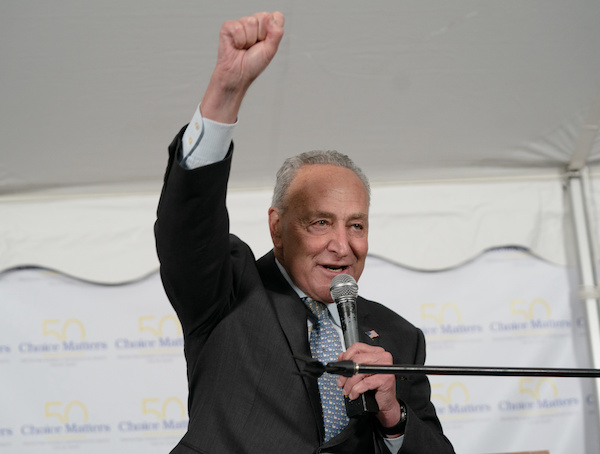 Chuck Schumer at a Pro Choice Rally in Scarsdale
Scarsdale Students Demonstrate High Proficiency on State-Wide Tests and College Entrance Exams
Details

Written by

Joanne Wallenstein

Category: The Goods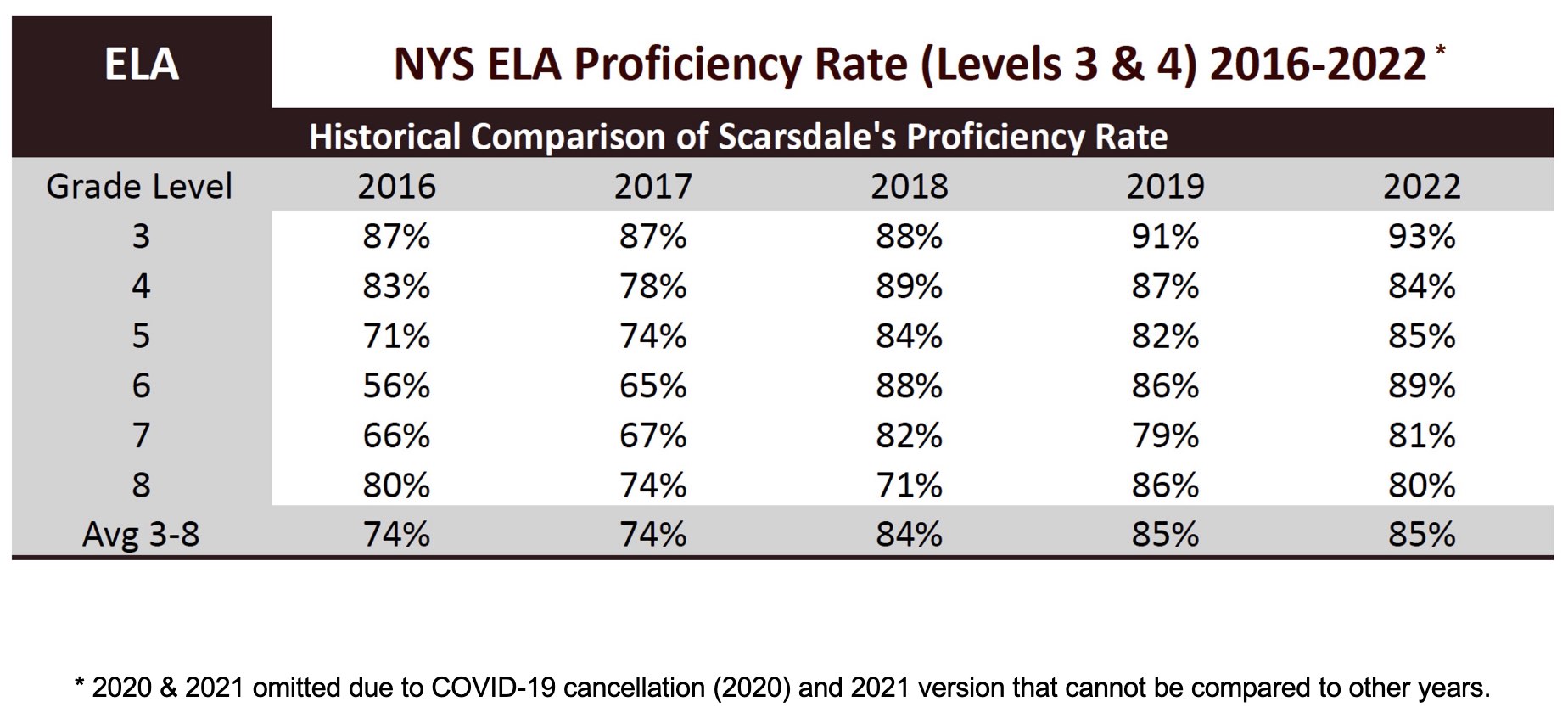 At a time when the media is reporting educational gaps in learning due to the pandemic, students at Scarsdale Schools do not seem to have lost proficiency as demonstrated in statewide tests for elementary and middle schoolers and on the SAT's, ACT's and achievement tests for college-bound students.
Before previewing the results, Superintendent Drew Patrick cautioned that these tests only measure performance at a moment in time and do not reflect student's experiences nor the value or merit of our schools. However he said, "We do pay attention to these measures against prior years and other communities." He asked parents to "resist drawing sweeping conclusions from this data."
Introducing the data, Assistant Superintendent Edgar McIntosh said, "Learning loss has been of great concern across the pandemic however Scarsdale continues to maintain high levels of achievement." Again he warned, these results "represent only skills that can be assessed. Assessments were paused or amended during 2020-21, so we are comparing this data to 2019."
About college admittance, Dean Oren Iosepovici will give a presentation about college admission at the BOE meeting 12/5.
The chart showed that nearly 100% of Scarsdale students go on to four year colleges. However, in 2022, 61% went onto the most competitive colleges which fell from 63% the prior year and 67% in 2020.
The mean SAT scores remained high at 673 on the English portion and 701 on the math, total mean scores compared positively to prior year and far exceed national values. Comparing Scarsdale's ACT and SAT scores to comparable districts, Scarsdale scores were the highest among the eight comparable districts shown.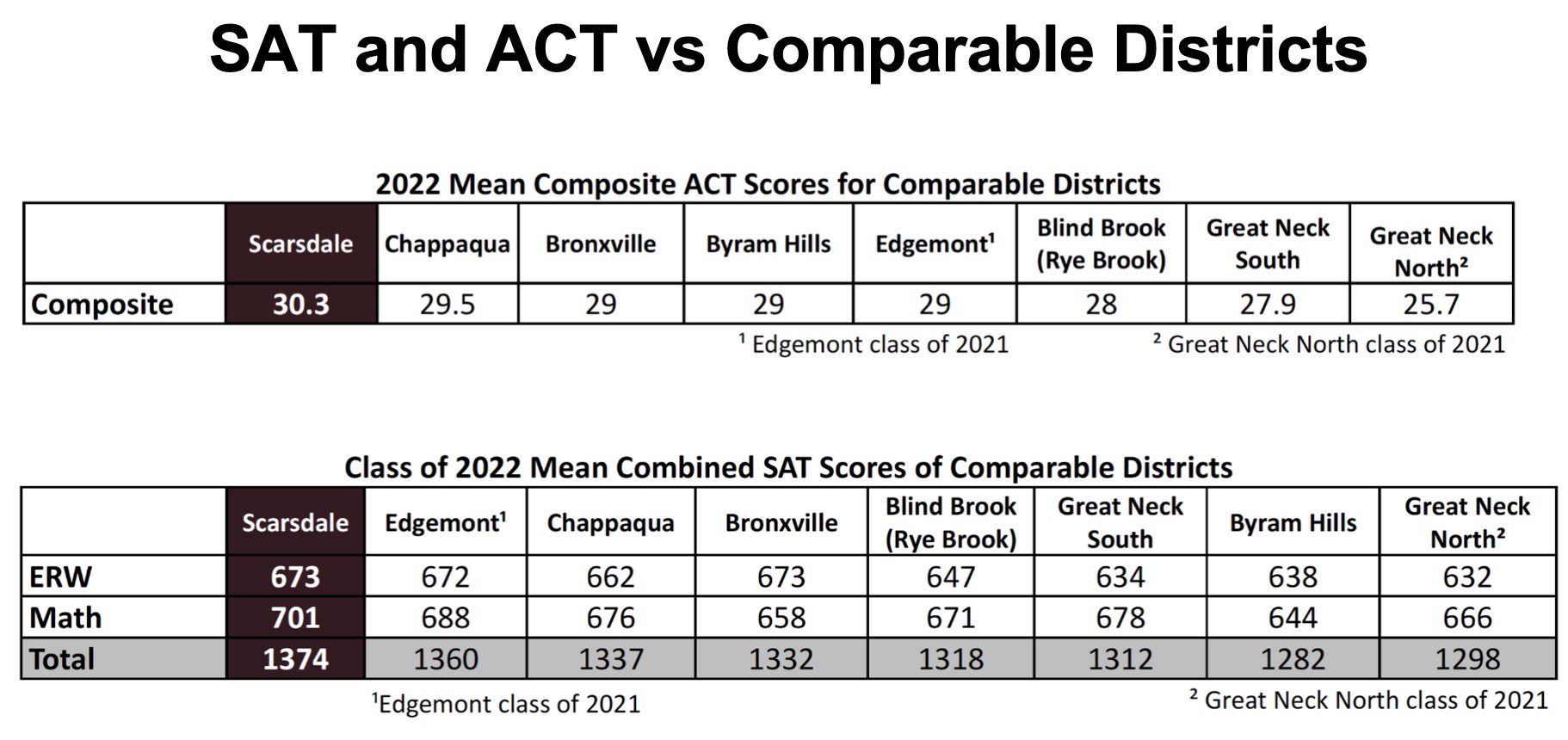 Scores on Advance Placement test were also impressive. In 2022, 94% of the 318 students taking 583 AP tests scored a 3,4 or 5.
Turning to elementary school student performance on the state ELA test, 85% of students in grades 3 to 7 scored in levels 3 and r of proficiency, which was on a par with 2018 and 2019.
On the math tests, 87% of Scarsdale students in grade 3-8 were proficient at levels 3 and 4, down one percentage point from 2019 and 2018.
The graphs show variation in these scores by elementary school, but again, McIntosh warned against drawing any conclusions about these small variances in performance.
During a question period from the Board, Jessica Resnick-Ault said, "At a time when a lot of districts have been dealing with falling scores we have seen some remarkable rises in some of these scores. What do you think accounts for that? McIntosh was not able to draw hard and fast conclusions, but said, "I believe there was a great deal of support for our students and structures built in to make sure we were attending to the content and skills that were essential in each grade." However, he did add, "communities that are the hardest hit are the ones with higher levels of poverty and less access."

Take a look at all the data here:
Click here to see the supporting data:
Commenting on the report, Mayra Kirkendall-Rodriguez said, "
Thank you for your time and efforts on the Education Report and supporting documents. Please tell us what are the quantitative and qualitative metrics that parents and taxpayers should refer to in order to establish if our children are receiving a world class education?
Page 5 of the report states that 60% of seniors are getting accepted to competitive colleges, a decline from 67% in 2020. Competitive in your report is the list of Barron's top 100 universities and colleges. What about the other 40% in 2022? Where are they going? The school data that I have shows that in 2006, 82% of the senior class was accepted to the top 31 universities in the US. Last year, that figure was about 40%. So are the remaining 60% going to top colleges in the US? Institutes? Colleges or universities abroad? Why had that figure gone from 82% to 40%?
On pages 8-9 SAT and ACT scores are listed as the mean. Would it also be helpful to provide information as a median? How much does tutoring influence these scores?
On page 10 with the AP data, it shows that there has been a rise in students taking AP from 2016 to the present. Would it be helpful to include data from 2004 – 2005 before the decision was made to eliminate AP courses and go to AT? How many students took AP tests before that point and how does that compare to today?
On pages 14-19th, referring to state tests, Level 3, means proficient in state standards and level 4 means exceeding state standards. The data are lumped together in the presentation. Why not present the data in the presentation the way that it is in the supporting document on page 17 by each individual Levels 1-4?
Out of curiosity, why was Scarsdale 2021 data not shown in the report? While in 2021 some grades had fewer students take the tests, in some grades in 2021 more took them than in 2022. Aggregate Scarsdale Scores in 2022 have dropped significantly from peak proficiency years of 2009 and 2012 and also declined in comparison to 2021. Would you kindly provide detail as to causes for this?
What steps do you think are necessary to support students to excel state standards, which many argue are not sufficiently robust since there are many parts of NY where income and racial disparities lead to low level of resources unlike what we are so fortunate to have here. SMS 7th grade scores which now would be 8th graders had 38% exceling in ELA and 49% exceling in math standards? Do they need resources to help them transition to high school, since that is coming up rapidly? There were significant differences in the scores through the five elementary schools, especially a difference between Edgewood and Greenacres. Kindly give us insight as to why those differences exist and what resources are necessary so that everyone is at a level 4?
On world languages? What is the goal? Is it fluency? How is that being measured? If it is not fluency, then what are the objectives?
I look forward to hearing the questions that the BOE poses and what policies you might implement to support our students.
Vote Today Or On Election Day -Tuesday November 8: Voter Information
Details

Written by

Joanne Wallenstein

Category: The Goods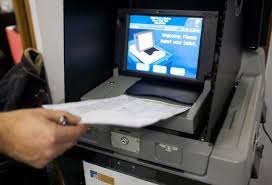 Early Voting for the November General Election is on until Sunday, November 6, 2022. Voters choosing to vote early can vote at any of the designated Early Voting polling locations throughout the County. Completed absentee ballots may also be submitted at any early voting poll site. Be sure to check early voting locations and times.

Election Day is November 8, 2022. On Election Day, you must vote only at your assigned polling location. Not sure where you vote? Click here to find your location.
Here are the locations and times for voting around the county.
Westchester County registered voters are eligible to cast an early voting ballot. Registered voters will be able to cast their ballot at any of the 23 designated early voting locations listed below.
Nov. 8, 2022 General Election Early Voting Hours
Saturday, Oct. 29, 2022 from 10 a.m. until 6 p.m.
Sunday, Oct. 30, 2022 from 10 a.m. until 6 p.m.
Monday, Oct. 31, 2022 from 8 a.m. until 4 p.m.
Tuesday, Nov. 1, 2022 from noon until 8 p.m.
Wednesday, Nov. 2, 2022 from 8 a.m. until 4 p.m.
Thursday, Nov. 3, 2022 from noon until 8 p.m.
Friday, Nov. 4, 2022 from 8 a.m. until 4 p.m.
Saturday, Nov. 5, 2022 from 10 a.m. until 6 p.m.
Sunday, Nov. 6, 2022 from 10 a.m. until 6 p.m.
Westchester County Early Voting Centers

Eastchester Public Library, 11 Oakridge Place, Eastchester, NY 10709
Hastings-On-Hudson Public Library, 7 Maple Avenue, Hastings-On-Hudson, NY 10706
Greenburgh Town Hall, 177 Hillside Avenue, White Plains, NY 10607
St. Gregory The Great Church, 215 Halstead Avenue, Harrison, NY 10528
Mamaroneck Town Center, 740 W. Boston Post Road, Mamaroneck, NY 10543
Mt. Kisco Public Library, 100 E. Main Street, Mt. Kisco, NY 10549
Mt. Pleasant Community Center, 125 Lozza Drive, Valhalla, NY 10595
Joseph G. Caputo Community Center, 95 Broadway, Ossining, NY 10562
Pound Ridge Town House, 179 Westchester Avenue, Pound Ridge, NY 10576
Rye Brook Firehouse, 940 King Street, Rye Brook, NY 10573
Somers Town House, 335 Route 202, Somers, NY 10589
Jefferson Village Annex, 3480 Hill Boulevard, Yorktown Heights, NY 10598
Yorktown Cultural Center, 1974 Commerce Street, Yorktown Heights, NY 10598
Doles Center, 250 S. 6th Avenue, Mt. Vernon, NY 10550
Mt. Vernon City Hall, 1 Roosevelt Square, Mt. Vernon, NY 10550
New Rochelle City Hall Annex, 90 Beaufort Place, New Rochelle, NY 10801
New Rochelle United Methodist Church, 1200 North Avenue, New Rochelle, NY 10804
Peekskill Lincoln Depot Visitor Center, 10 S. Water Street, Peekskill, NY 10566
Peekskill Neighborhood Center, 4 Nelson Avenue, Peekskill, NY 10566
Westchester County Board of Elections, 25 Quarropas Street, White Plains, NY 10601
Grinton I. Will Library, 1500 Central Park Avenue, Yonkers, NY 10710
Nodine Hill Community Center, 140 Fillmore Street, Yonkers, NY 10701
Yonkers Riverfront Library, One Larkin Center, Yonkers, NY 10701
Village Launches First Paint Recycling Program
Details

Written by

Joanne Wallenstein

Category: The Goods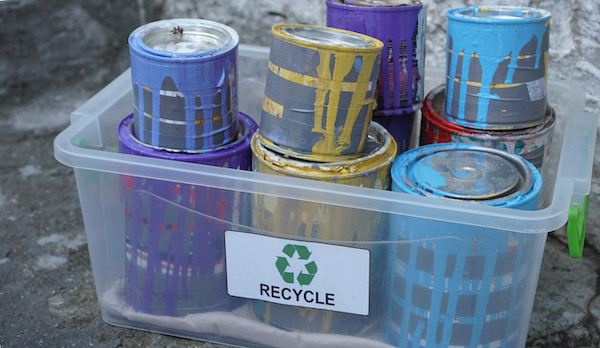 The Village of Scarsdale now has a paint recycling program!
Starting Saturday, October 29th, Scarsdale residents can bring their leftover cans of latex and oil-based paint, stain and varnish to the Recycling Center at 110 Secor Road during business hours which are Monday to Saturday, 8am to 3pm. The paint recycling area is located next to the Food Scrap Recycling Drop-off Site.
On Opening Day (October 29th), resident volunteers will be on hand to help people place their cans into the transport receptacles, and there will be many extra receptacles available to be filled.
The Village is very excited to add paint to its recycling program. Scarsdale is the first town in Westchester County to have a municipal paint recycling program. The collected paint will be recycled into new paint, and the cans will be recycled into new metal!
Accepted paint products include:
House paint and primers (latex and oil-based)
Deck coatings, floor paint (including elastomeric) and concrete sealers
Clear finish (e.g., varnish, shellac)
Interior and exterior architectural paint (latex and oil-based)
Field and lawn paints
Metal coatings, rust preventatives
Waterproofing concrete/masonry/wood sealers and repellents (No tar or bitumen-based allowed)
Help make this new program a success by recycling all of your paint. Questions? Email Scarsdale Conservation Advisory Council Chair Michelle Sterling at michellesterling1@gmail.com.
Other items that can be recycled at the Recycling Center include:

• Food Scraps
• Plastic Bags and Plastic Film
• Electronics
• Textiles
• Scrap Metal
• Tennis Balls
• Furniture
• Take it or Leave it Shed
• Cooking Oil
• Books
• Eyeglasses
• Cork
• Commingled Recycling (glass, plastic, metal, cartons)
• Paper and Cardboard
Visit the Sanitation page on the Scarsdale website for more details about recycling each item or review the Recycling Guide.
Commenting on the implementation of the program, Michelle Sterling said, "Ron Schulhof and I worked hard to get the NYS Paint Recycling Bill passed and Scarsdale is the first town in Westchester to have a paint recycling drop off site. Hopefully the first of many! It was a long road but we're so glad and excited for it finally to be happening. The more convenient it is for people to recycle the more they will recycle!