Take Out or Eat In at Go Fish in Scarsdale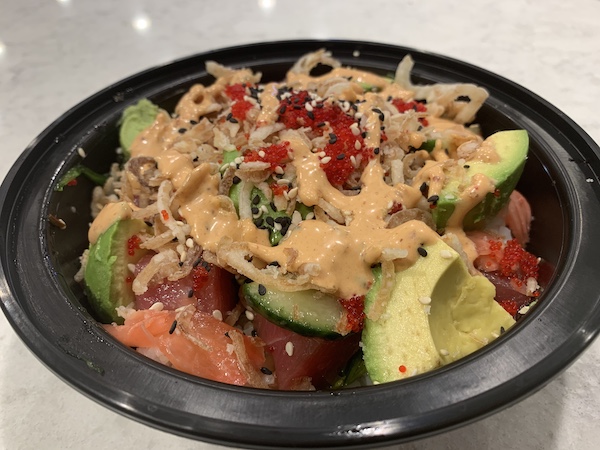 Poke BowlThe words go fish have taken on a new meaning. As a child, I remember those words as a delightful card game. In our Scarsdale community, it now is the name of a new dining concept conceived by Rick Ross, the owner of Eastchester Fish Market and Eastchester Fish Gourmet Restaurant.

It's early afternoon and you are ready for a quick lunch or it's nearly dinner time and you are not in "a cooking mood" but would like a nice fish dinner for your family. Any time between 11 am and 6 pm stop in at Go Fish, the newest addition to the Eastchester Fish Market and Fish Gourmet group of upscale operations. At Go Fish, the excellent quality of fish and seafood that we have grown accustomed to at the market and restaurant are available at the new take out or eat in super casual Go Fish.

I chatted with general manager Robert Pedott, who explained that Rick Ross, the owner, opened the fish market in 1981 where our communities can avail themselves of the largest and freshest variety of fish and seafood. This was followed by the opening of Eastchester Fish Gourmet in 1987, where the talented kitchen staff prepare top quality dishes. Pedott indicated that being in the fish business means very long hours. He described Go Fish as "a casual accessible high quality take out seafood spot. We are unique. Keeping up our high standards is necessary." Both Ross and Pedott have been in the fish business for a long time and are very knowledgeable about their product. Ross had a vision for each of his businesses and he felt a need for a takeout option. The space next door to the fish market became available. With its own kitchen, it is a simple, compact spot seating about 16 guests. A takeout counter, television, a shelf of help yourself condiments and a beverage refrigerator fill the space. Take note of the artwork of the old New York fish market by the well known artist Naima Rauam, that grace one wall.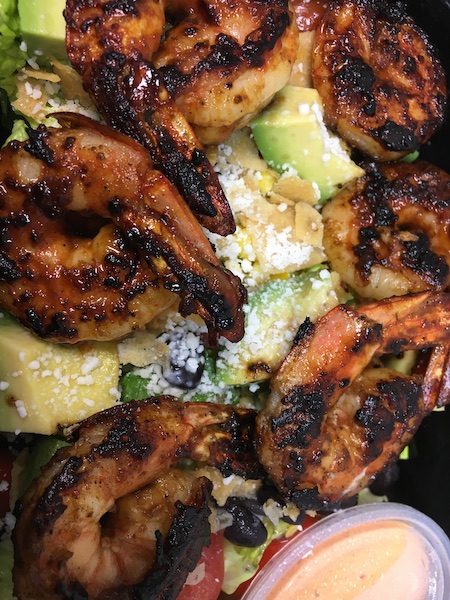 Chipotle SaladWith cool weather arriving, a bowl of hot soup is a perfect antidote for the chill in the air. At Go Fish both Manhattan and New England chowders are offered. I sampled the New England variety which was excellent. The chopped clams and cubed potatoes swam in a wonderful creamy broth, truly heaven in a bowl. I also savored the shrimp and corn chowder. Here, potatoes, green and red bell peppers, corn and segments of shrimp thickened the flavorful broth. Yet to be tried is the Manhattan style chowder.

Salads here are divine combinations from chipotle salad with romaine, corn, black beans and caramelized onions among the ingredients, to an iceberg and radicchio chopped salad with Kalamata olives, hearts of palm, with an oregano creamy dressing. The one I especially enjoyed was the kale and quinoa salad with golden raisins and pistachios tossed in a honey orange vinaigrette. Add salmon, shrimp, fried oysters, grilled chicken, tuna or salmon salad and you have a complete meal.

Go Fish serves a variety of south of the border specialties. I liked my seafood quesadilla. The tortilla was filled with fresh as could be scallops, crabmeat and shrimp, enhanced with cilantro, onion, black beans and Monterrey cheese. Served with housemade salsa it was quite good. On return visits I will try mahi mahi shrimp or chicken tacos. Each serving of two tacos is filled with the protein of your choice, chipotle seasoning, pico de gallo, shredded lettuce and cotija cheese. A variety of burritos packed with rice, black beans, onions, peppers, cilantro, cheese and your choice of mahi mahi, shrimp or chicken is accompanied by homemade chips.

Among the house favorites is the EFG Crabcake. The bountiful crab filling with bits of red and green bell pepper, is nicely crusted and served with a choice of housemade French fries or sweet potato fries. The chipotle dipping sauce is a fine accompaniment. Fish and Chips and Shrimp and Chips are excellent here. The cod is very fresh and flaky and dipped in a beer batter for a crisp, non oily result. The jumbo shrimp and chips was another winner, which we enjoyed with wedges of French fried potatoes. If you are feeling guilty ordering fried dishes, try the shrimp and avocado, a half avocado filled with shrimp and guacamole.

Even the sandwiches are enticing here. From our southern states we have a fried west coast oyster po boy or shrimp, as well. There are housemade tuna or salmon salad sandwiches, grilled mahi mahi, and fried eggplant sandwiches to enjoy.

Poke bowls have become a popular trend. At Go Fish, the generous bowl is layered with white sticky rice or brown rice, seaweed salad, avocado, crisp shallots, cucumber, pickled ginger and black and white sesame seeds. Tobiko added color. We had ours topped with sushi grade tuna. If raw fish is not on your agenda, try your poke bowl with cooked shrimp. These poke bowls are a symphony of textures and tastes.
You can order on line and pick up your dishes, stop in and order to take out, or sit down and enjoy these varied dishes from 11 am to 6 pm Monday through Saturday.

As I savored my dishes, one guest was preparing to leave. General Manager Pedott said thank you for coming and her response summed it up when she responded "thank you for being here."

On just one block on White Plains Road in Scarsdale, we can satisfy our craving for high quality seafood, whether you wish to prepare it yourself at home, enjoy a leisurely meal at EFG and most recently enjoy a quick lunch or takeout at the new Go Fish, where quality seafood, pristinely fresh at affordable prices await you .

Go Fish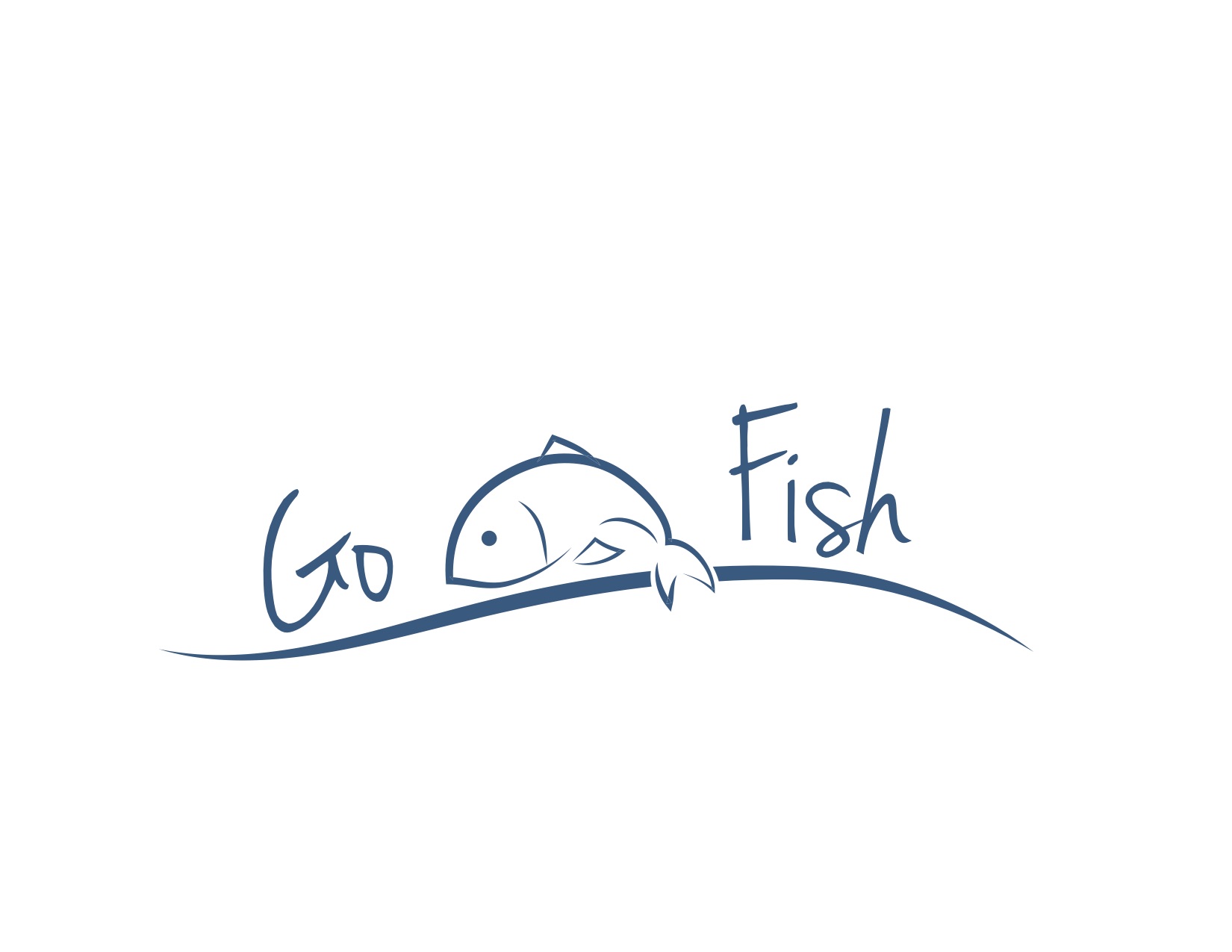 839 White Plains Road
Scarsdale, New York
914 723 3450 ext. 5