Project BRAVO and Heart for Philanthropy Ask You to Provide Food for those in Need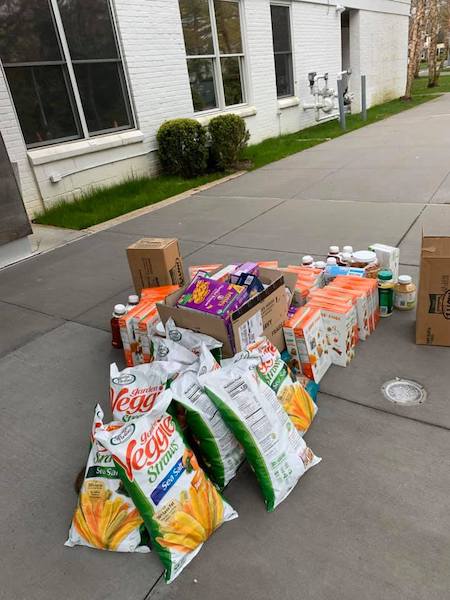 Now more than ever is a good time to be a good neighbor. Lending a friend a cake pan or sending over a plate of cookies takes on new significance when we rely on the generosity and kindness of our communities to get through these isolating times. What's more, these acts of caring need not be limited to Scarsdale. Especially considering that we live directly adjacent to a borough of the hardest hit city in the country, it is a good time to think of our neighbors.
Two groups are asking you to help others in need of food.
Project Bravo
One issue this community faces even without a global pandemic thrown into the mix is food insecurity. The Bronx is a food desert, which is to say that most people lack reliable access to an adequate supply of food and, in turn, are more likely to be food insecure. Last year, Hunger Free America, a New York-based non-profit, published a report that found that nearly one in four Bronx residents—that's 350,000 people—lived in food insecure households, the highest rate of any borough. Considering this situation at baseline, it is unsurprising that the onset of COVID-19 has overwhelmed many food banks and pantries in the Bronx.
These circumstances present an opportunity for us in Scarsdale to address this issue by sharing what we have with our Bronx neighbors. Scarsdale resident and Director of Corporate and Community Engagement in the Office of Development of the Montefiore Health System and the Albert Einstein College of Medicine, Sheryl Spivack-Braun is an exemplary link between our two communities, specifically with respect to food insecurity. During the pandemic, she has pivoted to take charge of filing in-kind donations of food, PPE, and other goods and then directing them where the need is greatest.
Specifically, she has been working with Montefiore's Project BRAVO food pantry to provide packaged meals for community families who are experiencing food insecurity, particularly those of frontline healthcare staff. Additionally, Project BRAVO is partnering with Montefiore's Healthy Steps program to distribute baby supplies to young families in need. The food pantry now serves roughly 450 families.
At this point, you might be asking how you can help. Even if you have a couple extra boxes of pasta sitting in your pantry or a couple extra dollars to spare on cans of baby food the next time you place an Instacart order, actually delivering those goods to the Bronx poses its own set of challenges. That's where Charlie Musoff comes in.
Working together with Sheryl, he is coordinating regular donations to Project BRAVO from the larger Scarsdale community. On his first trip, he delivered over 100 pounds of food from only a handful of donors, namely Westchester Reform Temple's Early Childhood Center. ECC teacher Anne Chapro Daniel met him outside the temple with all the snacks the nursery school no longer needed, and the next day, he dropped them off at Project BRAVO, simple as that. For individual families, the Musoffs have been accepting donations at their home in Scarsdale.
You can contact Charlie at charles.musoff@yale.edu for more information about how to donate. Or, if you'd rather make a philanthropic donation, consider contributing to Montefiore's or Einstein's Critical Response Care Fund. Please work together to ensure that our neighbors in the Bronx can put food on the table.
Heart for Philanthropy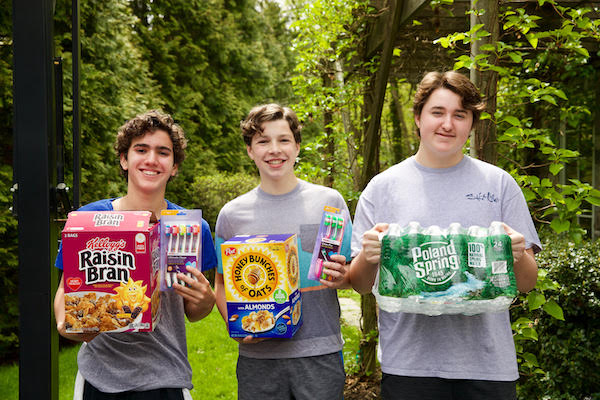 Cyrus Toosi, Rowan Haffner, and Luca Dowda
SHS Sophomores Rowan Haffner, Luca Dowdall, and Cyrus Toosi have launched Heart for Philanthropy to help others during this difficult time. The mission of Heart for Philanthropy is to identify local organizations in need and connect them with Scarsdale (and Westchester County) neighbors to who want to donate/give back. As so many in Scarsdale want to help, the teens decided to help them, help others. Friends since elementary school, the three boys have always shared a passion for volunteering.
Although this is a very difficult time for everyone, hungry and homeless neighbors in our community are the ones struggling most. To start, they are working with three organizations: Grace Church, Open Arms Men's Shelter, and George Washington Elementary School. They will accept donations at the location designated on our website: www.heartforphilanthrophy.com to make it easy for everyone. More information about Heart for Philanthropy and how to make donations can be found on their website.