A Creative Way to Honor RBG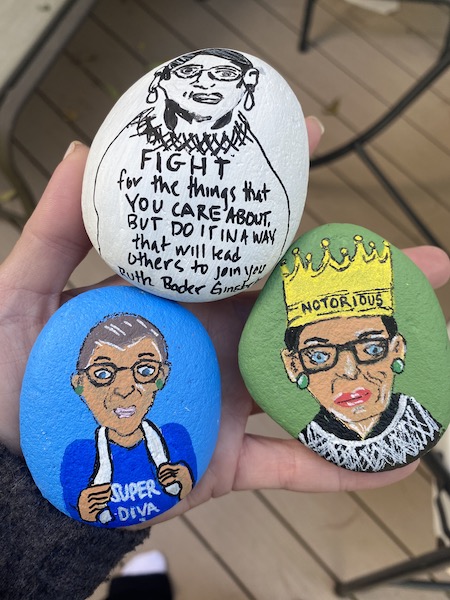 When we last checked in with Lauren Kessler during the quarantine she and her daughter Carly were painting rocks with messages of hope and leaving them around the neighborhood to cheer passers-by. The colorful rocks, some with uplifting messages, were cheered by frightened and often depressed neighbors out to get some air.
Now she has turned her talents to a new task – painting rocks with pictures and quotes from Supreme Court Justice Ruth Bader Ginsberg who passed away last week.
Kessler explains, "I've been painting rocks since the quarantine and decorating the neighborhood. I even painted a couple of RBG rocks long before she had died. She's always been a cultural icon, and I'm a huge fan. When she passed, I painted a few of her just for myself and posted them as a tribute on Facebook. I didn't post them to sell them or to say anything - just the rocks with a broken heart emoji."
"Soon, commenters were asking, "how do I get one?" "How much?" I considered making a few to auction. But the next morning I woke up to a text from a friend asking if she could buy one. I honestly had no thought of selling them so I told her if she made a donation to a cause that I would give her one, or if she wanted to Venmo me money, I would do some research regarding where to donate, and then I would give her one. I did not specify the amount. She immediately sent me $100. I was so grateful and surprised, but at that moment decided if she was willing to pay $100, then that would be the amount!
"Soon many people were asking me to buy them and I was really so touched. Friends and strangers were asking for specific ones to send to their daughters in school or buying multiples for friends and family."
"My close friend Suzanne has been on a mission since to sell as many as possible for specific causes. She has really spread the word! The money raised will be distributed to different organizations. We are still researching specifically where. One is definitely Sloan Kettering, as Ruth actively supported and donated to them. Some will go to help with the election, and some may go to a women's initiative."
To purchase your own RBG rock, email lauren@laurenk.com.