Residents Request Traffic Study Around Greenacres Elementary School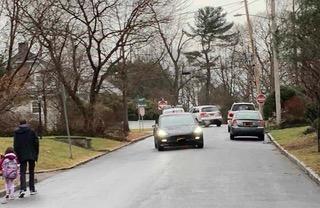 A Greenacres man is ciruclating a petition to ask Village Trustees to include the streets around Greenacres Elementary School in a traffic study they have commissioned. Upon learning that the Village is studying traffic around Scarsdale Village and Sprague Road, Greenacres residents also wanted to raise awareness about dangerous conditions near the school.
Below find the petition, and the link to sign it if you wish.
Dear Board of Trustees,

Greenacres School brought together a great community with new young families playing outside and getting together in each other's lawns. It brings great joy watching our children walk themselves to elementary or high school in the mornings and afternoons during the school week or during weekend sports practices.

However, the reality starts hitting right away when cars are getting into the picture as kids and cars don't mix.There are NO side-walks or designated bike/walk paths.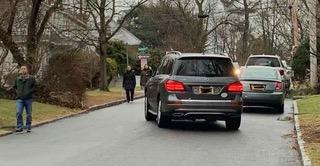 The streets around Greenacres school, particularly Putman and Sage Terrace and Brewster to Fenimore as leading to Greenacres school and High School are very dangerous. Sage and Putnam streets is simply too crowded for people, parked cars and passing traffic and cars zip down Brewster Road straightaways, dodging our children like an autocross.

We implore the Board of Trustees, to include Brewster, Sage and Putnam into the RFP for consultant looking into the traffic in the village and Sprague Street.

One child traffic accident will be too much.

Respectfully yours,
Greenacres neighbors
Commenting on the information above, reader Russ Kopp said, "It might be of some interesting for some of relatively newer residents, which I am not, to know about some of history of the signage that exists around the Greenacres school, as well as absence of signage I wish existed.
Around 15 years ago, a women who shall remain nameless, but who now is unaffected by the policies she helped establish (as she now I believe calls California home) organized a petition to have one side of Sage Terrace between Putnam and Brewster Roads closed off to parking during drop off and pickup times at the school.
While she fairly claimed difficulty for vehicles to travel bidirectionally at this location with parking on both sides of the street, I found her claims of pedestrian risk at this location for those with homes South of Sage or West of Brewster (i.e. affected people) a little tougher a pill to swallow as said walkers could alternatively walk up Brewster or Brite to Huntington, where there is a sidewalk. Equally important, my requests for 15 mph signage on Sage, between Huntington and Putnam, which while one way, also has a sharp curve---was turned down at this time by the Village's traffic committee.
I am all about safety, but remind people to approach this as if it was there home affected by any changes. Karma does strange things, and this same person who organized her petition for the common good found herself not so willing to support similar arguments when Police headquarters expanded about a decade ago, and her home was affected."