Maroon and White Asks Board to Replace High School Turf with Another Synthetic Turf
Published: Thursday, 12 April 2018 09:42
Joanne Wallenstein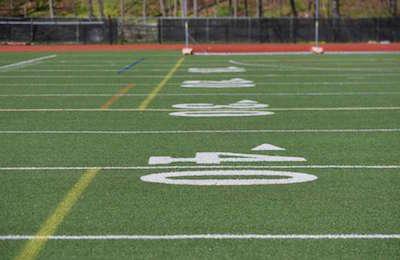 This letter was sent to the Board of Education by Maroon and White and read at the Board of Education meeting on April 10, 2018 by M&W President Beth Dell'Orto

Dear Scarsdale Board of Education,
Maroon and White, the booster organization for Scarsdale High School athletics would like to address the turf field budget issue.
We feel strongly that the turf field must be replaced as soon as possible. The field is long past its useful life and may be a safety concern for our athletes who continue to use the current field.
The turf field has been in the budget since the budget was presented in the beginning of the year and the timing was that the turf field would be replaced after the Fall 2018 sports season.
The $1.2M in the budget was to replace the field with the same type of rubber crumb fill and to resurface the track. There have been community members who have brought up the possible health issues with turf fields made from this material. Maroon and White supports a turf field made from safer, better quality material. Our recommendation is that $1.6M be allocated in the budget for the field and that the different types of material be researched in more detail and decided on in time for Fall 2018 installation. If a lower cost option is recommended the additional budgeted funds would go back into the budget.
The grass field that was suggested by some BOE members is not a feasible option. There are several reasons the field needs to remain a turf field.
Our Fall and Spring teams would be limited in their practice time and playing time due to weather if we have a grass field. Having additional time for on-field practice allows teams to be better prepared-not only to be more competitive, but also to learn best techniques and play safer, helping to avoid injuries. This is extremely relevant in football where there is a state mandated number of practices required prior to a player being eligible to play in a scrimmage or a game. Such requirements are for safety of players, not for competitiveness. If field time is less predictable, teams may have to start summer sessions a week earlier to ensure practice mandates are met prior to the start of the season.
The Spring sports teams have started practicing and playing. Without the turf field these teams would not have been able to play or practice due to the grass field conditions. The teams that they compete against who have turf fields would have an immediate advantage in being able to practice after rain or snow while we would have to wait for the grass field to be usable. Note as an example, our Middle School grass field has not been open yet. The active modified spring teams are currently using the parking lot and tennis courts for lacrosse, baseball and softball practices.
A grass field would not be able to accommodate the number of students and athletes that need to use that field. We are able to have multiple teams and fitness classes use the turf field in a day which would not be possible with a grass field due to wear and upkeep. Not only would the Butler field have to be maintained if it was a grass field but all of the other fields the sports teams use would have to be maintained to the highest level to have any chance of having enough fields available for our athletes and students. The cost of leveling, irrigation, chemicals and manpower on all the fields will exceed the cost of the turf field.
The turf field has allowed for teams to play many more home games. This encourages school spirit as the community gets together to watch Field Hockey, Boys and Girls Lacrosse and Boys and Girls Soccer. With the addition of lights, which Maroon and White has been focused on helping to raise funds for, we would be able to have night games and have more community and student turnout for games. This would not be possible if we are weather dependent on a grass field.
Scheduling of games, which is already very difficult, would be made even harder with a grass field due to weather dependency.
The health issues of a turf field versus a grass field are debatable. The addition of new types of turf field material limits the possible toxicity issues. Grass fields which need to be maintained with chemicals also have concerns.
The other issue of grass versus turf is the injury issue. Grass cannot be uniform in consistency. A turf field, maintained well, will be safer for the athletes.
Finally, there was some discussion that grass would be less expensive than turf. This is not necessarily true. The current field has an infrastructure that is set up for turf. Therefore, replacement of turf would require minimal changes. The addition of a grass field would require a new infrastructure to allow for proper drainage and leveling.
Maroon and White firmly believes that the turf field must be replaced this Fall and not postponed or changed to a grass field.
Sincerely,
Beth Dell'Orto and Greg Cahaly - Maroon and White Co-Presidents The Maroon and White Board
Past Presidents of Maroon and White
Kathy Coleman
Peter Zurkow
John McCann
Penny Bauersfeld
Charlotte Carr
Gail Leone
Lew Leone Sr.
Lew Leone – past Maroon and White Board member

April 8, 2018