Scarsdalians Cross the Finish Line at the NYC Marathon
Published: Wednesday, 07 November 2018 11:01
Joanne Wallenstein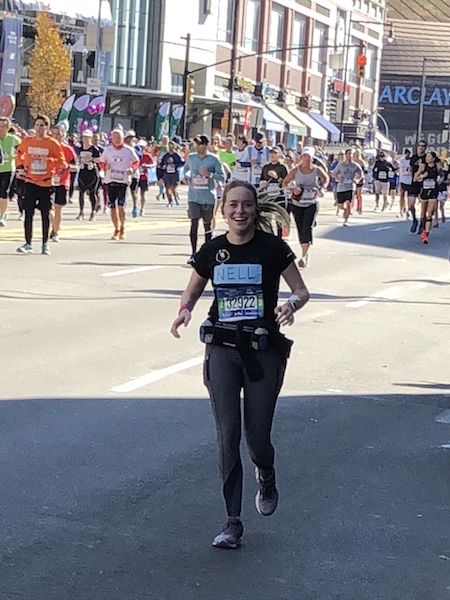 Nell Brodsky at Mile 8Many with local roots were among the 52,000 runners who finished the New York City Marathon under sunny skies on Sunday November 4. The 26.2 mile course traverses all the boroughs where supporters lined up to cheer the runners on. Here are a few stories from Scarsdalians – and Scarsdale alumni who ran:
Nell Brodsky, SHS 2009 ran for the first time. She shared the following: "I've been wanting to run the NYC Marathon for a few years, and watching it last year was so inspiring that I signed up and committed myself to try. I kicked off training by preparing for a half marathon in the spring, only to get a stress fracture in my shin, which sidelined me from running until mid-July. So being able to participate in the marathon after overcoming the injury felt especially meaningful.
The day exceeded all my expectations. I knew that seeing family and friends on the sidelines would be incredibly moving, but I had no idea how much of a boost the crowds and volunteers would give me. Like so many runners, I had my name on the front of my shirt, and I felt energized when spectators called my name in encouragement throughout the race. One lady made me laugh when she yelled, "GO NELL!" and then added, "I love your name!"
I was choking back tears the final mile, and when I crossed the finish line, I was fully crying. When the volunteer who was putting the medal around my neck saw my tears, he put his hands around my face and said, "Congratulations, you did it and you can
Gregory Seidenlet it all out." A few minutes later, another volunteer who saw me stumbling around looking confused, offered his arm, and escorted me to a recovery area, chatting kindly to me the whole way.
The exhilaration of running through the cheering crowds and the kindness and amazing support of the hundreds of volunteers throughout the route made me feel like I was experiencing the very best that people can be."
Greg Seiden, SHS 2011 is a veteran of the race. He said, "This was my third time running the NYC marathon. After training about 30-35 miles per week, I found this time around to be extremely challenging. I used the crowd's energy to push forward. While not the best time I've had, I was more proud of a finish this year than in years past.
Matt Aks from the SHS Class of 2007 ran his first NYC Marathon. "It was beautiful day in NYC—amazing runners, friendly crowds, perfect subway service and music everywhere," said Nancy Rubini, proud mother of runner Matt.
A spirited group of Edgemonters shared this about their experience running the marathon:
Anthony DeMaio ran his 15th NYC marathon on Sunday, and his 37th marathon overall in a time of 3:19. Says DeMaio, "New York City is the world's greatest marathon and illuminates everything New York has to offer."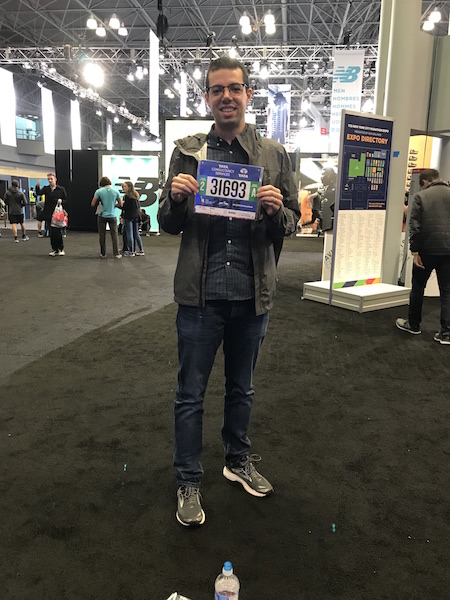 Matt Aks gets his number.He also shared this photo of his Edgemont neighbors take prior to the start of the race. Pictured here are from left to right are Paula Ramer, Mason Reeves, Anthony DeMaio and Maria Teaiwa-Rutherford all who finished the race.

Emily Michaels, SHS '10 said, "This was my first marathon and I don't think it will be my last. The energy of the NYC crowd every mile of the way is surreal. There's nothing like the knowledge of seeing your family and friends only a few miles away to push you forward through the next distance. I really loved every minute of the experience and look forward to doing it again!"

Did you run? Please send your photo and story to scarsdalecomments@gmail.com to share!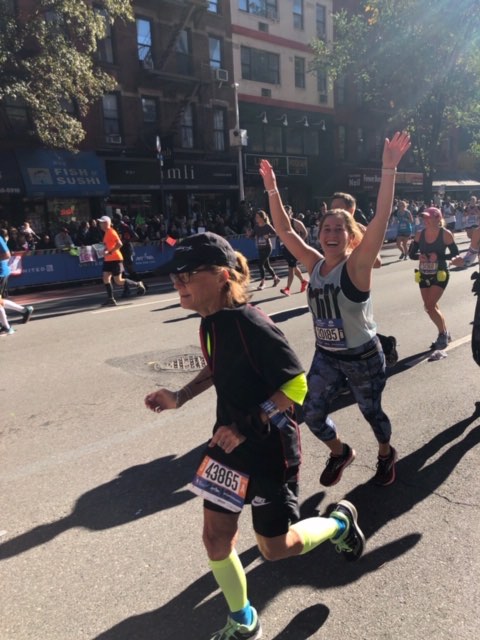 Emily Michaels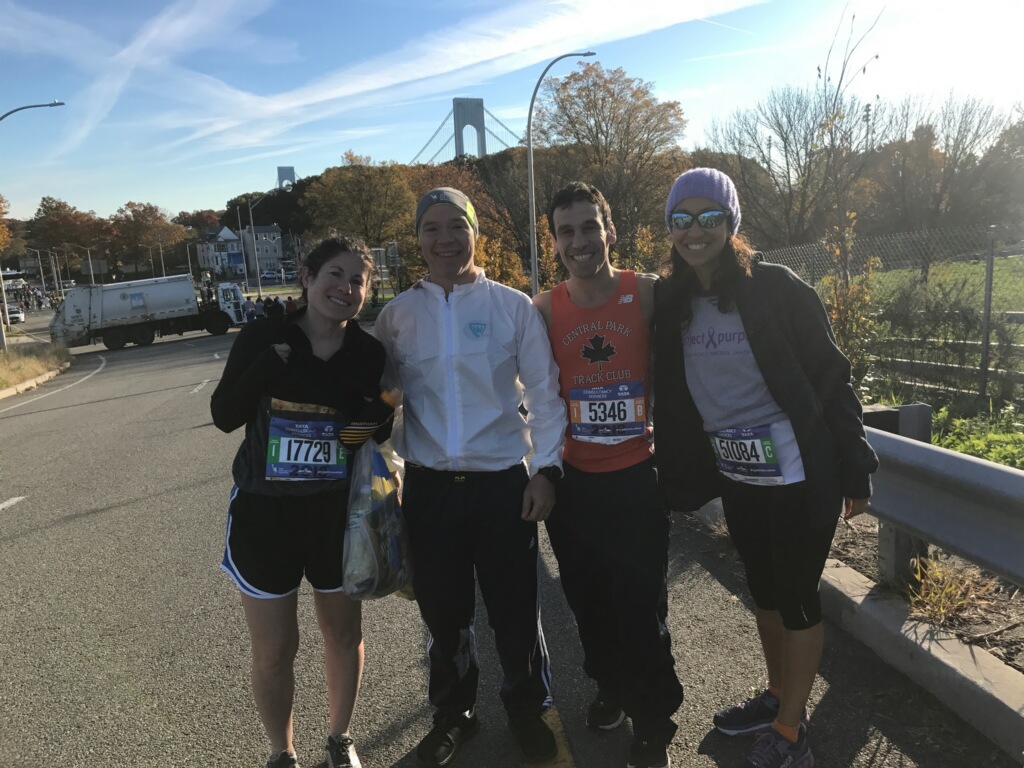 Paula Ramer, Mason Reeves, Anthony DeMaio and Maria Teaiwa-Rutherford before the run.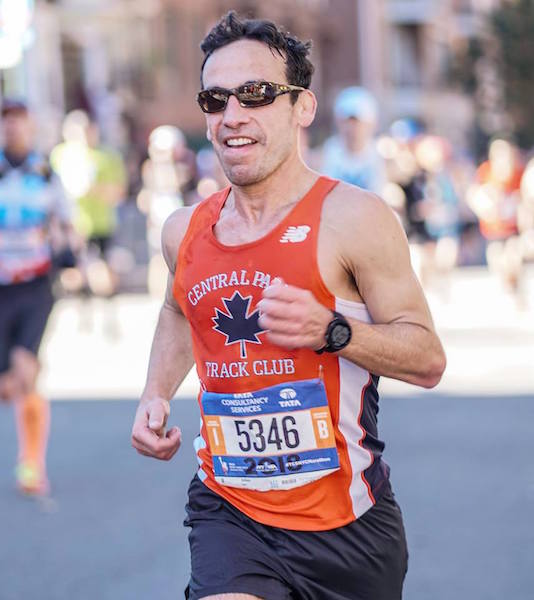 Anthony DeMaio ran his 37th marathon