Recipe: Kerala Spiced Sweet Potatoes for Thanksgiving
Published: Tuesday, 20 November 2018 18:13
Rajni Menon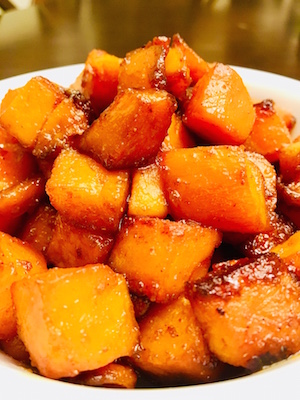 Looking for a new twist on sweet potatoes for Thanksgiving? Local chef Rajni Menon, a Scarsdale resident who hails from the southern Indian state of Kerala, shared this recipe which melds sweet potatoes with ingredients from her Kerala pantry and spices that are available here in the United States.
Here's a recipe to bring a touch of the exotic to your Thanksgiving table:
Roasted Sweet Potatoes in Coconut Milk
(Serves 3-4 as a side dish)

Ingredients:
Sweet potatoes (cubed)-3 cups
Coconut milk-1/4 cup
Coconut oil-3 tablespoons
Jaggery(Indian brown sugar grated)-1/4 cup
Garlic powder-1/2 teaspoon
Kashmiri chill powder or paprika-1 teaspoon
Onion powder-1/2 teaspoon
Vanilla powder-1/2 teaspoon
Cinnamon powder-1/2 teaspoon
Cumin powder-1 teaspoon
Salt-1/2 teaspoon
Black pepper-1 teaspoon
Maple Syrup-3 tablespoons
Instructions:
Preheat the oven to 375 degrees
Cube the sweet potatoes and place it in a shallow baking pan.
Add spices, coconut oil and the coconut milk.
Mix well to coat the sweet potatoes.
Bake for 20 minutes until the potatoes are tender. Stir it gently at the 20 minute mark and bake for another 20 more minutes until the sweet potatoes are fully cooked and roasted at the bottom.
Add in the maple syrup and give it a gentle stir.
Transfer this to a serving platter and enjoy!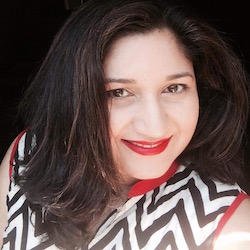 Rajni Menon
Menon teaches authentic Kerala cuisine which is mostly gluten free and vegan. She teaches private Indian cooking classes in clients' homes, preparing full meals from scratch. See more about Menon here: www.creativerajni.com