Going, Going, Gone
Published: Monday, 25 April 2011 11:08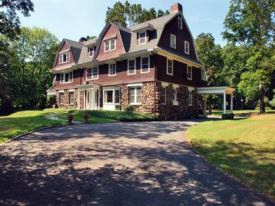 More Scarsdale homes may be destined for the wrecking ball. Among the most prominent, is the house at 1 Duck Pond Road. Prospective buyers who were interested in tearing down the house spent considerable time and resources arguing that the home did not meet any of the criteria for preservation and the deadlocked Committee for Historic Preservation failed to vote to protect the home . Empty for several years, the home has become a white elephant, with the new buyers contending that renovating the house would be far too costly.
This past week, the house, which sits on 3.73 acres was sold for $4,750,000 and presumably it will soon be demolished to clear the way for a new house on the Duck Pond. Drive by and take a last look.
The Committee for Historic Preservation will meet on Tuesday night April 26, to consider the fate of five additional homes.
On the hit list are the following:
21 Morris Lane: A 1968 home with a wraparound porch that sits on a flag lot off Morris Lane
60 Sheldrake Road: a 1950's ranch that backs onto Fenway Golf Course
: There is an application from RGF Development Corp to tear down the house and divide the property into a two lot subdivision. The Planning Board will consider the subdivision at their meeting on Wednesday night April 27. 39 Oxford Road
11 Pinecrest Road: A four bedroom, three bath, 2131 square foot home in Sherbrooke Park
49 Wildwood Road (no details available)