A Magnificent Showhouse Opens in Scarsdale
Published: Tuesday, 30 April 2013 15:29
Joanne Wallenstein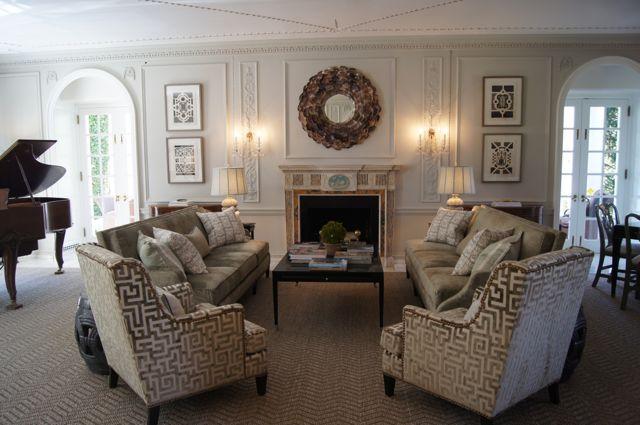 We got a sneak peak at the Designer Showhouse at one of Scarsdale's most magnificent homes at 2 Cooper Road at the corner of Cooper and Murray Hill Roads. The Showhouse features the work of leading designers from Westchester and New York who have transformed the 1915 mansion into a stunning collection of stylized rooms. Proceeds from the Showhouse will benefit Cerebral Palsy of Westchester.
Locals who have driven by the house for years will now have the chance to see what's inside and to view the work of some of our area's most talented interior decorators. The house is built on a grand scale and 25 rooms in all have been imaginatively redone. There are public rooms, sitting rooms, bedrooms, a breakfast room, a conservatory, a library, and even a second floor room with a bar, should you want to drink without descending the grand staircase. A third floor "attic" with full height ceilings includes even more room for sleeping and relaxing.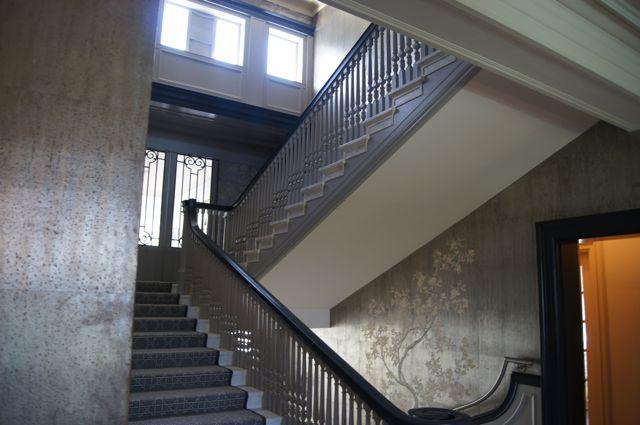 The house will be open from Thursday, May 2nd, 2013 to Sunday, June 9th. A Gala Preview Cocktail Party was held on Wednesday, May 1st, 2013 at 6:00 p.m.-- see photo below.

Showhouse hours are Tuesdays, Wednesdays, Thursdays and Fridays 10 a.m. to 4 p.m., Saturdays 10 a.m. to 5 p.m., Sundays 11 a.m. to 5 p.m., closed on Mondays. Children under six, infants, strollers, and pets are not admitted in the Showhouse. For more information please contact Kristen Harris at (914) 937-3800 ext. 353 or ext. 209 or visit their website here. 
Here are photos of a few of the newly decorated rooms, but I suggest you go to get the full effect yourself.
Debra Gottlieb of Fine Lines Interiors in Armonk has reimagined the 22 x 22 dining room as the scene of a wedding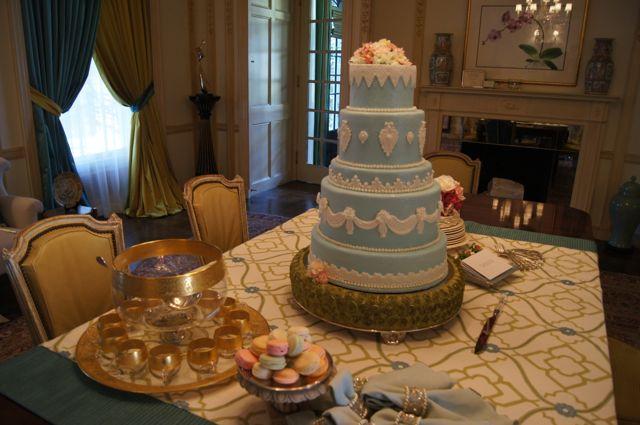 party. Crowned with a multi-tiered butter cream cake the whimsical room includes something old, something new, something borrowed and something blue – the "blue" is the richly draped turquoise curtains and the "old" includes a photo taken at Gottlieb's own wedding. Don't miss the bride's bouquet, silk pumps, cameo motif and pastel macaroons in this elegantly-staged set. Click here to see more of Gottlieb's work.
We were also taken with Kim Freeman's jewel box of a breakfast room. Painted in shades of azure blue, the décor features Knoll Brno chairs covered in turquoise silk,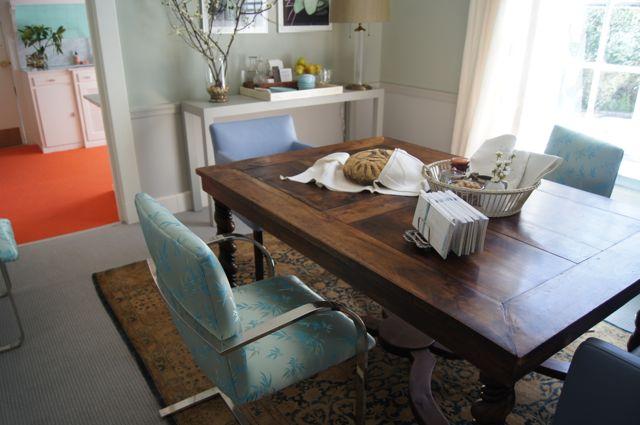 surrounding a traditional pine table. Freeman clearly has a knack for mixing the traditional with the modern. Visit Freeman's website here. 
Another featured designer is Rachel Laxer who hails from Scarsdale. Her sunroom on the landing of the grand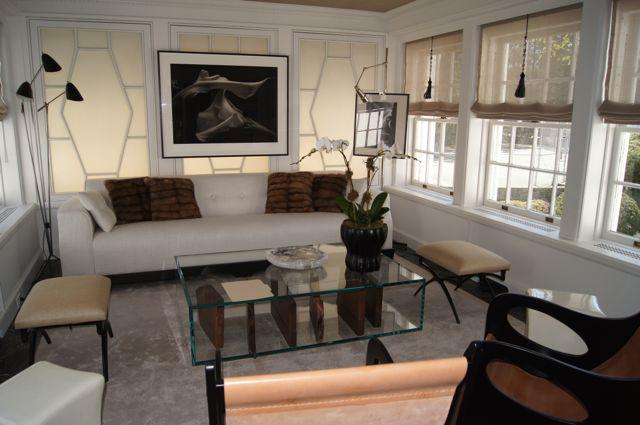 stairway extends over the home's port cochere and features windows on three sides. Using glass, wood, leather, fur and a taupe and cream palate she created a contemporary hideaway to rest on the journey upstairs. Learn more about Laxer at her website.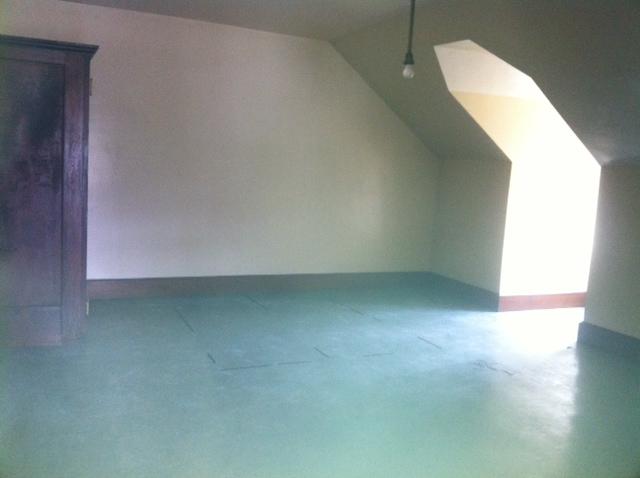 Debra Funt, who lives and works in Scarsdale performed magic, transforming a bare attic room that was originally used as a dormitory for household help into a welcoming guest room. Pictured here, before and after, Funt lined the walls in complementary gray and chartreuse wallpapers , painted and carpeted the floors, brought in lighting, photographs, paintings and even a Lucite sculpture to fill the dormer. The crisp linens looked so inviting that I wanted to stop for a nap. Be sure to make the trip to the third floor when you tour the Showhouse and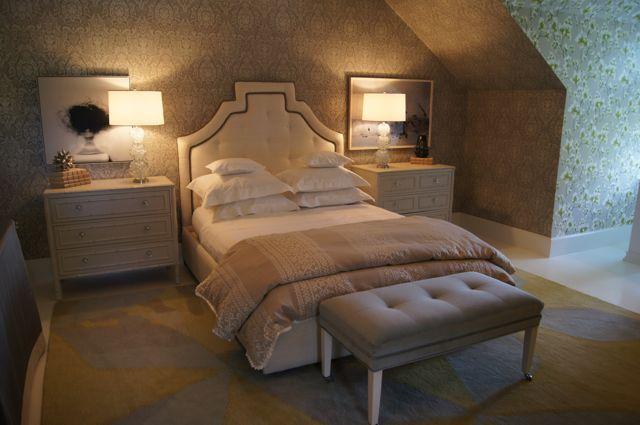 check out Debra's work here. 
This precious pink and green creation would make some little girl very happy. Furnished with a vanity and adorned in silk and roses this fanciful child's space was created by Manhattan's Rooms by ZoyaB.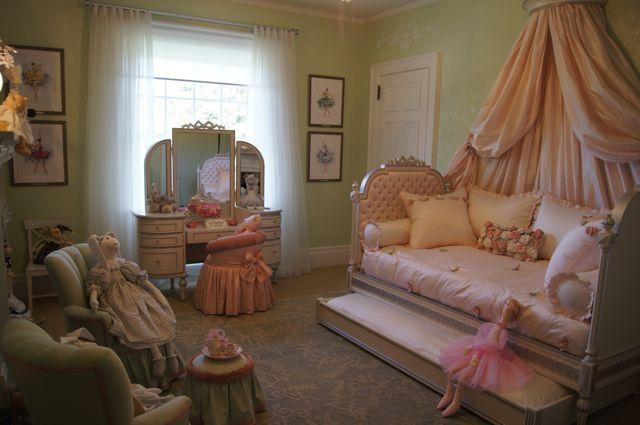 See the work of 25 of America's top designers and decorative artists and tour this historic 1915 mansion at the Showhouse at 2 Cooper Road in Scarsdale.
Visit the website for details.