Letters in Support of Pam Fuehrer for Scarsdale School Board
Details

Written by

Joanne Wallenstein

Hits: 541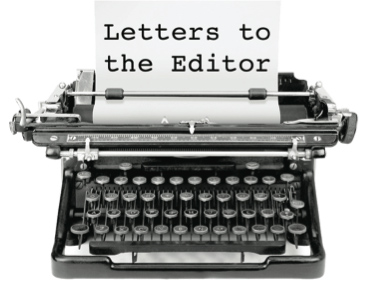 The following letters in support of Pam Fuehrer for Scarsdale School Board were sent to Scarsdale10583 for publication:
To the Editor:
It is with great enthusiasm that I endorse Pam Fuehrer for School Board Trustee. Pam, as a current member of the Board of Education, is the only candidate uniquely qualified for the position. As the experienced candidate, Pam Fuehrer represents the kind of continuity of leadership and stability that our school district both needs and deserves.
We entrust these members of our community to make crucial decisions and set the policies for all of our schools. It is vital that we maintain this level of experience as the Board continues its significant work.
I have lived in Scarsdale for almost 20 years. For 14 of those years, I have witnessed Pam Fuehrer's dedicated volunteerism. Those of you fortunate enough to have worked with Pam know that she is open minded, honest, a careful listener and a consensus builder. She is thoughtful, deliberative, and decisive. Her commitment to the children of Scarsdale is unparalleled.
As a Board member, Pam has a proven track record of doing what is in the best interests of our children. She understands and respects our parent community and their diverse points of view. She is not afraid to question the administration and hold them accountable.
Her extensive experience within the community and on the Board of Education affords her the unique perspective to deal with the myriad of legal, financial and business issues our Board must address on a daily basis. In order to ensure the smooth and seamless transition as new members join the Board, we must continue to support our veteran Board members who in turn will mentor our newcomers.
Experience counts. It is imperative that we have Pam Fuehrer continue in this role in order to sustain the exemplary education that the Scarsdale Schools provide for our community.
Sincerely,
Leanne M. Freda
To the Editor:
As former school board presidents, we know that when it comes to selecting board members, there is no substitute for experience, and an in-depth understanding of the complexities of dealing with our community's many stakeholder groups.
An extremely steep learning curve exists for anyone elected to a board of education, no matter how deeply they have been involved in recent school-related volunteer activities. Add to that the wealth of knowledge that needs to be mastered quickly in such diverse areas as employment law, collective bargaining, curriculum and instructional innovation, special education, school safety, state and federal advocacy, Regents regulations, tenure, state aid, budgets, and financial reporting, just to name a few of the topics listed in the NYS School Law manual, and you quickly get an idea of how important it is to retain experienced board members
It takes a good three years to begin to master these areas of responsibility. Over the past several years, the Scarsdale board has lost a number of members after serving for a single term. Another has chosen not to seek re-election this year. With such a rapid turnover, it is vital that we retain experienced members such as Pam Fuehrer to help guide the board through upcoming challenges, including teacher contract negotiations.
In addition to her term on the board, Pam Fuehrer has a lengthy track record of leadership roles in a number of important community organizations, including PT Council President, and President of both the Edgewood and Middle School PTAs. As a Scarsdale resident for 20 years, she has been actively involved in the League of Women Voters, Drake Edgewood Neighborhood Association, the Task Force on Drugs and Alcohol, and the Junior League of Central Westchester. With two children currently attending Scarsdale schools and one recent graduate, she has her finger on the pulse of our district's needs and community concerns.
So let's not waste all that valuable, hard-earned experience and knowledge.
Vote for Pam Fuehrer on Tuesday, May 15th and return her to our Board!
Rita M. Golden, Ridgedale Road
Barbara Jaffe, Kingston Road
Police Report: Firefighters Shore up Central Avenue Apartment After Car Crashed through Wall
Details

Written by

Traci Dutton Ludwig

Hits: 2084
Scarsdale firefighters who are part of Technical Rescue Squad 36 assisted in shoring up a Central Park Avenue two-story apartment building after a car drove into a garden apartment April 12. The accident occurred around 2 p.m. on the side of Building B of the Scarsdale Ridge Apartments in Greenburgh. An elderly man and woman were the driver and passenger of the car, a blue Honda Accord. The car penetrated the building's wall, creating a large hole, and the car continued to drive halfway into the building. The couple was taken to Westchester Medical Center with reported "minor injuries." Nobody else was injured in the accident. The entire building, consisting of twelve apartments, was evacuated, and all utilities were shut off.
The initial public safety response consisted of the Greenville Fire Department along with Greenburgh police. While assessing the situation, the Greenville FD Incident Commander requested a response from Technical Rescue Squad 36, along with the Greenburgh Technical Rescue Team. TRS-36 consists of the Fairview, Greenville, Hartsdale and Scarsdale Fire Departments. According to Scarsdale Fire Chief James Seymour, "When TRS-36 is requested, assets from each of the four departments respond along with assets from the Greenburgh Police Department with pre-assigned apparatus and equipment." Firefighters participating in TRS-36 worked to mitigate immediate risk by shoring the building, and engineers were called in to further check the accident's impact on building's overall structural integrity.

Over the last 18 months or so, representatives from 12 local fire departments, in cooperation with Westchester County Commissioner of Emergency
Services John Cullen, have been working on the implementation of a technical rescue squad matrix. During the planning stages of this initiative, training, equipment, dispatch and responses were addressed. Currently, three Technical Rescue Squads are operational and identified in the County's computer aided dispatch (CAD) system. The Squads are TRS-32 (New Rochelle), TRS-34 (White Plains) and TRS-36. As this concept continues to evolve, additional area departments will be blended into the matrix.
"In cooperation with DES, we have requested that instructor authorization courses be taught from the New York State Office of Fire Prevention and Control," Seymour explained. "These instructor authorizations will certify our local fire officers to teach these particular courses to our firefighters, in an effort to increase the amount of personnel adequately trained to the highest level possible."
Explaining the necessity of the technical rescue squads, Seymour said: "This initiative began with the identification or belief that fire departments must be better prepared to respond and mitigate more than just fires. Throughout Westchester you can easily find workers in trenches, workers in manholes and other confined spaces, people stranded at increased elevations and buildings that have been structurally compromised. These squads have the necessary assets to respond to these types of i
ncidents within our response districts."

The Central Avenue accident was the initial response for the newly aligned TRS-36 team, and it was a success.
"People should know that area fire departments work every day trying to identify ways to better protect their residents," Seymour said. "This program will allow for an expeditious deployment of necessary manpower and equipment in cases for which people find themselves stuck, trapped or incapacitated in trenches, confined spaces or even building collapses.
Bank Robbery on Tarrytown Road
On Friday April 13th at approximately 2:45 P.M. Greenburgh Police Officers responded to the Chase Bank located at 409 Tarrytown Road on a report of a bank robbery. The suspect passed a note to the teller and fled on foot with an undetermined amount of cash. The suspect was described as a black male wearing a black and white shirt, red hooded sweatshirt with a black hood, black hat with a red brim, blue jeans, and white sneakers.
Stolen
On April 9, an Eastchester woman reported someone stole her iPhone 8. She said she had accompanied her sister and nephew to a children's Spanish class at Hitchcock Presbyterian Church and School from 10:30 a.m. until 11:20 a.m. that day. During the class, she used her iPhone to take pictures of her nephew. She placed her phone on top of her purse, which was on a classroom desk and visible to others in the room. After walking outside to the car, the woman realized she did not have her phone with her. She called it three times. The first two times, it rang out and went to voicemail. The third time, it went immediately to voicemail. She then went back into the classroom to look for her phone, but it was not there.
On April 10, a Popham Road man reported his passport might have been stolen. He said he last saw his passport inside his residence at the end of February. He did not move his passport to another location or use his passport, but in March, he noticed it was missing. He believes it was stolen.
On April 13, a Wildwood Road resident reported a package from Amazon was stolen from her front porch. According to tracking information, the package was delivered April 9. It contained Ray Ban sunglasses valued at $180.
Identity theft
On April 9, a Rugby Lane man reported unauthorized charges were made to his credit card. He said he believes he lost four credit cards and his New York Sports Club ID card at the NYSC facility in Hartsdale April 8. He received a call from Chase bank's fraud department on April 9, stating that someone attempted to use his Chase debit and credit cards at the Best Buy location on Central Avenue. Chase declined the attempted transactions. While following up with his other credit card companies to report his cards had been lost, the man learned a fraudulent transaction had been made at the Apple store in the Ridge Hill Shopping Center in Yonkers. The transaction was evenly split between two credit cards. The manager of the Apple store said the transaction had been captured on video. Police are following up.
On April 11, an Oxford Road resident reported his American Express card was used to make a fraudulent purchase of $35.68 at a Chipotle Mexican Grille on April 6. He informed American Express that the transaction was fraudulent, and the account was closed. The man also reported an unknown person attempted to credit cards in his name at Lowe's and Home Depot in March. These attempts were denied.
Handbag
On April 10, a Garth Road storeowner reported possible fraud with a handbag transaction. The owner of the business said a woman purchased a $9,200 blue and black Hermes Birkin handbag on March 19. She paid $700 cash and split the difference between two credit cards – $4,250 on an American Express card and $4,250 on a Visa. On March 20, the woman returned to the store and wanted to put the same handbag back on consignment for $9,800. The storeowner said both credit card companies had informed her that the customer was disputing both charges of $4,250. The creditors refunded the customer a total of $8,482.50, according to the storeowner. The storeowner reached out to the customer by leaving her a message. The handbag is at the store and the owner believes it is the same handbag that was originally purchased on March 19. Police advised the storeowner this is a civil matter.
Visitors
On April 11, a Brite Avenue resident reported her house had been listed for sale that day, and shortly thereafter, two women came to her house and asked to look around. The resident's nanny let the women into the house. The women stayed in the house for some time, looking around. One said she might want to move to Scarsdale from New York City. Nothing appeared missing from the house. Police advised the resident to talk with her nanny about who is allowed access to the house.
Metal detector
A caller reported seeing a man with a metal detector walking in the area of Brite Avenue and Sage Terrace April 11. Police spoke with the man about the complaint. The man said it was a hobby of his, and he told police he was using a map to make sure he only stayed on public property.
Ticket machine
MTA police reported the ticket machine on the Scarsdale train station platform, on Depot Place, had been tampered with April 12. Scarsdale police checked the area for suspects but did not find any.
Disputes
A Bradford Road resident and a contractor had a verbal argument over the possible impact that construction activity was having on Bradford Road traffic flow April 12. The resident called police. Patrol advised both parties to obey all traffic rules and stay civil with their disagreements.
A taxi driver reported a verbal dispute with a passenger over the fare from JFK airport to Christie Place April 15. While police were on the scene, the driver and passenger came to an agreement over the fare, and the matter was resolved.
Bus
A man had accidentally boarded an Express Bee Line bus, missed his intended stop in White Plains, had an argument with the driver and eventually got off at a stop across from Scarsdale High School on Post Road April 12. He called police for assistance. Police stayed with the man until a local bus headed toward White Plains came, and the man boarded the bus.
Ring
A Post Road resident called police for help in removing a ring at 11 p.m., April 12. Patrol called Scarsdale Volunteer Ambulance Corps for assistance. The ring was successfully removed.
Cars and roadways
Police tied up fallen wires on Secor Road April 9.
A person in a Honda parked on Meadow Road had pulled off the parkway to make a phone call April 9.
After an Overlook Road resident complained about traffic hazards caused by illegally parked cars, police went to the area, saw numerous illegally parked cars and issued summonses April 10.
Police spoke with Scarsdale Avenue gas station employees who parked their cars, without permits or authorization, in Merchant Lot, April 12. They were told to park elsewhere, and police will follow up.
Construction vehicles were parked in such a way on Brookby Road that it was making traffic flow difficult April 12. Police spoke with the vehicles' drivers, and those drivers moved their vehicles.
Patrol issued summonses to two drivers who parked in handicapped spaces near the high school's turf field and five drivers who parked their cars on Wayside Lane in violation of two-hour parking restrictions April 13.
Police helped a Popham Road motorist start her car after she reported a possible problem wither battery April 14.
A fallen branch broke a streetlight and knocked down wires on Burgess Road April 14. Police stood by for the highway department and Con Edison.
The swing door to a construction site on Weaver Street was blowing open and obstructing the roadway April 14. Patrol closed the gate and positioned cement blocks to prevent it from blowing open.
Patrol removed a yard waste bag from the Five Corners intersection April 14.
Patrol notified the highway department about a fallen tree on Cooper Road April 14.
Patrol issued a summons to the owner of a parked car blocking a driveway on Walworth Avenue April 15.
A handicapped driver reported a car, without handicap tags, was parked in a handicapped spot on Depot Place April 15. Patrol issued a summons.
Three car accidents were reported in the village this week.
Dog bite
On April 14, a Garth Road woman reported an unknown brown and white dog on Chase Road had bitten her earlier that day. She said she had been walking with her dog when she passed the offending dog and its owner. The offending dog lunged at her dog, and the woman pulled her dog away. The offending dog then bit her leg and held on with its teeth, causing the woman to shake her leg to get the dog off. The bite caused a puncture wound and bleeding. The owner of the offending dog asked the woman if she was OK. The woman said she walked away because she was afraid the offending dog would bite her again. The offending dog's owner was described as a woman with white hair, possibly in her 60s.
Animals
A baby owl was in the roadway at Post and Burgess roads April 12. A wildlife rehabilitator was consulted. The rehabilitator determined the owl was healthy and probably only days away from being able to fly on its own. Patrol relocated the owl to a patch of woods away from the roadway.
A caller reported a person running with an unleashed dog on Lyons Road April 14. Police went to the area and found the person sitting with a dog nearby. The person was advised about village code regarding unleashed dogs and left the area.
Noise
After neighbors complained of noise, police asked a Larch Lane resident to take her dog inside the house April 11.
On April 14, callers complained about a loud outside party on Berkeley Road. Patrol advised the homeowner to lower the volume of music, and the homeowner obliged. Approximately 45 minutes later, another noise complaint was received. Patrol went to the house and, at the request of the homeowner, patrol assisted in dispersing guests in an orderly fashion.
Residents twice complained about loud music coming from Saxon Woods Grill at 10:30 p.m., April 14. Patrol notified Westchester County police and advised the manager of the Grill. The manager said the event was ending momentarily, and patrol stayed on scene to observe this.
Lost and found
A person found a laptop computer and a bag at the Scarsdale train station and gave them to police April 12. Police used information on the laptop to identify the owner. The owner was contacted; her identity was verified; and she picked up her computer and bag. All items in the bag were accounted for.
Firefighters
According to Scarsdale Fire Chief James Seymour, the fire department responded to 31 incidents, including some mutual aid calls, this week. He shared the following narratives:
On April 11, a contractor excavating ground by hand saw gas bubbling near a gas main on Bradford Road. Firefighters notified Con Edison and responded to the scene. There, in addition to a possible gas leak, firefighters noted an open excavation trench, wider and deeper than four feet and without required safety measures. Firefighters notified the building department, and the contractor was informed that necessary trench shielding must be in place before work could continue.
A gasoline generator was leaking fuel in a Post Road garage April 11. Firefighters removed the generator and spread Speedy-Dri on the leak.
On April 13, a teakettle left on a gas-fired stove had overheated and melted in a Claremont Road kitchen. Firefighters removed the kettle from the stove and placed it outside. Firefighters detected elevated levels of carbon monoxide in the kitchen and investigated further. They measured highest levels of carbon monoxide in the basement boiler room. Con Edison was called to the scene. The boiler was shut down, and firefighters cleared the air inside the house using positive pressure ventilation. The boiler flue pipe was found to be separated and leaking exhaust into the basement. The boiler was red-tagged. Firefighters found a previous red-tag for the boiler dated May 2016. Firefighters advised the resident to contact a heating contractor for repairs. Firefighters also noticed numerous smoke detector heads missing and no carbon monoxide detectors present. The resident was advised about how to correct the situation.
On April 14, a Church Lane South resident reported that heat from a halogen lamp placed near a light switch melted the plastic switch. Firefighters de-energized the switch at the circuit breaker panel, capped the wires with wire nuts and advised the resident to call an electrician for repair.
Firefighters assisted White Plains Fire Department by covering one of their stations while White Plains firefighters were battling a structure fire on Ferris Avenue in White Plains April 14.
An oil burner was misfiring and creating smoke inside the basement of a Chateaux Circle apartment building April 14. The burner was shut down, and the building was ventilated. The super of the building was notified. He responded to the scene and called a boiler technician for repair.

This report covering police and fire department information from April 9-15 has been compiled from official information.
This police report is sponsored by Scarsdale Security who does more than just security. Contact them about remote video for your home or business. Call 914-722-2200 or visit their website.
George Latimer Scores Big Win in Race for Westchester County Executive
Details

Written by

Joanne Wallenstein

Hits: 2678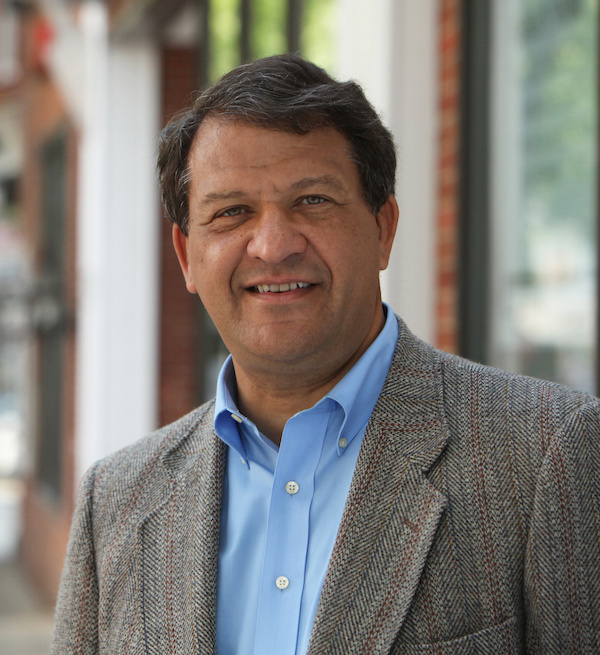 State Senator George Latimer pulled off a big victory in Westchester County, defeating two-term incumbent Rob Astorino to become Westchester County Executive. Though Astorino was initially in the lead, the margins narrowed in the weeks before the election. Latimer's supporters knew the vote would be close and a committed group of volunteers organized to bring out the vote. Latimer surprised everyone by winning 57% of the 206,230 votes cast, soundly defeating Astorino's 43%. Astorino, a former radio personality and producer was a rising star in the Republican Party and challenged Andrew Cuomo in the race for NYS Governor in 2014.
Latimer rode a wave of Democratic Party support across the country as voters expressed their frustration with Trump's policies. Key issues in Westchester include taxes, gun control, water safety, women's rights and the proposed privatization of Westchester County airport. A controversial $1 million donation to Astorino's campaign by Breitbart supporter Robert Mercer brought national politics to the local level and may have swayed some voters.
According to results from the Westchester County Board of Elections, Latimer won 66.79% of the vote in Scarsdale, getting 2,561 of the 3,834 votes cast for county executive.
Myra Saul headed up the volunteer effort in Scarsdale with Deborah Porder, Stephen Sherman and student Jack Greenspan. Commenting on the results, Saul said, "Many volunteers from Indivisible Westchester, Democratic clubs and local advocacy groups greatly helped Latimer, who never had the financial resources available to the Astorino campaign. People power was Latimer's secret sauce. Many people in Scarsdale volunteered for phone banks, postcard writing and canvassing events. Many of the volunteers had never been politically active before. A Scarsdale high school contingent was also active. While much of this activity reflected a desire to rid Westchester of a very conservative Republican who is associated with the Trump brand, there also was a deep desire to change the course of the county's policies. For example, many in Scarsdale were horrified at the gun show held last year at the County Center at which racist and anti - Semitic literature was available. Latimer has pledged that no gun shows will be held on county property. We can expect that Latimer will stop privatization of the airport and will be more diligent in addressing environmental concerns. Finally, Latimer has promised a return to a pragmatic, non-ideological county government. After the contentiousness of the Astorino era, many are looking forward to an administration that believes in government and a desire to get things done competently and in the public good."
Mark Lewis, who chairs the Scarsdale Democrats provided the following analysis of the race for County Executive and the Board of Legislators, where Scarsdale's representative Ben Boykin ran unopposed. He said, "Scarsdale went for George Latimer by a 2 to 1 margin. The win means that we will be going in a new direction in the County. George will be more supportive of helping non-profits who get funding from the County. The Democrats also won three more seats in the Legislature, probably signaling a change in leadership in January when the newly elected legislators and the new County Executive begin their terms in office."
He continued, "All the unions need new contracts and Astorino has not negotiated with them. George will have to find a way to settle new contracts. Astorino has let our County roads and other infrastructure deteriorate. George will be proactive in fixing the County infrastructure. He has pledged to increase the Planning Department so they can plan and implement improvements to the County infrastructure. He will not let bridges wait eight years, while pieces of the bridge fall on cars passing under them before repairing them, which is what happened on the Ardsley Road Bridge going over the Thruway in Greenburgh. He will not wait eight years to repair swimming pools such as the Sprain Brook pool, which had to be closed down for three years due to ill repair, before fixing them."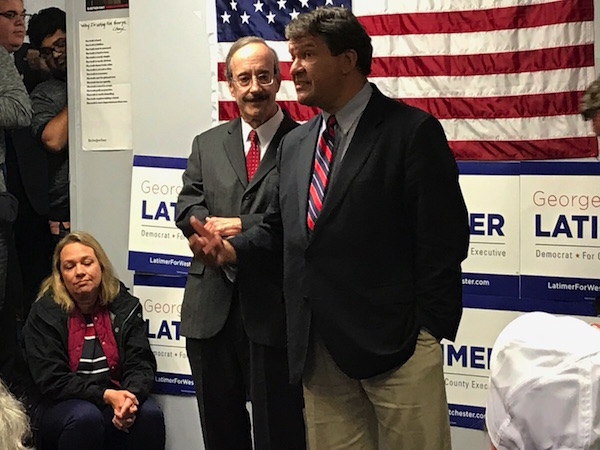 He concluded, "Rob Astorino is presenting his last County budget so we do not know what that will look like. The new budget will be coming out in the next few days. George will have to live with an Astorino budget which will be passed before he takes office in January. Ben Boykin, who represents Scarsdale and White Plains, also won as he ran unopposed and will be one of the more senior legislators. Ben is a CPA and is very knowledgeable about budgets."
As for the three propositions on the ballot, here's how Westchester County voted:
Proposition One to convene a NYS Constitutional Convention was defeated 81% to 19%.
Proposition Two to allow courts to reduce or revoke the pensions of public officers who are convicted for felonies was approved 73% to 27%.
Proposition Three to permit the use of preserved forests for health and safety needs was approved 60% to 40%.
Contact Us
Details

Written by

Chad Criswell

Hits: 1433
Please email us your feedback at ScarsdaleComments@gmail.com.
We would love to hear from you. Thank you!
Eclipse: Scarsdale Style
Details

Written by

Joanne Wallenstein

Hits: 1967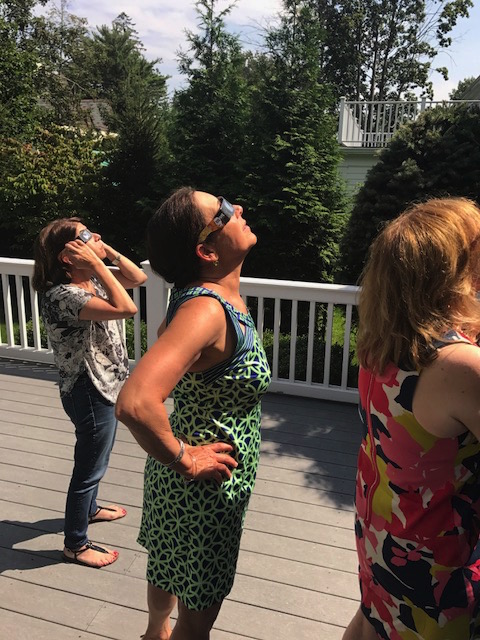 It's come and gone – the 2017 eclipse of the sun that reached its peak in Scarsdale at 2:44 pm on Monday August 21. The event, which last occurred in 1979, stopped everyone in town in their tracks, as they put their eclipse glasses on to watch the moon pass in front of the sun – leaving just a crescent of the sun to view. Here in New York, we were able to view about 75% coverage of the sun. As the moon passed over the sun it created a dark shadow over town.
Earlier in the day, the Scarsdale Library promised to distribute 140 pairs of eclipse glasses and those were gone quickly when over 300 library cardholders lined up to collect their own pair. They were gone quickly – and unfortunately some walked away without a pair of their own. But since one pair was given to each family, everyone could share the lenses and observe the eclipse.

Some traveled to interesting venues to view the eclipse. Andrea Seiden and Peggy DaSilva went to the roof of the Museum of Natural History where an area of devices were available to use to look at the sun.
Brothers Adam and Benjamin Longman, who have been interested in astronomy for years, decided that the eclipse was the ideal reason for a road trip. First they drove to Washington D.C. where Adam is a third year student at George Washingon Law School and spent the night. The next day, they were originally headed for Charleston when they heard that bad weather might prevent a good view. Instead they headed to Clemson University in South Carolina where they were able to see the total eclipse. Adam said he looked up and saw "a black disc covering the sun" and the shadow turned the bright afternoon into "twilight."

Liam Haller also took a long road trip, driving 29 hours from Scarsdale to Alcoa, Tennessee where he watched the eclipse in Springbrook Park. Along the way he picked up friends at the University of Virginia.

Commenting on the phenomena, Michelle Lichtenberg said, "What I loved about the eclipse was the opportunity it gave us as a nation to unite and examine this solar event together. After a bleak week of news, this was a welcome chance to rise above our differences and appreciate mother nature from coast to coast."
What did you think of the eclipse? Did it live up to all the media hype? Send your comments and photos to scarsdalecomments@gmail.com and we'll include them here!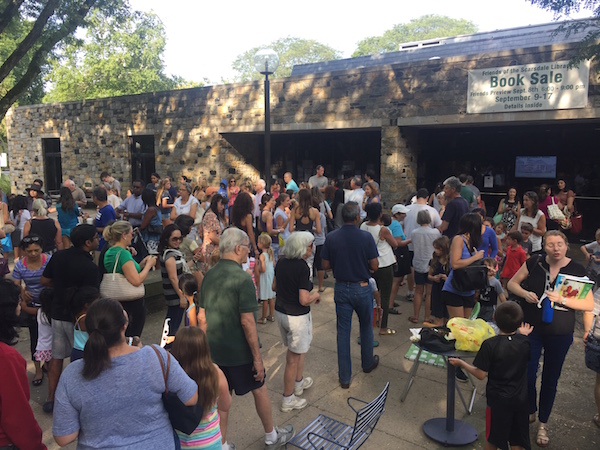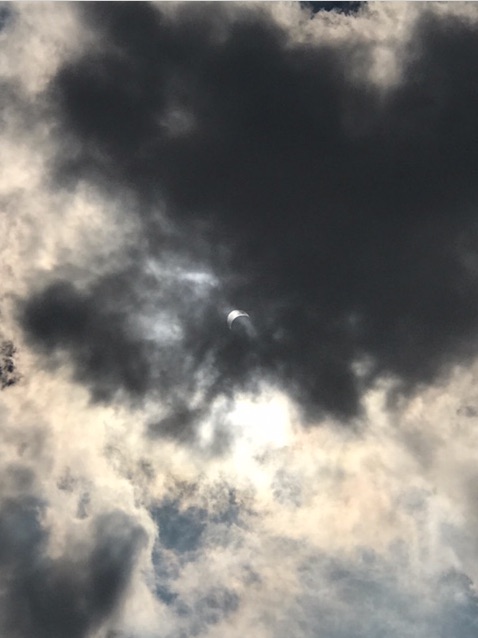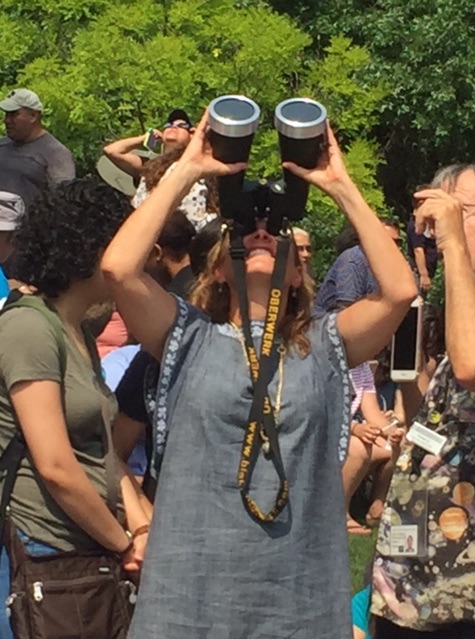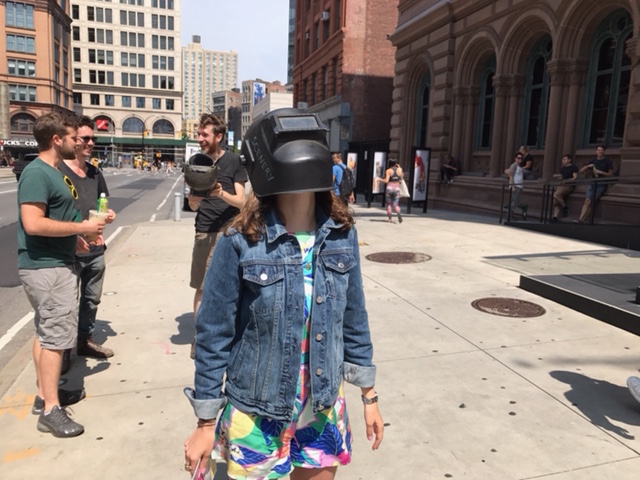 Subcategories
Information about the software behind Joomla!
About the millions of Joomla! users and Web sites
Good Work
Article Count: 391
General facts about Joomla!