Costume Day for the SHS Class of 2019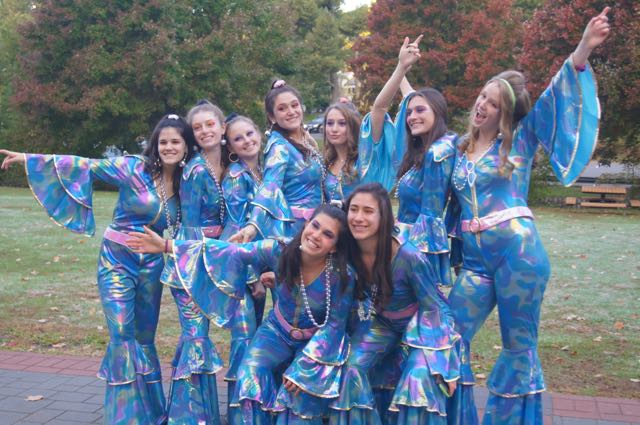 It's an SHS tradition. Every year on October 31st, the SHS senior class dresses up in extravagant costumes for school to commemorate their final Halloween in Scarsdale. The Class of '19 put on their craziest outfits and makeup to celebrate. Though underclassmen are discouraged from dressing up, they are included in the ritual through seniors' booming music in the hallways and interruptions during classes.
This Halloween, there was an unprecedented level of creativity and variety present among the seniors' costumes. Some crowd favorites included 70s disco dancers, over-the-top pageant girls, SHS prison inmates, and Globo Gym dodgeball players. In addition to student festivities, many teachers chose to participate in the tradition. While some grouped together to dress up as characters from Star Wars, others opted for solo takes on the holiday: Spanish Teacher Señora D'Angelo was Flo from Progressive, and Science Teacher Mr. Sipe dressed as Dwight from The Office.
In light of the highly spirited atmosphere that encompasses school Halloween, the day is full of fun, camaraderie and commemoration of the seniors' time thus far at SHS. Though the seniors may be headed in separate directions, this year's festivities celebrated the final Halloween they would spend together.