Dara Gruenberg: Leading the Next Generation of Scarsdale Volunteers
Tuesday, 24 April 2018 21:36
Last Updated: Wednesday, 25 April 2018 09:24
Published: Tuesday, 24 April 2018 21:36
Joanne Wallenstein
Hits: 5468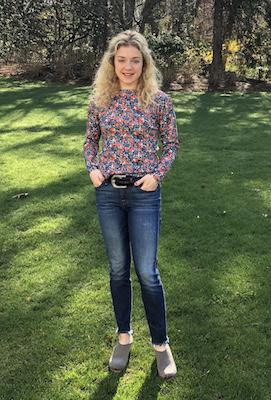 There could not have been a more opportune time for Scarsdale Family Counseling Service (SFCS) to come up with the idea of honoring a rising star at their annual gala. Why? Because they didn't have to look far to find the ideal recipient for this first annual award. … a young resident who has already made significant contributions to the community that will impact Scarsdale for generations to come.
Honoree Dara Gruenberg has done more than build a lengthy resume of volunteer posts. In just seven years in Scarsdale she joined and took leadership positions in organizations customarily lead by people twice her age and befriended and worked collaboratively with many of Scarsdale's most seasoned and senior volunteers. What's more, she attracted a new generation of residents to get involved in Village Government, the Scarsdale Forum and the Scarsdale Library.
It turns out that Dara, age 36, has been volunteering and organizing for as long as she can remember. She grew up in Long Island, and when I asked her what she liked to do in high school, she laughed and told me that she enjoyed community service. She was president of her high school and while there, she set up a day of community service that continues as an annual tradition at the school today. The oldest of three children, her father passed away from brain cancer when she was only 15 years old. The support the family received from their community was transformative for her. She said, "The outpouring of love helped to motivate me and shape how I wanted to live my life. I think that my father had such a short life, but, as a social worker, he spent so much of it helping others that I want to make the most of mine and find ways to make a difference. My mother, also a social worker, has been a guiding light in her strength found from her service to others."
After majoring in Classics at Barnard, Dara taught Latin at the Hewitt School in Manhattan and also became Director of Community Service at the school, arranging trips to soup kitchens and other service opportunities for the students at the school.
When her daughter was 18 months old, the family moved to Scarsdale, and Dara started to volunteer at Westchester Reform Temple's Nursery School's Parent Association. She now serves as a member of the Board of the synagogue.
A frequent user of the Scarsdale Library, she learned about emerging opportunities to get involved and volunteered to help with the Capital Campaign which at the time was in its infancy. Dara ultimately became one of the co-chairs of the campaign to renovate and overhaul the library. In the past 4 years, she has been integral to the success of the largest fundraising campaign in the history of Scarsdale, and the campaign committee has just surpassed their goal of raising $7.5 million that will be supplemented by public funds to realize plans for the new library. Commenting on the campaign Dara said, "We have such a phenomenal team working on this project, under the exceptional leadership in our Library Director. Library lovers from all generations and all neighborhoods in Scarsdale are inspired to give. We have become a big fundraising family. I feel very lucky to be a part of this project and to work with such incredible and talented residents."
In the past few years she has been a member of the Village's ad hoc Communications Committee and a board member of the Scarsdale Forum. She was also elected to the Citizen's Nominating Committee and participated in deliberations for Village Trustees. But she didn't stop there. Dara also served as a co-chair of the Scarsdale Citizen's Non-Partisan Party Campaign Committee and helped to ensure the CNC nominees election. She felt she was a part of "two generations coming together to preserve the non-partisan system in Scarsdale."
And she clearly has a soft spot for older friends. While we were sitting at Patisserie Salzburg for the interview,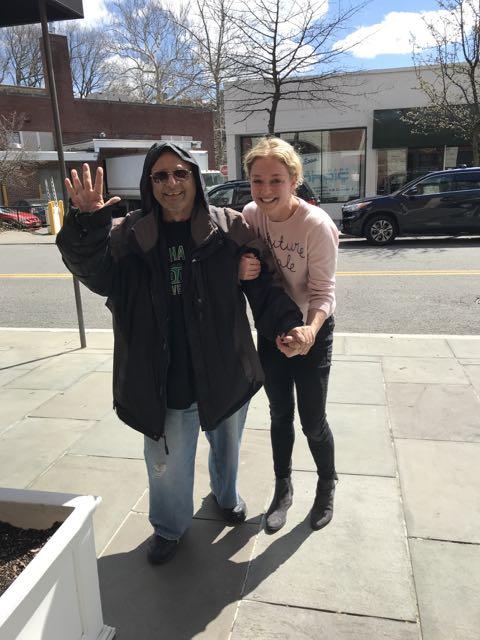 Gruenberg spotted a man struggling to cross Christie Place. Before I could blink, she was outside leading the tottering and grateful man to the safety of a café table.
Gruenberg is surprised when she hears there is a lack of volunteerism in Scarsdale. She says volunteering is like matchmaking …. "If you find the right place for people, they step up and want to get involved. You just need to listen to find what inspires them." About her more senior friends, Gruenberg says, "It makes for a richer life when you build a community of all generations. So many of my closest friendships have come from volunteering."
When she's not volunteering, Gruenberg can be found spinning at Soul Cycle or practicing her dance moves with her kids, who are poised to lead the next generation of volunteers. Her kids, now six and eight, see many lively meetings taking place in the house. Their eight year-old daughter recently brought her piggybank to the kitchen and asked, "When is it my turn to bring my piggy bank to the library?" Gruenberg added, "I am so grateful for this acknowledgement by the SFCS, even if a little embarrassed, but if my children see my service to the community as a model, then I feel proud to participate. SFCS is an invaluable organization that broadly supports all residents. I hope the community comes out to support their worthwhile mission!"
Toast Dara and the next generation of volunteers at the annual benefit gala for the Scarsdale-Edgemont Family Counseling Service's Magic and the Mind: An Evening of Enchantment and Mystery, Thursday, May 10 at the Scarsdale Golf Club. Tickets can be purchased here.