Raiders Boys Soccer Team Defeats New Rochelle in Quarter Final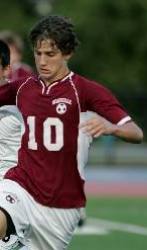 An exciting week for the top-seeded Scarsdale Boys Varsity A Soccer Team. The Scarsdale Raiders met New Rochelle in the quarter-final match on Tuesday November 2, a tough, close game, which Scarsdale won 1-0. The stands were filled with fans who cheered on the team and Andres Penfold who scored the sole goal in the game on a penalty kick.
The competition was fierce and early in the second half of the game, Scarsdale won a penalty kick, causing the New Rochelle team to get very aggressive. One of the New Rochelle players punched a Scarsdale player, inciting another New Rochelle player to throw a punch at another Scarsdale player.
In a proud moment for the Raiders, the Scarsdale players stayed totally cool and did not respond to the aggressors. The Raiders refused to be baited into a fight, and they stepped away from the New Rochelle players. The referees gave New Rochelle a yellow card, their second in the game, and Scarsdale showed discipline and restraint and left the playoff game as the victors.

The team has now advanced to the semi-finals where they will meet Mahopac at Scarsdale at 2:30 on Thursday November 4th. If they defeat Mahopac, they'll be onto the finals at Purchase College on Saturday. See you in the stands.
Pictured above: Andres Penfold

BLOG COMMENTS POWERED BY DISQUS