Scarsdale Cheerleaders Host Competition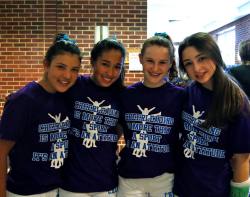 On January 15, cheerleaders and spirited fans from all over gathered at Scarsdale High School for the Scarsdale Invitational Cheerleading Competition. Thirty seven teams and an estimated 700-1,000 spectators attended, from all over Westchester, Rockland, Duchess and Putnam Counties and the Bronx. There were 500 cheerleaders in the competition, ranging in age from eight to seventeen.  The morning session included youth, modified and junior varsity teams and the afternoon session was reserved for the varsity teams. Generally at meets, the hosting school does not compete in the actual competition but does perform their routines. Unfortunately due to injured cheerleaders on both squads, Scarsdale Varsity and Junior Varsity teams did not perform. But, the other attending schools tumbled and danced gleefully while the Scarsdale team sported the t- shirts being sold at the school stating "Cheerleading is more than a sport, it's an attitude."
Competition winners were as follows:
Modified: Eastchester

Junior Varsity: St. Catharine's

Small Varsity: St. Catharine's

Large Varsity: Ursuline

Co-ed: Putnam Valley
The Scarsdale JV and Varsity teams each practice two hours a day about four to five times a week and
take gymnastic lessons twice a week. Cheerleading is a very big commitment and the cheerleaders and their families are clearly huge fans of the sport. Many mothers were proudly wearing shirts with slogans such as "Cheer Mom" while rooting for their daughter. The crowds were raving for the girls, and the girls beamed back through their exciting and challenging routines.
Pictured Above: Scarsdale cheerleaders (from left to right, Ali
Levy, Nicole Rodriguez, Jessie Uris, and Taylor Doyle)
Photos and text by Sunny Feinstein
BLOG COMMENTS POWERED BY DISQUS