Track Season Begins With Fundraiser for Japan on Saturday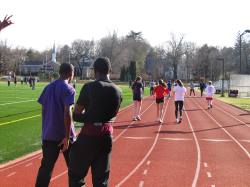 It's opening week for spring sports at Scarsdale High School. This season brings tennis, golf, track, crew, lacrosse, baseball and softball. The Track and Field is open to all, but before a runner can participate in a track meet the player must participate in at least ten practices. This week and next the team will hold practices and event tryouts.
Since the track and field  team is the only one that does not require a tryout, it attracts many who do not choose to tryout or do not meet the requirements for another sport. Running and other field events also provide excellent aerobic and endurance training for all other sports.  One of the most unique features of track and field is that it offers a variety of options in terms of activities from which one can choose.  This contributes to making the sporting experience fun. Members of the track and field team are encouraged to welcome newcomers onto the team and also display sportsmanship at all times.   The Raiders track and field team is optimistic in looking forward to a successful season, just as in past years.
Photos and Text by DJ Holloway, Sophomore at Scarsdale High School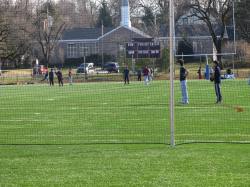 To open the spring season, the track team is planning a fundraiser for the victims of the tragedy in Japan.  They are having a run/walk-a-thon this Saturday, March 19 at Scarsdale High School from 10:00-11:30 AM. The event is open not only to members of the track team, but also to other students at the school, as well as the whole community (all ages). The team has made sponsor sheets  and they are raising money on a "per lap" system or overall donations.  There will also be a bake sale by the high school track.  100 percent of the money will be going to the American Red Cross.
Families can come by to run, walk, sponsor a runner, make a donation or simply watch what the team hopes will be a successful event.
Submitted by Eric Dobosh , Junior at Scarsdale High School.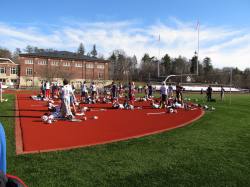 BLOG COMMENTS POWERED BY DISQUS