En Garde ... Scarsdale Fencers Excel at Super Youth Fencing Tournament
From February 3-5, more than 1,000 fencers from the United States, Mexico and Canada gathered outside of Washington D.C. for the largest youth fencing competition in history. Scarsdale was represented by Scarsdale Middle Schooler Jared Sugarman, age 12, and Polly Adler, age 10, from Edgewood Elementary School.
Jared Sugarman, a seventh grader, placed 20 out of 101 fencers in Y12MF and finished 45 out of 103 in Y14MF. Jared started fencing at age 6. He fences at Westchester Fencing Academy (FAW) in Hawthorne for three hours on Fridays and Saturdays and two hours on Sundays throughout the year, unless he is in a competition either locally or out of state. He has competed in many super regional and national tournaments. Jared spends several weeks each summer at Cornell Fencing Camp. He really enjoys the competition and appreciates the merits of an individual sport. At a very young age he has worked hard and demonstrated commitment. Jared is currently ranked twelfth in the United States for Y12MF and is looking forward to the U.S. Summer Nationals in Anaheim, CA where he will see many of the new friends he made through fencing.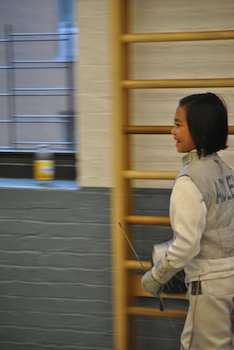 Polly Adler, a fifth grader, captured a silver medal at the tournmanet, beating out 30 other competitors in Y10WF. Ms. Adler went on to finish 6th in a pool of 71 fencers for Y12WF. She will represent the United States at the Pan American Games in Mexico in May. Polly trains in New York City at Fencers Club. She is also one of the youngest licensed fencing (foil) referees in the United States. Adopted from China, Polly is working toward participating in the 2013 Junior Olympics and gaining a seat on the U.S. National Team. She is ranked 6th in the United States for Y10WF and 15th for Y12WF. Over the summer Polly will be teaching fencing skills to Inuit native children in Alaska, as well as attending summer camp in Mexico.
BLOG COMMENTS POWERED BY DISQUS