Plastic is Fantastic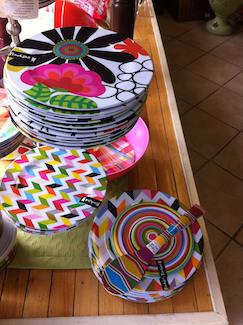 When I was growing up, my parents did a lot of summer entertaining, before they divorced and ruined all the fun. Our house in Edgemont had a pretty backyard with a pool. Since my birthday is on July 3rd, we often hosted outdoor birthday parties, end-of-the-year school class parties, and elaborate Independence weekend fetes back-to-back for the first part of the summer season.
In fact, I recall the time between Memorial Day and July 4th as one big party.
My now long-deceased Bichon Frise, Ellie, would agree, having spent much of that time sipping margaritas from the half-filled cups left next to people's lounge chairs and then falling asleep in the shade.
Of note, there was the bat mitzvah outdoor brunch with an omelet station, the Sweet Sixteen party to which I wore a rockin' white, Oscar de la Renta bathing suit, and a Club Med party, during which my father burned his exposed stomach by grilling without a shirt.
For my mother, these parties were all about setting the table. Both she and my aunt had huge collections of Hellerware, that brightly-colored, stackable, midcentury mod plastic dinnerware originally designed by Massimo Vignelli. Remember Hellerware? You can still find it in museum collections, on Etsy and Ebay, as well as in my aunt's kitchen. She now hosts us every Memorial Day, using the same iconic, blue and white Heller as always.
(She's divorced, too, but got to keep all 48 pieces of Hellerware in the split.)


Over the years, melamine resin – or, high quality plastic – has become as integral a part of my summer as apple pie, SPF 60, and broken homes.
Plastic is fantastic!
Now that I have a home and a family of my own (intact), I, too, like to entertain outdoors. It's summertime, after all, where the living is easy. My husband, Brett, mans the grill and I woman the cocktails.
Which brings me to outdoor table setting. This isn't the 1970's anymore, Farrah. There are now so many different, stylish innovations with melamine that it's not necessary to pick just one pattern and stick with it for 40 years. What I like most about melamine is that it invites me to be more daring with my color and pattern choices than when picking a china pattern, since I can embrace the fun and not think, won't this rainbow-striped platter look weird with a turkey carved on it? No, it won't, because the only food going on this melamine tray is grilled hot dogs, hamburgers, and a marinated flank steak with my name on it. Because melamine is relatively inexpensive, as compared with real, breakable dinnerware, the fear of commitment is also low. In a few years, I can always replace that $2.99 green plastic wine goblet from Crate and Barrel. The Bacarrat crystal? Not so much. (Especially since I don't own any Baccarat. That makes it truly irreplaceable.)
Whether you favor clean, modern design or French Country chic, there is plastic with your name on it. In fact, there may even be some with your
mother's name on it. A few years ago, when trying to find the perfect Mother's Day gift for my outdoor-entertaining, French-Country-loving mom, I stumbled upon beautiful, Le Cadeaux plastic dishes sold at
La
Dentelliere
and The Paper Tree and went a little nuts with the credit card. Last year, my mom returned the favor and bought me Le Cadeaux dinner plates, salad plates, and bowls for eight. I like them so much I make my kids eat off them year round.
If you favor contemporary designs, try A&M Table at 1495 Weaver Street. They carry Jonathan Adler melamine as well as other stylish plastic and acrylic pieces, great for indoors or out. I never walk out of that store without buying myself (or my mom) a little (or medium-sized) something.
For a fun, mix-and-match color palate, head to Wish at 3 Purdy Avenue in Rye. Their windows currently show off delicious, candy-colored designs by French Bull, which are all dishwasher safe and range in price from $10-36.
And, because I can't help but flaunt my high-low recessionista side, there's always Target. My kids had to drag me away from "Tarshay's" plastic dinnerware section a few weeks ago. "Mom!" They said. "We've got to get food and paper towels and toilet paper and snacks for school!" To which I replied, "But, kids, plastic is so fantastic! Let me just snap a few pictures." And an idea for an article was born.
Cheers to dining al fresco!

(pictured at top: Melamine from Wish in Rye)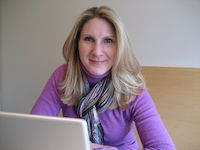 Columnist and blogger Julie Gerstenblatt writes with humor and candor about her life in Scarsdale, her friends and family, and the particular demands of motherhood and wifedom in modern-day suburbia.
BLOG COMMENTS POWERED BY DISQUS