HoHo Heist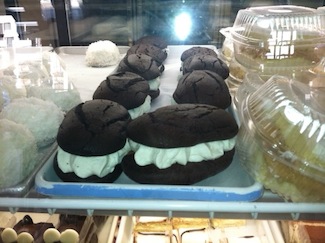 We got an email from a reader with a sweet tooth to tip us off to some sticky business at the bakery. She had recently stopped in to Enrico's Bakery in Hartsdale, and much to her surprise found several shelves of goodies that looked exactly like her favorite treats from Lulu's Bakery on Garth Road. She noticed twinkies, ring dings, snowballs, hohos and red velvet cupcakes that appeared to be re-creations of Lulu's recipes.
She asked the woman behind the counter what was up and the woman looked askance. Determined to find out what had happened she drove over to Lulu's and asked a few questions. Turns out that a baker who worked briefly at Lulu's may have gone there undercover to learn Lulu's signature recipes and "take the cake" back to Enrico's.The baker who was employed at Lulu's for about two months is now back in the kitchen at Enrico's.

Intrigued, we decided to visit the two bakeries to see what we could learn – and sure enough,
Enrico's did have an entire case of goodies that looked like exact replicas of Lulu's creations. We bought a few and went onto Lulu's to do the same.
Below are photos of vanilla, lemon, chocolate and red velvet twinkies from both bakeries. Which taste better you may ask? Lulu's claims to use higher quality ingredients, and in my opinion you can taste the difference. But go to the two bakeries, try them yourself and let us know which you prefer!
(Pictured at top: Hohos at Enricos)
BLOG COMMENTS POWERED BY DISQUS