Current Home Opening on Palmer Avenue in Scarsdale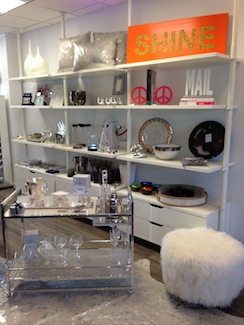 This is a snapshot of me. I'll be driving around town in my car, singing along with Rihanna, making a mental list of things I did and did not accomplish in my busy day, when suddenly, I remember: my sister-in-law's birthday is in three days and I haven't bought her a present! Or, I need a hostess gift for Saturday night! Or, I was going to buy a housewarming gift for my friend who finally bit the bullet and moved to the suburbs from the city but I totally spaced and now I have no time to get something fun! Damn!
I yell at myself a lot in the car.
But now I can relax and pull over at the Five Corners, and so can you, because Current Home is here to answer all of our shopping dilemmas. Anniversary gift for mom and dad? Check. Art for your daughter's hip, tween bedroom? Check. Awesome new serving tray to jazz up your blah Thanksgiving table? Check. This chic, contemporary home accessories store has it all.
Current Home, located next to the Metro Deli at 8 Palmer Avenue, is owned by three Scarsdale women, Michele Brettschneider, Alyson Lane, and Karen Tolchin, and is the evolution of A & M Table, formerly located on the second floor at 1495 Weaver Street. The business began in the spring of 2010, when Alyson and Michele teamed up to bring modern, fresh accents to the suburban marketplace. They started by setting up a showroom at Michele's home, where items on display could be specially ordered, eliminating the need to house a great deal of inventory and allowing them to test the market. "It started because we felt there was a void," Michele says.
"There was no place local to buy updated, contemporary pieces," Alyson adds.
They had an idea, they saw an opportunity and they took it. "We just started! We said, 'we can do this'." Michele explains, standing in the almost-ready-to-open, beautiful new space where she and her partners are unpacking boxes of barware. "This new store has evolved from that successful home business."
I love that. Don't you just love that?
The third partner, Karen Tolchin, recently joined the venture and helped take the store to their new location. "As the business grew, the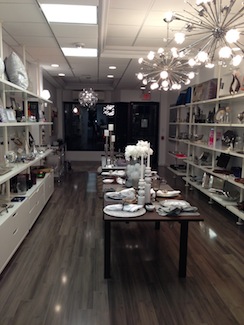 partnership grew too," Alyson explains.
So, while they still carry the home accessories that their fans have come to know and love, like agate coasters and bookends, leather trays and boxes, hammered silver bowls and horn serving pieces, they have been able to grow their offerings as well. Current Home is in a bigger retail space now, in a high-traffic area, with an easy-to-see storefront. They are excited to be able to expand their product line to reflect the growing needs and interests of their customers.
Karen, with her trademark enthusiasm, tells me about some of the new offerings. "We're carrying artwork! That's our big new thing," she explains. One prominent artist's name is Camomile Hixon, who works in…wait for it…glitter. (Yes, glitter art! I'm talking bright, fun, pop-art style graphic prints. She's toats amayze.) "We also have these custom-made, acrylic bookends for a teen's bedroom," she says, pointing to a hot pink pair of peace signs. They can be ordered with any symbol representing your child's interests, and can be made in any color.
The store has small furniture items, as well, from poufs to bar carts to rugs and mirrors.
Current Home carries unique light fixtures too, some of which are on display in the sleek storefront. "We hope to create look books in the near future, for customers to flip through, of all our favorite items for order," Karen explains. They often work with designers and decorators who buy items for their clients' homes, and they also do wonderful corporate gifts and teacher gifts.
The aesthetic of Current Home is edgy, fresh, of-the-moment sophistication, like the home shop on the 7th floor of Barney's. The store even carries some of the same designers, such as Thomas Fuchs, whose Remains Collection -- upscale barware featuring skulls -- is a favorite. I fell in love with the acrylic items by designer Alexandra Von Furstenberg, like a smoky backgammon set that is as pretty to look at as it is functional. (While these particular items are pricey, the store carries a range of great items from about $20 and up.)
Things in this store call my name. I swear. They whisper "Take me home with you," when I touch them.
It's very hard to leave Current Home without buying something. So, I have to know, when will they be open for business?
"We were supposed to open this past week, but Hurricane Sandy delayed everything," Karen says. "The floors couldn't come in from Boston. We had no power. We packed up from our old store in the dark, with lanterns! Our children helped out, because they had no school!"
Yes, the owners are all moms, with seven children between the three of them. "We moved stuff over here in our own cars and the kids unpacked."
Helping mom advance her new business venture? I'd say that's the best use of time off from school that I can think of. And supporting local moms as they make a dream into a reality? That's a good use of everyone's time.
Current Home hopes to be open this weekend, or by Monday at the latest, to meet all of your Thanksgiving needs. Feel free to buy me – I mean yourself -- a little something.
Current Home
8 Palmer Ave
914 723 2462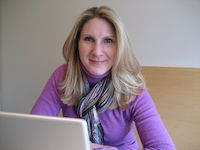 Columnist and blogger Julie Gerstenblatt writes with humor and candor about her life in Scarsdale, her friends and family, and the particular demands of motherhood and wifedom in modern-day suburbia. She recently published her first novel, Lauren Takes Leave.
BLOG COMMENTS POWERED BY DISQUS