Trendy or Timeless? Clean Design Sets the Record Straight on Trends in Interior Design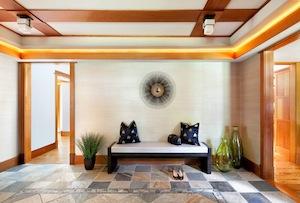 This article was contributed by Claire Paquin of Clean Design in Scarsdale: Some styles in home design have staying power while others come on strong only to fade into obscurity. How do you know if a trend is here to stay or a flash in the pan? Claire Paquin, principal designer of Clean Design, a full service, high-end residential interior design firm based in Scarsdale tells us about five trends that are not trends at all, but rather classic and enduring design elements.
1 – Embellishment Using Luxury Materials
When is a console a showpiece? When is a light fixture a major focal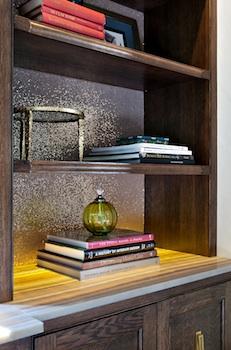 point? When it's embellished using the most rare and beautiful materials available. Leather, marble, resin, shagreen, mother-of-pearl, specialty metals, shells, and silver and gold leaf are all used in design to enhance furniture, accessories, and even wall coverings. The materials take the ordinary to the extraordinary.
2 – Wall Covering
Sometimes my clients wrinkle their noses when I suggest wallpaper. My response? This is not your grandmother's wallpaper. Wallpaper has made huge strides in the past decade to remain current and interesting. These innovations are what allow it to remain an integral part of design. Along with innovations in materials, applications for wallpaper have expanded – I have used it on walls (of course!), in bookcases, to cover magnet boards, and on furniture to highlight shape and form. Wallpaper can be natural grass cloth, embroidered with sequins, metallic, hand-blocked, or digitally printed - just to name a few. The possibilities are endless.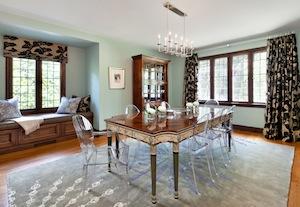 3 – Lucite
I had a client ask me the other day, "Will this Lucite table go with my new credenza?" The answer is that Lucite goes with everything – which is why it will be around forever! It's the ultimate neutral. It's clear, crisp, and durable. It can be formed into almost any shape and is perfectly at home in the most traditional and most modern designs.
4 – Sisal Floor Covering
This is not everyone's favorite, but sisal will have its place in design forever. I wouldn't put it in a family room where it's fun to sit on the floor to play Monopoly. Nor does it work well in a bedroom where you want the ultimate comfort for your bare feet. However, sisal is perfect in many spaces. It's durable, neutral, inexpensive, and adds visual texture. You can bind it in all sorts of interesting ways - leather, embroidered tape, or standard twill in any color. It's also a wonderful layering piece. Swathe a large room in sisal and then layer on top of it – a smaller Persian rug to define a seating group or an organic hide or sheepskin to add some whimsy.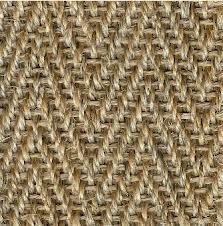 5 – Brass
You may have noticed that brass is back – in a big way. But did it ever really leave? The answer is no. Brass has always had a place in high-end design and now we are seeing it more prevalent in everyday design. Interior hardware, plumbing fittings, and furniture are all incorporating the warmth of brass. My recommendation if you would
like to introduce brass into your décor? Stick to unlacquered brass. It will develop a natural patina over time as it oxidizes with use and exposure to the air. Unlacquered brass is more classic than brightly polished brass, which can look dated.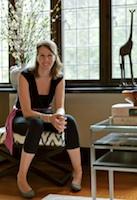 Claire Paquin graduated from Scarsdale High in 1993. She has lived in Fox Meadow since 2004 and runs Clean Design along with Ali Artale, her design assistant. Clean Design primarily serves Westchester and Fairfield counties. For more information on Clean Design, please visit www.cleandesignpartners.com, email claire@cleandesignpartners.com or call 914-725-0995.
BLOG COMMENTS POWERED BY DISQUS