RiverMarket: Farm to Table Now Open in Tarrytown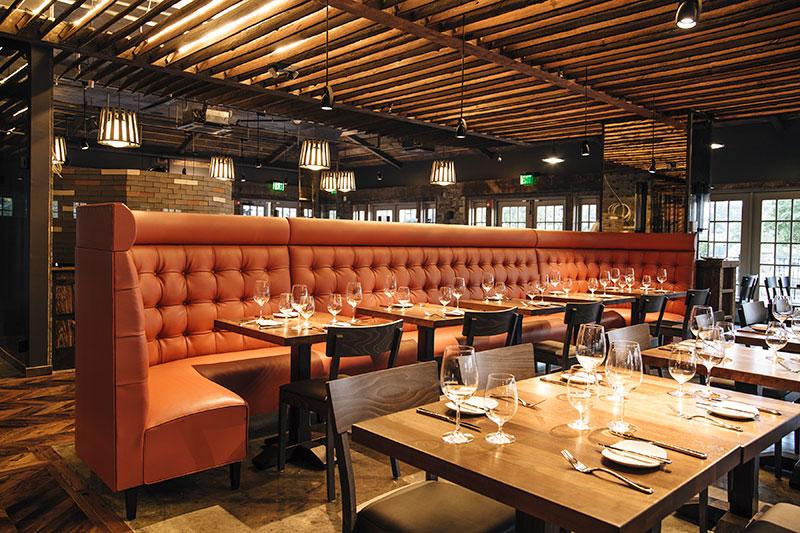 Looking for something new in the Hudson Valley? Head on over to RiverMarket Bar and Kitchen (I think they could have been a little more creative with the name!) brought to you from the owners of the famous Westchester Crabtree Kittle House in Chappaqua. This is a very different, more casual restaurant and in keeping with the farm to table movement, many of the menu ingredients are locally sourced. It is sited in a corner of the luxury Hudson Harbor condo community that was developed right on the river in Tarrytown. While it was too nippy to take advantage, outdoor seating is available and it looks like it will be a great place for views of the Hudson River and Tappan Zee Bridge construction when spring arrives!
The restaurant's interior features beautiful dark woods and cavernous ceilings. Unfortunately there did not seem to be much soundproofing so although the restaurant wasn't full, it was very noisy. That didn't stop us from enjoying the surroundings but since this is a brand new building, I wondered why they didn't plan for it.
The restaurant has only been open several weeks and you could tell they were still working things out. Wait staff seemed inexperienced, but we came here for the food and we weren't disappointed. I found the menu to be really appealing with wonderful seasonal appetizer choices including fresh oysters, grilled calamari (with peas, artichoke and mint... a terrific combo $16) homemade burrata (ok!), a foie gras terrine, a lobster salad and a wonderful composed green salad. It was a menu bursting with great choices and not overwhelmed by too many ingredients. The bread, prepared in house, was hot and delicious.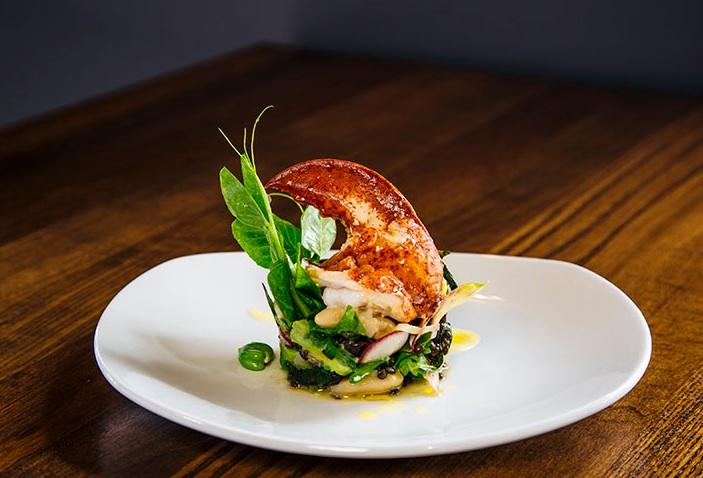 Our group of six ordered a variety of main courses and everyone seemed satisfied. I had a flavorful lobster dish ($35) with swiss chard. It had a very light sauce that was rich and delicious but not overwhelming. Other choices that I tasted included duck prepared 3 different ways including some foie gras and a pork shoulder . There were two pasta selections (spicy lobster with black linguini and a ravioli $16 and $12) and our server encouraged the smaller portions and both diners agreed that it was enough for an entrée although a larger portion is available. Entrées run from $16 (a burger) to $36 and all include a generous serving of delicious local vegetables.
They are working on a cocktail list and there were a large variety of wines as you would expect from a restaurant with the Crabtree Kittle House pedigree. Standard cocktails were available and we had plenty of good choices for reasonable wines. Desserts didn't disappoint and we had an excuse of a birthday to order a couple....Churros that were uninspiring but a butternut squash spice cake with butternut squash ice cream, which was rich, creamy, savory and sweet. The chocolate cake is another good choice...I admit, we unabashedly cleaned the plates!
The restaurant is working out the kinks and by spring (if not sooner) should be on your list. They have an attached market that sells some of their pastries, local cheeses, eggs, veggies and jams and other products.
RiverMarket Bar and Kitchen is located at 127 West Main Street in Tarrytown. Be sure to put it in your GPS ... not so easy to find. 914 631-3100
BLOG COMMENTS POWERED BY DISQUS