Cooking Class at Sur La Table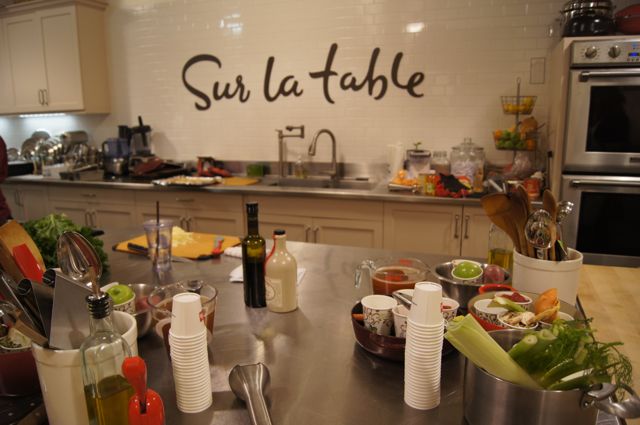 In the weeks leading up to Thanksgiving we had the pleasure of honing our cooking skills at not one, but two classes at Sur La Table at The Westchester. The well-stocked store that opened about a year ago can be found in the space previously occupied by Restoration Hardware. In addition to food, cooking appliances, gadgets and gifts, the store features a massive chef's kitchen with a large center island that can accommodate 15-20 participants. The butcher-block apron surrounding the island gives everyone the chance to grab a knife and get in the act.
Classes are led by chef Ali Banks who manages her sometimes chatty guests with aplomb. She mixes stories about her Sicilain "Nonna," Italian for grandmother, with helpful tips she picked up while attending the Culinary Institute in Paris and magically manages the production of complex recipes into meals for the crowd. She demonstrates the use of prep tools such as the stainless steel scraper or the immersion blender to add versatility to your kitchen.
Guests divide into groups of four to prepare recipes from pre-measured ingredients. Individual burners are provided as well so that each group can tend to their own sauté pan or pot. The first night I attended a soup class that included four soups – some more like stews – that we cooked and sampled during a two-your class. During the course of the evening, Banks demonstrated the proper way to chop an onion, leaving the root intact and creating a grid of slices that resulted in square even pieces. She shared another tip on the proper order to add vegetables to the stockpot. Contrary to popular believe, onions are not necessarily first in. When cooking with hard root vegetables such as carrots, the hardest ingredients go in first, followed by softer ingredients such as celery and onions with garlic added last.
We prepared four soups: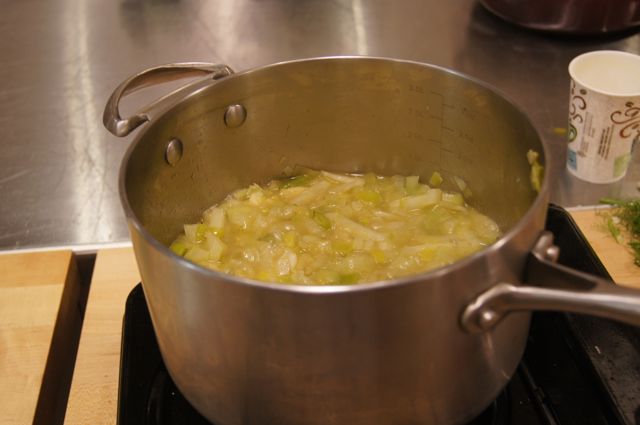 Sweet potato, apple and ginger

Beef barley and vegetable

Lentil and sausage with kale

Fennel and leek with gruyere croutons
Of the four, I thought the last was best. The rich, creamy soups, topped off with a slice of baguette with melted cheese was scrumptious and a meal in itself.
The second night was a Thanksgiving preview featuring recipes from Ina Garten. Banks, who also worked at a butcher shop gave an impressive lesson on the preparation of a roast turkey laced with truffle butter, plus how to prepare homemade turkey gravy and the proper way to slice the bird. To accompany it, the class produced a salad of roasted butternut squash and dried cranberries with warm cider vinaigrette (recipe below). We'll be enjoying this one at our Thanksgiving dinner. Also on the menu were mashed potatoes and she provided good tips on how to prevent peeled potatoes from turning brown and how to mash them without releasing the starch. For dessert we enjoyed a pumpkin and banana mousse tart in a graham cracker crust. That night we received an added bonus – each participant got a signed copy of Ina Garten's cookbook, Foolproof. A full calendar of classes can be viewed here – and the space and the chef can also be hired out for private parties. Prices range from $39 to $100 per class and there are classes for kids, teens and adults.

Notes: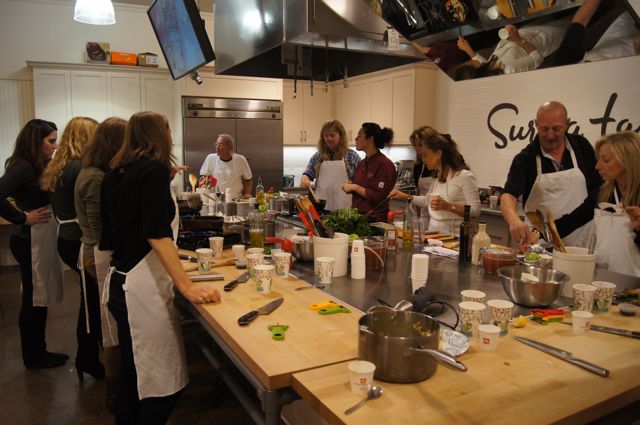 At the regular classes, no alcohol is permitted – perhaps because large knives and wine don't mix.

Though you don't take home your creations you do leave with a full stomach, so classes are educational and filling.

At each class discount coupons for 10% off store merchandise are distributed and there is time to shop for some of the cool gadgets used in class.
Sur La Table at The Westchester
Phone: 914-220-9816
Class Calendar: http://www.surlatable.com/browse/storeCalendar.jsp?storeId=115&&offset=1
Email: cooking115@surlatable.com


Roasted Butternut Squash Salad with Warm Cider Vinaigrette (Serves 4)
1 (1 ½-pound) butternut squash, peeled and 3/4-inch diced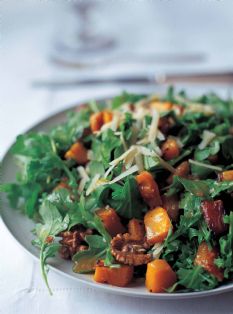 Good olive oil
1 tablespoon pure maple syrup
Kosher salt and freshly ground black pepper
3 tablespoons dried cranberries
¾ cup apple cider or apple juice
2 tablespoons cider vinegar
2 tablespoons minced shallots
2 teaspoons Dijon mustard
4 ounces baby arugula, washed and spun dry
½ cup walnut halves, toasted
¾ cup freshly grated Parmesan cheese
Preheat the oven to 400 degrees.
Place the squash on a sheet pan. Add 2 tablespoons olive oil, the maple syrup, 1 teaspoon salt, and ½ teaspoon pepper and toss. Roast the squash for 15 to 20 minutes, turning once, until tender. Add the cranberries to the pan for the last 5 minutes.
While the squash is roasting, combine the apple cider, vinegar, and shallots in a small saucepan and bring to a boil over medium-high heat. Cook for 6 to 8 minutes, until the cider is reduced to about ¼ cup. Off the heat, whisk in the mustard, ½ cup olive oil, 1 teaspoon salt, and ½ teaspoon pepper.
Place the arugula in a large salad bowl and add the roasted squash mixture, the walnuts, and the grated Parmesan. Spoon just enough vinaigrette over the salad to moisten, and toss well. Sprinkle with salt and pepper and serve immediately.
BLOG COMMENTS POWERED BY DISQUS