A Sushi-Lovers Delight: Kumo Opens in Scarsdale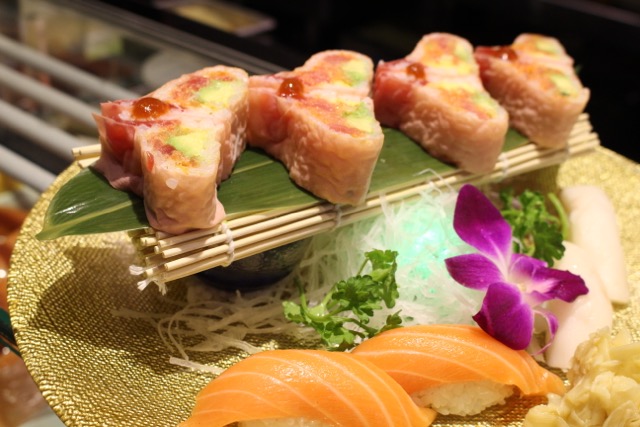 Do we need another sushi restaurant near Scarsdale? Already home to Gyosai, Koko, Yamanoya, Azuma and Haiku – and the sushi counter in De Ciccos, I wonder just how many California rolls locals can consume? So I was a bit skeptical when I ventured into the newly-opened Kumo Sushi Lounge – in the Food Emporium shopping center-- in the space formerly occupied by Johnny Rockets.
I was surprised at the total revamp of the décor and the spacious room before me. Not only was there an impressive, fully-stocked bar area, but the room included scores of tables, inviting banquettes and plenty of space between the tables. Lit by decorative glowing orbs the room also included a long sushi bar where three industrious sushi chefs were busy creating artful sushi platters.
The eager staff gave us a warm greeting and quickly served us warm sake –welcome comfort on another frigid night.
The menu was another pleasant surprise. The colorful booklet looked more like a food magazine than a menu and revealed that in addition to their unique sushi platters, Kumo offers a full repertoire of hot foods including tempura, noodle dishes, entrees and "dinner" boxes.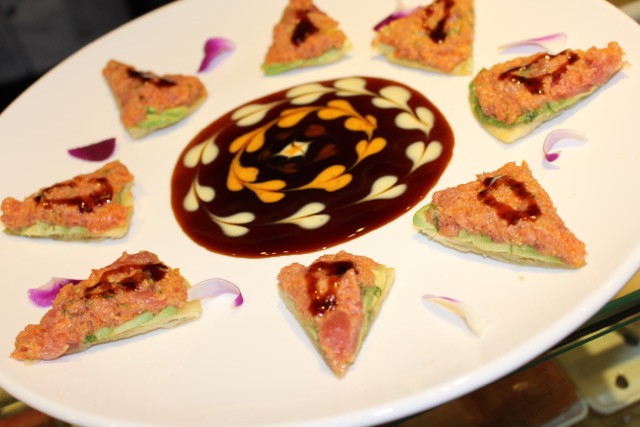 It was a challenge for our table of four to settle on our selections. While nibbling edamame we decided on our appetizers: miso sea bass, a tuna pizza, roast duck wrap and rock shrimp tempura. We chose wisely because all four were delicious. The sea bass was served over asparagus in warm miso sauce and the crispy rock shrimp was accompanied by sweet and spicy mayonnaise. Both dishes appeared to be inspired by Nobu and were winners.
The tuna pizza is not be missed. Fresh raw tuna is sliced and served atop a tortilla with avocado, tobiko, eel and spicy sauce. I was happy that one of my dining companions does not eat raw fish – so I was able to down her portion as well as mine.
When it came time for our entrees, two at my table went for the "dinner boxes" that included quite an array at a very reasonable cost. With your choice of chicken, beef, salmon, tuna, lobster, duck or sushi you get shrimp, shumai, tempura, a California roll, rick and miso soup or salad all for just $18 to $26. Both of my friends gave high ratings to the dinner boxes and wondered how the restaurant could make a profit on these boxes. Another friend went for the seafood tempura udon – a large steaming bowl of broth, udon noodles, an egg and vegetables topped with a generous portion of seafood tempura. That dish alone looked like it could feed a family of four.
I couldn't resist the sushi. The menu features three pages of innovative sushi rolls with tuna, salmon, crab, lobster and eel plus spicy variations of tuna, yellowtail, crab coupled with crab, asparagus, mango and too many ingredients to list here. I chose the spicy girl roll – spicy salmon, tuna, yellowtail and avocado crunch inside, wrapped in pink soy paper and topped with tobiko and spicy mayo. As if that wasn't enough, it was presented on a plate with a glowing blue light tucked underneath strands of dried noodles. Yum – I plan on having another one of those soon.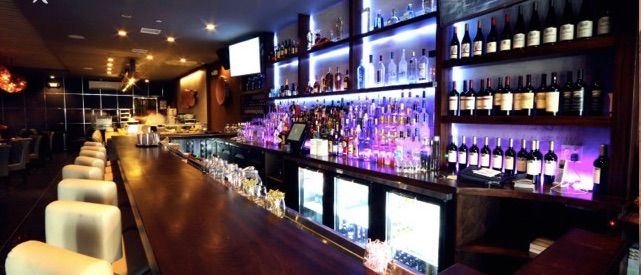 And we didn't stop there. Who can resist green tea ice cream? We plunged four spoons in this green palate cleanser and washed it down with hot green tea.
I was impressed enough with my initial visit to return two nights later with a different crowd. While my first dinner was on a weeknight, I came back on a Saturday night and found that others had discovered Kumo too. Though the food was just as good – it was evident that the staff was struggling to keep up with the unexpectedly large crowd, who filled the restaurant.
So to respond to my initial question – do we need another sushi restaurant in town? If it's Kumo Sushi Lounge the answer is yes! I do recommend that you give them a try – especially on a weeknight. You're sure to find something you like.
Kumo Sushi Lounge
777 White Plains Road
Scarsdale, NY 10583
www.kumoscarsdale.com
914-713-8899

Hours:
Monday – Thursday 11 am to 10 pm
Friday and Saturday 11 am – 10 pm
Sunday: 12 pm – 10 pm
Free delivery on orders of $15 or more
BLOG COMMENTS POWERED BY DISQUS