Raiders to Play Semi Finals at County Center Thursday Evening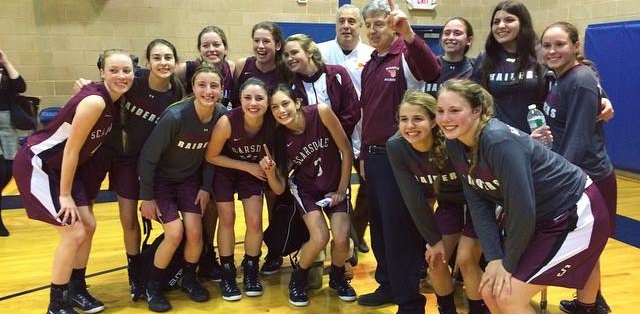 The Scarsdale Girls Varsity basketball team will play Lourdes (Poughkeepsie) in the Class AA semifinals on Thursday February 26 at 6:30PM at the Westchester County Center.
The Raiders earned their spot in the semi -finals by beating Mahopac at home and upsetting Ursuline (52-46) on the road. The Raiders are now 15-5 and make their first appearance at the County Center since 2008-09 to meet the third-ranked team from Poughkeepsie.
The Raiders are led by captains Abigail McDonald (sr), Dana Maroney (sr) and Alexis Kline (jr). In addition the roster is made up of Ashley Barletta (so), Jordie Cohen (so), Rachel Cohen (jr), Emma Coleman (so), Ally Dweck (jr), Lindsey Kramer (jr), Taylor Mancini (sr), Sam Mancini (fr), Kaylie Waterhouse(jr) and Julia Zucker (jr)
Support the Raiders in their quest for the "Golden Ball" Thursday evening 2-25 at 6:30PM at the County Center.
BLOG COMMENTS POWERED BY DISQUS