Fans to Travel to Utica to Cheer on the Raiders Hockey Team on Saturday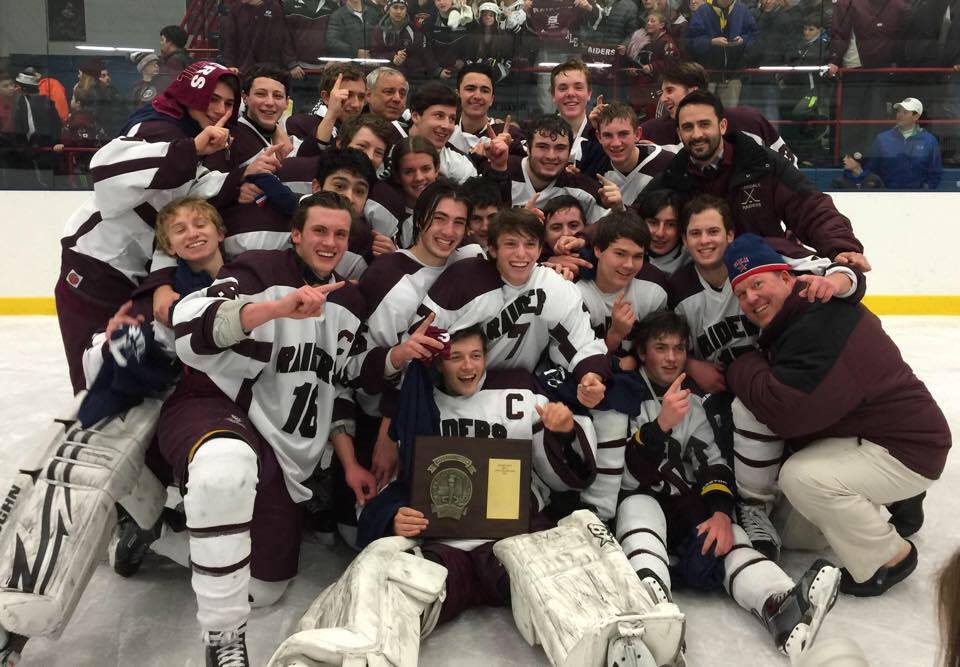 The Scarsdale High School Varsity hockey team's season long history of success has led the Raiders to Utica where they will play in the New York State Semi-Finals against the McQuaid Jesuit Knights this Saturday, March 14. With a record of 23-1 and an eight-game winning streak, the Raiders are #2 in the state behind McQuaid, who hail from Rochester, NY.
Utica is about three and a half hours away from Scarsdale, and many devoted fans are making the drive to support the Raiders. A win would send the team to the state championship -- a victory that would be especially sweet after the Raiders' 2014 loss to Ithaca at the semi-finals. "We were really disappointed with the way our season ended last year," expressed senior and Varsity hockey player Gabe Harousseau. "We know we don't want to have that feeling again and we are practicing hard this week to give ourselves the best chance possible."
The competition for a spot in the championships will be tough, but the Raiders are optimistic and ecstatic about their second chance. "It's pretty incredible to be going back to Utica because it was one of our goals at the start of the season and it is finally here," shared senior and Varsity hockey player Jake Zurkow. And the team could not have met their goal without the resolve and sacrifice of the team. "We have been working hard for 12 years for this one moment. It has always been a dream of every kid on this team to win a state championship," expressed senior and Varsity hockey player James Nicholas. "We are going to put everything we have out on that ice and hope that it is enough... all we can do is do our best."
Students who are making the trip to Utica are excited to cheer on the team and expect an eventful game. "It's so important that we are all going because the team we are playing is right near Utica so they will have a lot of fans there," expressed Scarsdale senior Carly Kahan. "Scarsdale needs all the support we can get." There was a petition for the school to provide a bus to transport fans, but as of now it is not clear if a bus will be available. Many students are carpooling and staying in local hotels overnight (the Utica Holiday Inn is almost fully booked.) "The second the last game ended all my friends booked rooms immediately -- most people didn't even have to ask their parents first," shared Scarsdale senior Julia Gerla.
Yet, parents are concerned. "I just think this whole trip is a recipe for disaster," expressed an anonymous parent of a high school student. "There are driving concerns and the possibility of hotel shenanigans. Most of the kids will be fine of course, but there is a potential for something to go terribly wrong." Despite these worries, as of now, there are 164 students who have confirmed they will attend the game via a Facebook group created for the event.

Maroon and White has arranged for a bus to transport fans to Utica.

Leave it to the impressive success of the Scarsdale hockey team to galvanize students and fans to make the hajj to Utica, New York. The road to Utica required a lot of determination and hard work from the hockey team -- and will require gallons of gas from the fans. Hopefully the Raiders will take it all the way to the state championships.
BLOG COMMENTS POWERED BY DISQUS