Forum Hosts Panel on Development and Overdevelopment in Scarsdale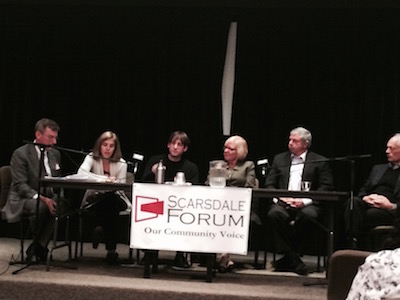 Do the laws that regulate the size of homes in Scarsdale need to be changed? Are oversized new homes affecting the character of the Village? That's what Mayor Jon Mark hoped to learn more about when he asked the Scarsdale Forum to host a panel on development on Thursday October 15th. Seth Ross, a former chair of the Planning Board was the moderator and panelists included Lewis Arlt of Houlihan Lawrence, developer and realtor Steve Rakoff, Village Planner Elizabeth Marrinan, Ron Schulhof from the Conservation Advisory Council and me, Joanne Wallenstein.
Each panelist brought their own perspective to how the building of new homes is affecting the neighborhoods and the real estate market.
Lewis Arlt contributed sales statistics that showed a 9% decrease in homes sold this year to date compared to the same period in 2014. The median sale price, $1,450,000 is down 3% from last year. He noted that homes priced at under $2 million are selling quickly while those priced above $3 million are sitting on the market. While in 2014, 14% of the homes that sold at prices above $2.9mm were new, this year 8 out of the 17 properties that sold for more than $2.9 mm were new, reflecting growth in the market for new construction.
Steve Rakoff discussed the builder's role in "replenishing the housing stock," and keeping Scarsdale's housing stock competitive with areas like Rye and Greenwich. He believes that some of the Village's older homes, such as ranches and splits, are beyond their useful life and need to be replaced. Buyers are looking for amenities such as large kitchens, family rooms and luxury bathrooms that are not found in older homes. As for the appearance of bulk of these homes, he called for landscaping to shield it. He was concerned with the fall off in sales for high-end homes and said that everyone should be concerned about why this is occurring and how Scarsdale can attract more buyers for homes priced above $3 million.
Village Planner Elizabeth Marrinan explained the role of the Planning Department and the enforcement of Village Code to regulate development in the Village. She pointed out that though the development of new homes is very visible, it represents a small percentage of homes in Scarsdale. The total number of existing single-family homes in the Village is 5,400 and the construction of new homes each year is less than 1% of the housing stock.
Here are the number of demolitions and new homes approved by year:
Demolitions New Houses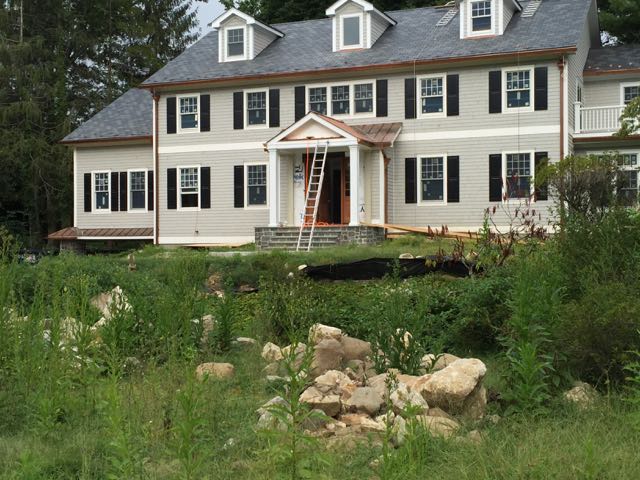 2011 26 26
2012 34 24
2013 31 26
2014 39 39
2015 (ytd) 31 31
Ron Schulhof examined the effects of development on the tree canopy. While the tree canopy is currently at 50%, Schulhof discussed the risks to large trees posed by the building of new homes. Often trees are clear-cut, and those that remain are not adequately protected from root damage, when large vehicles are parked on their roots while work is done. He explained that some of the trees that are lost or damaged are 50 -100 years old and simply cannot be replaced. Though the village does require permits for tree removal violation of these ordinances can result in significant losses and the diminishing of the canopy. The CAC recommends that the Village implement a Canopy Replacement Assessment that requires the landowner to either replace what's on their property now or pay a hefty fee that would be used to plant trees in other locations. The CAC also recommends that the Village should require owners of newly developed property to plant or protect existing street trees.
I spoke as well and recommended that the Trustees re-examine the floor-area-ratio code and study the effect of eliminating the exceptions to the code that allow builders to build homes that exceed the size stipulated in the FAR. See more here. I also commented that I was not concerned with masking the appearance of bulk with landscaping. Instead I am concerned with the bulk of new houses where sometimes a 6,000 square foot home replaces a 2,500 square foot home on 1/3 of an acre.
A lively discussion followed the panelist's comments.
Several interesting comments were made by members of the audience:
Linda Blair said, "I am not sure why we want to compete with Greenwich or Rye. We have something very special here and we should attract buyers who appreciate it."
Carol Silverman said, "I purchased a ranch many years ago and have been very happy in it. I never regret my decision to buy it and will stay there for as long as I am able."
Michelle Sterling said, "Let's face it – builders will build homes to the maximum size they can. We can't depend on them to address this issue." She then asked, "Who is going to turn this ship around?"
Another observer said, "Perhaps this problem will solve itself. If interest rates are going up, and there isn't a market for homes that cost more than $2.5 million, maybe development of expensive new homes will not be economical."
Seth Ross concluded the discussion by asking people to continue to address this issue by emailing the trustees, writing letters to the newspaper or commenting on Scarsdale10583. What do you think? Do the laws need to be re-examined or are you happy with the level of development in Scarsdale? Input your comments below or send letters for publication to scarsdalecomments@gmail.com.
BLOG COMMENTS POWERED BY DISQUS