Seniors Celebrate Halloween at SHS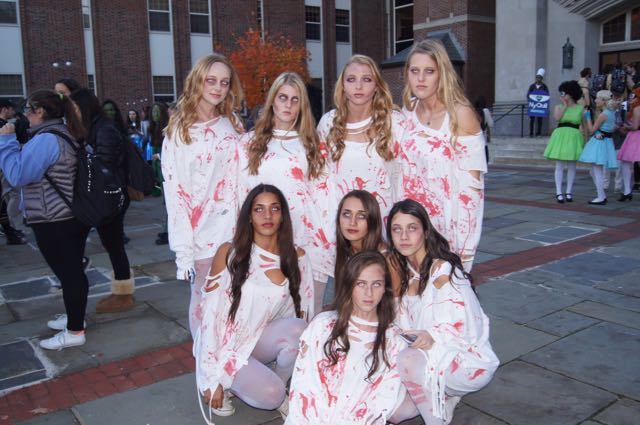 Kids wait thirteen years to dress up for the Senior Halloween Breakfast at Scarsdale High School – and you can't beat the costumes at the annual event. This year the breakfast was held on Friday October 30th, and the get-ups were as good as any year in recent memory. Though the morning begins at 7:30 am, on this one day it looked like everyone arrived on time.
What did we see? There were two mobs of kangaroos, a band of polar bears, a troupe of ballerinas, an Olympic soccer team, a pack of daffy ducks and a ward of prisoners sporting orange jumpsuits that said "SHS Correctional Facility, Released June 2016." We spotted super heroes and heroines, surfers, cops and robbers, ghost busters and aliens.
The teachers got into it too. Three language teachers were dressed as Coco Chanel, Napoleon Bonaparte and Michael Jackson. The Deans came as a baseball team, sporting "Field of Deans" t-shirts and one faculty member had her head poked through a picture frame and was posing as the Mona Lisa.
Creepiest of all were a group of girls sporting white contact lenses and splattered sheets who perfected the vacant look of zombies – scary stuff!
BLOG COMMENTS POWERED BY DISQUS