Greenacres School Turns 100 in Style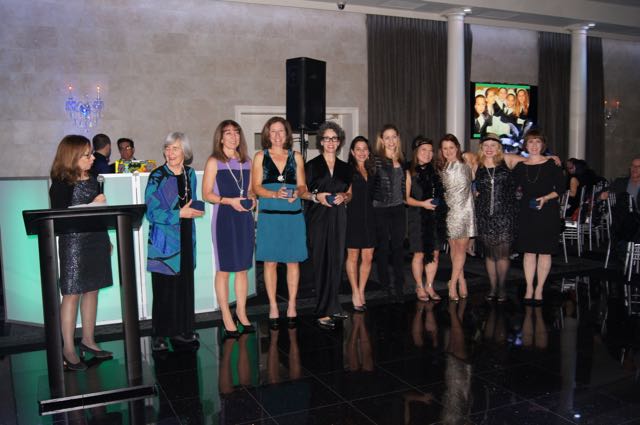 Greenacres Elementary, Scarsdale's oldest school, celebrated its Diamond Jubilee Gala on Friday, November 20 with a flapper-fabulous themed affair at Mulino's at Lake Isle. The more than 350 guests, which included alumni, principals (past and present), staff, board of education members, PTA presidents (past and present), parents (past and present) and community members, enjoyed a fun-filled evening featuring dinner, dancing and live and silent auctions.
The Jubilee Gala was a culmination of many months of preparation led by two Greenacres mothers (and SHS buddies) Sharon Kass Higgins and Isabel Uchitelle Finegold. They, and their 100th Anniversary Committee, reached out to past parents, students and faculty, not so easy since there was no Facebook or even worldwide web for much of the school's history. Ms. Finegold, who also was a member of the class of '80 at Greenacres, noted that one of the alumni honored was located because he played chess with a former teacher's husband. Commenting on the night, Finegold said, "It was a great evening to celebrate our beloved school turning 100. The community, our alumni and Greenacres staff, past and present, came out in full force to celebrate. The roaring 20's were evident with boas, pearls and fringe".
New York State Senator Andrea Stewart-Cousins, U.S. Representative Eliot L. Engel and Assemblywoman Amy Paulin were on hand to present congratulatory proclamations.
Among the speakers were Greenacres PTA President Lynn Marvin, Greenacres Principal Sharon Hill, Scarsdale Superintendent of Schools Dr. Thomas Hagerman, Scarsdale Board of Education President Leila Shames Maude and alumni honoree Journalist Alan Schwarz (SHS '86).
The evening's honorees included Greenacres alumni: Broadway music director, Charlie Alterman, SHS '93; Statesman, Woody Bliss, SHS '54; painter/sculptor Nicole Eisenman, SHS '83; lawyer and diplomat, Kenneth I. Juster, SHS '72; founder & CEO, Rob Kissner, SHS '04; editor emerita, Linda Carpenter Leavitt, SHS '64; journalist, Alan Schwarz, SHS '86 and artist, Saya Woolfalk, SHS '97; as well as Greenacres Principals and Greenacres PTA Presidents.
The annual fundraiser enables the PTA to enrich the educational experiences of all Greenacres children by funding programs such as assemblies, technology and STEAM, arts programming, classroom and library enrichment materials, author visits, environmental awareness and much more.
BLOG COMMENTS POWERED BY DISQUS